Dark Knight was created by Norbert Mereg and was first uploaded to the MQL5 marketplace on the 17th of April 2014. It has received a lot of updates since it was first uploaded, the most recent update was on the 2nd of December 2014 and the software is currently at version 2.44.
Overview
Dark Knight is an expert advisor for the MetaTrader 4 trading platform, it was designed to follow trends that have backtesting profitability of 99%. It is recommended to use with the EURUSD and USDCHF pairs and on the M15 timeframe, it does not require an ECN account but it is still recommended.
Some of the main features of the EA:
Built-in Trailing Stop with a partial closing feature.
Built-in Money Management.
Unique two-level trend filter feature.
Protection against a high level of spread.
ECN broker with 4 and 5 digits compatibility.
The notification could be sent upon closing a position.
Slippage data recording to file.
Full-scale, detailed logging.
Minimum account requirements: $100 with 1:100 (or equal currency).
Full backtest-compatible can be heavily optimized.
Non-grid system!
There are some parameters, unfortunately, the site that lists them is currently not working anymore so we do not know what they are.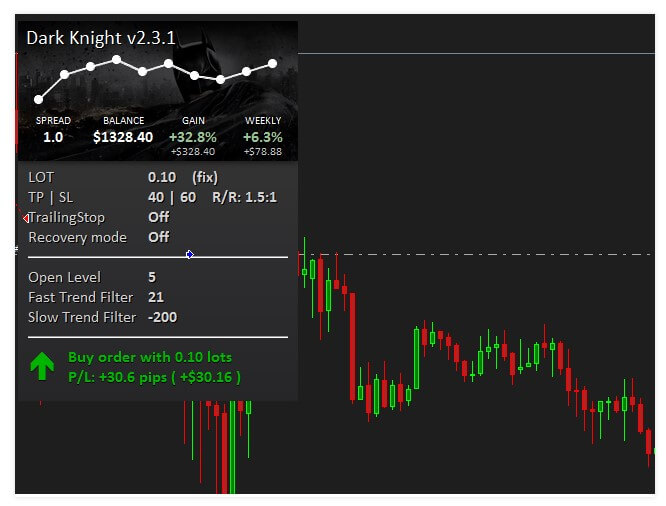 Service Cost
The Dark Knight expert advisor will cost you $49 to purchase it outright with a one-off payment, this will get you up to 5 activations of the EA. There is also a rental option, this can be done monthly and will cost you $10 per month. A free demo version is also available but the limitations of it are not known and no stated on the site, so there is a possibility that it can only be used with the strategy tester within MT4.
Conclusion
There are currently 2 reviews for the Dark Knight EA, they have given it an overall rating of 3.5 out of 5.
"I took it twice for rent. The adviser as for me merges more than earns. I also tried to help him with my hands but it did not work out. There is no stability. Although the idea is not bad." – A 2-star review translated from Russian.
"Very good expert advisor. Real performance exactly as backtested results. Running on Alpari (Russian)" – A 5-star review.
So a mix of reviews, however, it is hard to get the full picture with only two reviews being available. There are a few comments, all comments are from as far back as 2016 so it cannot be used as proof of support, due to them being so far back we would suggest trying to contact the developer with any queries that you have, this will enable you to check that it is still being supported and that it will work the way you need it to work before you make a purchase.
This Forex Indicator is currently available in the MQL5 marketplace: https://www.mql5.com/en/market/product/4019