Gap Professional can be found within the Experts section of the MQL5 marketplace, it was first uploaded to the marketplace on the 4th of March 2020 by its developer Vadim Zotov. It has since received an update, the latest update was on the 23rd of March 2020 and is currently at version 1.2.
Overview
Gap Professional is an expert advisor that was created for MT4, it is based around patterns of closing gaps in price movements and requires a minimum account balance of just $10.
The EA will look for movements in currencies and the gaps which are created due to high movements or pauses in the markets like the weekends. The robot will try to trade these gaps and the large jumps in prices that come with them.
Some recommendations from the developer:
-The robot can be used to trade on any accounts. Preferred accounts with 5-digit quotes, low spread, and high speed. The leverage of the account is preferably not less than 1:500.
-Optimization overtime is not required if market parameters do not change. However, when switching to other brokers, especially with an increase in the spread, optimization may be necessary.
-New set-files will be posted here on the 'Comments' page (see link below).
There are plenty of options available too, these include comments, magic numbers, language, which days to trade, maximum spreads, size of the gap allowed, the coefficient of taking profits, tick criterion, lot selection, fixed lots, stop losses, and many more.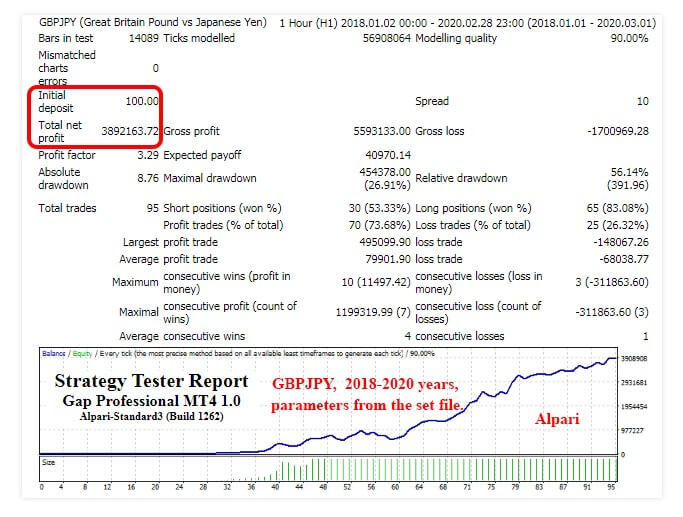 Service Cost
The Gap Professional EA can be purchased for $250, this will get you up to 10 activations, there are also options to rent the EA, you can do this on a monthly basis which will cost you $150 per month, you can also rent it for three months which will cost you $200 for that time period.
A free demo version is also present, there are no details about it such as its limitations, so we do not know what they are or how the free version will function. There is a good chance that it can only be sued with the strategy tester within MT4.
Conclusion
There are currently four reviews available for the Gap Professional EA which have given it an overall rating of 5 out of 5.
"I love this Idea, was looking this for while !" – A 5-star review.
"I like this robot because the strategy it uses is based on crowd psychology and is always true no matter how the market changes. After a trial period, I decided to buy it to use with my real account and received very enthusiastic support from Vadim. I will continue to update the effectiveness of this EA." – A 5-star review.
The reviews are all very positive which is good to see, there are also some comments, all of them are from the developer, the last one was in 2020 so this shows that they are still active in supporting the expert advisor. As there aren't many reviews or comments, you could always contact the developer before purchasing just to make sure that it will do what you need it to do.
This Forex service is currently available for purchase in the MQL5 marketplace: https://www.mql5.com/en/market/product/46687