FFx InsideBar Setup Alerter is found on the MQL5 marketplace, it was created by Eric Venturi-Bloxs and was first uploaded on the 26th of MNArch 2014. It has not received any further updates so the indicator is still at version 1.0.
Overview
FFx InsideBar Setup Alerter is a MetaTrader 4 indicator that has been designed to alert you to trade setups, it will also provide you with entry points, two targets for taking profits and stop losses.
The main features and settings for the indicator:
-Entry suggestion – pips to be added over the break for the entry
-Minimum candle size – to avoid too close buy/sell entry suggestions
-3 different options to calculate the SL – by pips, by ATR multiplier or at the pattern High/Low
-3 different options to calculate the 2 TPs – by pips, by ATR multiplier or at Risk/Reward
-Offset the dashboard – any place on the chart
-Remove the suggestion once the price reached the SL line
-Lines extension away from the current candle
-All colors changeable – Background, text, Buy/Sell, entry and TP/SL
-Alert when a setup is found – sound / popup / email / push notification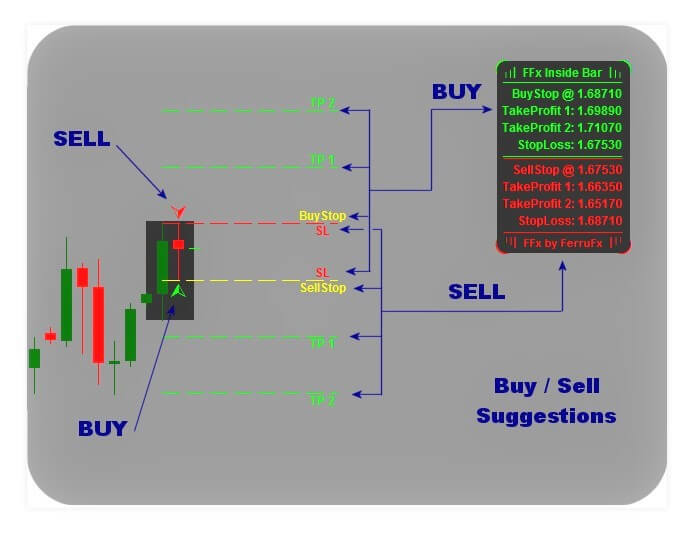 Service Cost
The indicator can currently be purchased for $12 so it is quite affordable, purchasing it will give you up to 5 activations, unlike many indicators on the MQL5 marketplace, there is no option to rent it.
A free demo version is available, the details of it are not known to us which often means that it can only be sued with the strategy tester within the MetaTrader 4 trading platform.
Conclusion
There are currently six user reviews, they are all very positive and have given the indicator an overall rating of 5 out of 5.
"Awesome indicators….just needs to be able to show historical would be a great help." – A 5-star review.
"Paints a clear picture of an inside bar, and allows you to customize your stop loss and take profit levels. Very useful for trading inside bars." – A 5-star review.
"2 weeks at my chart and already a rate of 12/3 winning trades and making money….thank you Ferru" – A 5-star review.
So the reviews are all very positive showing that the indicator is doing what it was intended to do. There are also plenty of comments, the indicators creator has been very active in replying to the comments which are great to see and it shows that they are supporting the indicator and those that have purchase dit. Ther have not been any comments for around 10 months, so if you are thinking of purchasing it, contact the developer, this way you can make sure that they are still around top support it and you.
This Forex Indicator is currently available in the MQL5 marketplace: https://www.mql5.com/en/market/product/3718