ACPD Auto Candlestick is an indicator for MetaTrader 5 that can be found on the MQL5 marketplace, there may be other indicators with a similar name so we have included the link so there is no confusion as to which indicator we are reviewing.
https://www.mql5.com/en/market/product/677
The current version of this indicator is version 1.0 and it has received no updates since going live on 30th January 2013.
Overview
The ACPD Auto Candlestick is an indicator designed to work with the MetaTrader 5 trading platform.
The main features of this indicator:
Determining 40 reversal candlestick patterns by their main parameters; it displays over 40 signals based on these models.
Each signal is displayed with an arrow above or below the last candlestick in a model, the direction of the arrow indicates the forecast direction of movement of the chart.
The indicator includes 10 patterns based on one candlestick, 10 patterns based on two candlesticks, and 20 patterns based on three candlesticks. Depending on the number of candlesticks in a pattern the caption text has a different color (can be set in the parameters).
Each caption of a pattern indicates its name, the strength of the "S" signal (calculated in percentage terms using an empirical formula) that shows how close is the pattern at an ideal one, and the trend coefficient "T" (calculated on the basis of three candlesticks using a scoring system) that shows how close it the trend to an ideal one.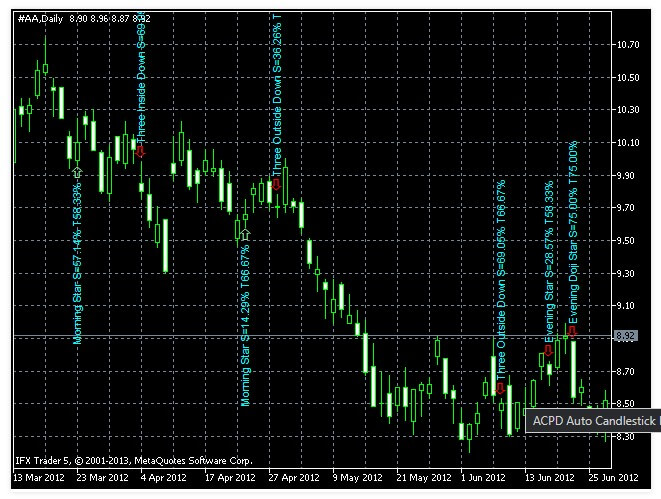 As mentioned there are over 40 different candle patterns available on this indicator, these include:
Hammer
Hanging Man
Inverted Hammer
Shooting Star
Spinning Top
Doji
Doji Dragon
Doji Four Price
Engulfing
Harami
Harami Cross
Dark Cloud Cover
Doji Star
Meeting Lines
Kicking
Homing Pigeon
Matching Low
Morning Star
Evening Star
Morning Doji Star
Evening Doji Star
Abandoned Baby
TriStar
Unique Three River Bottom
Three White Soldiers
Advance Block
Deliberation
Identical Three Crows
Two Crows
Three Inside Up
Three Inside Down
Three Outside Up
Three Outside Down
Three Star In The South
Stick Sandwich
There are also a lot of parameters that can be altered, some of these include buffer candles, colors for down and up arrows, test sizes, box colors, and more.
Service Cost
The indicator currently costs $50 to purchase outright, you are also able to rent it on a monthly basis and will cost you $10 per month to do that. There is a free demo version available, however, we are not sure what the limitations to this demo account are, but would always suggest downloading and testing it out.
Conclusion
There is just one review available for this indicator, it is a 3/5 star review.
"Would have been a good idea to have provided a visual indication as to whether the recognized candlestick pattern is by convention indicating indecision, bullish/bearish trend reversal or continuation trend in the market. Very good app for associating the name with the visual appearance of the candlestick patterns provided for by the app."
As there aren't too many reviews available, we would recommend checking out and using the free demo version just to make sure it has the functions that you need and that you are able to successfully set up the indicator to work as intended.