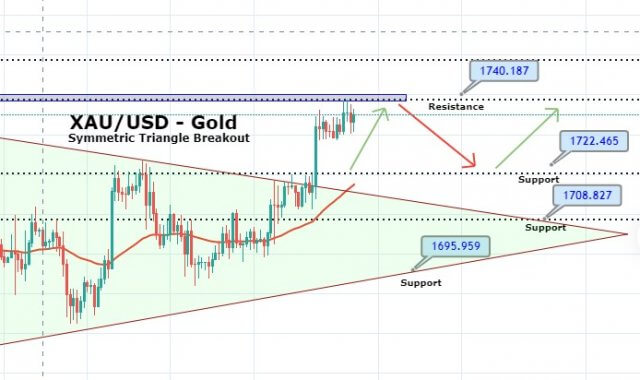 The safe-haven-metal prices extend its 3-winning streak and take bids near 3-weeks high around $1,733 while representing 0.12% increase on the day as US-China tension keeps traders in a cautious mode. As well as, investors turned into the safe-haven-metal after mixed Chinese industrial production and retail sales data, as well as Thursday's U.S. jobless claims data. 
Earlier in the morning, the yellow-metal erases some gains in the wake of Increasing odds of no negative rates. While the possibility of another stimulus recently favored the market risk-tone before the China data. At this moment, the yellow-metal prices are currently trading at 1,735.55 and consolidate in the range between the 1,728.84 – 1,738.61.
China showed a confusing picture of its recovery from the COVID-19 virus as it's said that industrial production in April rose 3.9% year-on-year, higher than the 1.5% predicted by analyst forecasts. Whereas, it also said that retail sales in the same month slipped 7.5% year-on-year, against analyst estimates of a 7% drop. The U.S. showed that 2.981 American citizens lost their jobs during the past week, Anyhow, the number of unemployment has been declining gradually over six weeks, but 36 million claims have been filed so far since late March.
On the other hand, the market risk sentiment got some support during the earlier morning from the increasing odds of another stimulus from the U.S., as well as, the reason for the risk-on market sentiment could also be attributed to the statement from the Fed policymakers about ruled out negative Fed rates.
Apart from these, the yellow-metal bullish moves also bolstered by the bill, which is recently passed by U.S. Senate about enabling the administration to fresh levy sanctions on Chinese officials involved in the Xinjiang case.
Support Resistance
1722.44 1752.94
1703.97 1764.97
1691.94 1783.44
Pivot Point 1734.47
Gold prices continue to hold below the triple top resistance level of 1,740. Bullish crossover of this level may drive more buying in gold, leading to its prices towards the next resistance level of 1,748. The support continues to hold around 1,728 and 1,722 level today, while the MACD is showing neutral sentiments ahead of the release of U.S. retail sales data. Besides this, the 50 EMA is also supporting the gold's bullish bias today. Let's keep an eye on 1,740 as selling can be seen below this, and buying above the same level today. Good luck!