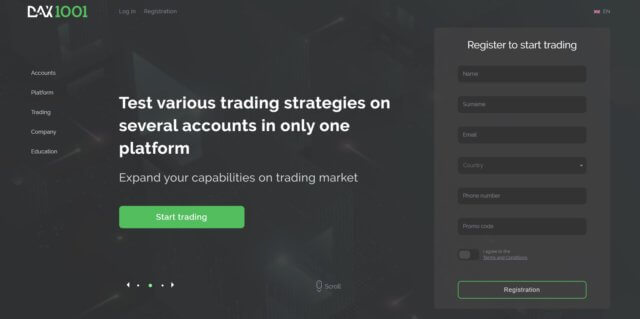 Dax1001 is an international foreign exchange broker that aims its services at both novice traders and experienced ones. Some of their main selling points are stated as having the fastest system of trading order execution, guaranteed daily customer support with quick problem resolutions, multiple account types to choose from and a powerful and adaptable trading platform. Throughout this review, we will be looking into the services that Dax1001 offers to see how they compare to the competition and so you can decide if they are the right broker for your trading needs.
Account Types
There are three different account types on offer, the account comparison page does not give a lot of information, but we have outline date information that it does give below.
Basic Account: This account type is sufficient for beginners who are just starting to earn money on a market trade and avoid serious financial risks.
Gold Account: The Gold account is a good choice for the more experienced trader; it includes a wider range of tools.
Platinum Account: The Platinum account would be perfect for well experienced professional traders, who are ready for big deals and major risks.
As the trading conditions offered by them is not stated on this page, as we go through this review, we will outline any differences between them within each individual section of the review, this way you can get a better understanding of what makes each account type unique.
Platforms
Dax1001 offers just a single platform for use with their accounts and that one platform is MetaTrader 4 (MT4). MetaTrader 4 comes with a whole host of features including online quotes and interactive charts in 9 periods. This option allows you to study the movement of quotations, and respond to market changes immediately. 23 analytical objects and 30 built-in technical indicators that will assist in considering and predicting price fluctuations in the most convenient way for the trader.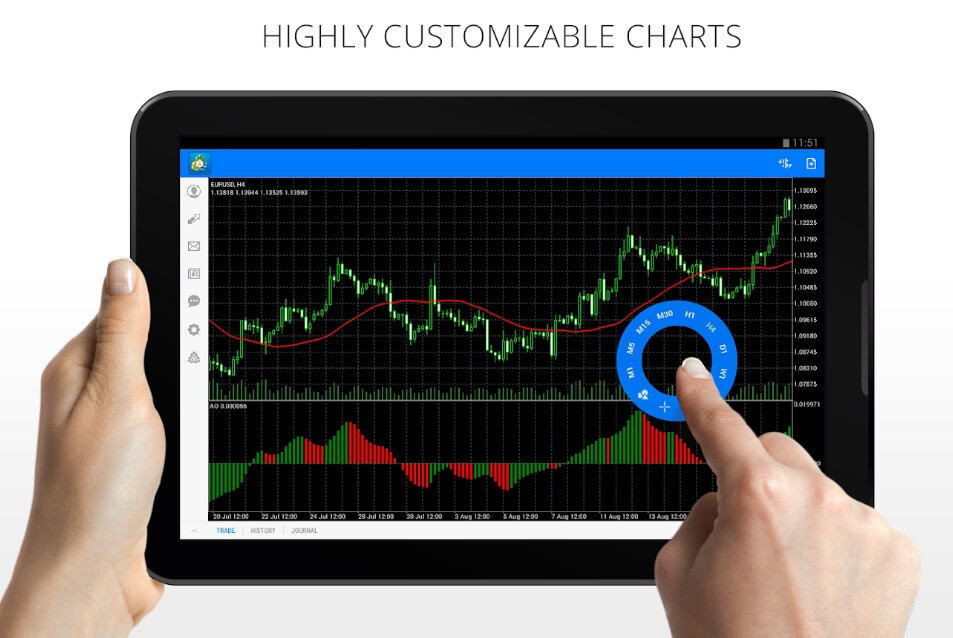 The built-in Market of trading tools makes the analytical possibilities of traders unlimited by allowing them to install additionally thousands of robots. The library of additional indicators is free and available for all users. The platform can also be used as a desktop download, webtrader within your internet browser and as an app downloadable to your Android or iOS devices.
Leverage
The maximum leverage available seems to be at 1:300 for all three account types, the leverage that you desire can be selected when you first open up an account. Should you wish to change it on an already open account then you can do so by sending a change request to the customer service team. Make sure that there are no open trades at the time of the request, otherwise, any changes cannot be made.
Trade Sizes
The minimum trade size available s 0.01 lots, this is also known as a micro lot and is equal to 1,000 base currency units. An overall lot is worth 100,000 base currency units. The trade sizes go up in increments of 0.01 lots but we do not know what the maximum trade size is. We also do not know how many trades and orders you are able to have at any one time.
Trading Costs
There is no mention of any commissions, but also no mention that there aren't any so we are not entirely sure what the cost of trading actually is. There are swap charges on the accounts, these are fees that are charged when holding trades overnight. Swap fees are based on the change of interest between markets and can be both positive or negative, and can be viewed fro within the MT4 trading platform.
Assets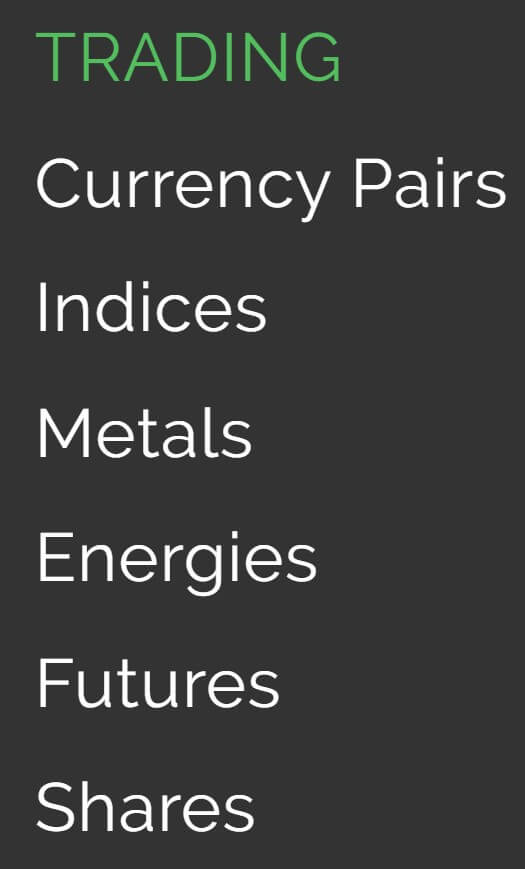 The assets on Dax1001 have been broken down into various categories. Unfortunately, there is not a full breakdown of the available assets. We have outlined the information we do know in each category below.
Currency Pairs:
There are over 50 currency pairs available which include the basic currency pairs (also known as majors) which are the most popular currency pairs to trade. There are also cross-currency pairs available which usually do not contain the USD currency. Finally, there are also exotic currency pairs available which include smaller economic currencies such as those from Brazil, Mexico, and South Africa.
Indices:
There are a number of different indices available, these are normally stock portfolios and some of the ones mentioned include the Dow Jones, S&P 500, Nasdaq, Nikkei, Dax 30 and FTSE 100 form the UK.
Metals:
Looking through all the information provided it seems that Gold, Silver, Platinum, and Palladium are all available to trade.
Energies:
Through the Dax1001 platform, you are able to trade energies such as Natural Gas, Brent Crude Oil, US Crude Oil, Plastics, and Gasoline to name just a few.
Futures:
There are futures that include various assets from the other categories including currencies, securities, goods, energy resources, and stock indices.
Shares:
There are shared from all over the world available to trade, the examples that are given include the likes of Alphabet, Amazon, Coca-Cola, Alibaba, and Tesla.
Spreads
There aren't actually any examples of the available spreads and so because there are no spreads known and also no commissions known. The overall cost of trading with Dax1001 is completely unknown to us. The only information that we have about the spreads is that they are supposed to be low and that they are variable. This means that they can be influenced by the markets, the more the markets move the higher the spreads will be. It should also be noted that not all instruments will have the same spreads, some will naturally be higher than others.
Minimum Deposit
There does not seem to be a minimum deposit level, as you can open up an account using just $1. We would always recommend starting with a higher amount though as starting with a sum that is too low can make profits harder to come by and it is also harder to use proper risk management.
Deposit Methods & Costs
The only methods mentioned as available are Visa, MasterCard, and Bank Wire Transfer. The same page does state that there are a lot of methods available, so whether there are some additional ones available that aren't mentioned, we do not know.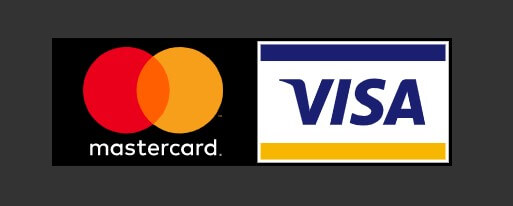 Dax1001 doesn't take fees for transferring money to your account. A standard commission should be paid only if you transfer money from debit and credit cards. In this case, you should pay up to 2.5% of the sum you transfer. This money is paid to cover the expenses on card payment processing. Sometimes a payment system collects fees for using its electronic invoices or servicing bank cards s you should check with your own card issuer or bank for any additional fees added from them.
Withdrawal Methods & Costs
The same methods should be available to withdraw with, for clarification purposes those methods are Visa, MasterCard, and Bank Wire Transfer. Dax1001 does not state whether they add any additional commissions or fees when withdrawing funds with them. You should, however, check with your own bank or card issuer as some may charge an incoming processing fee which you will be liable to pay.
Withdrawal Processing & Wait Time
Withdrawal requests will be processed on working days from 09:00 until 18:00 local time (GMT+2), except weekends and public holidays. Queries sent after 18:00 p.m. will be considered during the next working day. Once the withdrawal request has been processed, it may take between 1 to 5 additional days for the withdrawal to be fully processed by your own bank or card issuer and to be available for use.

Bonuses & Promotions
The only promotion that is shown on the site is the fact that there is a demo account available, so this isn't really much of a promotion. There are mentions of bonuses around the site but no information about them, so they may have been available in the past. So if you are looking for bonuses, you may have some luck if you contact the customer service team to see if there are any active or coming up that you could take part in.
Educational & Trading Tools
The educational side of the site is very basic, it involves an FAQ which is more about the broker rather than trading (it actually only has questions and no answers, so it's not the most useful FAQ). The only other section is a glossary which contains forex related terms, good to come back to if you come across something you do not know, but there are more comprehensive glossaries out there on the internet.
Customer Service
The contact us page is a little basic, there are no details about the operating times of the support team, so we do not know their opening and closing times. There is also a limited way to contact the team, you can use the email address provided or the phone number. It is good that they have provided a phone number as that is what many brokers leave out.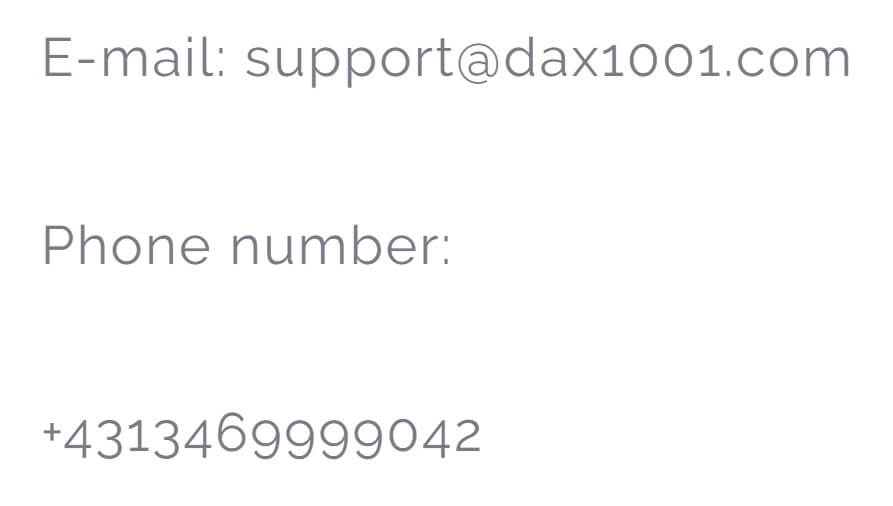 Demo Account
Demo accounts allow you to test out the servers, platform, and trading conditions, as well as new strategies without any real risk. Dax1001 is offering demo account to their clients or potential clients. The demo account uses the MetaTrader 4 platform and will use the same trading conditions mentioned throughout this review. So we, unfortunately, do not know them all, and we also do not know if there is an expiration on the accounts.
Countries Accepted
This information is not present on the site, so we would recommend contacting the customer service team before signing up just to make sure that you are eligible for an account.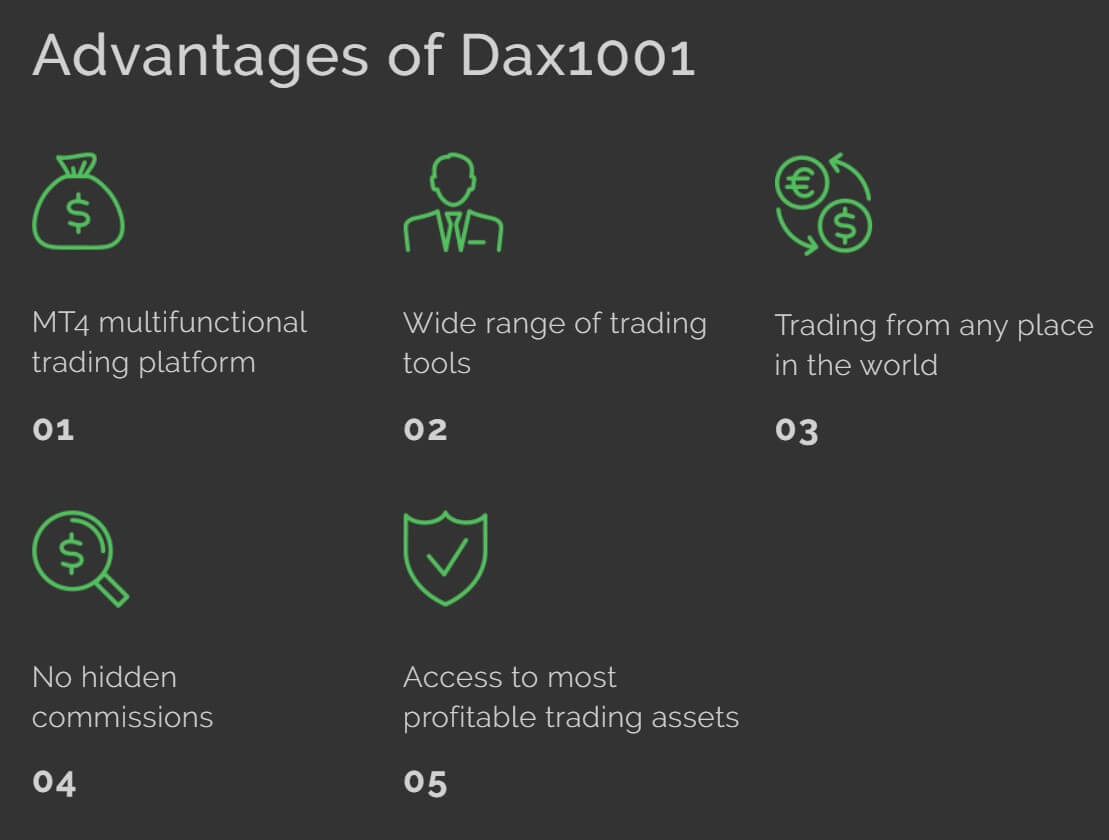 Conclusion
Dax1001 does not make their trading conditions very clear, we know the platforms available and that you can be leveraged up to 1:300 but that is about it. We do not know the spreads or commissions, so the overall cost of trading is a complete mystery to us. We also do not have a full breakdown of the available assets, just some explanations and a few examples here and there. The deposit and withdrawal methods are also limited, the good news is that there are no fees though. There is a lot of information missing, so much that it makes it hard for us to recommend Dax1001 as a broker to use at this current point in time.