The cryptocurrency market had another pretty slow weekend when looking at the price movement. Major cryptocurrencies' volume is dropping each day. The volume drop did not translate into a price drop in most cases. If we take a look at the past 24 hours, most cryptocurrencies ended up being in the slight red, but a good minority did end up in the green. Bitcoin went down 1.98%, and it is now trading at $9,134. Ethereum lost 1.86%, while XRP lost 1.84%.
Out of the top100 cryptocurrencies by market cap, the biggest gainer is ILCoin, with 37.92% daily gain followed by Decred's 17.29 and Chiliz's 12.59% gain. The biggest loser of the day was Bytecoin, which lost 10.99% of its value.
Bitcoin's dominance has stayed at almost the same level that it was on Friday. Its dominance now sits at 67.04%.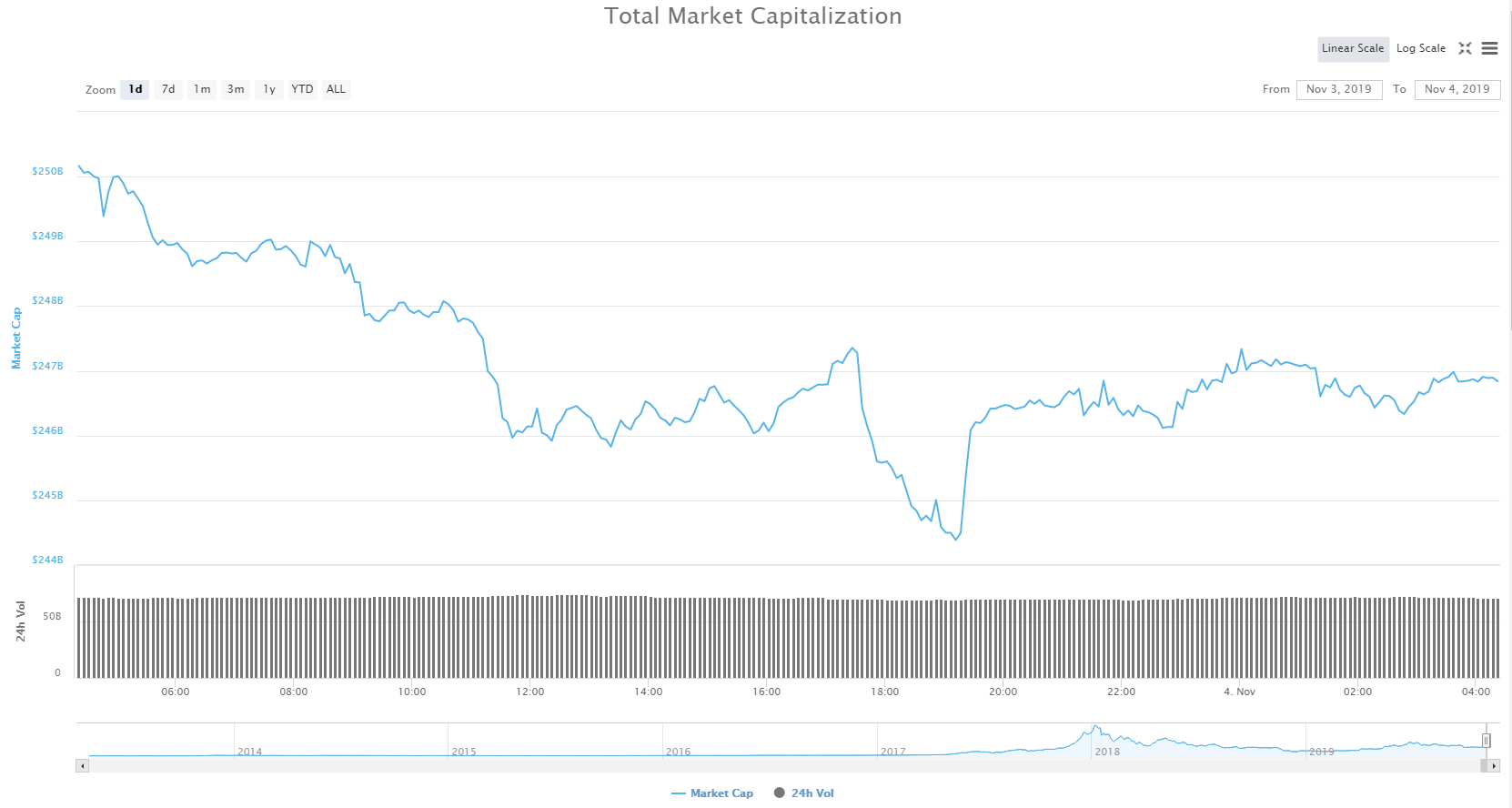 Cryptocurrencies ended up being in the slight red in the past 24 hours, which resulted in a slight drop in market capitalization of the whole asset class. It now has a market capitalization of $246.75 billion, which represents a $3.41 billion decrease when compared to the previous day.
What happened in the past 24 hours
The United Kingdom's tax, payments, and customs authority, Her Majesty's Revenue and Customs (HMRC), updated its guidelines on crypto taxation. The update is aimed towards both businesses and individuals.
HMRC released tax guidance updates that clarify on how businesses and individuals taxation will work when it comes to cryptocurrency. Her Majesty's Revenue and Customs stated that it does not consider any form of cryprocurrency (at the moment) to be currency.
_______________________________________________________________________
Technical analysis
_______________________________________________________________________
Bitcoin
Bitcoin's price is in a very interesting spot at the moment. It currently hovers around the $9,140 point, right above its $9,110 line of support. The interesting part is that its price on the daily chart is creating a small triangle pattern, which is extremely close to breaking. Bitcoin's continous volume reduction is also an indicator of a "calm before the storm".  It is more probable that the price will break downwards, but the upswing is not excluded either.
As mentioned before, Bitcoin's RSI is slowly dropping. Its volume is also dropping day by day.
Key levels to the upside                   Key levels to the downside
1: $9,580                                          1: $8,820
2: $9,740                                          2: $8,640
---
Ethereum
Ethereum is having a hard time moving away from its immediate support and resistance lines. It spent another day in between its $178.6 support line and $185 resistance line, with no intention of going upwards or downwards. Ethereum's volume, like Bitcoin's, is slowly reducing. It is most likely that, if it doesn't make a move itself, it will follow Bitcoin's initiative in any direction. Ethereum is currently trading at $181.5.
Key levels to the upside                   Key levels to the downside
1: $185                                             1: $178.6
2: $193.5                                          2: $167.8
3: $198                                             3: $163.5
---
XRP
As seen in the previous days, XRP has finally given up on pushing its price up to follow the extremely steep upward-facing trend line. Lack of volume continued throughout the weekend. XRP is currently creating a doji candle on a daily time frame, which may indicate a small trend-reversal to the upside. XRP's price remained stable over the past 24 hours, and it is now sitting at $0.291.
XRP's volume and RSI value have stabilized for the duration of the weekend. However, many indicators suggest that XRP will soon make a move, which will impact both volume and RSI.
Key levels to the upside                   Key levels to the downside
1: $0.31                                            1: $0.285
2: $0.325                                          2: $0.266 (major support)
3: $0.333                                          3: $0.245