The cryptocurrency market had a terrible weekend as most major cryptocurrencies are buried in the red. Most top cryptocurrencies ended up losing over 5% of their value in the past 24 hours. If we take a look at today's prices, Bitcoin went down 9.09%, and it is now trading at $6,611. Ethereum lost 11.2%, while XRP went down 10.07%.
Of the top100 cryptocurrencies by market cap, the biggest gainer is Storeum, with 332.34% daily gain. The biggest loser of the day was Maker, which lost 19.17% of its value.
Bitcoin's dominance has not changed much when compared to its value before the weekend, even though its price dropped significantly. Its dominance now sits at 65.63%.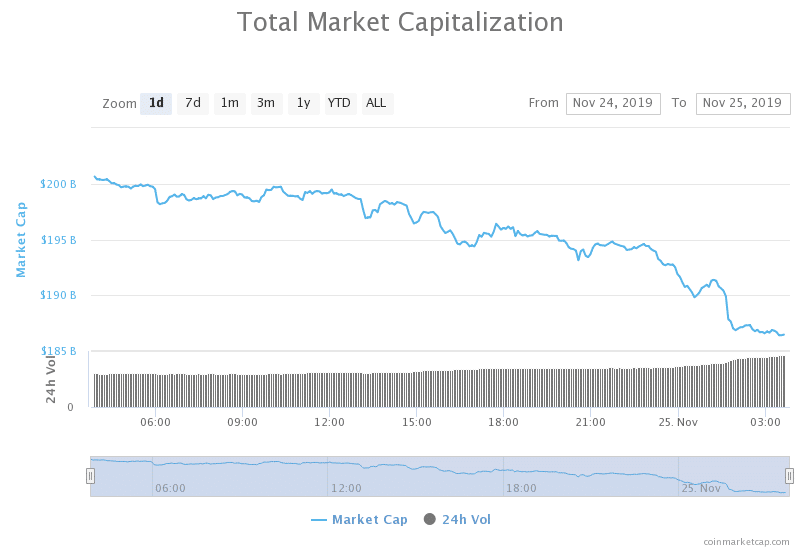 The cryptocurrency market as a whole now has a market capitalization of $186.58 billion, which represents a significant decrease when compared to the value it had yesterday as well as before the weekend.
What happened in the past 24 hours
Cryptocurrency markets suffered a considerable decrease in value as traditional markets flatlined. On top of that,  a cryptocurrency whale has just moved 44,000 BTC from one address to another, signifying a possible preparation for a sale.
This hefty movement was detected by Twitter-based transaction monitor called whale_alert. Bitcoin's miners included the transaction in block #605230.
_______________________________________________________________________
Technical analysis
_______________________________________________________________________
Bitcoin
Bitcoin's price drop below $7,000 can be percieved as crushing to some investors. However, the price support of $6,620 held up quite well against the major bear pressure. This key support level dates all the way back from 2018.
Bitcoin's volume has increased significantly as the bears took over the market. Its RSI level is far in the oversold territory at the moment.
Key levels to the upside                   Key levels to the downside
1:  $7,415                                        1: $6,620
2: $8,000
3: $8,425                                
---
Ethereum
Ethereum had a terrible day, as well. Its price went all the way down to $135. Its resistance levels are now quite unclear, but major support awaits at the $127 line. This represents a significant decrease in price from the $170 levels it was at just before the weekend.
Key levels to the upside                   Key levels to the downside
1: $167.8                                            1: $127
2: $178.6
3: $185
---
XRP
XRP's is maybe the biggest loser of this bear market as its support levels are still unclear. Its price now hovers around $0.21, which seems to hold up well at the moment. XRP needs to establish support levels at the moment in order for it to consolidate in a healthy way.
XRP's RSI reached oversold levels while its volume is invariably high.
Key levels to the upside                   Key levels to the downside
1: $0.235                                       1:  still unclear
2: $0.245
3: $0.266