The crypto market is consolidating and trying to find a price to stabilize. Most cryptocurrencies did end up in the red. However, the losses were quite negligible. If we look at the past 24 hours, Bitcoin's fell by 0.84%. Its price is $7,238 at the moment of writing. Meanwhile, Ethereum lost 0.7%, while XRP fell 0.09%.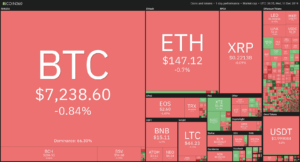 The biggest daily crypto gainer for the largest market cap cryptos is MINDOL, with gains of 67.83%. On the other hand, the biggest daily crypto loser is EDUCare, which lost 9.55% of its value.
Bitcoin's dominance fell slightly in the past 24 hours. Its dominance sits at 66.3% at the time of writing. This value represents a decrease of 0.26% from yesterday's value.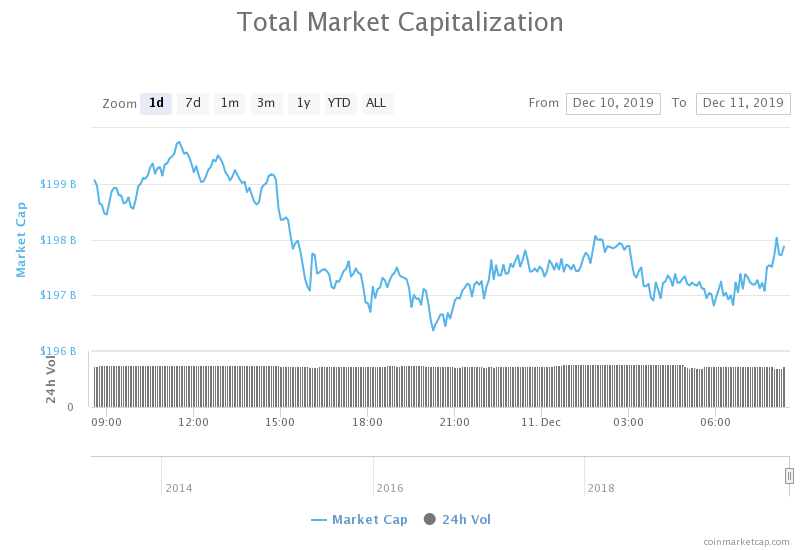 The cryptocurrency market's market cap fell slightly in the past 24 hours. Its total value is currently $197.75 billion. This represents a decrease of $1.71 billion when compared to yesterday's value.
What happened in the past 24 hours
Another good indicator of blockchain's popularity is the number of companies trying to utilize it's potential. Nike recently became one of these companies as they patented shoes that are tokenized as a non-fungible token. This tokenization will work on the Ethereum blockchain.
The patent thoroughly describes a digital asset for footwear as well as ways to use it. The document explained how Ethereum's ERC721 or ERC1155 tokens are used to authenticate and transact a physical shoe.
_______________________________________________________________________
Technical analysis
_______________________________________________________________________
Bitcoin
Bitcoin had another small price drop in the past 24 hours. Even though the drop seems negligable, its price actually fell under another support line. The price was consolidating between the $7,415 resistance and $7,314 Fib retracement line yesterday. However, the $7,314 line got broken and turned resistance. Bitcoin's next support level would be $7,000.
Bitcoin's volume was on an upswing during the price drop but normalized quite fast at lower levels. Its RSI value fell and is now very close to the oversold levels.
Key levels to the upside                    Key levels to the downside
1: $7,314                                           1: $7,000
2: $7,415                                           2: $6,640
3: $7,565                                           3: $6,505
---
Ethereum
Ethereum had almost the same red candle that moved the market down slightly as Bitcoin. However, its price recovered a bit better, and Ethereum created a few small green candles.
On top of that, the second-largest cryptocurrency by market cap didn't break any support levels. Its price now trades between the $150.5 key resistance and $144.1 critical support level. After the price drop, the support level got tested and held up quite well.
Ethereum's volume is at a reasonably normal level compared to the previous days. Its RSI almost hit the oversold territory but is currently on the upswing.
Key levels to the upside                    Key levels to the downside
1: $150.5                                             1: $144.1
2: $155.8                                            2: $133.5
3: $161.1                                            3: $128.9
---
Ripple
XRP's chart is looking like it's having an identity crisis, as bulls and bears are constantly fighting. As stated before, it's underwhelming to say that XRP just broke its uptrend. Rather, the price drop looks like a downtrend. Still, there is good news for XRP after all. After its price dropped below $0.222, which was the next key support and the 38.2% Fib retracement line, bulls rallied and brought the price above it. That way, the $0.222 level still acts as an immediate support level.
XRP's volume is currently extremely low, while it's RSI value is closer to the bottom half of the range. No key levels changed as XRP didn't break any of them.
Key levels to the upside                    Key levels to the downside
1: $0.2267                                          1: $0.222
2: $0.234                                            2: $0.2182
3: $0.2351                                          3: $0.2145