CCI Divergence is a reasonably useful indicator in itself, but it is even more effective when used with divergence pattern trading. The CCI Divergence indicator signal is one of the most potent signals among the indicators that exist in the market. Divergences indicate a potential investment point because the directional moment does not confirm the price. A bullish divergence occurs when the underlying value makes a low, and CCI forms a higher low, showing less downtime. A bearish divergence is formed when security records a higher and the JRC forms a lower high, showing less upward momentum.
Overview
The indicator, in addition, finds hidden divergences (HD). Hidden divergences are in the direction of the trend, and are often powerful signals for trade. This indicator is very functional and can significantly improve the outcome of your trading. With this indicator we can use several time frames, although time frames below M15 are not recommended, the most recommended are H1, H4, and D1.
Method of Price Detection
The indicator detects the price pivots and checks the corresponding value of the pivots on the CCI indicator. When divergence is found (a price movement with the oscillator in the opposite direction), the indicator will draw lines on the chart and the oscillator.
Parameters that can be adjusted on the indicator include:
ICC Period
CCI drawing type (line or histogram)
Color Of Lines CCI/ Bars
Bullish divergences, (Choose a color to draw bullish divergences)
Bassist Divergences, (Choose a color to draw bearish divergences)
CCI lines/bar thickness
Divergences Lines Thickness
Divergence line style (Enter a solid, discontinuous, etc.)
Alert (on/off)
Divergence filter (You can choose to show regular or hidden divergences or both)
Send Push notifications (To know when divergence occurs)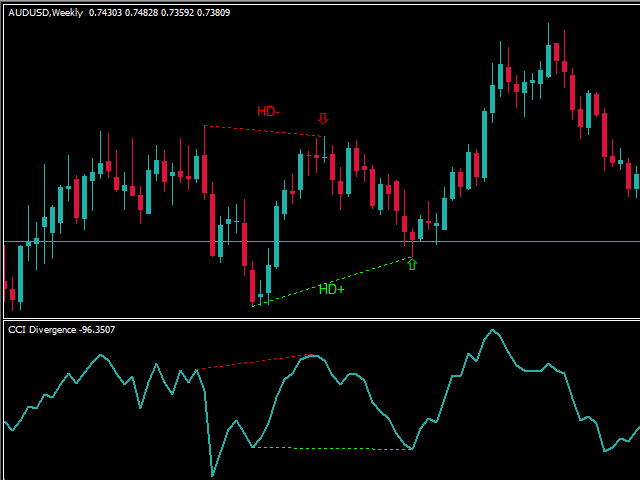 Conclusion
We are talking about a primary and very useful indicator, which can be used as a strategy by itself. Among the users' comments, there are some dissatisfactions about the operation of the indicator in some periods of time, but the developer takes care of all the doubts and updates the versions of the indicator frequently, so it seems that the after-sales service is good. This indicator has a price of only 30 USD, and can also be rented for 12.50 USD for a period of 3 months. Also, you have a free version for your test before you buy it.
This Forex service can be found at the following web address: https://www.mql5.com/en/market/product/30884