Blitz Gold EA is a strategy that is based on capturing the movement of prices. This is to avoid those points where the manual traders have positioned their stop loss. In other words, this strategy was developed as a consequence of the struggle between manual traders (including swing traders) and the market.
Overview
Blitz Gold EA is designed for gold trading only (XAUUSD). This is a fully automated EA, and to start trading it is only necessary to install the robot on a graph. The developer says the strategy has worked for more than 15 years and will continue to work in the future. This statement is based on the so-called stop-loss order accumulation points of traders trading with the trend in the medium term or in the intraday. Usually, as a rule, these points are found behind local fractals, often at the highest point of the day or at the lowest.
The task of this EA is to capture the movement of prices when it eliminates the stop loss of other traders, it is often a short-term move, so you need to use an exact stop loss, while there is no need to use an extensive stop loss. This strategy is, therefore, relatively safe. But how can you know where the Stop Losses of the other traders are? Market conditions are changing every year, and since there is no information about where the stop-loss table of other traders is located, this EA uses complicated strategies based on statistics and optimization, in this task, you help indicators such as:
Bollinger Bands
Parabolic SAR
Zigzag
Fractals
All these indicators must be installed on your MT4 terminal by default, all of them are available at all commercial terminals.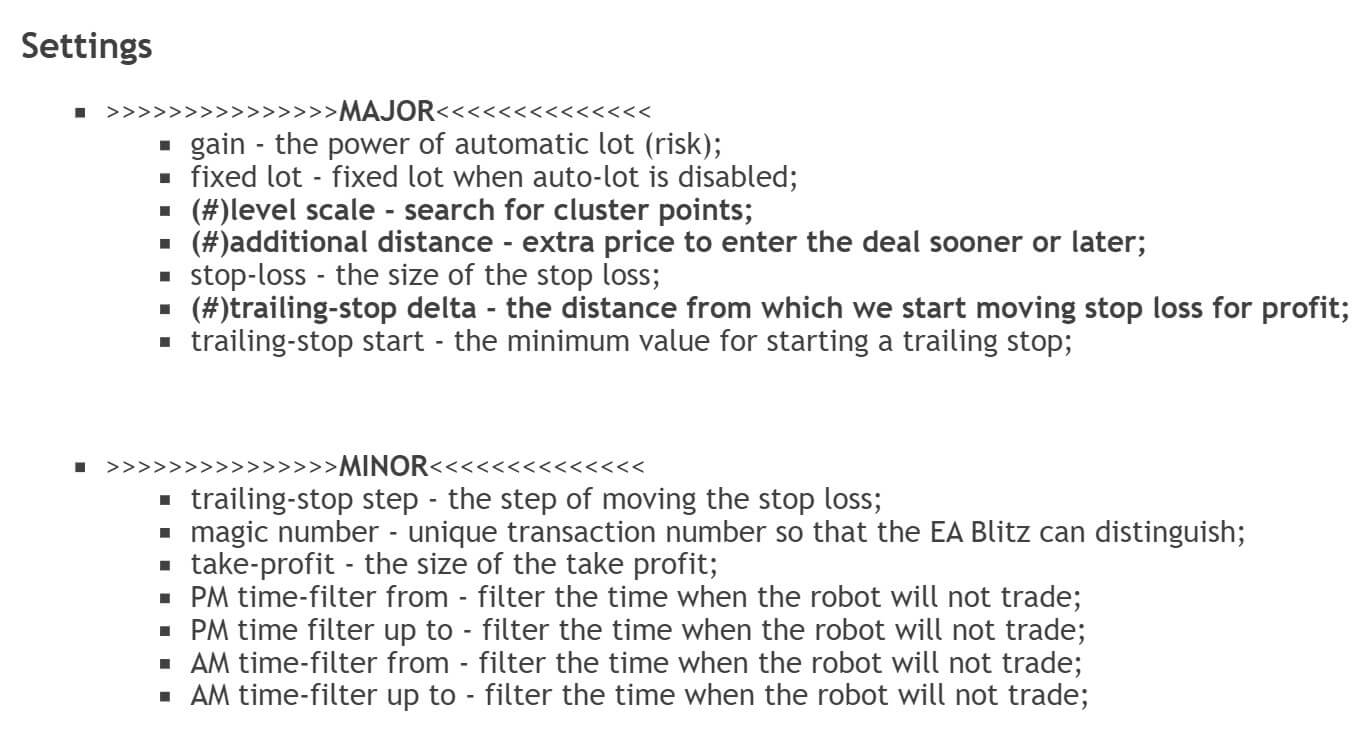 DISADVANTAGES
When you are trading against another trader, and you reach a point where a large number of transactions converge, it is precisely the large volume of trading orders that is the main problem of this strategy, which involves:
Requirements for the execution of orders
Sliding
These are the two main reasons that make this EA have drawbacks, so when you are fighting with other traders, you need to have a good broker and a low ping so that EA Blitz can give orders very quickly.
ADVANTAGES
Of course, this strategy has many advantages, compared to other strategies:
It is not a martingale
NOT a grid
Trading with Stop Loss
Negotiation of a single order
This robot will always work because this strategy is a consequence of the struggle of manual traders with the market.
Conclusion
The developer of this EA, which is quite recent (February 2020), offers support and update of future versions. Since it is a short-lived EA, there are not many comments from users who have used it, but the few comments that exist are mostly negative, so we advise caution against purchasing this EA until it can be further developed and upgraded.
If in any way you are interested in purchasing this EA you should know that it has a free demo version and that its price is $199 USD in the MQL market.
This Forex service can be found at the following web address: https://www.mql5.com/en/market/product/31250