BitMEX in-depth guide (part 1/5) – BitMEX explained
Bitcoin Mercantile Exchange, better known as BitMEX, is one of the biggest Bitcoin trading platforms currently operating. Its daily trading volume is often over 35,000 BTC monthly. It can also pride itself with over 540,000 monthly accesses, as well as with a trading volume of over $34 billion in Bitcoin since it started operating.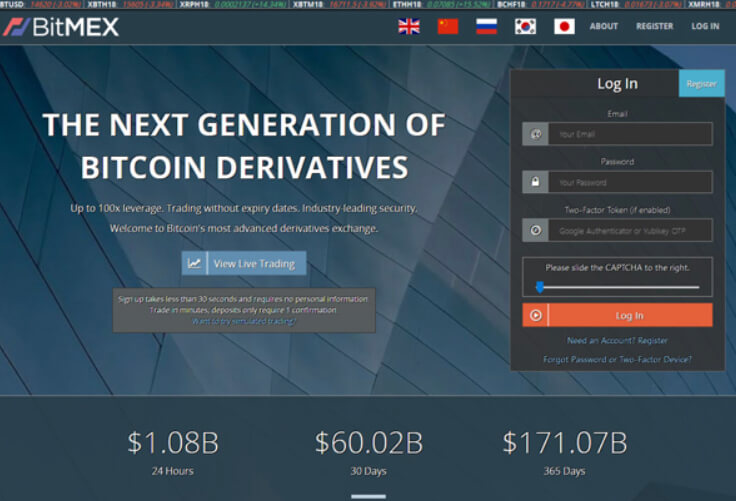 Unlike many other crypto trading platforms, BitMEX only accepts Bitcoin deposits. They can then be used to purchase a variety of cryptocurrencies. BitMEX specializes in advanced financial operations, such as margin trading. BitMEX is currently working without any regulation, much like many other exchanges.
It was founded by HDR Global Trading Limited in 2014 and registered in Seychelles. Its owners and creators are former bankers Arthur Hayes, Samuel Reed, and Ben Delo.

BitMEX's team comprises of many people, including experienced developers, economists as well as high-frequency algorithm traders.
Signing up to BitMEX
To create an account on BitMEX, users have to register with the website. Registration is extremely quick, as it only requires an email address. The email address, however, must be a genuine address because users will receive a registration confirmation email in order to verify the account. Once registered, users have absolutely no trading limits. Traders must be at least 18 years old to sign up.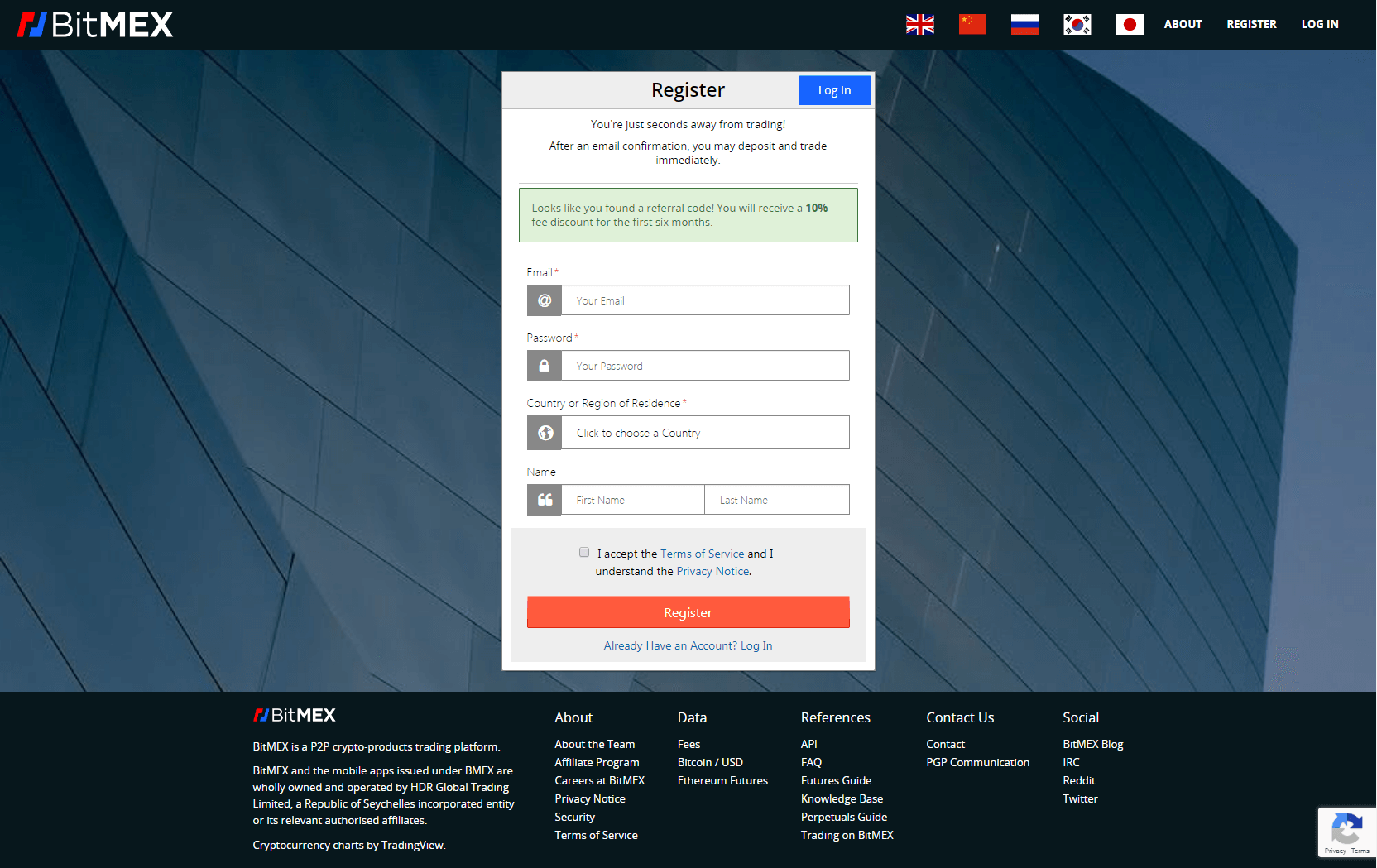 BitMEX, however, does not accept any US-based traders. The company will use IP checks to verify that their users are not in the US. While some US users manage to bypass this restriction with the use of a VPN, it is not exactly recommended for US individuals to sign up for the BitMEX platform.
How to Use BitMEX
BitMEX allows its users to trade various cryptocurrencies against various fiat currencies. Users can trade their cryptocurrency against the USD, the Japanese Yen as well as the Chinese Yuan. BitMEX allows its users to trade quite a bit of different cryptocurrencies:
Bitcoin
Bitcoin Cash
Cardano
Ethereum
EOS
Litecoin
Tron
Ripple
BitMEX trading platform is considered very intuitive and easy to use for users that are familiar with advanced trading platforms. However, a beginner may have a hard time following everything on the screen. The interface looks a little dated when compared to some of the newer exchanges such as Binance and Kucoin. Signed up and logged in, traders can click on Trade, where they will find all the trading instruments available.
Clicking on any of the instruments opens the order book, recent trades, as well as the order slip on the left. The order book will show three columns:
Bid value for the underlying asset!
Quantity of the order!
Total USD value of all orders. This includes both shorts and longs!
Trading widgets can be changed and customized according to the user's viewing preferences. This allows users to have full and absolute control over what is displayed and how. On top of that, BitMEX provides its users with TradingView charting. This feature offers a wide range of charting tools provided by the TradingView platform.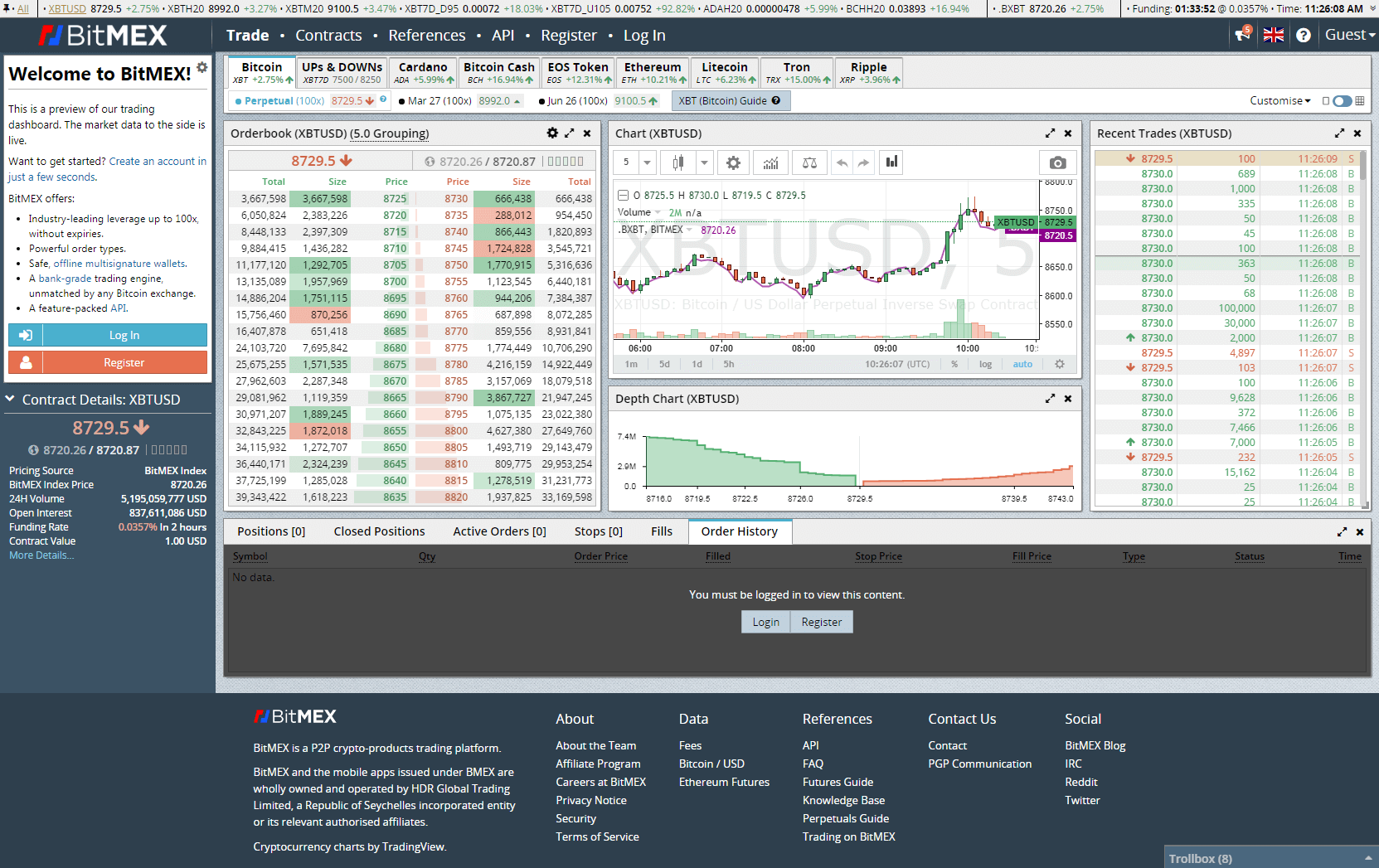 Once a user enters a trade, they can see all orders in the trading platform interface. Tabs showing users their Active Orders, Stops that are in place, Orders Filled (in total or partially) as well as the trade history can be easily found on the main screen.
Even though BitMEX is optimized for mobile use, it only has an unofficial Android app. There are no iOS apps available at the moment. However, trading by using so many advanced features might require using a desktop or a laptop in order to comprehend everything happening on the screen.
Types of orders at BitMEX
Traders are not limited to only simple buying and selling on BitMEX. BitMEX offers various order types for users:
Limit Order (the order will be fulfilled only if the given price is achieved);
Market order (the order is executed instantly and at current market price);
Stop Limit Order (a form of a Stop Order; allows users to set the order price once the Stop Price triggers)
Stop Market Order (a Stop Order that that remains unseen from the order books until the market reaches the trigger price)
Trailing Stop Order (very similar to a Stop Market Order; users set a trailing value that is then used to place the Market Order)
Take Profit Limit Order (the opposite of a Stop Order, used to set a profit target)
Take Profit Market Order (almost the same as the previous type. However, this order will set the order triggered as a Market Order, not as a Limit Order).
Make sure to watch the second part of our BitMEX in-depth guide, where we will look into BitMEX's futures and swaps, leveraged trades as well as fees!