BitMEX in-depth guide (part 5/5) – Platform safety and security
Our last part of the BitMEX in-depth guide will dive into the safety and security aspects of the platform.
Is BitMEX a safe and secure platform?
BitMEX is considered to have an extremely high level of security. The platform utilizes multi-signature deposits as well as withdrawal schemes, which are only usable by BitMEX partners. The company also utilizes Amazon Web Services to further protect their servers with text messages, two-factor authentication, and hardware tokens. BitMEX's security protocols are quickly becoming the industry standard.

BitMEX has a risk-check system which requires the sum of all account holdings on the platform to be zero. If the sum of account holdings does not equal zero, all trading is immediately halted until the issue is fixed.
BitMEX utilizes the multi-signature deposit and withdrawal technology. All exchange addresses are, by default, multi-signature. All funds are kept offline. BitMEX users' private keys are never stored on any cloud servers to avoid any misuse or theft. Deep cold storage is utilized for the majority of the users' funds. As noted in previous parts of our review, BitMEX's withdrawals are hand-checked by at least two of their employees before being sent out; all to increase the safety of its users. Deposit addresses are verified externally to ensure that they contain the keys that are supposed to be controlled by the founders. If they do not contain the matching keys, the system shuts down immediately, and all trading is halted.
The BitMEX trading platform is written in a kdb+ database. This database is popular amongst major banks, especially in high-frequency trading applications. BitMEX's engine seems to be faster as well as more reliable than the engines of Poloniex and Bittrex, which are considered BitMEX's competitors.
The platform uses email notifications as well as PGP encryption for all communication. BitMEX encrypts and signs all automated emails sent by or to its users' accounts by the support@bitmex.com email address.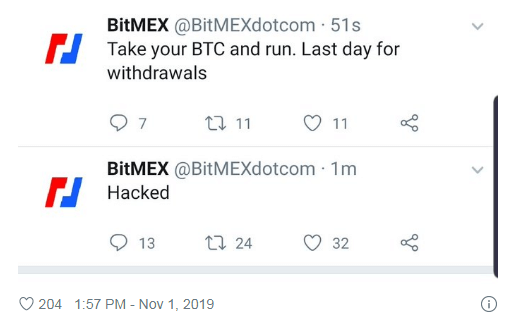 The exchange did not suffer from any form of a security breach in the past. However, their Twitter handle did get hacked in November 2019, which caused mass panic and hysteria amongst its users.
However, no funds were stolen as their platform safety was not in danger, which they confirmed on the same day in one of their Tweets.
Summary
BitMEX is certainly not a perfect exchange. It has encountered a couple of complaints, mostly regarding technical issues or the complexity of using the platform in general. Older complaints can be seen online as well, and the majority of them regard issues of low liquidity. However, low liquidity is no longer a problem with BitMEX.
BitMEX is clearly not a trading platform aimed at the amateur investor with limited knowledge of trading as well as the crypto industry. Its interface is extremely complex, which can bring adjustment problems to its users. The platform is not extremely user-friendly, as navigating the platform is not quite as intuitive as it could be.
On the other hand, the BitMEX platform provides a wide range of tools that experienced users can utilize and appreciate. By utilizing these tools, users can obtain all the information they need to maximize their trading potential.