Argus FX is a true STP / ECN online foreign exchange broker that is based in Nicosia, Cyprus. They are authorized and regulated by the Cyprus Securities and Exchange Commission (CySEC) under CIF License Number 334/1. They are also an EU regulated and MiFID-compliant Investment Services Firm. According to their website, their three main missions and objectives are as follows:
To protect our clients' wealth by designing and implementing strategies to meet their investment criteria in a proactive and dynamic manner.
To offer exceptional services and wide-ranging products, market-leading pricing, and state of the art risk management and trading tools.
To provide integrated proprietary trading platforms using the unique "One Account Different Platforms" functionality.
We will be using this review to see if they live up to their objectives or to see if they fall short. It will also give you an opportunity to see if they are the right broker to satisfy your trading needs.
Account Types
There are two different accounts available. We have outlined their main features below along with any entry requirements.
Standard STP:
This account does not have a minimum deposit requirement, the accounts base currency can be in USD, EUR, PLN or GBP. The account can be leveraged up to 1:30 for retail clients or 1:500 for professional clients. The minimum trade size starts from 0.01 lots and there is a spread starting from 0.7 pips which average around 1.8 pips for EURUSD. There is no commission added to this account and there is an optional swap-free version available.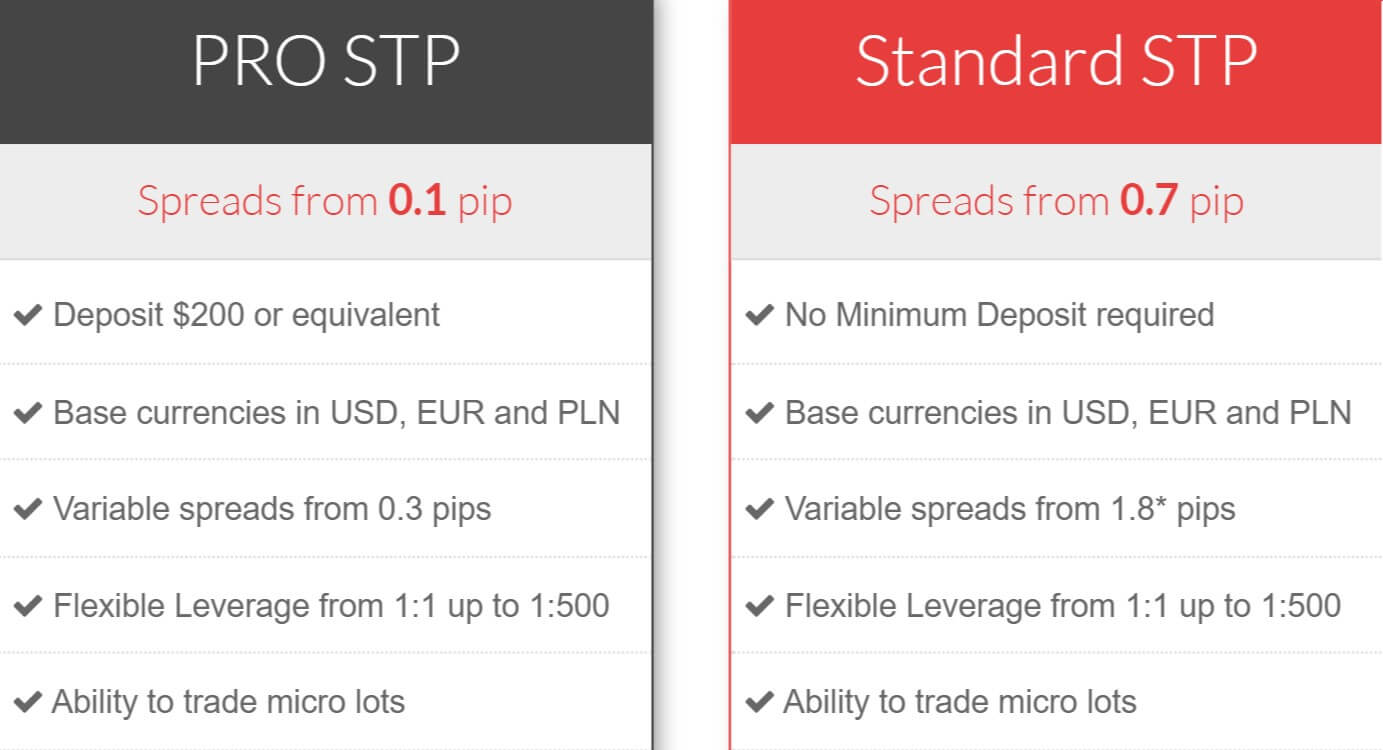 Pro STP:
This account has a minimum deposit requirement of $200, the accounts base currency can be in USD, EUR or PLN. The account can be leveraged up to 1:30 for retail clients or 1:500 for professional clients. The minimum trade size starts from 0.01 lots and there is a spread starting from 0 pips which average around 0.3 pips for EURUSD. There is an added commission that depends on the deposit amount you make (see trading costs section of the review) and there is an optional swap-free version available.
Both accounts come with the ability to perform hedging and scalping, and they can also use expert advisors. They both come with a dedicated manager, a full range of currency pairs to trade, real-time customer service, full IT support, technical analysis reports and access to a full array of investor education tools.
Platforms
There are three different platforms available and we have outlined some of their main features below.
MetaTrader 4 (MT4):
MetaTrader 4 was released back in 2005 and quickly became one of the world's most used trading platforms. Some of its major features when using it with Argus FX include an STP/ECN environment, a range of currency pairs to trade, EA (Expert Advisor) functionality, technical analysis tools with indicators and charting tools, three (3) types of charting, hedging and Scalping are allowed, it has VPS functionality, access to a dedicated Account Manager, and 24/5 customer support.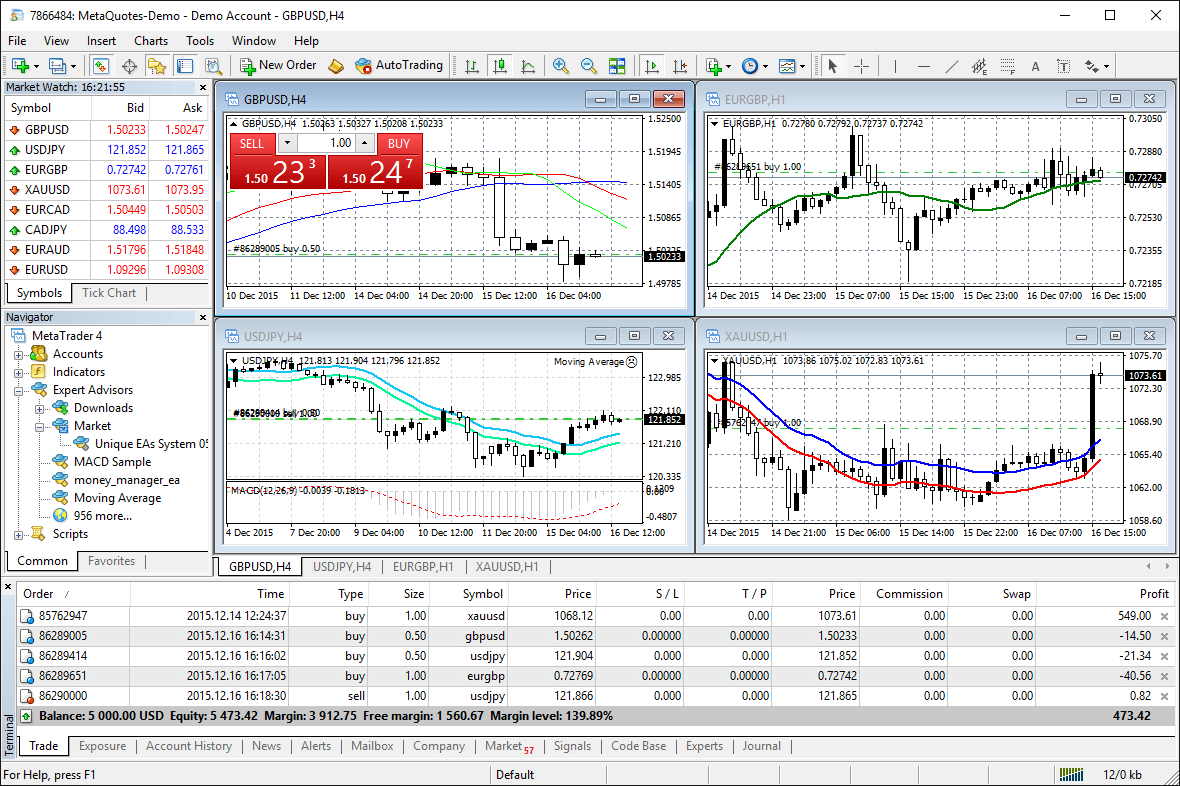 MetaTrader 5 (MT5):
MT5 was designed as the next step up from MT4. Some of its main features when using it with ArgusFX include a full set of trading orders for flexible Forex, Stocks and other securities trading, two-position accounting systems: netting and hedging, an unlimited amount of charts with 21 timeframes and one-minute history of quotes, technical analysis with over 80 built-in technical indicators and analytical tools, and fundamental analysis based on financial news and economic calendar. It has the largest store of ready-to-use trading applications at MetaTrader Market, powerful algorithmic trading with the built-in MQL5 development environment, trading signals that allow you to automatically copy the trades of experienced traders, a system of alerts to keep track of all important market events and built-in Forex VPS.
Argonaut:
The Argonaut is an investment platform creating a trading and investment community whereby professional traders, funds, and portfolio managers can put forth their strategies (a.k.a. Argonauts), for other individual investors to follow. The platform accounts for each investor's risk profile and also allows you to create a portfolio of real strategies allocating to each your desired investment size, duration, and risk level.
Leverage
With regard to leverage, Argus FX follows the recommendations of the ESMA which suggests that there should be leverage limits on the opening of a position by a retail client ranging from 30:1 to 2:1, which vary according to the volatility of the underlying asset.
30:1 for major currency pairs
20:1 for non-major currency pairs, gold, and major indices
10:1 for commodities other than gold and non-major equity indices
5:1 for individual equities and other reference values
2:1 for cryptocurrencies
Being classified as a 'Professional Client' means that we will be able to tailor our products and trading conditions to meet your trading needs outside the restrictions mentioned above, as leverage for professional clients can be up to 1:500. To be classed as a professional-client you must have carried out transactions, in significant size, on the relevant market at an average frequency of 10 transactions per quarter over the previous four quarters, the size of your financial instrument portfolio, defined as including cash deposits and financial instruments, exceeds EUR 500,000 or you are working or have worked in the financial sector for at least one year in a professional position, which requires knowledge of the transactions or services envisaged.
Trade Sizes
The minimum trade size for both accounts is 0.01 lots (known as a micro lot) the trade sizes then go up in increments of 0.01 lots, so the next trade would be 0.02 lots and then 0.03 lots. We do not know what the maximum trade size is or how many open trades or orders you can have at any one time.

Trading Costs
The Pro STP account does have some added commissions, and these are based on your deposit amount. If you deposit between $200 and $2,000 you will have an added commission of $15 per lot on top of the raw spreads. If you deposit over $2,000 then you will have an added commission of $10 per lot traded on top of the raw spreads. You are also able to receive $5 per lot commissions, but you will need to contact an account manager in order to see the requirements of this commission rate.
There are swap charges on both account types, these are fees that are charged when you hold a trade overnight or over the weekends, and these can be viewed within the trading platform you are using. There are swap-free accounts for both account types just in case your religion or beliefs does not allow you to pay or accept interest.
Assets
The assets and have broken down into various main categories, and the instruments placed within them. We have outlined them for you below so you can get an understanding of what is available to trade.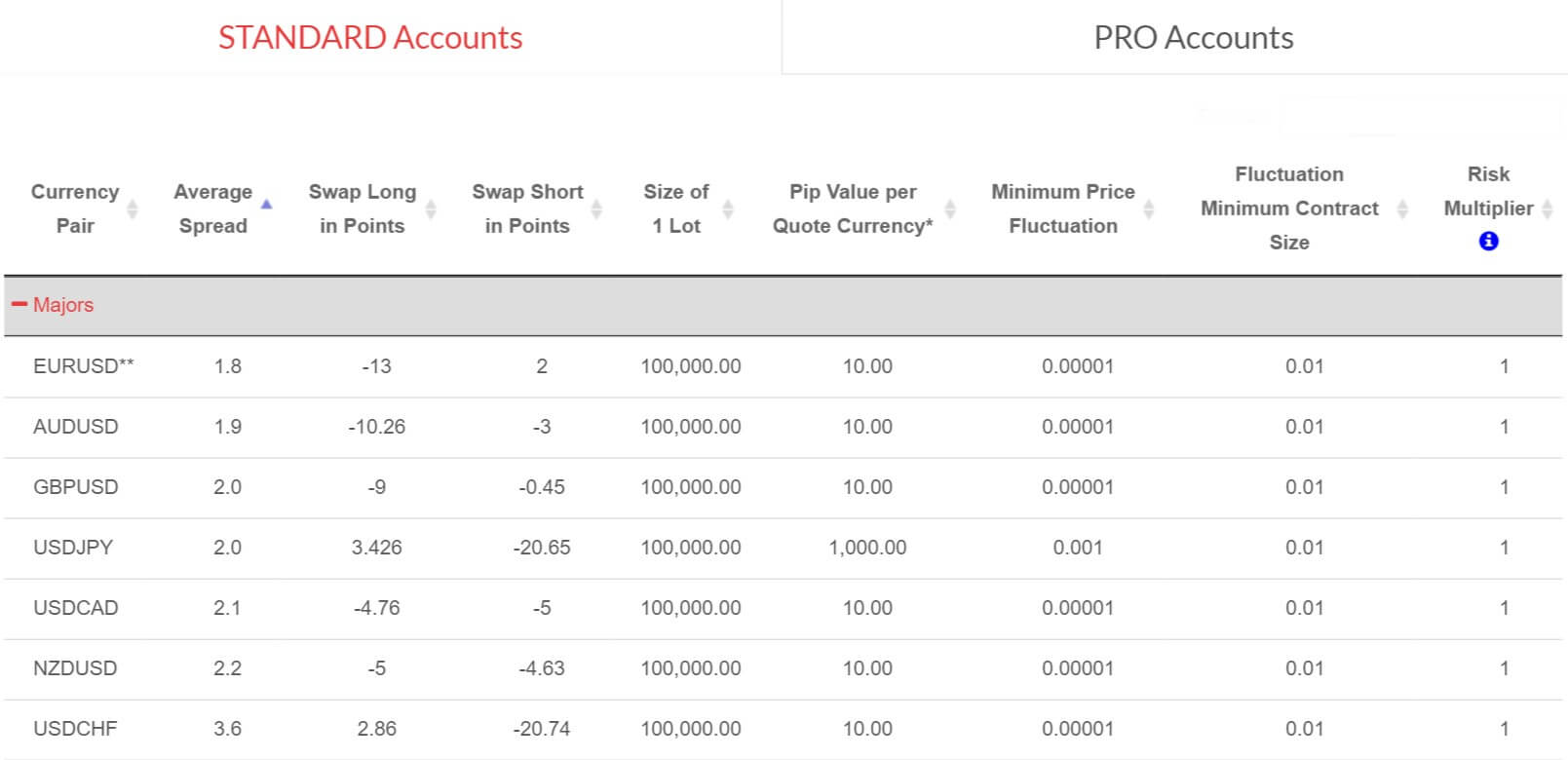 Forex:
EURUSD, AUDUSD, GBPUSD, USDJPY, USDCAD, NZDUSD, USDCHF, EURJPY, EURGBP, EURCHF, NZDJPY, GBPJPY, GBPCHF, AUDJPY, CADJPY, EURAUD, EURCAD, NZDCHF, GBPCAD, CHFJPY, GBPAUD, AUDCHF, AUDNZD, AUDCAD, CADCHF, NZDCAD, GBPNZD, EURNZD, EURHUF, NOKSEK, EURTRY, USDTRY, AUDHUF, USDPLN, GBPTRY, EURPLN, EURSEK, USDSEK, USDNOK, GBPPLN, EURNOK, USDHUF, USDZAR, GBPSEK, EURZAR, USDMXN, GBPNOK, GBPZAR, EURRUB, USDRUB.
Spot Metals:
XAGUSD, XAGEUR, XAUUSD (Gold and Silver).
Indices:
Australia 200, Dow Jones 30, Euro 50, France 40, Germany 30, Hong Kong 50, Nasdaq, S&P 500, Spain 35, UK 100.
Commodities:
Brent Oil, Heating Oil, Natural Gas, US Crude Oil.
Stocks:
65 different stocks available including Ford, Facebook, CitiGroup, Boeing, Amazon, and Apache.
Futures:
There are a number of futures including indices, commodities, and treasuries.
Spreads
The Standard STP account has spread starting from 0.7 pips while the Pro STP has spreads starting from as low as 0 pips. While those are the stated figures, in reality, the lowest spreads that we say on the Standard STP account were 1.8 pips on EUR/USD and 0.3 pips on the Pro STP account (also EUR/USD).
The spreads are also variable which means they will change with the markets, and more volatility will cause them to go higher. Different instruments will also have different average spreads, so while EUR/USD is at 1.8 pips on the Standard STP account. USD/CHF is currently sitting at 3.9 pips on the same account.
Minimum Deposit
There isn't a minimum deposit requirement in order to open up the Standard STP account. However, if you want to use the Pro STP account you will need to deposit at least $200, once this account has been opened any subsequent deposits into that account will not have any limits.
Deposit Methods & Costs
There are a few different methods available to deposit with. Some of them have deposit fees attached to them and some do not, so we have outlined them all below along with any applicable fees.
Visa/MasterCard – 1.35 EUR / USD / GBP or 5.6 PLN added fee
Bank Wire Transfer – No fees
Skrill – No fee for depositing
Neteller – No fee for depositing
QIWI Wallet – 2% fee on the deposited amount
Yandex Money – 2% fee on the deposited amount
Sofort – 2% fee on the deposited amount
You should also check with your own bank or processor to see if they will add any outgoing transfer fees of their own.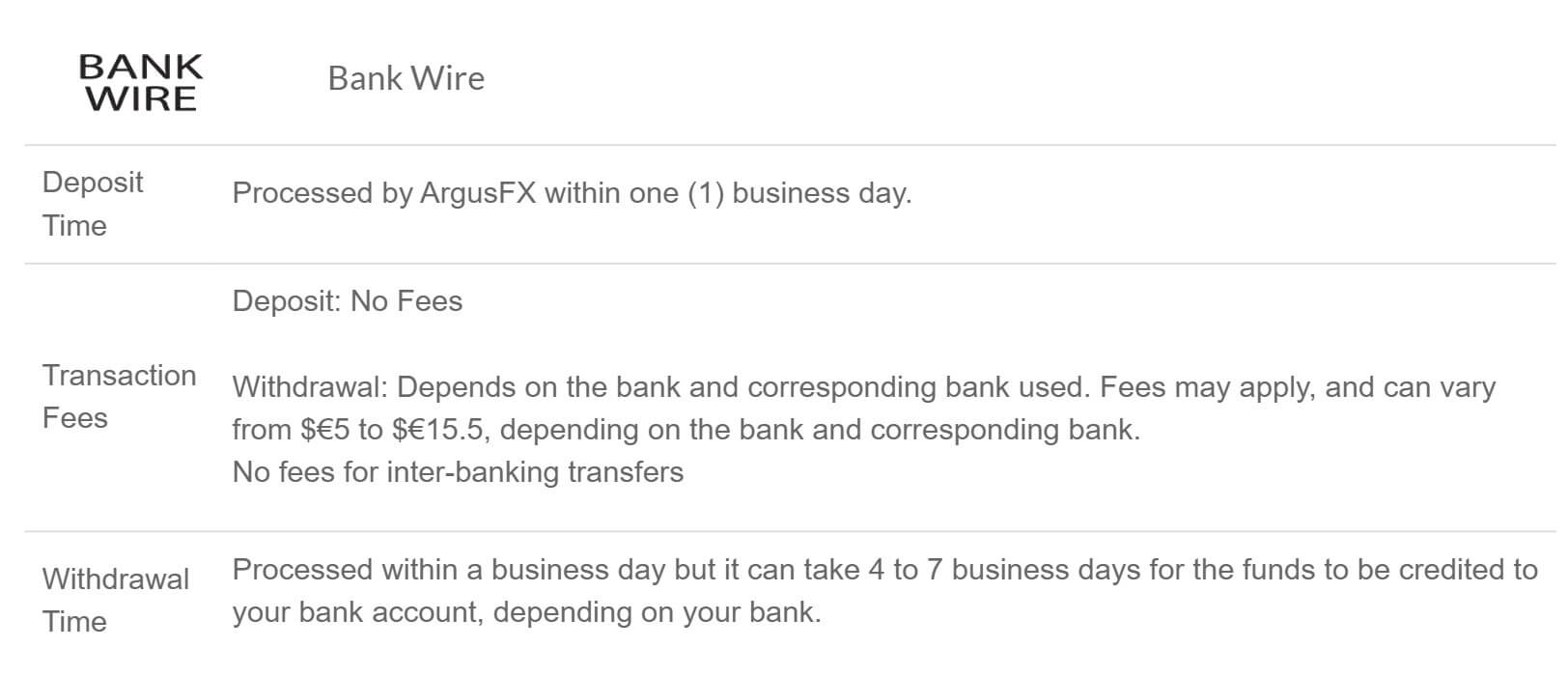 Withdrawal Methods & Costs
We have outlined the withdrawal methods below along with their fees.
Visa/MasterCard – 1.8% fee on with the withdrawn amount
Bank Wire Transfer – Depends on the bank and the corresponding bank used.
Skrill – 1.8% fee on with the withdrawn amount
Neteller – 1.8% fee on with the withdrawn amount
QIWI Wallet – 1% fee (on the withdrawal amount) + 0.3 EUR or equivalent (fixed)
Yandex Money – 0.3 EUR or equivalent (fixed fee)
Sofort – No withdrawal fees are mentioned
While there are fees that are never a good thing to see, they seem to be quite reasonable and not something that would put off a potential client.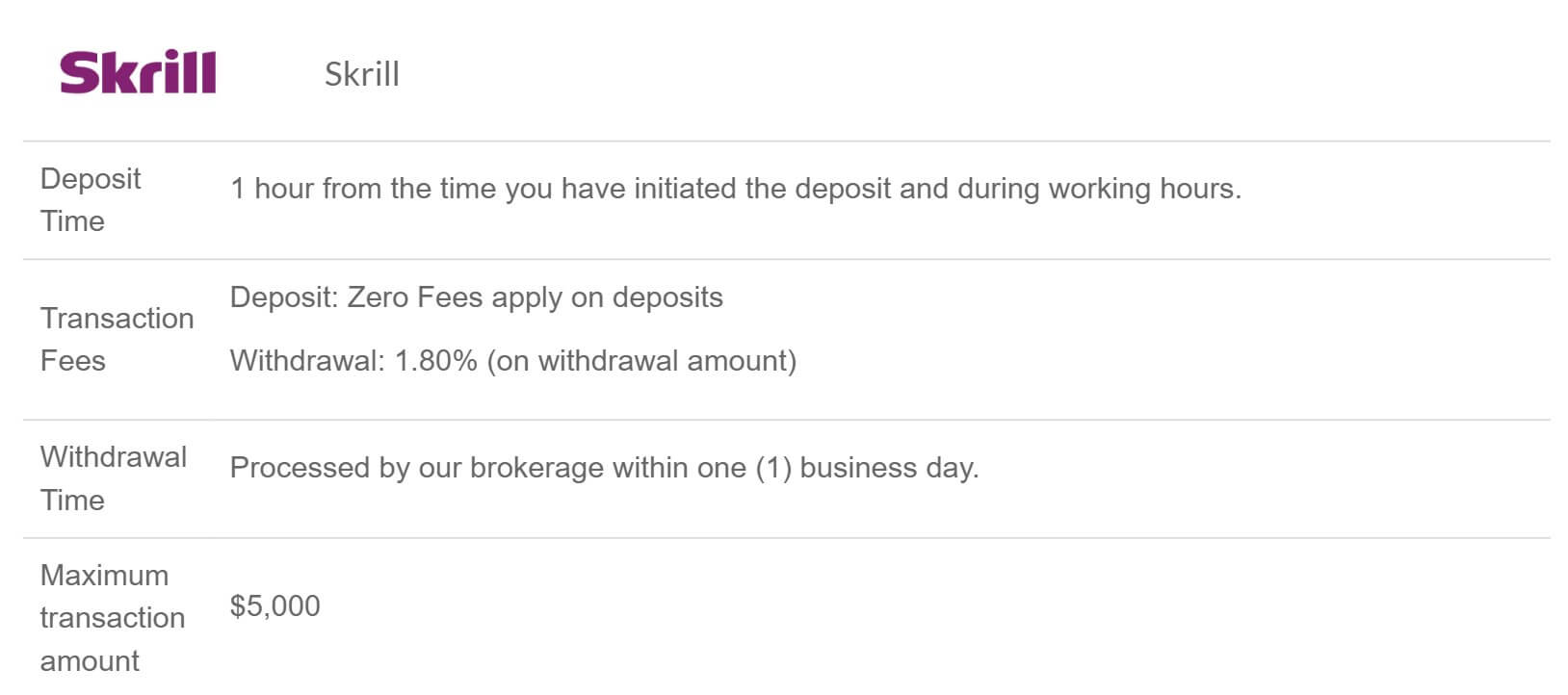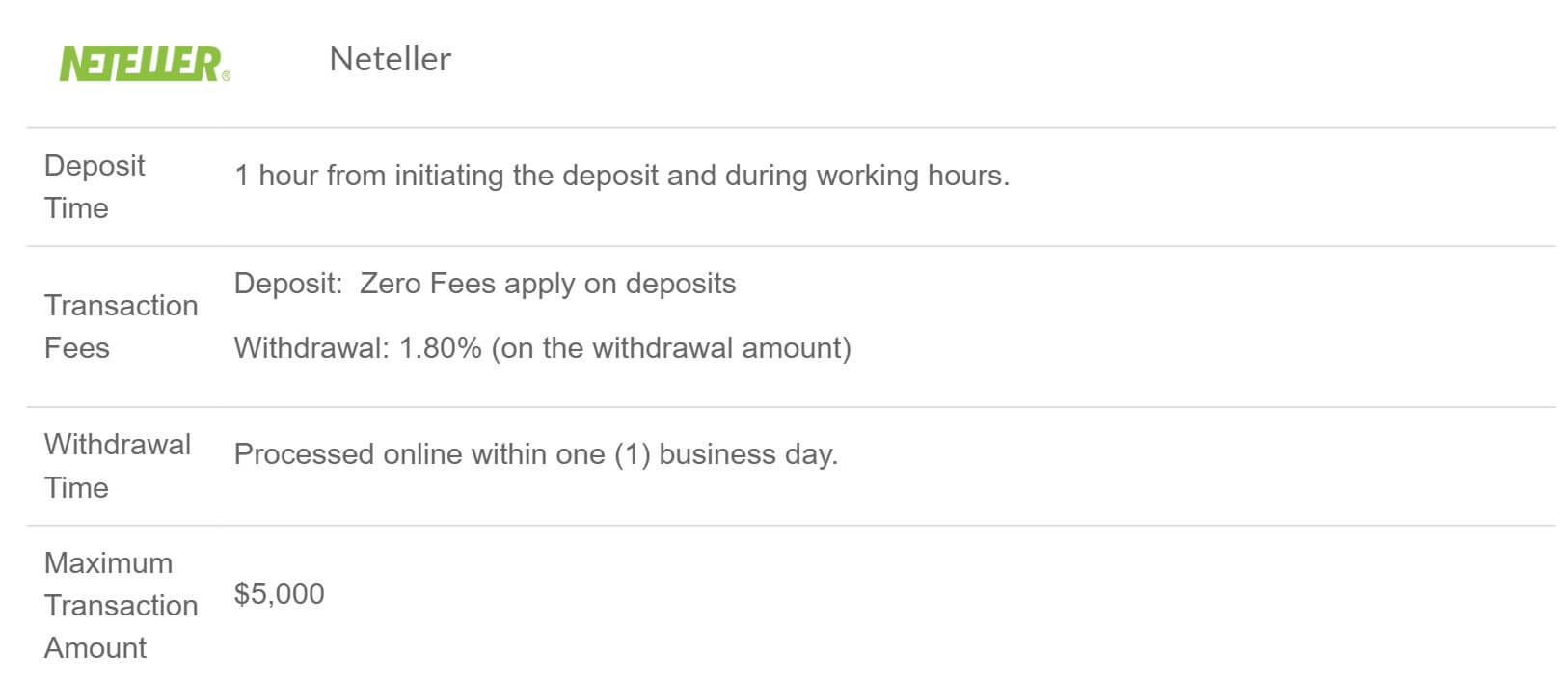 Withdrawal Processing & Wait Time
We have outlined the different potential processing times below. Any further time it takes will depend on the processing time of the institute or bank that you have used to withdraw to.
Visa/MasterCard – Processed within a business day, then 4-7 days for posting
Bank Wire Transfer – Processed within a business day, then 4-7 business days
Skrill – Processed by their brokerage within one (1) business day.
Neteller – Processed online within one (1) business day.
QIWI Wallet – Processed by ArgusFX within one (1) working day.
Yandex Money – Processed within one (1) working day. Up to 10 days wait after.
Sofort – Processed by ArgusFX within one(1) business day
Bonuses & Promotions
When looking through the site, we did not notice any information relating to any potential bonuses or promotions. This does not, however, mean that there won't be any in the future, so you could either periodically check back or you could contact the customer service team to see if there are any upcoming promotions or bonuses that you could take part in.
Educational & Trading Tools
There are four different sections to the educational site of the site, we will look at what is on offer.
Academy:
This section has some webinars, but it is unfortunate that there haven't been any webinars since 2017, so it does not look like this section is still active. There is also an FAQ where you can get your questions answered.
Market Information:
This section has an economic calendar which details different upcoming news events, it will also detail what sort of impact it could potentially have on the markets. There is also a page stating what the market hours are and a list of special meetings.
Market Analysis:
There are some weekly market analyses, however, this has not been updated since January 2018 so it does not look like they are doing it anymore. There is a news section, but again it has not been updated since 2018, the final section is some technical analysis, but you can probably guess, it hasn't been updated since January 2018.
Forex Tools:
The final sections are related to tools, it has a margin calculator, pip calculator, swap calculator, CFDs swap calculator and a currency converter for you to use.
Customer Service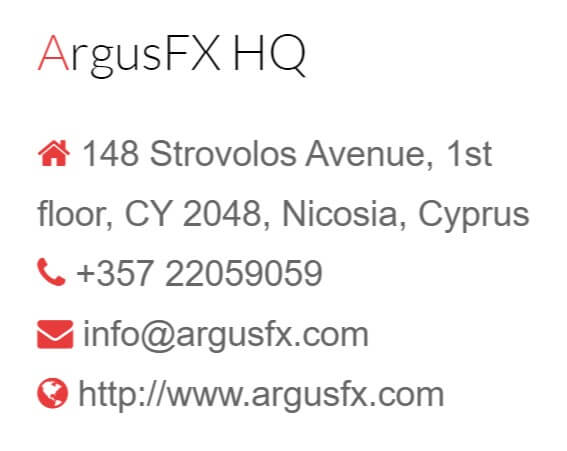 The customer service team is available throughout the day and can be contacted in a number of different ways. The first is the usual online submission form, fill it in with your question or query and you should then get a reply via email. You can also use a postal address email address, or phone number for the HeadQuarters or for the Limassol offices. These details are provided on the 'Contact' page on the firm's website.
Address: 148 Strovolos Avenue, 1st floor, CY 2048, Nicosia, Cyprus
Email: info@argusfx.com
Phone: +357 22059059
It is nice to see a selection of different methods available, as access to the customer service team is vital.
Demo Accounts
We couldn't actually find the demo account on the website. However, a quick google search led us to the signup page. The demo account that we found is for the Standard STP account and will mimic the trading conditions of that account. We do not know if there is an expiration time on the accounts. Demo accounts are great as they allow you to test out new strategies or trading conditions without any potential risk to your own capital.
Countries Accepted
The following statement is present on the Argus FX website: "ArgusFX does not offer its services to residents of certain jurisdictions such as USA, Iran, Cuba, Sudan, Syria, North Korea, Belgium, Canada, and Japan" If you still aren't sure of your eligibility we would recommend contacting the customer service team to check prior to opening up a new account.
Conclusion
The two accounts on offer can give you a different trading environment and condition. Onc being spread-based and the other being commission-based. The overall trading costs are a little on the high side with spreads averaging at their lowest around 1.8 pips and with a commission up to $15 per lot traded on the Pro account which is over double the average of $6 per lot traded that we see throughout the industry.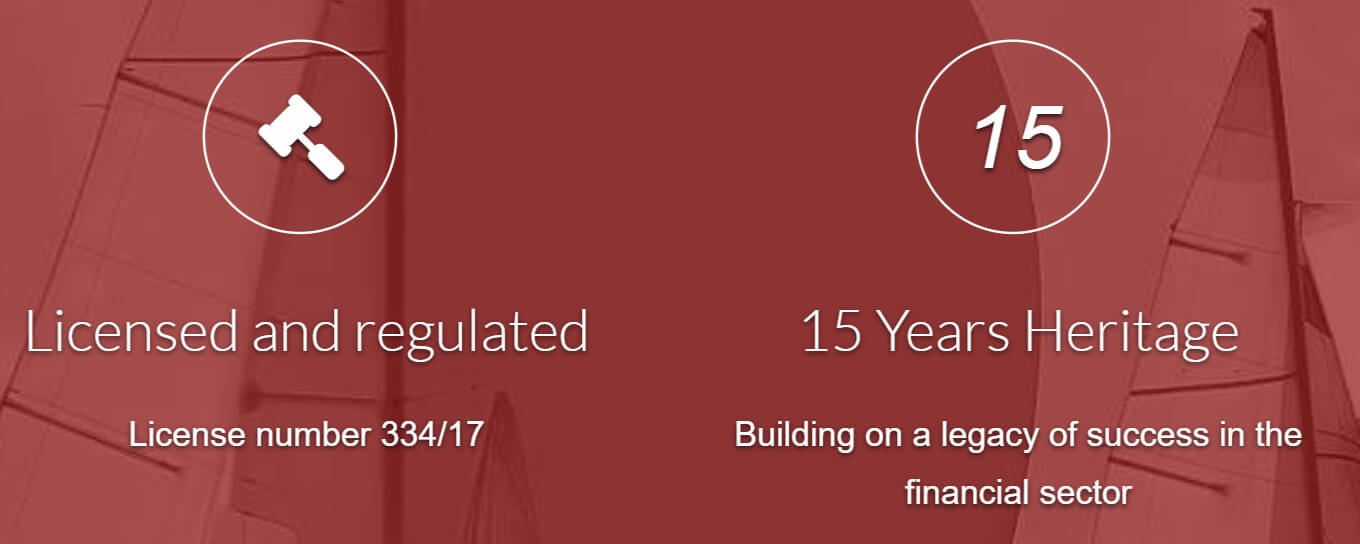 Unless you are considered a professional trader (in which case you will most likely already have a broker) then you will be limited to just 1:30 as your maximum leverage, this is due to Argus FX following the recommendations from the ESMA, and this can heavily limit your profit potentials. There are enough payment methods to cater for most people, there are fees for both depositing and withdrawing, but they aren't any more than you see with many brokers, but it would still be nice to see them removed completely.