Alfa Financial is a foreign exchange broker based in Dubai, they have over two decades of experience, making Alfa Financial one of Dubai's oldest and most trusted brokerage houses. Under the leadership of her highness Shaikha Moaza Al Maktoum and a visionary management team, Alfa Financial has become synonymous with professional and quality services that cater to comprehensive trading requirements. From being one of the leading brokers in the Middle East, today Alfa Financial has grown to a large and well-established international investment firm and has become a true industry leader. We are a regulated broker committed to transparency and fair trading practices. That is what they are trying to live up to and in this review, we will see if the services they offer live up to those expectations.
Account Types
From going through the website it does not appear that there is more than one account type, there is no mention of different trading conditions or deposit requirements so we will be looking through this review as if there is just one account. We will not make a note of things here, instead, use the various sections of this review to get a better understanding of the trading conditions on offer from the account available.
Platforms
There are two different platforms on offer from Alfa Financial, these are the AX1 Trader and MetaTrader 4, let's see what they offer.
AX1 Trader: AX1 Trader- A Single Global Platform Transforming the World into One Global Exchange! This next-generation platform strives to meet all the whims and fancies of the most finicky retail trader. At the same time, the AX1 trader platform also endeavors to be the ultimate management console for a typical financial trading service provider. The modules included in the platform provide a wide range of customized solutions, catering to any type of business requirement in the fast-paced financial trading world. It features highly Customizable Exchange Trading Software, ease of use through its user-friendly interface, provides users the best in terms of Security, Speed and Perfection, intelligent Order matching and Order Routing, multilingual support, access to all sort of news- economic, entertainment, sports, etc and, detailed Account statements.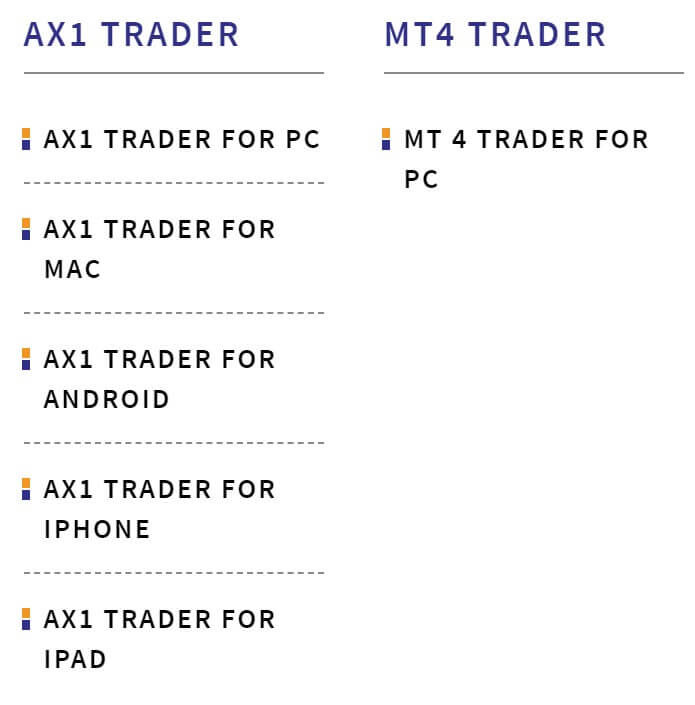 MetaTrader 4: Alfa offers its clients MetaTrader 4 for PC only. While it is a shame that the platform is only offered in one format, MT4 remails the most powerful and popular of all platforms. MT4 delivers convenient tools for technical analysis and account management. The platform provides a well-designed trading system, complete with support for 3 execution modes and 8 order types. Traders can choose from an unlimited number of interactive charts and 50+ analytical tools, while also accessing news and alerts that inform about the most important market events of the day.
Leverage
Leverage can be as high as 1:100, this can be selected when opening up an account, should you wish to change it on an already open account then you can do so by getting in contact with the customer service team with your request.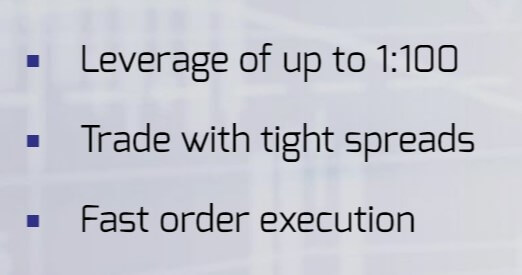 Trade Sizes
Trade sizes start as low as 0.01 lots which are also known as a micro lot, they then go up in increments of 0.01 lots so the next trade would be 0.02 lots and then 0.03 lots. There wasn't any information surrounding the maximum trade size, however, we would recommend not trading in sizes larger than 50 lots, as the bigger a trade becomes the harder it is for the markets or liquidity provider to execute the trade quickly and without any slippage.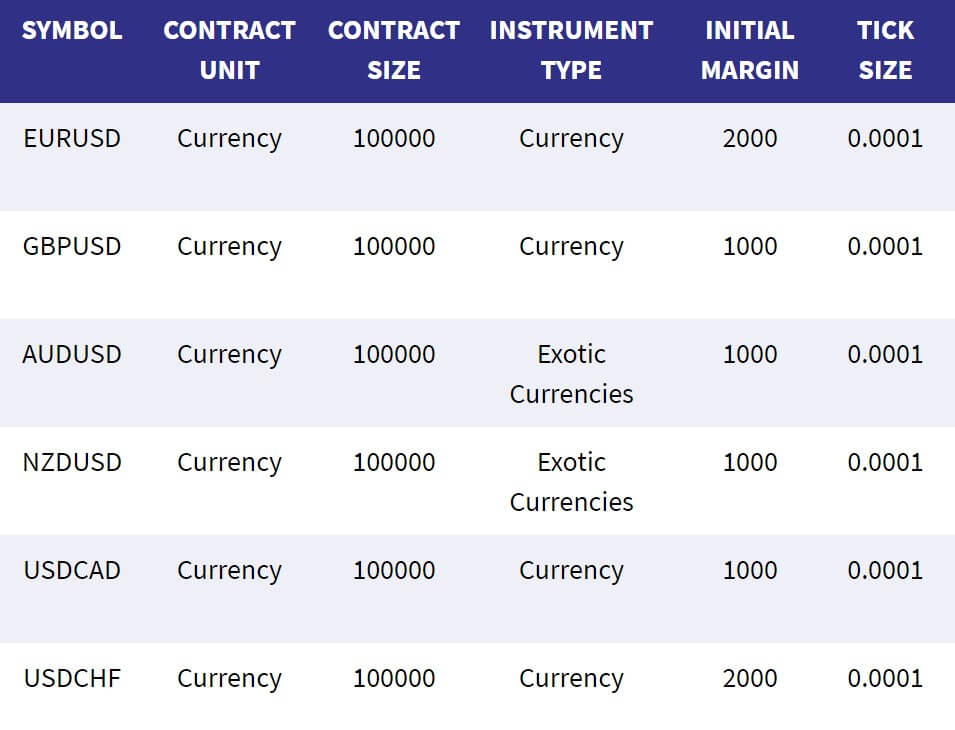 Trading Costs
There isn't much information available in regards to trading costs, there is a note in the FAQ that states that there are no commissions for opening up an account, but nothing in relation to actual trading costs. We are taking this as there being no additional commissions on top of spreads when trading. Having said that, in the CFD section of the site, there is a mention of low commissions, however no further information regarding them.
There are swap charges to think about though, these are interest charges that are incurred for holding trades overnight, they can be both negative or positive and can usually be viewed from within the trading platform of choice.
Assets
Alfa Financial state that they have a lot of assets to trade, however, the information available on them is rather limited. In regards to Forex pairs, there is a lot of information with all of them being listed, they have 50+ currency pairs including all majors, 21 cross-currency pairs and 100 exotic currency pairs. Some of the pairs include EURUSD, AUDUSD, CASCHF, GBPAUD, USDNOK and, USDZAR. CFDs are also available in the form of metals and energies, however, there doesn't appear to be a full breakdown, for metals, the main two mentioned are Gold and Silver which are the most popular metals, for energies, there is only a mention of Crude Oil so we are unsure if there are any other available for trading.

Spreads
Just like trading costs, there is very little information when it comes to spreads, all that we do know is that the spreads are variable (also known as floating) so this means that when the markets are being volatile, the spreads will often be seen higher. We do not know what they are starting at or what they are for any individual assets, there is a mention of low spreads, but that doesn't really tell us much of the real trading conditions in regards to spreads.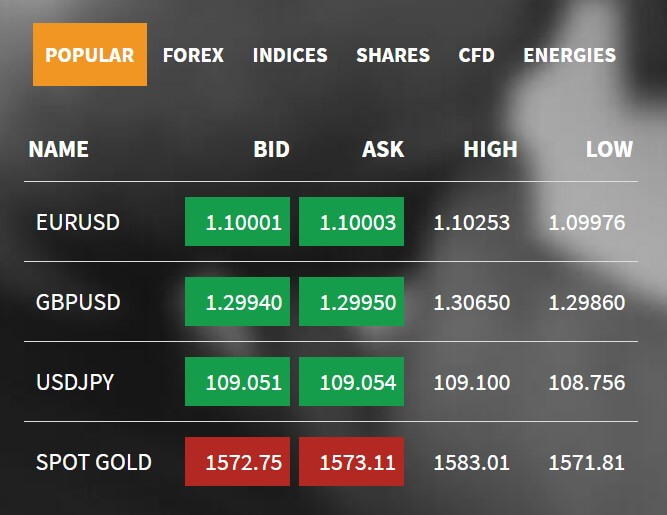 Minimum Deposit
It seems that the minimum deposit for Alfa Financial is currently set at $5,000 which will price out a lot of potential customers, especially if they are new to trading. Alfa Financial is clearly marketing themselves towards the more advanced and experienced traders.

Deposit Methods & Costs
Unfortunately, there is no information on the website in regard to deposit methods or the costs of them. This is a shame to see as Alfa Financial will be dealing with our money, it is important for clients to know how they can fund their accounts and also if it will cost them anything. Whatever the methods do turn out to be, make sure you check with your processor/bank to see if they add any fees of their own.
Withdrawal Methods & Costs
Just like with deposit methods, there is no information on the withdrawal methods available. This is probably worse than having no information on deposits as clients will want to know how they can get their money back should they be in profit or need to withdraw for any other reason. Costings are also not present when it is not available it often makes us think that there may be high fees, which potential clients may also think and then look elsewhere for a broker.
Withdrawal Processing & Wait Time
The FAQ of the website states that withdrawal requests will normally be processed within 24 hours, however, you should allow up to 3 days for it to be processed. We can not tell you how long it will take after that to be available to you as we do not know what the withdrawal methods are.

Bonuses & Promotions
We could not locate any information on the website in regards to bonuses or promotions so it does not appear that there are any active ones at the time of writing this review. If you are interested in bonuses then be sure to check back regularly or get in contact with the customer service team to see if there are any upcoming bonuses or promotions.
Educational & Trading Tools
There are a few very small aspects to the educational side of Alfa Financial, they have the usual economic calendar which outlines any upcoming news events and what markets the news may affect. There is also a traders' glossary which simply tells you what a number of different trading-related terms mean. There is a market outlook section that gives a brief overview of things happening on the market, however, it has not been updated in a while. Finally, there is a learn forex section, but this is a single page of information and won't be making you an expert trader.

Customer Service
There are a number of different ways to get in contact with Alfa Financial should you need to, there is a live chat on the website to speak to someone over chat, you can also request a callback by one of their representatives.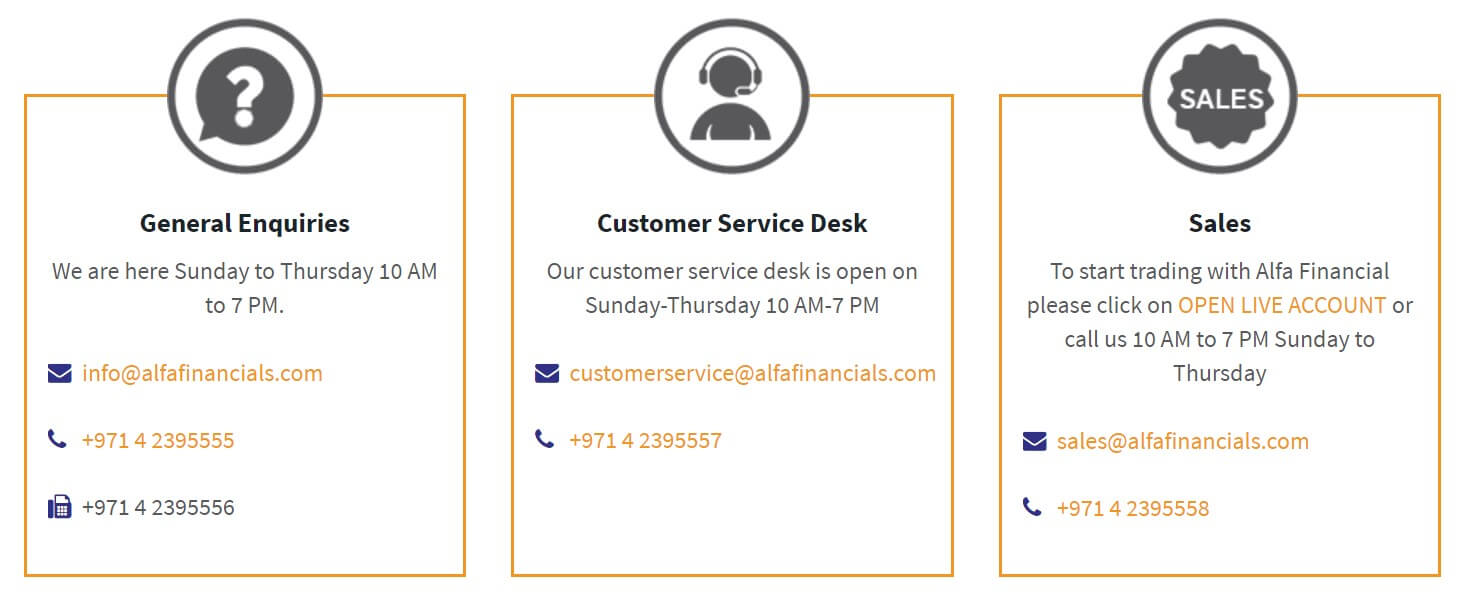 There are three different departments available, General Inquiries has its own email address, phone number, and fax number, it is open Sunday to Thursday from 10 am to 7 pm. The Customer service desk also has a phone number and email address and is open Sunday to Thursday 10 am – 7 pm. Finally, the sales department has an email address and phone number and is open from 10 am to 7 pm from Sunday to Thursday.
Demo Account
Demo accounts are available, however, it seems like they are only available on the AX1 Trader platform, the account gives you an account with $50,000 and lasts for 30 days. The account will mimic the trading conditions listed in this review (although we are not sure about some of them still).
Countries Accepted
The information about which countries are accepted and which are not is not present on the website, so if you are interested in joining, be sure to get in contact with the customer service team to check if you are eligible for an account or not.
Conclusion
There is a lot of important information missing from the Alfa Financial website about their conditions and methods. First was the lack of information on trading costs and spreads, simple terms like a low commission or low spreads do not build confidence for potential new clients, who will be looking at these conditions as a way to chose which broker they want to use. Worse than those bits of information being missing is the complete lack of information around the deposit and withdrawal methods, it is vital that clients know how they can get their money into and out of a broker along with any costs it may charge. Without that information being readily available it is hard for us to recommend Alfa Financial as a broker to use at this point in time.