4xCube is a forex broker with a core team with over 20 years of experience, their main values include integrity and transparency, superb customer service, cutting edge technology, tailormade trading tools, the client focuses and to have a custom partnership program to name a few. In this review, we will be looking at what 4xCube really offers to see if they live up to their own values.
Account Types
There are three accounts to choose from when signing up with 4xCube and each have their own requirements and features, let's take a look at what is on offer.
Standard Account: The standard account is the entry-level account, it has a minimum deposit requirement of just $5 which makes it very accessible. It has spread starting from 0.7 pips and can have leverage up to 1:400. Its base currency can be in a choice of UDS, EUR, GBP or NGN and the account does not have any commissions added to its trades. The account is able to use hedging and scalping as a strategy and it gives you access to real-time online support and comprehensive IT support as well as being compatible with expert advisors.
Pro Account: The pro account increases the minimum deposit up to $1,000, this reduces the spreads down to 0.1 pip and due to having such low spreads there is a commission of $3 per round lot added to the account. The base currencies remain as USD, EUR, GBP, and NGN and all other features of the account remain the same including leverage and support channels.
VIP Account: The VIP account increases the minimum deposit requirement substantially, it now sits at $25,000. This increased deposit gives you a lowered spread which starts from 0.2 pips, wit this low spread there is no added commission. Base currency can also be USD, EUR, GBP or NGN, and all other features are the same as the pro account, there is one more added benefit, all deposits and withdrawals are now free when using this account.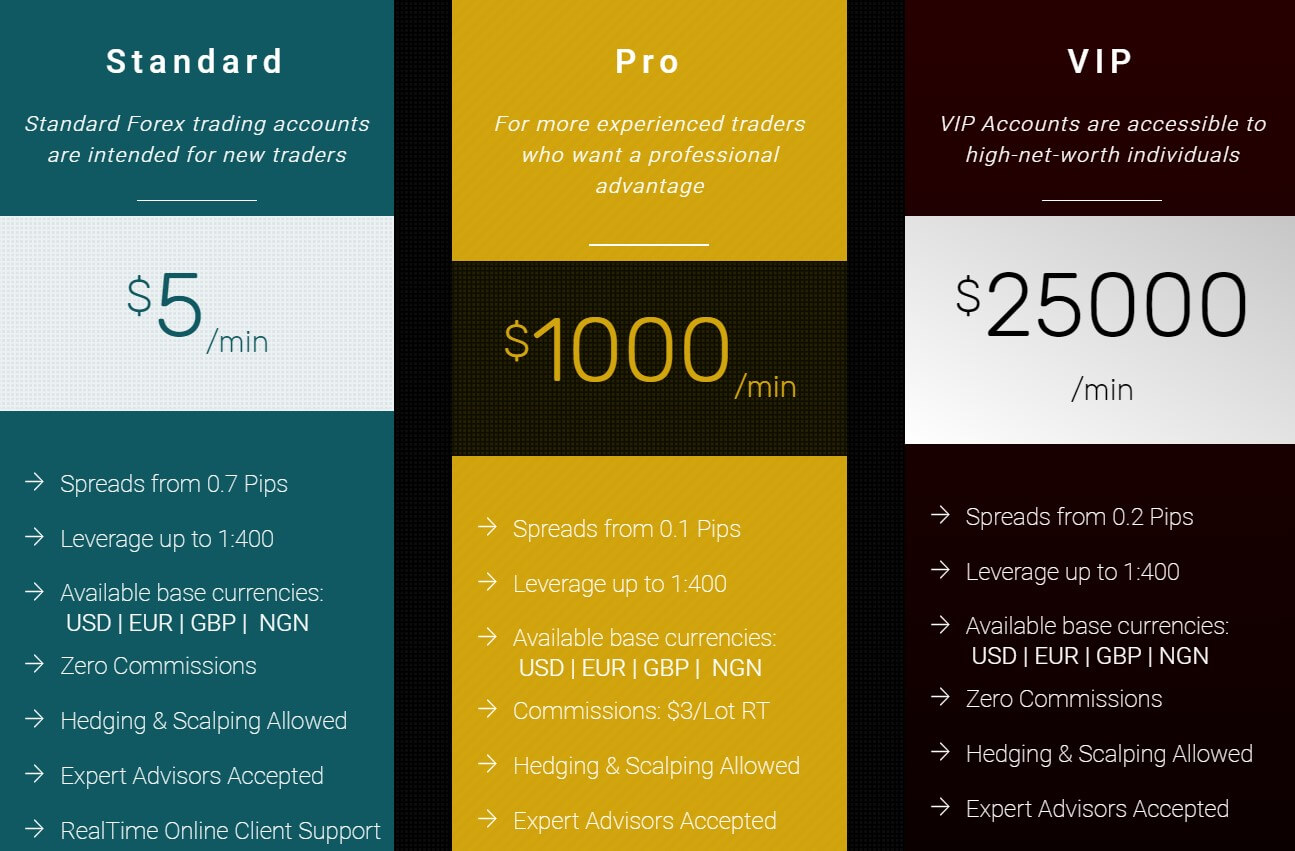 Platforms
4xCube offer MetaTrader 4 as well as a proprietary trading platform. Clients can download and install the platform on any Windows-based PC, or download the app version to their iOS or Android devices. MT4 has long been the industry standard and the most popular Forex trading platform among traders. Its simple and easy user interface allows for both standard trading and automated trading via the use of Expert Advisors. Trade with over 80 underlying assets, all within the same platform.

In addition to MT4, the firm offers its own platform for Web and Android, CubeTrader. Not much information is provided regarding this platform, other than referring to it as a "simple, innovative and entertaining platform for all your financial markets" on the platform page of its website. Our advice would be to contact support to learn more about this platform or create a demo account that utilizes it and perform your own testing.
Leverage
Leverage on all accounts can go up to 1:400, this can be selected when opening up an account, once an account is open you can request for the leverage to be changed by getting in contact wi the customer service team, you need to ensure that there are no open trades at the time of the request.
Trade Sizes
The trade sizes with 4xCube start at 0.01 lots, they then go up in increments of 0.01 lots so the next trade would be 0.02 lots and then 0.03 lots. We could not locate information on the maximum trade size, however, no matter what it is we would not suggest trading over 50 lots in a single trade as it becomes increasingly harder for the markets and liquidity providers to execute trades quickly and without any slippage the bigger they get.
Trading Costs
The Standard and VIP accounts use a spread based system that we will look at later in this review. The Pro account has a commission of $3 per round turn lot traded which is half of what the standard commission we see in most places is ($6).
Swap charges are also a cost of trading, they can be both positive or negative and are charged for holding trades overnight, these can be viewed directly within the MT4 trading platform.
Assets
4xCube have broken down their tradable assets into 4 different categories, Forex is the standard currency pairs that you see at most brokers. They include forex majors, forex minors and forex exotic pairs. These include pairs such as EUR/USD, USD/PLN and GBP/CHF. The next category is metals, there is only the standard 2, Silver and Gold available with 4xCube. There is also a small selection of indices, the main bunch is available from the UK 100 Index, Hong Kong 50 Index and US Tech 100 Index. Finally, there is a section called "Other CFD's" which contains Brent Crude Oil, WTI Crude Oil, and Bitcoin.
Spreads
The spreads that you receive depend on the account that you are trading on and also the instrument that you are trading. If we look at the EUR/USD which is the lowest spread currency pair, on the Standard account you have a starting spread of 0.7 pips, the Pro account has a starting spread of 0.2 pips and the VIP account has a starting spread of 0.5 pips. All spreads are variable which means that while they state 0.7 pips as an example, they will often be seen higher than this as it is simply the starting point, during times of high volatility the spreads will be much higher.
It is also worth noting that different instruments have different natural spreads, while on the Standard account EUR/USD may have a starting spread of 0.7 pips, AUD/NZD will have a starting spread of 1.5 pips.
Minimum Deposit
The minimum deposit amount is $5 which will allow you to open up the Standard account, if you want the Pro account you will need a deposit of $1,000 and for the VIP account $25,000. Once an account is open, the minimum top-up available for all accounts is $5.
Deposit Methods & Costs

There are plenty of deposit methods and each one comes with different options and fees, we have outlined them below, it is important to note that the VIP account does not have any of the fees that are mentioned below.
Bank Transfer – EUR, USD, GBP, NGN – $20 fee per Swift transfer (min deposit $500)
Visa / MasterCard – EUR, USD, GBP – 3% (currently unavailable)
Abn Amro – EUR, USD, GBP – 1% (min deposit $1000)
Neteller – EUR, USD – 3% (Non-EU clients only)
Skrill – EUR, USD – 3% (Non-EU clients only)
FasaPay – IDR, USD – 0.5%
vLoad – EUR, USD – 3.5%
Crypto – BTC, ETH, BCH, Dash – 1%
WeChat Pay 00 HKD – 5%
Perfect 'Money – EUR, USD – 6%
UnionPay – CNY – 3%
AstroPay – EUR, BRL, TRY, RMB, CNY, USD | INR, JPY, THB, ARS, VND, MYR, UYU,
IDR, TWD – 2%
Help2pay – INR, THB, VND, MYR – 2.5%
Remessa Online – USD – 1%
Withdrawal Methods & Costs
Not all of the methods used to deposit are also available to withdraw, we have set out a list below for each of understanding, just like the deposits, the VIP account does not have any of the added fees and is fee-free.
Bank Transfer- EUR, USD, GBP, NGN – $5 per transfer – Swift = $49 per transfer
Visa / MasterCard – EUR, USD, GBP – 0.15%
Neteller – EUR, USD – 0.5%
Skrill – EUR, USD – 0.5%
Crypto – BTC, ETH, BCH, DASH – 1% (min $50)
WeChat Pau – HKD – No fee
Perfect Money 0 EUR, USD – No Fee
Union Pay – CNY – No fee
Astro Pay – EUR, BRL, TRY, RMB, CNY, USD | INR, JPY, THB, ARS, VND, MYR, UYU,
IDR, TWD – No fee
Help2pay – INR, THB, VND, MYR – 1%
Withdrawal Processing & Wait Time
4xCube aims to process all withdrawals within 1 business day, once the withdrawal has been processed dit will take up to 1 business day for all withdrawal methods apart from bank transfers which will take an additional 2 – 3 business days to fully process.
Bonuses & Promotions
We could not locate any information on the website in regards to any active promotions or bonuses, we could also not see anything about any past ones either. This does not mean that there won't be any in the future so if you are interested in bonuses to be sure to check back regularly.
Educational & Trading Tools
It appears that 4xCube offers a few different trading too,s and also educational tools, however, it does look like a few of them would not really add any value. There are webinars, however, the website that the last one was on the 21 November 2019 so was quite a while before writing this review. There is a news and analysis section which has a number of different videos and articles regarding different pairs and offers some technical analysis on them to help you with your own analysis.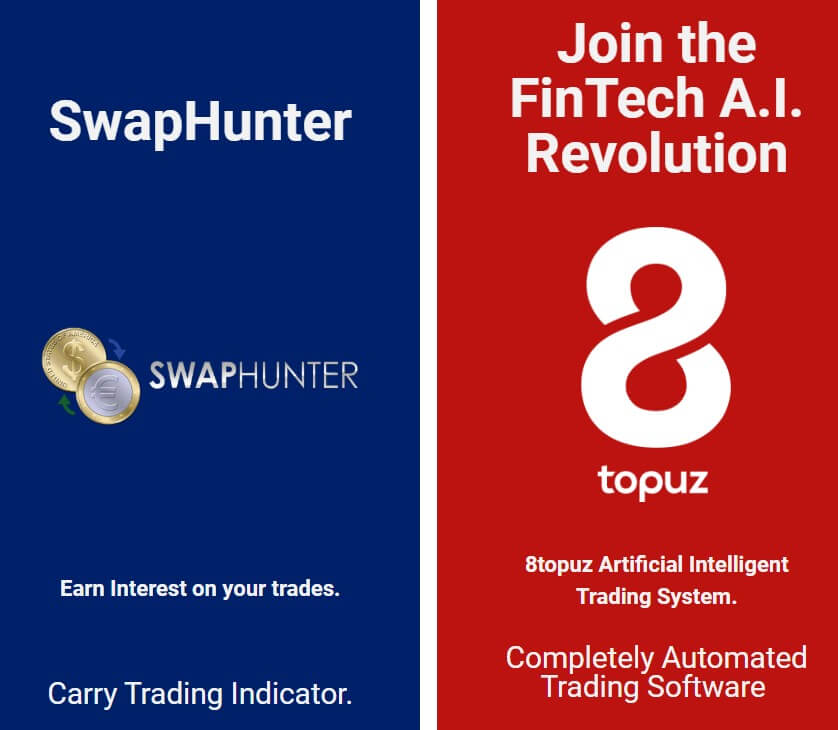 In terms of trading tools, there are a couple, one is called SwapHunter which is an indicator used within the MT4 platform to check for trades that will offer a positive swap charge, holding these trades can provide a positive swap over time. There is also an automated trading software called Stopuz AI Trading System, but we have not used it so can not comment on its profitability or stability.
Customer Service
You need to scroll all the way down to the bottom of the website to find any contact details. The support team is available 24 hours a day 5 days a week and closes at the same time as the markets do. There is an online submission form that you can fill in and will then receive an email as a response to your query. There is also an email address to send an email directly along with a phone number should you wish to speak to someone personally.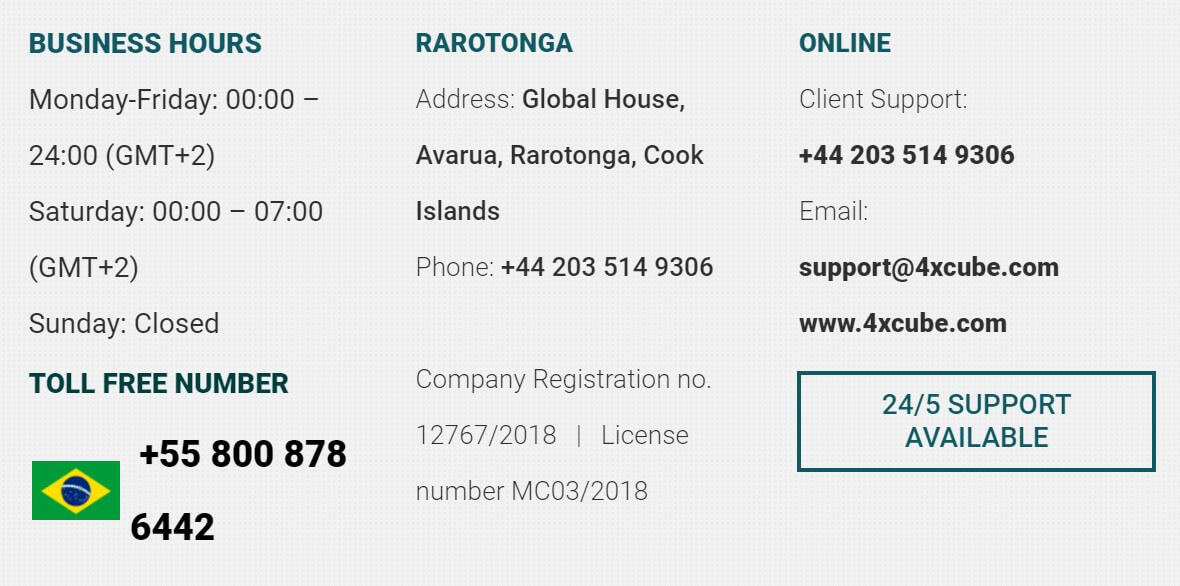 Demo Account
We didn't see any information regarding demo accounts, when signing up for an account we did not see the option so it does not appear that they are available. This is never a good sign for us as many potential clients will use demo accounts to check what the trading conditions are like and current clients may want to test out new strategies without risking their own capital. So it would be beneficial for 4xCube to add in demo accounts.
Countries Accepted
The following statement is present at the bottom of the 4xCube website: "4xCube does not offer its services to residents of certain jurisdictions such as USA, North Korea, Bosnia and Herzegovina, Ethiopia, Iraq, Syria, Uganda, Vanuatu, and Yemen." If you are unsure whether you are eligible for an account or not we always recommend getting in contact with the customer service team to find out.
Conclusion
4xCube has some very competitive trading conditions, in fact, it is great to see spreads so low on accounts that do not have any commissions added to them. The account with the added commission has a much lower commission than its competition, this along with decent leverage and plenty of forex pairs to trade (although it would be nice to have more commodities and crypto) make 4xCube quite an appealing prospect. Plenty of deposit methods however each one has both deposit and withdrawal fees which is a bit of a letdown, to avoid them you will need at least $25,000 which is more than most retail traders use to trade. The lack of a demo account is also a little concerning.