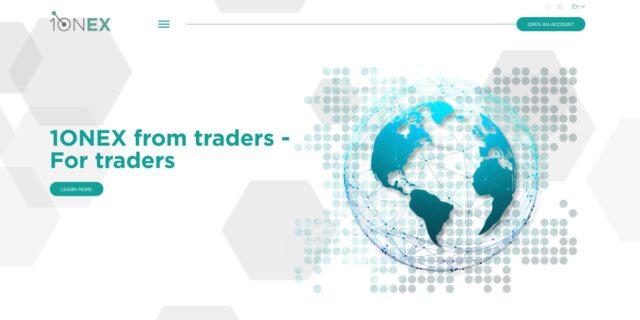 1ONEX have been operating since 2014 and provide a wide variety of tradable assets to their clients. One thing to note right away, is that this broker gives a false impression that they are a regulated company, when in actual fact they are not, so do not be fooled, if that is specifically what you are looking for. Nonetheless, their website is clear and simplistically structured for pure ease of navigation and you will find a lot of information readily available to answer any preliminary questions you may have as a potential client before registering. 
Account Types
1ONEX offer 4 account types which have brief overviews set out on the website. You may opt for the Satoshi, Lite, Ethereum or BIt account. All accounts have different minimum deposit requirements as you may see below. In addition, they each offer different trading conditions which can either be benefits or limit your trading, depending on the amount you are willing to deposit and your individual preferred trading style. Note that all accounts are granted a top up bonus with the initial deposit.

Satoshi: minimum deposit requirement is $500
Lite: minimum deposit requirement is $5,000
Ethereum: minimum deposit requirement is $20,000
Bit: minimum deposit requirement is $100,000
If you opt for the Satoshi account, which is the smallest and cheapest account, you are still required to initially fund your account with an amount most traders would not consider cheap. This account does give access to crypto currencies, Forex, commodities, proprietary portfolios markets, but you may use leverage of 1:5 which is really quite restricting for profit maximisation.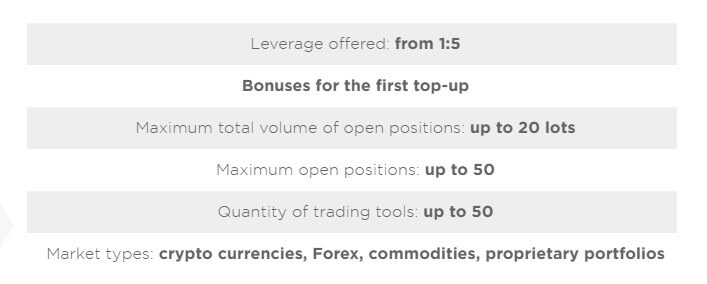 The Lite account offers access to the same markets as the Satoshi account, but with slightly higher leverage of 1:10, and you are allowed a higher volume of open positions (up to 200 lots).

If you opt for the Ethereum account, you are able to trade Stocks in addition to the same market access as the previous two accounts mentioned, but on a slightly higher leverage of 1:20. This is the reward for making an initial minimum deposit of $20,000.

Finally, if you are looking for bonuses in addition to the initial deposit bonus, then the Bit account may be suitable. Bear in mind this requires a minimum deposit of $100,000, but you would have access to the following markets: crypto currencies, Forex, commodities, indices, stock, proprietary portfolios, preico tokens and also not limited by maximum total volume or number of open positions. Leverage on this account is 1:50. 

Platforms
1ONEX do offer the leading MetaTrader 4 platform so the majority should find this more than satisfactory. Their MT4 is compatible with Windows, Mac, iOS and Android so you can even trade on the go. 

Leverage
The maximum leverage this broker allows- and bear in mind that you must deposit the sum of $100,000 (Bit account)  in order to have access to such leverage- is 1:50. Considering the high deposit requirements for ALL accounts, the leverage does not seem very generous across the board, which is where it is clear this broker is preventing and safeguarding the potential of their clients maximizing their profits too much.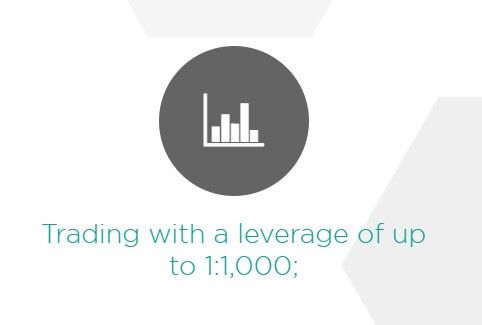 Trade Sizes
Each account has its own limitations when it comes to maximum volume and number of positions open, which are as follows:
Satoshi: Maximum total volume of open positions up to 20 lots and maximum open positions up to 50
Lite: Maximum total volume of open positions up to 200  lots and maximum open positions: up to 100
Ethereum: Maximum total volume of open positions up to 2,000 lots and maximum open positions: up to 50Bit: Maximum total volume of open positions: unlimited and maximum open positions are also unlimited.
Trading Costs
Although it is not possible to know how much the fees are, all accounts are charged commission with the exception of the largest account (Bit) which has reduced or 0 commissions, presumably depending on which assets are being traded. The website also does not display Swap fees, and there is no FAQ page to refer to for basic information such as this. 
Assets
1ONEX offers a very wide variety of assets to trade: cryptocurrencies, FX majors, Shares, Indices, Metals and Commodities. On the website you can also see Trading View's live prices of the majority of tradable assets which is useful to have in the same space as you are trading.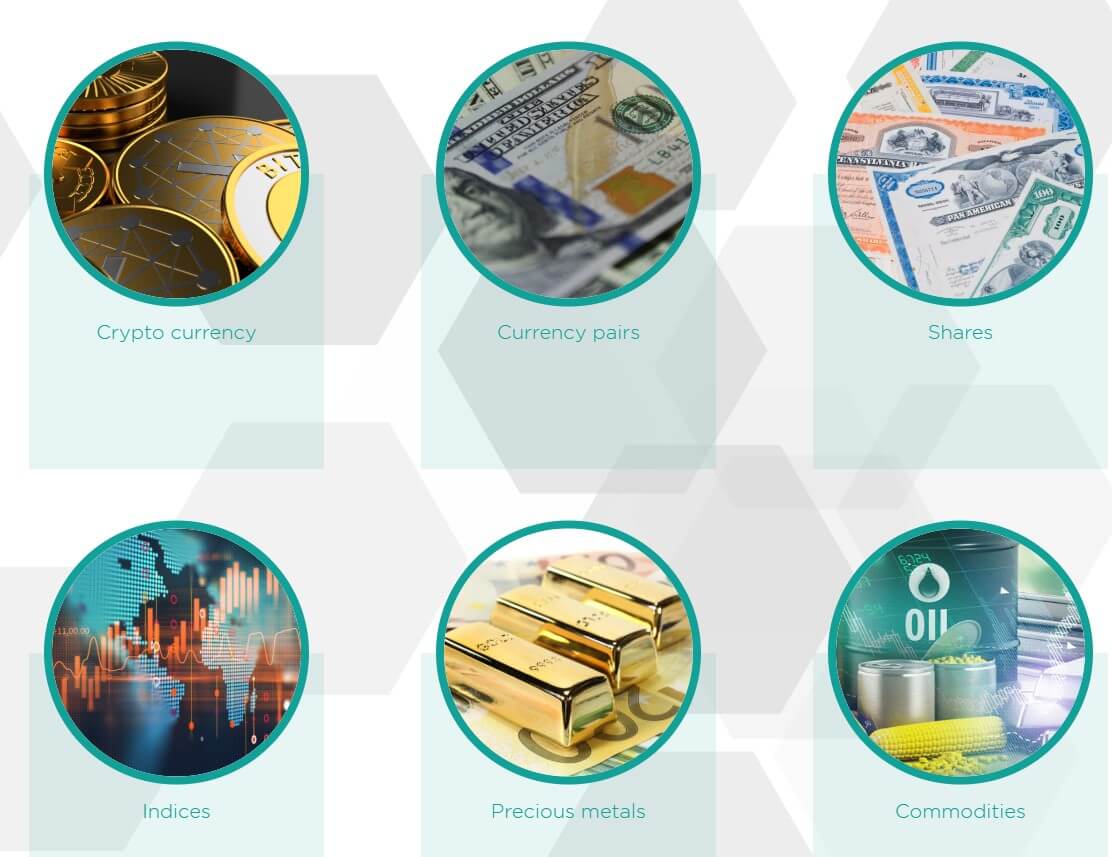 Bear in mind, as mentioned earlier on, each account has access to particular instruments while the only account that you may have the luxury of trading ALL available, is with the Bit account, subject to depositing the sum of $100,000.
Spreads
Some Spreads (floating) are available on the website, provided by Trading View. However, they are not particularly clear as it seems there is a small error on the website, hindering you from seeing the percentage of increase or decrease, as you can see below. On the whole, spreads available are average, but do take into consideration trading costs on the whole (swaps, commissions etc)
Minimum Deposit
As mentioned earlier, the minimum deposit even for the smallest account is $500. This is incredibly high compared to other brokers with lower deposit requirements ranging between $10-$50. Let us remind ourselves of the minimum deposit requirements for each of the 4 accounts:
Satoshi: minimum deposit requirement is $500

Lite: minimum deposit requirement is $5,000

Ethereum: minimum deposit requirement is $20,000

Bit: minimum deposit requirement is $100,000
It is good to establish here the benefits that each account actually can provide, taking into consideration the deposit amount required in order to receive them. One could argue that the benefits from smallest to largest accounts are not so comparable or worthy for the deposit amount expected. 
Deposit Methods & Costs
Oddly enough, and in the absence of an FAQ page, there is no information on funding methods or costs on the website, other than some stamps at the footer of the website that suggest the following methods are available include: Card, Bitcoin, Qiwi, Skrill and SWIFT. 

Withdrawal Methods & Costs
Information regarding withdrawal method options can be found on a specific tab on the website which outline the following options to withdraw via: card, bank transfer, QIWI wallet, Yandex Money or Bitcoin. This is a fair variety of methods, at least one of which would be favourable to many traders. 
Withdrawal Processing & Wait Time
Timescales for the withdrawal methods available are shown in the above image, with the Bitcoin, Yandex and Qiwi options being the fastest (immediate transfer) while the Bank and Card transfers can take between 1 hour- 5 business days to complete. 
Bonuses & Promotions
Although no information is available specifically in regards to the bonus amount and policy, all accounts do come with a deposit bonus (initial) as advertised on the account type page on the website. In addition to this, the Bit account also allows traders to have a revolving bonus for each deposit they make. Ensure to read carefully and fully grasp the Terms and Conditions for any bonus you agree to. 
Educational & Trading Tools
While some news articles are available via the website in relation to current latest economic news, there is no trading education available through 1ONEX but there is of course plenty of free or paid material online, should that interest you. Similarly, no trading tools such as signal or EA services appear to be available through this broker, however since they offer MT4, you may incorporate such products/services at your own discretion if compatible with MetaTrader.
Customer Service
Unfortunately this broker does not advertise their customer support operating hours and it seems clients only have two means of contact with this broker- via telephone call or email These methods of contact are somewhat limiting, especially in the presence of any complicated trade queries which sometimes require images and screenshots to fully establish any issues at hand. In this case, live chat could be useful, especially to explain and resolve queries at first point of contact.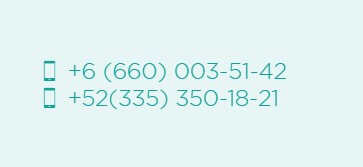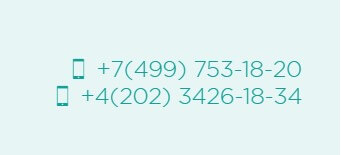 Demo Account
1ONEX does not provide a demo version of any of their account types which could raise suspicion, especially given the fact that some clients could easily be enticed into opening a live account, and subsequently deposit a large sum to fill broker requirements. Ensure you have efficient practice and knowledge on alternative demo before live trading with this broker, and ensure you have all questions answered in regards to trading conditions that you should be able to test on demo before opening their live account. 
Countries Accepted
This broker is not clear on which countries are accepted to trade or not. However, bear in mind that during verification when registering, you will need to provide proof of residency. If your residence is not approved, you should be notified. 
Conclusion
After a thorough review of this broker, one can draw the conclusion that firstly, this broker is incredibly vague when it comes to trading conditions, and the suspicion is elevated by the broker not willing to provide a demo account for clients to test before going live. This broker should be approached by only the most experienced traders and those accepting of the large minimum deposit requirements. The reason for newer traders to perhaps not consider this broker is because there is little in the way of guidance. For example, there is no FAQ guide to refer to, nor is there a 24/7 live chat support team to assist if need be.