ABC Group has been in the financial markets for more than 8 years, they offer over 100 trading instruments, no hidden commission and extremely high server performance, at least that is what it says on their site. So, let's take a deeper look to see what is really being offered.
Account Types
On their website there is very little information available, we had to sign up for an account in order to see what details really exist. There is only one type of account with ABC Group (not including demo). The account has a minimum deposit of $1, leverage of 1:200 and we have no idea in regards to commissions or spreads as we did not actively trade with ABC Group. It would be very helpful if some of this information was available on the site for prospective traders and having to sign up to find this information is not very innovative at all.
Platforms
ABC Group currently uses MetaTrader 5 (MT5) as their sole trading platform. MetaTrader 5 is one of the more advanced trading platforms, offering high amounts of customization as well as compatibility with hundreds and thousands of expert advisors and indicators. The most important aspect of this platform though is that it is available as a desktop download, an app on both iOS and Android devices and as a WebTrader to use in your browser. While it would have been nice to have more of a choice, MetaTrader 5 (MT5) should offer you all the functionality that you need from a trading platform and broker.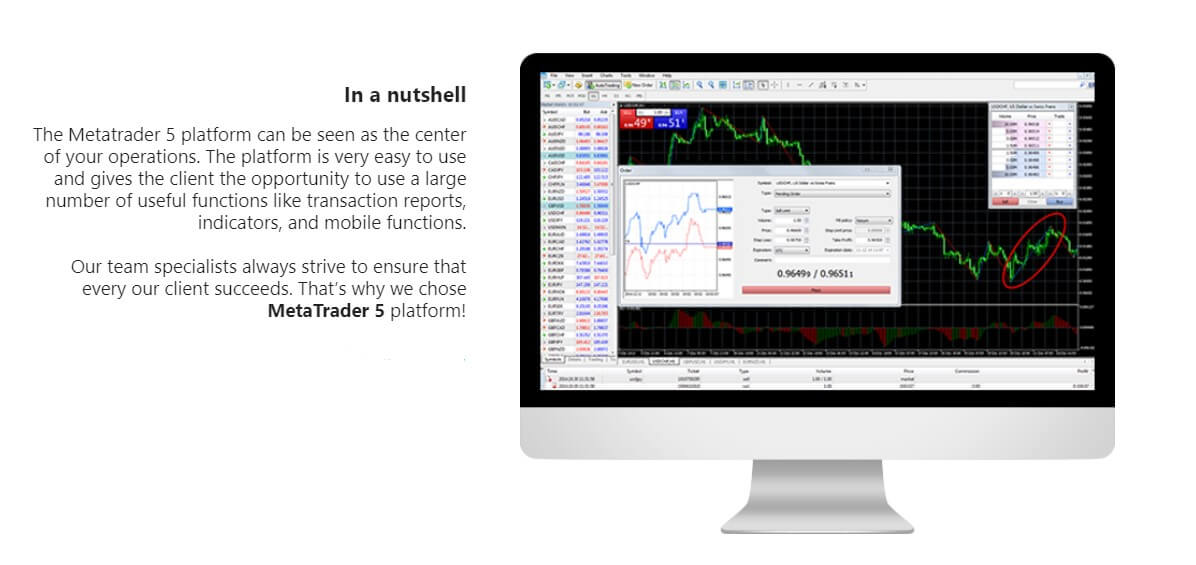 Leverage
The accounts with ABC groups have a leverage of 1:200, we looked around the client portal and could not find a way to reduce or raise this amount so it seems that all accounts are permanently stuck at 1:200 leverage. This is actually an appropriate leverage level for the majority of retail traders, however, it would have been nice to be able to increase or reduce it as 1:500 is now becoming the new normal.
Trade Sizes
This information is not available on the ABC Group website and is also not available in the client account area. We can not give concrete information on this, however, due to the low minimum deposit levels, we can be confident in saying that the minimum trade size will be 0.01 lot (micro lot), we can not, however, comment on the largest.

Trading Costs
Trading costs are another aspect of ABC Group that is unknown to us, this information is not available on the website or from within the client account section or account options. As we did not actively trade, we can not see if there are any commissions or how high the spreads are. This kind of information is paramount to a lot of traders, so not having it easily accessible can be a major turn off for a lot of experienced and new traders alike.
Assets
ABC Group claim on their site that there are over 100 instruments available to trade. There isn't a clear breakdown of what these instruments are, except for the fact that they are spread out over a number of different categories including Forex, Commodities, Indices, Crypto, and Stocks. It is nice to see a number of different categories of instruments available, especially cryptocurrencies which are quickly becoming the go-to trading instrument for a lot of newer traders, so it is a real benefit that they are included.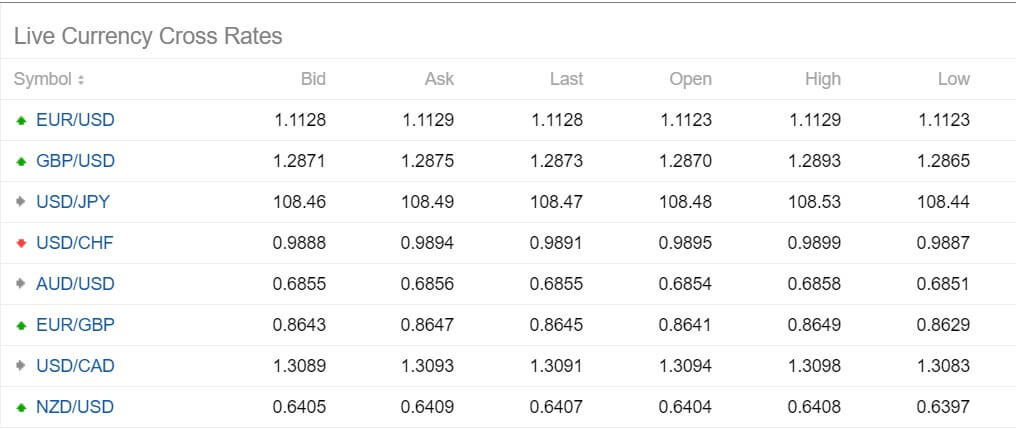 It is, however, a shame that the actual breakdown of assets and instruments is not available as it is important to some traders that their favorite instruments are available to download, so it is always beneficial to have this information easily accessible.
Spreads
Spreads are not available on the site, there is also no information within the clients' area, so we are unfortunately not able to comment on this pretty vital bit of information. Brokers really should have this information on hand and easy to find, as not knowing this can put off a lot of potential clients.

Minimum Deposit
While the minimum deposit amount is not stated on the site, we opened up an account and when selecting an amount to deposit, the lower amount that did not bring up a red warning was $1, so we can assume that this is the minimum deposit available. We did not however actually try depositing at this time.
Deposit Methods & Costs
When trying to deposit in the client area there were three dropdowns on the payment gateway tab, these were MatchTrade via BTC, Payment Gateway 1 and another option is in Russian and so we did not understand. MatchTrade via BTC allowed us to deposit using Bitcoin, Payment Gateway 1 allowed us to deposit using credit and debit cards, both Visa and Mastercard. The third option sent an email to our email account, unfortunately, we could not understand the email and Google translate also failed at translating it. As far as we could tell, there were no fees added to deposits.
Withdrawal Methods & Costs
There was only one withdrawal method available and this was in Russian when translated the option was called "Withdraw Funds". So we are unsure what this actually means in terms of method, we can confirm however that there was a fee of 0% added to the withdrawal, so no fees which is a good start. It is of course very worrying that there is so little information about withdrawals and the actual withdrawal method is not actually mentioned.
Withdrawal Processing & Wait Time
This information is unknown and so, unfortunately, we can not comment on it, especially as we are unsure of what the withdrawal method actually is.
Bonuses & Promotions
We could not locate any bonus or promotional information on the ABC Group website so as far as we can tell, there are currently none available, this does not, however, mean that there won't be in the future, so be sure to keep checking back if you are interested in using ABC Group.
Educational & Trading Tools
There are no educational tools available, aside from a Knowledge Base. The only information on trading tools is an economic calculator on their website, however, it is not as detailed as many other economic calculators out there so the use is very limited. Some educational material to help their clients would have been nice as most brokers now actively try to help their clients become better traders.

Customer Service
Should you have any queries or questions, there are a number of different ways to get in touch with ABC Group. They have their postal address available which is in the United Kingdom, they also have their Juridical address available. The main ways to get in touch are via telephone or email, both being available, one phone line to Moscow and the other in the UK. We did not manage to test out the customer service quality, as when we called no one picked up within 5 minutes and we gave up.
Demo Account
There is a demo account available from a button on the main page of the site (right at the bottom). It is quick and easy to set up and will last forever as long as it is being used. If it is left unused for too long then it will be deleted, however, you can simply open up another demo account (data from the deleted account will be lost).
Countries Accepted
This information is currently not available on the ABC Group website so we are unable to comment on it at this point in time.
Conclusion
There is so much information missing from the ABC website and accounts page that we will find it hard to recommend them. Information that is vital to understanding how ABC Group operates and the features that they provide are just not there. This coupled with the fact that their customer service team was not accessible is a major red flag for us and we would recommend looking somewhere else for your new broker.

If you liked this review, be sure to check out some of ur other reviews in order to help find the broker that is right for you.