MPlusFX is a forex broker based in Cyprus and was founded in 2015, so it has now been running for a number of years however is still relatively new. M Plus claim to be one of the leading brokerage firms and offer an unparalleled platform, let's take a look at them in some more detail to see if they are achieving this or not.
Account Types
There is only a single account type with M Plus, and that is their standard account, the site does state to choose the one that suits you, so it appears that at some time there used to be additional account types to choose from.
This account comes with a leverage of 1:100, a spread of 1.5 pips and no added commission on each trade. There is a minimum trade order size of 0.01 lots (micro lot) which is the standard for most brokers and accounts. The minimum deposit for this account is only $10 making it very accessible to new traders or people wanting to test the waters. This account gives you access to 30 currency pairs, gold, and silver.
Platforms
MPlus used MetaTrader 4 (MT4) as their only available trading platform, having only a single platform does take away some choice, but having that single platform like MetaTrader 4 is a good choice as it is one of the most widely used platforms available. It offers high levels of customization as well as compatibility with hundreds and thousands of expert advisors and indicators.

MetaTrader 4 (MT4) is available as a desktop download for PC, an app to download on iOS and Android devices and also as a WebTrader to use on your internet browser, offering a number of different outlets for trading.
Leverage
The leverage currently being offered is 1:100, as there is only the single account type, this is the maximum leverage allowed on all accounts currently at MPlusFX.

Trade Sizes
The minimum trade size is the standard across the industry sitting at 0.01 lots (micro lot) on the standard account. We could not locate any information in regards to the maximum trade size, usually this site between 50 lots and 1000 lots, so we are confident to assume it is between those figures, even at 50 lots, it is more than enough for the average retail trader.
Trading Costs
There are no commissions being charged by MPlus, all of their costs come with their spread which is set at 1.5 pips. There are always spreads to contend with, which can be viewed from within MT4 and are paid or received from holding trades overnight.
Assets
There is quite a poor selection of assets to trade with M Plus, in fact, there are only 30 assets, 28 currencies and then gold and silver. This is the most disappointing aspect of M Plus, man other brokers are innovating and moving forward, offering more and more assets to their clients. Things like cryptocurrencies are quickly becoming the go-to trading asset for a lot of experienced and new traders alike. These, unfortunately, are not available with MPlusFX.
Spreads
Spreads are currently set at 1.5 pips. As there is no additional commission, this is a reasonable amount and is around the standard in the industry for accounts with no added commission.
Minimum Deposit
The minimum deposit with M Plus is $10, this is low and gives very good accessibility to new traders or those with very little capital. It should be noted though, that starting with amounts under $100 can cause issues with risk management as it can make it harder to limit the percentage used each trade, it will also reduce the amount of potential profits that are available. We always suggest starting with $100 to $500.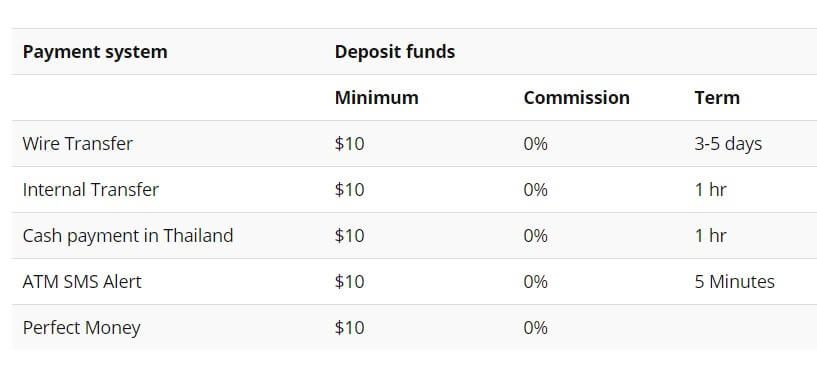 Deposit Methods & Costs
There are currently four available deposit methods which are Wire Transfer, Cash payment sin Thailand, ATM SMS Alert, and Perfect Money. The minimum deposit with each type is $10 and there are no fees or commissions charged for deposits.
Withdrawal Methods & Costs
The same withdrawal methods are available as the ones to deposit, however, ATM SMS Alert is not available as a withdrawal method as this is linked to your phone bill. There is the same withdrawal minimum of $10, there is a maximum withdrawal which $3,000 for Cash payments, $5,000 for wire transfer and $10,000 for Perfect Money. There are also no commissions or fees added to withdrawal requests.
Withdrawal Processing & Wait Time
There is only information available in regards to processing times for wire transfer and internal transfer. As internal transfers are internal, we only really need to know about wire transfers. These processing and wait times are industry standards of 3-5 days, there is no information on the actual processing by M Plus though.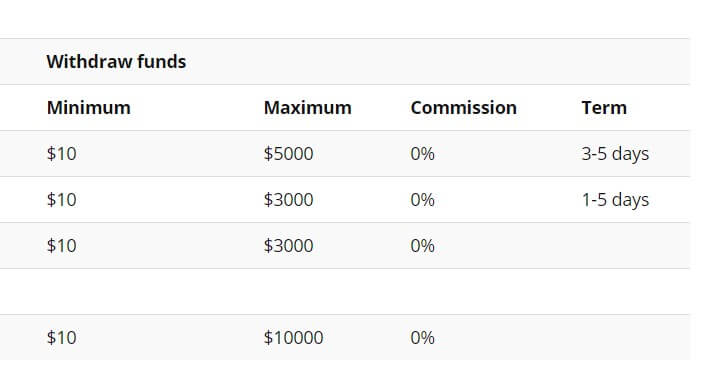 Bonuses & Promotions
We had a little explore of the M Plus site but could not locate any information in regards to bonuses or promotions, so we assume that there currently are not any available. Make sure to check back regularly in case this changes.
Educational & Trading Tools
There are currently no educational tools or trading tools available with MPlusFX which is a shame as a lot of brokers are now trying to help develop their clients into better traders.
Customer Service
There are a number of different ways to get in contact with MPlus, there is the standard online form to fill in, there is also an email address available. A phone number is present in order to talk to a real individual and also a postal address. The support is available 24/5 and is closed at the same time that the trading markets are closed over the weekends.

Demo Account
There was no information available on the site in regards to demo accounts, we also could not locate an open demo account button, so it would seem that demo accounts are not currently available with M Plus. It always comes as a bit of a shock when there are no demo accounts available, as retail traders often like to try out a platform or their strategies, so MPlusFX traders will need to look elsewhere for this service.
Countries Accepted
There was no information available on the site in regards to which countries are accepted and which not.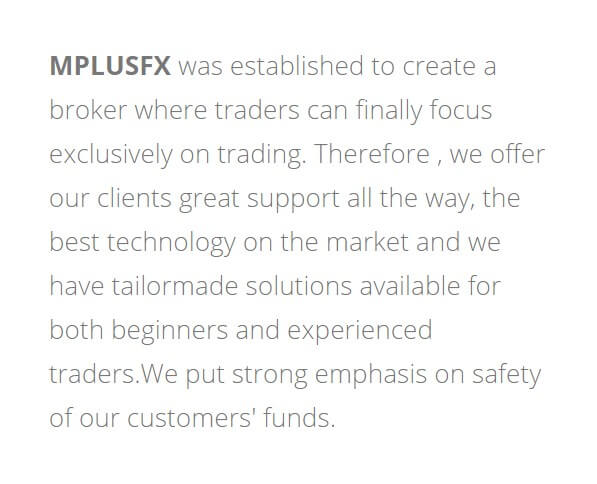 Conclusion
MPlusFX offers a single account with a very low minimum deposit of $10, their fees are low as their only fee is a 1.5 pip spread and no commissions. There is a limited number of deposit and withdrawal methods which is a shame and the very low number of available trading assets, including the emission of very popular assets such as cryptocurrencies is a major let down.
If you enjoyed this review, be sure to check out some of our other reviews to help find the broker that is right for you.