Right from the start, Bluelexus does not provide too much information about themselves. The usual marketing about innovation, security, technology, live data feed (this is a feature?), etc are there, but no tangible insights into regulation, platforms or trading conditions. Also, when Bitcoin deposits are possible with a broker, such as with Bluelexus, it means no regulation of any kind. Typically, when a lot of flashy, redundant words are smoothly lined up with no specific facts that back it up are signs of grey area brokers.
Bluelexus is owned by GG Capital Group located in St. Vincent and the Grenadines, a company that has some connections to Bitcoin Giants broker that is flagged as a scam. A sad reality to potential investors is that there are many in the industry. Many more issues we found raise red flags. This review will tell what is beneath the Bluelexus broker as we go step by step through their services.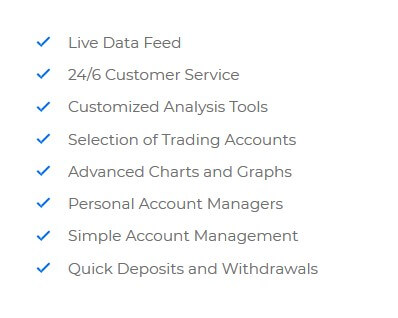 Account Types
Bluelexus offers wider than usual range of account types (6) to select from. They are scaled by the initial deposit amount and, as often we see with many commercial packages, bigger the deposit, better the service. To start with the Basic account you would need at least $250. For that, you will get 24/6 support, limited access to the educational center which is nowhere to be seen on the web site even when you open an account and 10-20% bonus.
You also get a Junior Account manager and a junior 1 on 1 trading trainer. In reality, this means you will sign up for a bonus that may act as a barrier for withdrawals and have at least two people that will call you using the phone number you left when signing up. Bluelexus staff will storm your phone the moment you register. The bottom line is to gather information about you and your financial situation, then use that information to persuade you for more deposits according to your capability. Our email received a lot of notifications about missed calls from Bluelexus.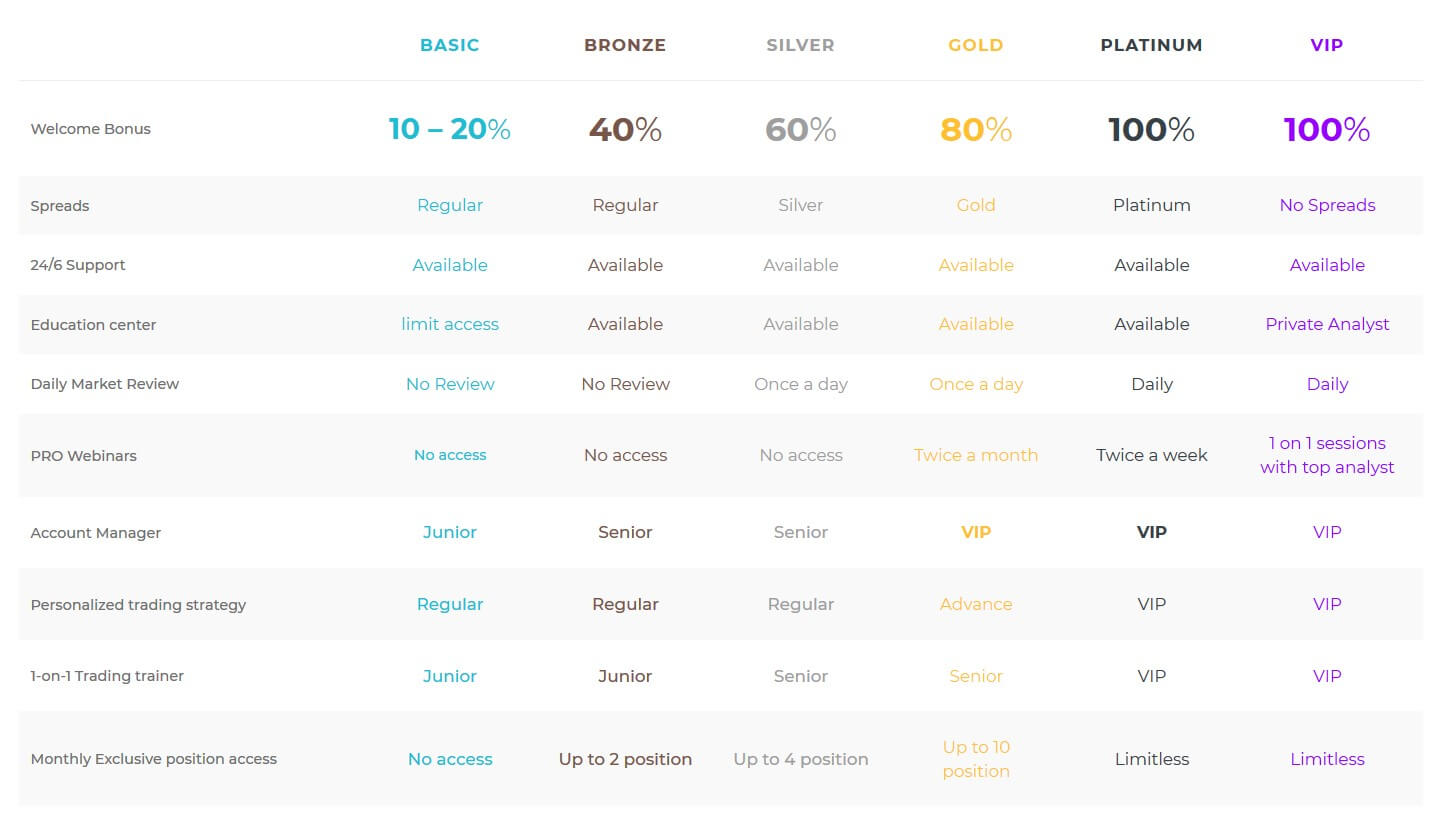 Bronze, Silver, Gold, Platinum differ by service quality, availability, bonus percentage, etc. Spreads are categorized by the same name as accounts, not the actual number. Nothing you read will give you an insight about what is delivered to the table.
Interestingly, the top, VIP Account that requires at least $100.000 initial deposit, offers no spreads and a 100% bonus. Since Bluelexus does not charge a commission, one can only guess ways of how is this could be profitable. Can you imagine any broker offering $100.000 as a bonus? When something sounds too good to be true it usually is.
If you want to open an account with Bluelexus, the opening process is simple enough, but of course, a field for the phone number is required. Traders can select BTC as account currency too. What is also required is to have "traders points" to keep your account type active. This is a measurement of the trading volume.
Platforms
Bluelexus does not have any Metatrader, cTrader platforms or any similar software. You will be able to access their web platform but only once you sign up for an account. The trading app on the Google Play store is available too. It does not have more than 100 downloads still meaning that this broker does not have any significant client base. The platform itself is simple but limited. Ther are no special features. There are options to set Stop Loss / Take Profit Levels, alerts according to price and that is it. We haven't seen any way to insert any kind of indicator, even basic ones.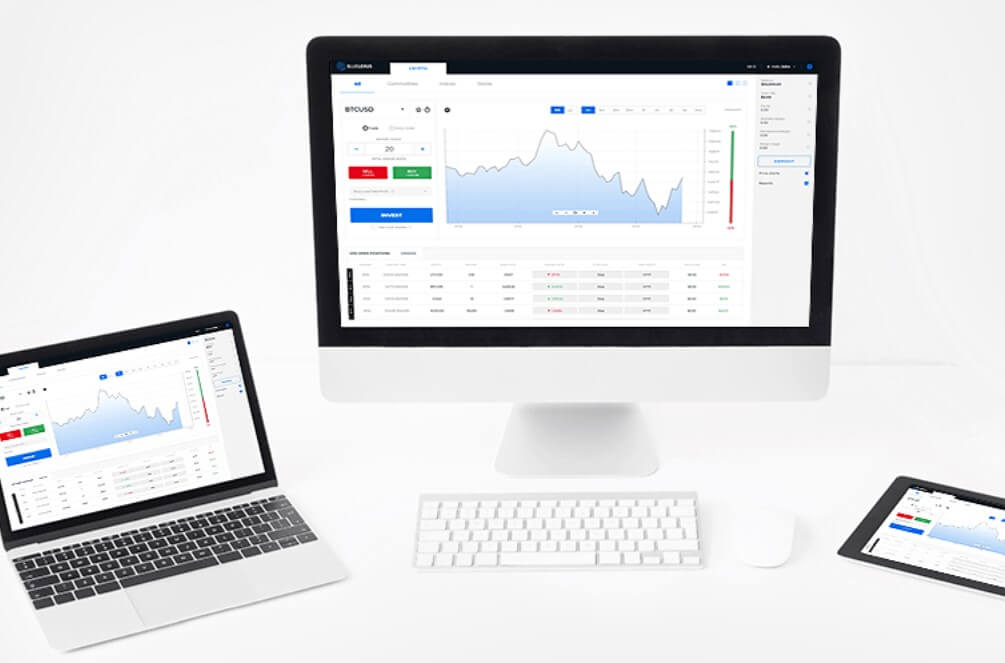 Maybe one feature worth mentioning is the sentiment bar next to the chart, but even that has questionable reliability since Bluelexus has a very limited client pool. The asset information is presented if it is not turned off for trading. Some basic info about the leverage, trading hours, minimum trading amount, and more is shown, enough for most traders. This being said, we are not sure what kind of technical analysis, or any kind of measurement, you will be able to receive by selecting a different account type with more "analytical" features.
Leverage
Bluelexus will deliver a maximum of 1:200 leverage on some assets. This is true for most Forex currency pairs, for crosses and exotics it could go to 1:100. Cryptocurrency majors like Bitcoin, Ripple, Litecoin, and Ethereum have 1:10, while lesser coins like Monero, etc have a 1:2 leverage ratio. Equities leverage is 1:200 like Forex but not all. For example, indices will have 1:200, but Tesla and other companies shares, up to 1:20. Interestingly, for gold, the leverage is 1:200. Commodities have up to 1:100 leverage.
Trade Sizes
Trade sizes will vary even for Forex pairs. For EUR/USD the minimum trade volume is 0.05 lots, or as expressed in the Bluelexus platform, 5000 units. For GBP/USD it is 2500. For Bitcoin, it is 0.03. Overall the unit sizes are not micro-lots, but somewhere in between. This may prove difficult for smaller deposits, even with the leverage of 1:200. This way clients that choose to deposit such an amount will surely have their Bluelexus "advisors" reasoning them for a larger follow-up deposit.

Trading Costs
Bluelexus expresses overnight costs in percentages through its platform. Form what we have seen there are not marginal as with other brokers but still allow traders to leave positions open longer than one day. The swaps are in a perfect balance between being too costly and negligible. As we delve deeper into what traders might incur as a trading cost, we notice that Bluelexus is full of various fees that they put on the trader. Such is the "Profit clearance fee". This fee varies and is valid only for profitable positions. The fee ranges from $1.5 to $5 per profitable position. This is a kind of a variable commission not reflected anywhere in the Bluelexus trading platform.
Another fee that traders will pay is the maintenance fee. To sum up, words form the Bluelexus FAQ, this fee is for keeping this running. Traders will be charged $20 every month. This is not the end of the list of fees but all we could find directly related to trading. More on this in other sections.
Assets
Bluelexus has a good range of assets in every category. Forex covers all the majors with the addition of some exotics like the PLN or CZK crosses with the USD. Commodities offer are a bit better than you can find with other brokers. Apart from classic assets in this category (Oil, Gas), there are also Rice futures, Cocoa, and Corn. Precious metals are not as wide, gold, silver, platinum, and copper are present but not palladium. Indicies range is modes to just 6. These are all majors like Dow Jones 30, NASDAQ, etc. Stocks list is good with over 100 companies to choose from.
Cryptos are popular with Bluelexus and the offer is great. Apart from the majors, traders will find Monero, Dash, Stellar, Ethereum Classic, Zcash, Tether, Omisego, Bytecoin, Blackcoin on the list. These could also be found with crosses with other coins. Note that some charts for altcoins were completely off in the platform so we assume they are not available for trading.
Spreads
Spreads are fixed according to Blulexus. Of course, there is a clause under terms and conditions that Bluelexus reserves the right to change it during volatility. How often fixed spreads become wider is not disclosed to us precisely. For the basic account the spread for the most traded pair, EUR/USD, is 3 pips. For others, the spread is from 4 pips and up. Bitcoin spread is very different from stated 11 on the Bluelexus web site. What we have measured is 135 points spread for BTC! Similar conflicting information is for other assets so we are not sure if some fees are included. For gold though the information on the site matched our measurement from the web platform and it is 75 pips. For many traders, this would enough to stay away from Bluelexus.
Minimum Deposit
The minimum deposit is $250. This is somewhat higher comparing other brokers. It could mean that Bluelexus does not want to tackle with clients that do not have enough to cover at least their daily staff expenses. Including all the fees, this amount will not prove profitable even if a trader has a 20% gain in the first month. In other words, unless traders employ extreme risk management the minimum amount is a lost cause, especially in the long term.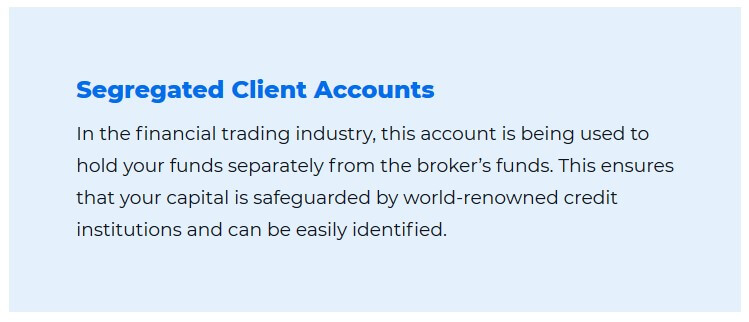 Deposit Methods & Costs
Bluelexus has a method to deposit with Bitcoin. It will be available if you select BTC as your account currency during the registration. If you select any other fiat currency, the only methods for deposit methods we have seen are through Visa and MasterCard. Other methods that are listed but not available in our case are EFTpay, Bpay, and local bank transfers. Bluelexus does not have any fees for deposits.

Withdrawal Methods & Costs
Withdrawals methods depend on the deposit method. Traders can only withdraw using the same method they deposited with. Now it looks like Bluelexus is king of fees. According to the FAQ that seems outdated, Platinum and Black accounts are free of charges for the first withdrawal. Any subsequent ones, and for other account types, the fee is 3.5% or $30 minimum. The fee cannot exceed $3500 per withdrawal request. For bank wire transfers there is an additional transaction cost that will apply. The fees this steep are certainly designed to discourage traders to withdraw and keep trading. The fees table in the Bluelexus cashier form is not complete.
Withdrawal Processing & Wait Time
This broker will process withdrawals up to 5 days, which is a very long time and we are sure they do not have days too busy for this. Also to note that the withdrawals will have to be confirmed by telephone call. Know that during this time the Bluelexus staff will be aggressive to avert your decision hence the long wait time and clauses. Some traders report made up excuses to suspend any withdrawals with net positive accounts, like suspicious trading activity, FCA report, etc. Red flag.
Bonuses & Promotions
Bluelexus knows the effect of having bonuses and promotions to "get rich quick" minded traders. That is why every account type has a bonus. Ranging from 10% to 100% for the biggest deposits, for unwary visitors, this is a great deal. To get the bonus, traders need to accumulate a substantial amount of "traders points", or in other words, trade extreme volume levels. There is also a referral program that will release $200 for referrals that deposit $1999 via a link. They have to open at least 8 positions.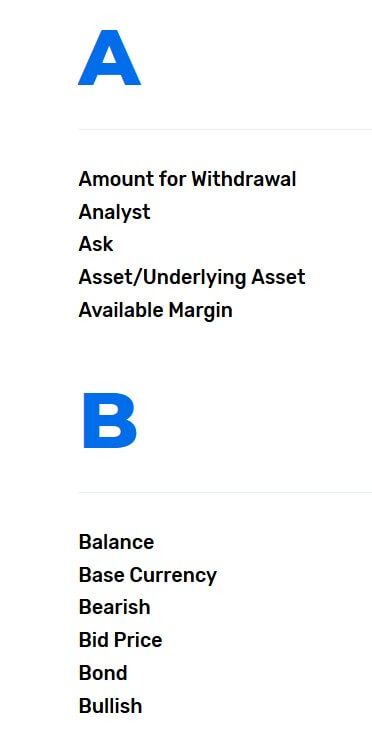 Educational & Trading Tools
Bluelexus may offer some education but we are sure they agenda to make clients trade a lot. This education is not available if you are not a real client, no material is available for free. About the trading tools, we are not sure what is meant since even the basic indicators are not available.
Customer Service
Bluelexus can be contacted via email and telephone. Emails can be sent directly using the provided email addresses, or there is the option to use their online contact form to reach out to an agent. The broker's website mentions the option to contact them via live chat, but no live chat box was present on the site at the time of this review.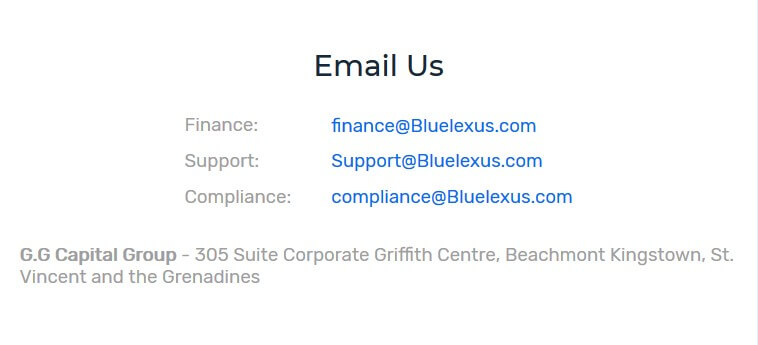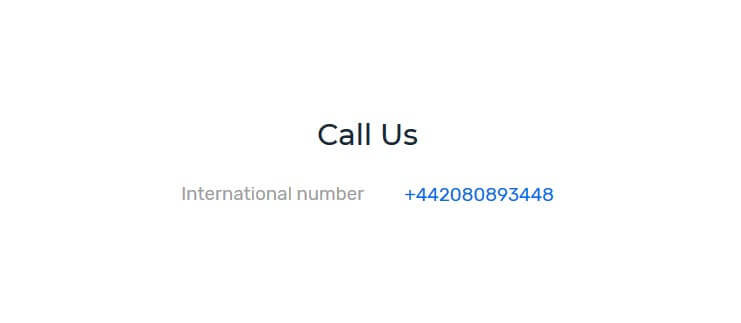 Demo Account
The demo account is available only if you register for a real account. The option to open one is not even presented anywhere on the Blulexus web site. It is possible to log in to the platform by skipping the deposit window but you will not be able to trade. To have a demo funded you will need to contact Bluelexus sales agents who will surely tell you to invest.
Countries Accepted
Since Bluelexus is completely unregulated and accepts Bitcoin deposits, regrettably there are no countries relieved from reaching their business.
Conclusion
Bluelexus is a closely planned minefield under the beaches of St. Vincent and the Grenadines. Anyone unlucky to believe this is a nice beach will be reaped of any profits at least. Hopefully, the Visa and MasterCard consumer protection are in effect before traders realize they are in the minefield. We did not encounter one positive user experience about this broker. Our final verdict is to proceed with caution.