Bogofinance Capital Markets is a decade old finance institution from Lebanon. Since then the capital requirements were enough to apply for CySEC and FCA regulation license in 2017. FXJet is Bogofinance's renewed brand platform for CFD trading that aims to deliver up to the standards of top brokers. Being regulated by FCA and CySEC that has to apply MiFID directive shows genuine intention to offer what traders want and safely go with the market trends. Interestingly, FXJet obligatory risk disclosure about how many traders lose money is just 59%, a lower than usual we see with other brokers. This review will reveal if all this effort is enough for a premium service.
Account Types
ESMA established new rules regarding the risk exposure to retail clients and the leverage. According to our experience with clients, this term is hard to understand for many, even though it is a simple multiplier of buying power. FXJet, therefore, made 3 account types, with varying leverage, minimum deposit, and some trading conditions. Starting with the Silver Account the minimum deposit is $250, small commission and average spread. The leverage here is limited to 1:30. This may prove to be an inconvenient level for a $250 deposit since the margin call is at 100%. To have more room for a better money management setups, leverage of 1:30 is not enough in our opinion.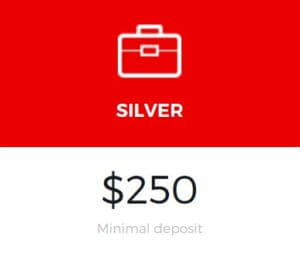 The Gold Account is available from a $2000 deposit. This is a large jump from $250, leaving those in between that want an assigned Account Manager that is available only for Gold and VIP Account. Gold Account has minimal spreads but a commission of $6 per lot per side is charged. Leverage could also be increased by request, if a trader meets the requirements, to a 1:200 level. The final account type – VIP, starts from a $10.000 minimum deposit. This account type offers 0 pip spreads where possible and a smaller commission of $2.5 per lot per side. All accounts are available only for Metatrader 5 platform.
Platforms
Fresh and rebranded, FXJet decided to integrate and focus on the newer MT5 platform where popular crypto is also traded as a CFD. All versions of MT5 are available: for Android, iOS and as a web platform. Selecting the mobile versions will take you to the official MT5 platform download. The desktop version that we have downloaded is not up to date but the updater will notify you that a new version can be installed automatically. Execution times for the MT5 desktop stay around 100ms, which is great in comparison to other brokers. FXJet did not customize the default profile and everything is set like the standard MetaQuotes MT5 software.
There are no restrictions on plugging in the EAs, although, to our surprise, scalping or news trading strategies are not allowed by any means. Moreover, we have noticed that the spreads values from the platform are not in line with the FXJet website information. More on this issue in the spreads section. During our order execution testing, a lot of orders were rejected because of no prices. These issues may be related to FXJet liquidity providers. From a trader's point, this is a serious issue.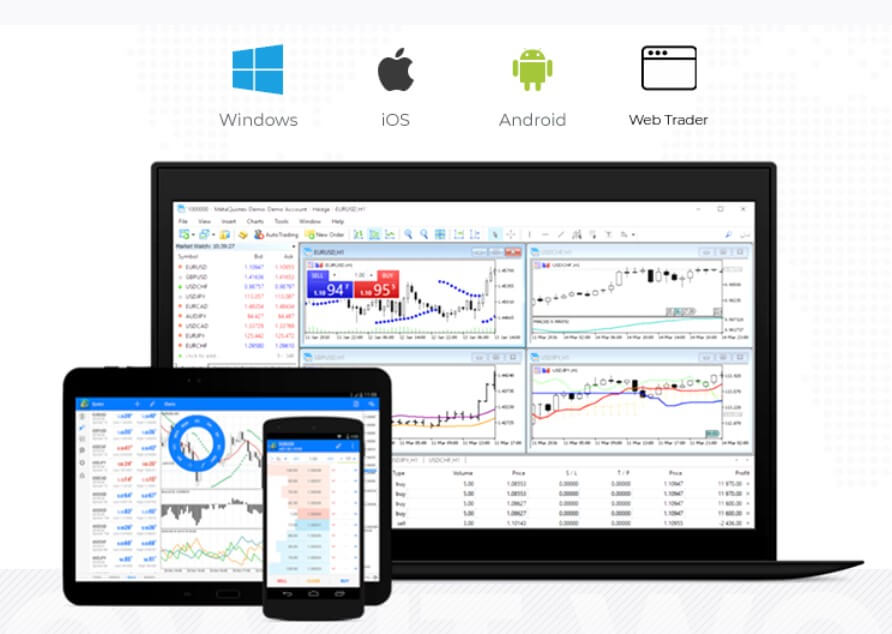 FXJet focus on one platform could be a limiting factor for investors. For example, the MQL5 and MQL4 languages differ, indicators or EAs based on MQL4 will not work with the MT5 platform. Traders that used the MT4 will have to find indicators and EA versions for the MT5, which is not always available.
Leverage
FXJet follows the ESMA directive about retail CFD trading leverage. This means the leverage should be 1:30 for all major forex pairs, 1:20 for minor, 1:10 for commodities, indices and 1:2 for cryptocurrencies. From the Trading Conditions page, we found a bit different information. The default leverage FXJet uses on all accounts is 1:50 but will allow more on request. Based on the account type, there is a statement that the leverage could be up to 1:200 if the client has enough understanding of the risks involved. What we see from the FXJet client login cabinet is the default of 1:50 applied to the Gold Account. According to our measurement, the leverage varies even in the same asset category, so traders will need to check individual assets. Form the platform, the leverage is not stated.

Trade Sizes
FXJet allows micro-lot trades and steps (0.01 lot). This also applies to Bitcoin. The maximum trading size varies. For forex, it is 10 lots, Gold and Silver also 10 and for BTC up to 5 coins (lots). The margin call is at 100% and Stop out at 50%, as per ESMA.
Trading Costs
Looking at the account types table, FXJet puts a lot of conditional stars next to commissions, swaps, and spreads. These trading costs are treated as completely variable and certainly reduces the credibility of FXJet statements from the website.
The commission for Forex and Metals is not applied regardless of the account type. For the Silver Account commissions are the highest. For example, for all four crypto coins offered, the commission is $20. If we add up the spread, this trading cost will avert many potential traders. The Gold Account has somewhat lower spread for cryptocurrencies – $15, and a similar reduction for other assets. The VIP account has a $5 commission for crypto.
Trading costs for the daily chart and longer-term traders should not worry. There are a lot of positive swaps that are not just symbolic. For example, the EUR/USD has a 5.59 short and -9.43 long position swap. For BTC/USD the swap is just -0.002 on both sides, much lower comparing to other brokers. Overall, the swaps are very friendly for trading. Swap-free accounts are available and have 5 day grace periods until a "Storage fee" takes place.
Assets
FXJet has an average range of tradeable assets. This broker tries to have a little bit of everything, but not excel in any category. Forex majors are present, as the minors, but we could not find NZD/CHF or NZD/CAD for example. The exotics are limited to the Scandinavian currencies with the addition of TRY and CZK. The SGD and RUB are not on the list. Metals are limited to gold and silver only. Commodities are very limited, just WTI Oil. Indicies too, only the major 5. The crypto category has 4 coins listed, BTC, XRP, LTC, and ETH denominated in USD.
Spreads
The spreads are a variable type that ranges from 0 for the EUR/USD to 20 pips for XAU/USD. At least that is what is stated for the Gold Account. In FXJet's MT5 platform, the spreads have another value. Market Watch registers a 1.5 pip spread for EUR/USD and 54 pips for XAU/USD, using the Gold Account type. These deviations from the web site information are not caused by any volatility or news coming up. The spread for cryptocurrencies is not listed but form our MT5 readings it is 86 pips for the BTC/USD.
Our impression is that traders could be misled into opening an account by inaccurate information on the spreads. The spreads, in general, are not too high but bear in mind that the readings we have mentioned originate from the FXJet's second tier, Gold Account.
Minimum Deposit
Three account packages are starting from the minimum deposit of $250 for the Silver Account, $2000 for the Gold and $10000 minimum deposit for the VIP account.

Deposit Methods & Costs
Traders cabinet showed deposit methods by Bank transfer, Credit cards, and Neteller. From the FXJet website, the Neteller option didn't show and this is maybe because it is not supported for all countries. The trader's cabinet, or portal, is well designed and easy to use. The fees are clearly stated for every deposit option, nothing is hidden. FXJet will not charge any fees for deposits but the transaction costs charged by the investor's bank or e-wallet will not be covered by FXJet.
If a trader did not open any positions before a withdrawal, FXJet will charge a fee. In the trading conditions, there are also fees if the client is making a deposit form a "high risk" country. Dormant accounts are regarded as such if there is no activity for six months and a fee of $10 will be charged every month. Note that deposits have a processing time that is unusually long comparing to other brokers. FXJet needs up to 5 days to process your deposits.
Withdrawal Methods & Costs
The same options from the traders portal are also available for withdrawals, Bank transfer, bank cards, and Neteller. There are no fees charged by FXJet but as stated in the trading conditions and other documents, some fees could apply for certain countries or unpredicted issues.
Withdrawal Processing & Wait Time
FXJet working time is relatively short, from 9 am-5 pm. They will handle all the withdrawals during business days, it will take one hour to process the request. Withdrawals by Bank transfer will take up to 7 business days. Card and e-wallet withdrawals are usually instant.
Bonuses & Promotions
FXJet does not offer any bonuses or promotions for CFD trading.
Educational & Trading Tools
From what we could see from the website, there are videos about trading. A total of six short youtube videos are on this page. Our opinion is they are almost useless and outdated. Interestingly, the last video demonstrates the effect of the news on the USD, but from what we know about FXJet, news trading is forbidden as well as any EA that is trading the news.
The economic calendar is available and it is basic in features. It does not have filters but a chart of historic values for each event is interesting and may be useful. Additional education could be available with the FXJet account managers for deposits above $2000, the quality though is questionable.
Customer Service
FXJet has an integrated chat service, email and two phone lines for contact. We have used the chat service and posed the issue we have experienced with the execution of orders. As it turned out the staff has confirmed interruptions but did not answer our subsequent questions. We had the impression that the FXJet staff considered us as a non-potential client and stopped the conversation. The quality of service is low, we have not received full answers and the response time was around 3 minutes after every query. Bear in mind that the support is available from 9 am-5 pm.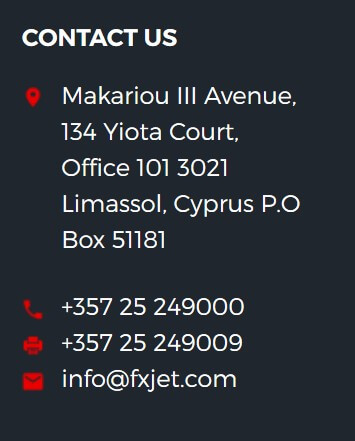 Demo Account
A demo account is available with $50.000 virtual funds. The process is a bit confusing. There were several steps we had to repeat to get to the account login details. Finally, the MT5 platform received feedback from the FXJet servers after a minute. There is no time limit for the demo and all the transactions are reflected in the traders portal accessible form the FXJet web site. The demo should represent the Gold Account type conditions.
Countries Accepted
From the available countries list, we have registered under the United States. But looking at the FXJet's policy, the US is not eligible for FXJet services, and some other countries. This broker will probably determine availability once you upload your ID documents for a live account since the list is not a good source of information.

Conclusion
This broker is regulated with both the FCA and the CySEC and the safety of funds is not a concern. The main issue with FXJet is that it has completely unreliable trades execution. The issues probably come from liquidity providers. As an STP broker, the execution times are good, but all the benefits fall short for the mentioned reasons. Moreover, the support left a poor impression mostly because of the lack of any professional and ethical etiquette. Additional concerns for potential investors is inaccurate and inconclusive information about the trading costs and other categories. Some trading constriction rules, like scalping and news trading, are more reasons to find a better broker.