This broker is newly established, earlier in 2019, and the initial checks we conducted on this broker did not set us off to a good start; Yulo FX claim to be 'regulated' under the BVI (British Virgin Islands) Financial Commission. Upon checking their official website, there is no mention of Yulo FX. Further to add to this point, while this broker claims to be based in London (and have a UK contact number to add to a false authenticity), one must note that if they really were based in London, the company would actually be required to be regulated with FCA.
No license number and a link to the apparent regulation certificate (on the website) takes you to the certificate of incorporation. This could lead to many people believing this broker is regulated, but do not be fooled- this broker is not, and have tried to deceive us into thinking they are. There is not actually anything wrong with being unregulated, but to lie about it, is another issue entirely.
Account Types
Yulo FX offers 2 account types: Starter and First Class. Both have access to the same markets, but the differences that set them apart are that the Starter account has 0 commission charges, but high spreads, while the First Class account offers 0 spreads, but $7 trade commission charges, per lot. Essentially, trading expenses could balance out almost equally between these two accounts when you take these sorts of factors into consideration. The Starter account also has a much higher leverage allowance which could seem more appealing, but on the flip side, it has lower margin calls than the First Class account, which we will go into further detail shortly.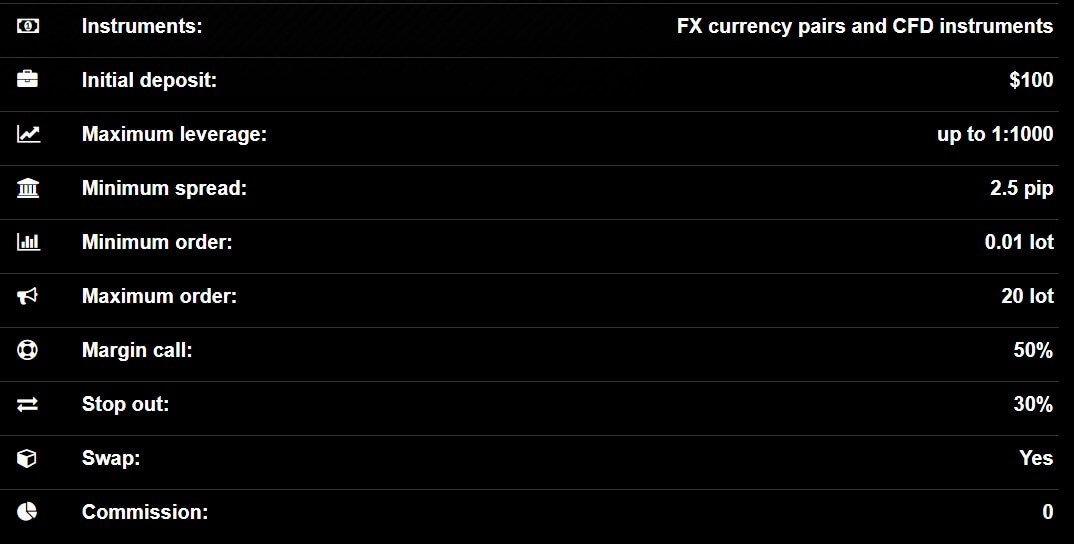 Platforms
So far, the only saving grace we have found is that this broker offers the MT4 trading platform, which is something we can all agree we CAN trust.
Leverage
The leverage allowed on the Starter account is incredibly high compared to what the majority of brokers offer: 1:1000. Since this account is suggested for the newer traders, it should be noted that one must have a thorough understanding of how such high leverage can be highly detrimental to your capital should you not have a full grasp on how to trade. If you opt for the First Class account, you are subject to trading with a maximum of 1:500 leverage, which is still very generous, and if used with skill, can really help maximize profits on winning positions.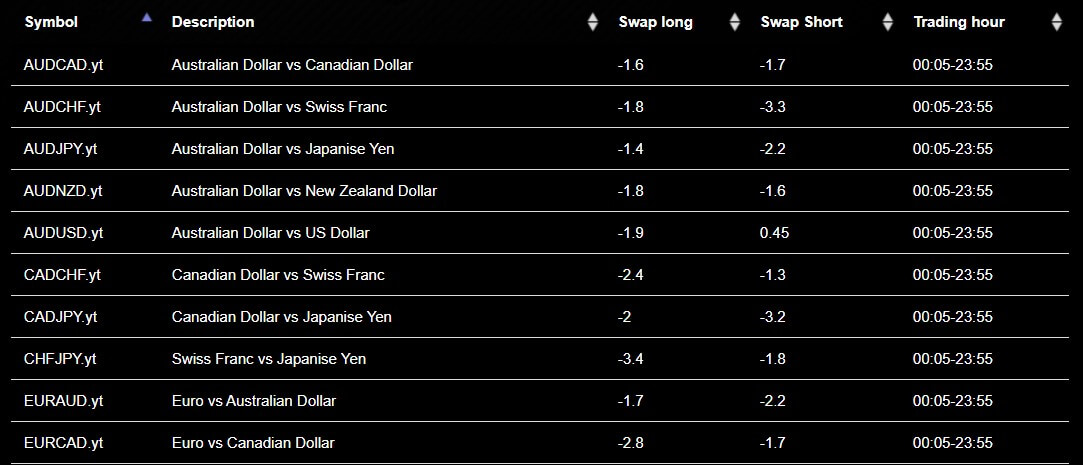 Trade Sizes
As stated on the account type advantages pages, the minimum order size for the Starter account is 0.01 lots while for the First Class account, one must enter the market with a minimum trade size of 0.1 lots. This is deemed reasonable for both accounts, considering the different advantages each account has.
Trading Costs
To trade with this broker, it is fairly expensive compared to competitor brokers. The Starter account does not charge trade commissions but bear in mind the spreads are 2.5 pips which can make trading expensive. On the other hand, the First Class account charges $7 per lot, per trade, but this account has spreads starting from 0, so really, the cost of trading with either of the two accounts can easily balance out to cost the client roughly the same. Swaps fees are applied to both accounts as well, and the website does state these (which vary from pair to pair, and also whether you are going long or short on a position).

Assets
Yulo FX does offer a very broad range of Forex, Shares, Indices, and Commodities. All assets are displayed on the website, although live spreads are not, seeing as they vary between the two accounts.
Spreads
As mentioned earlier, spreads on the Starter account are different from those on the First Class account. The Starter account offers spreads starting from 2.5 pips, which is a little more than average compared to what many brokers can offer. On the other hand, the First Class account has spreads starting from 0 pips, but of course, it requires a larger minimum deposit, and has high commissions, whereas the Starter account does not carry commission fees at all.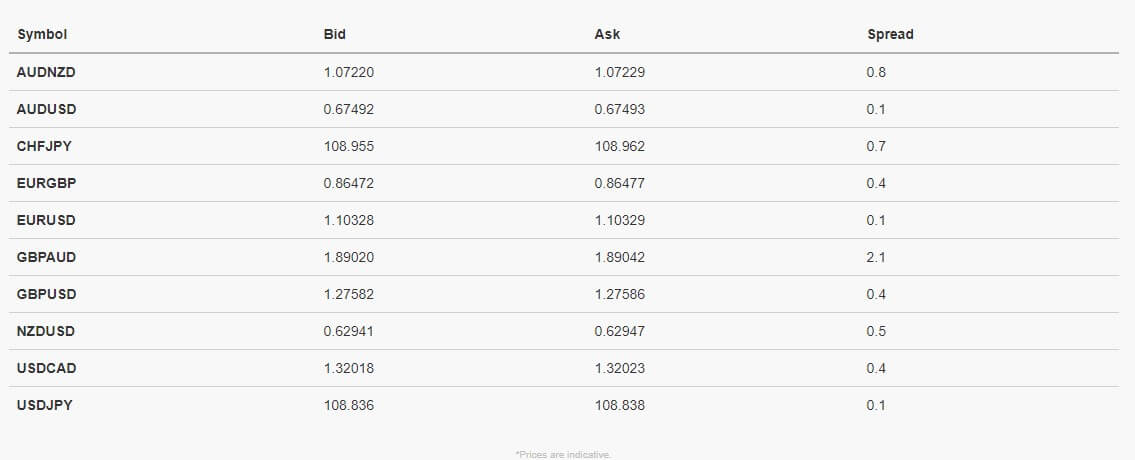 Minimum Deposit
If you were to opt for the Starter account, you are required to deposit a minimum of $100 while the First Class account requires a minimum of $2,000. There is a huge jump which reflects the category of client trader this broker is reaching out to, and what this broker lacks here is 'middle ground' when it comes to account types; there is one for the novice and one for the uber-experienced, but what about those traders that are somewhere in between?
Deposit Methods & Costs
To fund your Yulo FX account, you may choose to use debit/credit card, JCB, Neteller, Skrill or Wire Transfer. Transfer fees are not mentioned but be sure to check with your provider for any charges you may incur, prior to requesting the transaction.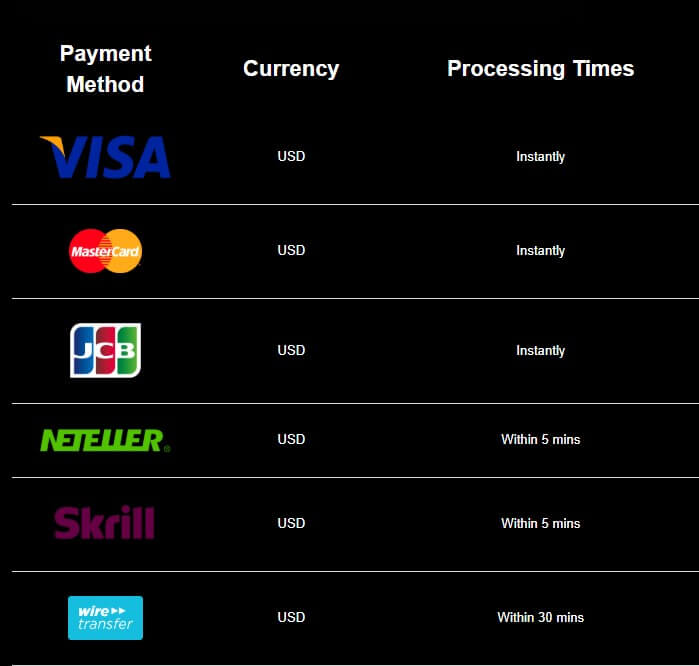 Withdrawal Methods & Costs
Withdrawal options with Yulo FX are the same as deposit methods available: (debit/credit card, JCB, Neteller, Skrill or Wire Transfer). Again, the mention of fees is absent but always check with your provider for any fees you may be liable for.
Withdrawal Processing & Wait Time
According to the website, Yulo FX process withdrawals incredibly fast; all methods available are processed within 1 business day. However, the time to actually come back to you after the processing from the broker's side may vary depending on your provider of choice, so do bear that in mind.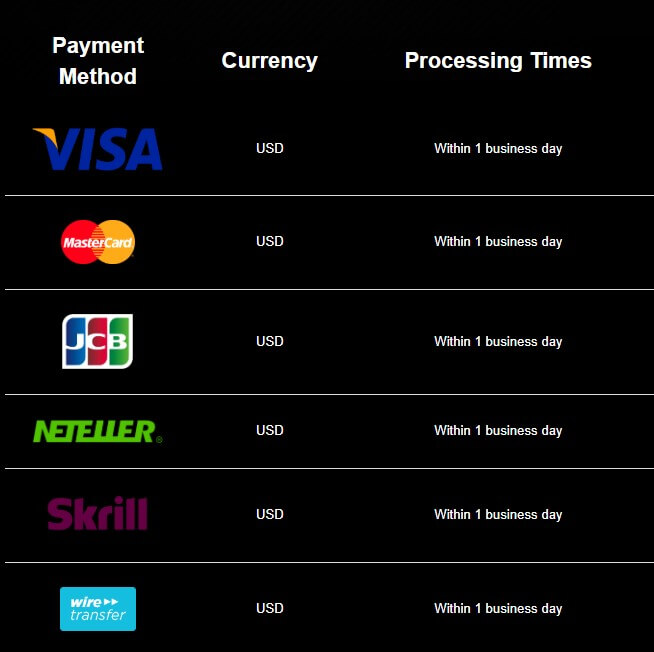 Bonuses & Promotions
To increase margin level, you can make use of the fact that Yulo FX offers deposit bonuses of up to 100%. This, of course, depends on how much you deposit. It is important to note that this bonus can not be withdrawn, as clearly stated on the Yulo FX website.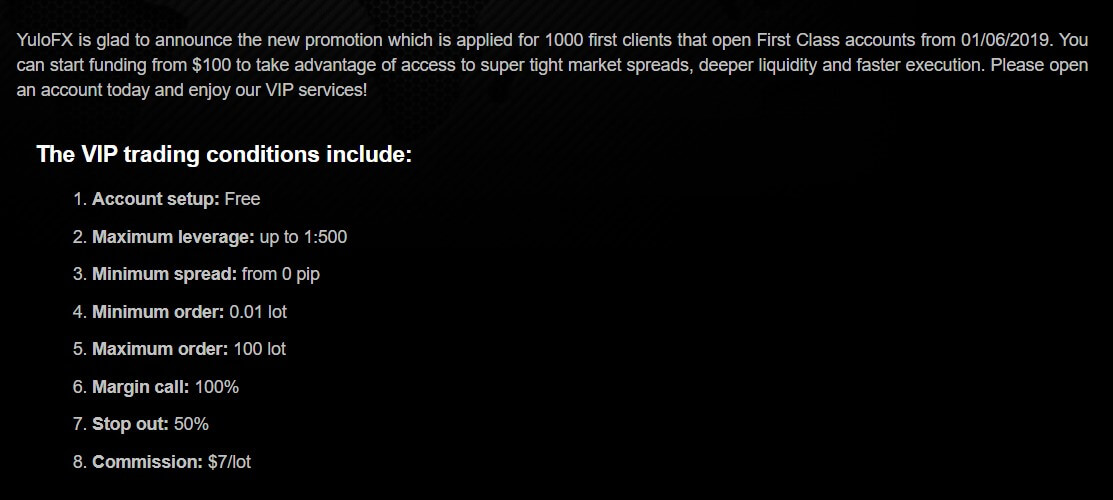 Educational & Trading Tools
Yulo FX does not educational material as such but what they do offer is forex news articles that are useful for general analysis. In addition, they offer a bit of light reading on what Forex is all about, to give a good summary for absolute novice traders. Having said that, if you are an absolute newbie trader, it is wise to go away and learn how to trade, make regular profits on demo before you go shopping around on broker websites, to avoid falling into many brokers' traps of signing up before you fully grasp what you are doing on the charts.
Customer Service
Yulo FX offers a 24/7 support team via telephone, email and live chat. Having all three avenues really does cater to all types of clients, and also having that assistance around the clock does add peace of mind that there is someone to answer you no matter the hour of the day.

Demo Account
Yulo FX offers a demo account for those who are novices to trading or wish to backtest their trading conditions before diving into a live trading account.
Countries Accepted
Following the fact that this broker has essentially lied about their regulation, it is no wonder that restricted countries are not at all mentioned on their website; Yulo FX is not fussy who they accept to trade with them.
Conclusion
While this broker does have a mixture of pros and cons when it comes to trading conditions, we must go back to the first point we made about this broker attempting to deceive their clients into thinking this broker is fully regulated and licensed. This is not the case, so if you are specifically searching for a regulated broker, this is certainly not one. If this client is going as far as to claim they are based in the UK without FCA regulation (reminder- to be based in the UK, you would be REQUIRED to be FCA regulated), then how can clients trust this broker when it comes to the security of funds and the likes?