Trader's Way, based out of the Commonwealth of Dominica, has been offering Forex trading services since 2010. TW offers a variety of tradeable assets, account types, and trading platforms, all of which are designed to appeal to a broad range of traders. With minimum deposits starting at only $10, it's easy to see why many might be considering signing up to trade with this broker. Before making your final decision, we invite you to read through this comprehensive Trader's Way review.
Account Types
Trader's Way offers quite the variety of account types, including:
MT4 FIXED
MT4 VARIABLE
MT4 ECN
MT5 ECN
CT ECN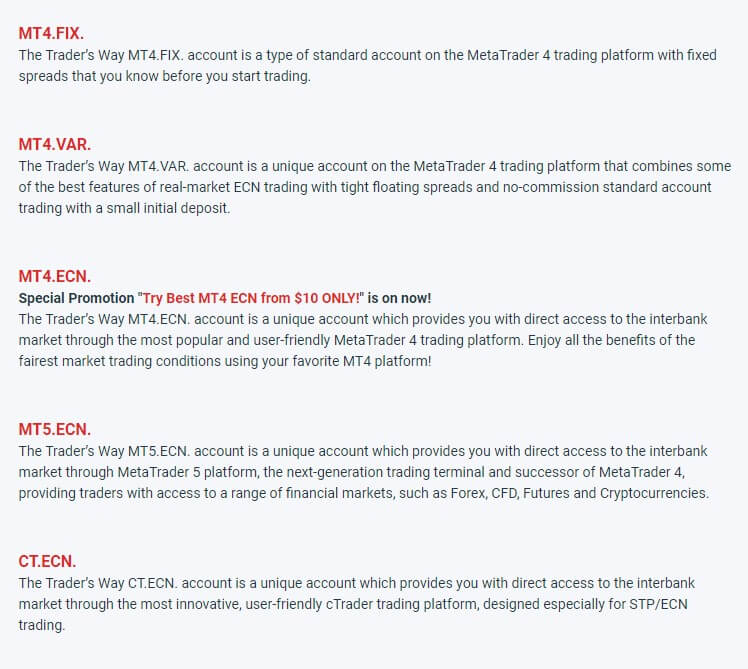 The primary difference between these account types is the trading platform that each is linked to. There will be three platform options, including MetaTrader 4, MetaTrader 5, and cTrader. Another difference will be spreads, as you will be allowed to choose from fixed or variable (floating) spreads. There are other differences as well, such as commission and market access. Trader's Way provides complete details on their website for each of the five account types, so you won't be left in the dark when trying to decide on which account is best for you.
Platforms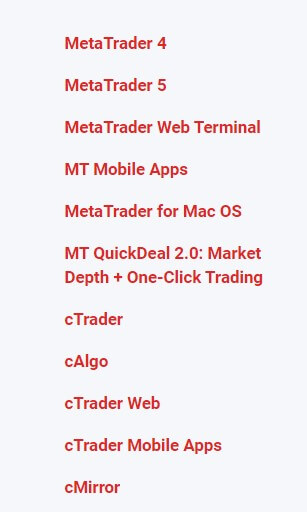 As mentioned above, Trader's Way provides their clients with access to three different platforms. Most traders are already familiar with MT4 and MT5, which leaves cTrader as the final option. cTrader is a user-friendly platform that was designed specifically for ECN trading. It can be downloaded and installed on your computer, but can also be accessed in app and WebTrader (browser) formats. Remember, the type of account that you select will directly dictate which platform that you are given access to.
Leverage
Leverage varies by account type, with the largest ratio across all of the accounts being 1:1000. The CT ECN account carries a maximum leverage setting of 1:500. The 1:1000 ratio is quite high and it's rare to see FX brokers offering leverage this high. Of course there are lower settings that can be selected. In fact, traders are free to drop their leverage setting down to as low as 1:1 if they wish. The leverage setting can be changed at any time between trades, but cannot be changed mid-trade.
Trade Sizes
Trade sizes start at 0.01 micro lot, with 0.01 also be the smallest allowed trade step size. The largest allowed single trade size is not posted, so we're assuming it is 1,000 lots (the largest position size allowed by the MetaTrader platform). Do contact the Traders Way support team to confirm this. The standard lot size for each platform is 1 lot or 100,000 units. There was no information to be found regarding margin calls, but we did not that stop out occurs at 40% across all account types.
Trading Costs
Commission free trading is possible using the MT4 FIXED and MT4 VARIABLE accounts. A commission charge of $3 per turnover of $100,000 does apply for the remaining three account types. Swap fees do apply to positions remaining open after market hours and those will vary by asset. Swap, or rollover costs can always be viewed from within the trading platform by opening the 'Specifications' information for each asset.
Assets
On all account types except the CT ECN account, traders have access to Forex pairs, Metals, and Energies. With the CT ECN account, Energies are not accessible. A complete list of available assets for each account type is provided on the TW website. These lists including some important information for each asset including the average spread, minimum trade size in lots, required step trade size, and contract size per lot. Kudos to Trader's Way for providing these details to prospective clients in advance of account creation.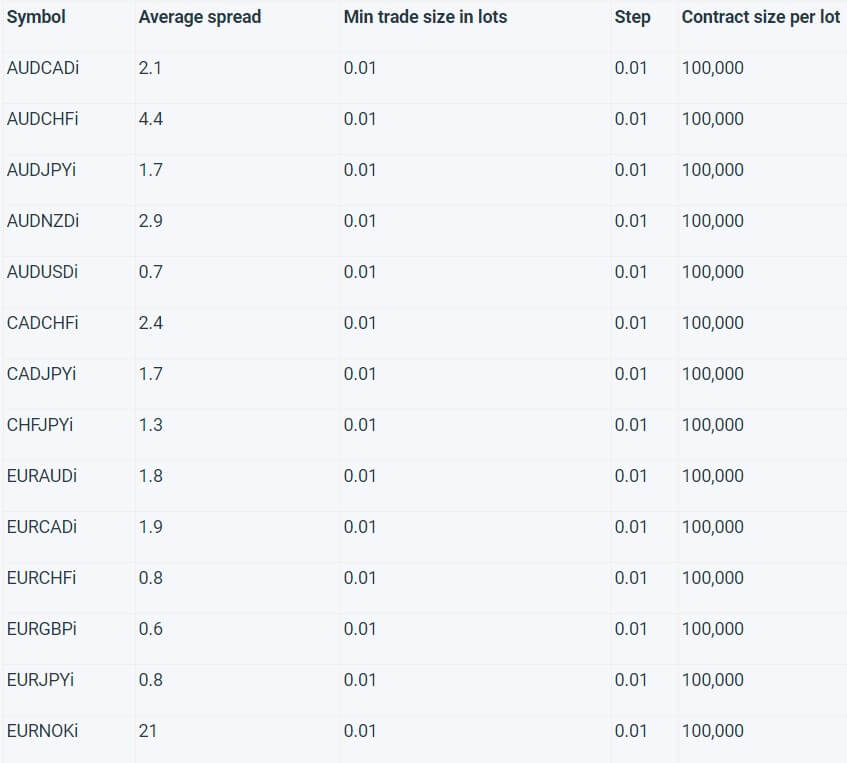 Spreads
Only with the MT4 FIXED account are spreads fixed. With all other accounts the spreads are floating. The minimum spread does vary by account type, but across all accounts starts as low as 0.0 pips and tops out at 2 pips (on the fixed account). Obviously, it doesn't get any better than zero, but don't expect to see a spread that low on all assets. Since the average spreads are broken down and listed for each account and each asset, it may be wise to spend a few minutes scrolling through the provided lists to see what spread averages you might expect should you decide to trade with Trader's Way.
Minimum Deposit
The MT4 FIXED and MT4 VARIABLE account do not have any minimum deposit requirements. Even so, you should know that realistically, you will need to fund your account with enough money to actually start trading. With the MT4 and MT5 ECN accounts, the minimum requirement is set at $100. Lastly, the CT ECN account requires a minimum of at least $50. Note that TW does sometimes run promotions which allow for lower deposit minimums. While this is nice, it's worth mentioning again that it's extremely difficult to trade with a poorly funded account. No, there's no need to invest a fortune, but you will need enough to avoid limitations.
Bonuses & Promotions
At the time that this Trader's Way review was being completed, the brokerage was offering one promotion and one bonus. The promotion allows for a reduced minimum deposit on MT4 and MT5 ECN accounts with full access to the interbank market. With this promotion, the regular $100 minimum is decreased to $10. As for the bonus, it is being offered in the form of a 100% deposit bonus. This means that your initial deposit amount would be matched dollar for dollar in the form of a cash bonus. Of course there are specific conditions which must be met before the bonus can be withdrawn. The specific terms & conditions surrounding the bonus can be viewed on the TW website.

Deposit Methods & Costs
Trader's Way accepts a wide range of payment methods, many of which carry no deposit fee. At this time, all of the following payment methods were an option for account funding:
Credit/Debit Cards (via VLoad)
Wire Transfer
Bank Transfer (Abra)
Bitcoin
Ether
Litecoin
Ripple – 20 XRP for deposits less than 1000 XRP
UPayCard
Skrill/Moneybookers – Commission of 1.9%.
NETELLER – Up to $500 – 3.9%, $501-$1000 USD – 2.9%, $1000+ – 1.9%
Perfect Money
FasaPay – Commission of 2.9%
Prepaid Card
Of these payment methods, Credit/Debit Cards (including Pre-Paid), Wire Transfer, Bitcoin, UPayCard, Ether, and Litecoin are all free. The other methods carry a small fee and we've noted that information above for you.
Withdrawal Methods & Costs
As usual, this broker uses the same methods that are accepted for deposits to pay out withdrawals. Most of the withdrawal payment methods are free. However, your financial institution could impose some charges of their own. Below, we've noted all of the available withdrawal methods and where fees do apply, listed that information for you.
Credit/Debit Cards – VLoad charges a 6% Processing Fee
Wire Transfer
Bank Transfer (Abra)
Bitcoin
Ether
Litecoin
Ripple – 20 XRP for transactions less than 1000 XRP
UPayCard – 1% commission
Skrill/Moneybookers – 1% commission
NETELLER – 1% commission (minimum $1)
Perfect Money – 1% commission
FasaPay
Prepaid Card
Withdrawal Processing & Wait Time
All requests for withdrawal are reviewed within two business days. The time it will take for your withdrawal to arrive once the TW payments team has issued the payment will vary, depending completely upon the chosen payment method and the payment processor. The fact is that some financial institutions do a better job of processing payments quickly than others. In the past, we've seen a credit card withdrawal arrive in one day or take as long as a month. The bottom line is that the broker is expected to review your request and submit your payment promptly, but once they do, it's largely out of their hands.
Educational & Trading Tools
Trader's Way is not one of the better FX brokers when it comes to providing trader education area, but they do offer at least the basics, along with a few extras. The services listed below are completely optional, but may certainly appeal to some traders.
VPS Hosting Service
MT4 Trading Signals
FxStat Autotrading
FxWire Pro News Feed
You will need to sign up and/or subscribe to receive the hosting, signals, and auto-trading services. The news feed is provided free of charge. Recently, TW has added an economic calendar, market information, and webinars to their website. Each of these can be accessed at no cost.
Customer Service
The Trader's Way support team can be reached via snail mail, email, phone and live chat. They do not offer the option to request a callback and also do not provide an online contact form. Even so, you can use any of the three email addresses shown below to reach out to the correct department.
Telephone: +1 849 9370815
New Accounts: sales@tradersway.com
Customer Service: helpdesk@tradersway.com
Technical Support: support@tradersway.com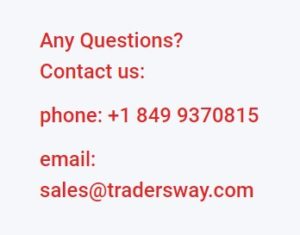 Support is offered throughout the standard business week, Monday to Friday. On those days, one can expect an email response within 24-hours or less. There is no weekend support, which definitely could be considered a drawback, as many traders are weekend traders and could need assistance on those days.
Demo Accounts
$100,000 demo accounts are provided for free. There are five different demo account versions, one to match each account type. Trader's Way is upfront in stating the demo account trading conditions do not precisely match the trading conditions within a live platform. This is relatively standard, but most Forex brokers are not as forthcoming with this information. Although the conditions will vary, they are close to what one will see within the real platform and for that reason (along with many more), they have value.
Countries Accepted
Although the Trader's Way website states that none of their marketing is directed toward citizens of the United States or United Kingdom, they do accept residents of these countries into their platform. TW is headquartered and governed by the laws of the Commonwealth of Dominica, a location that currently does not require FX brokers to be regulated. Any questions or concerns regarding regulation, fund security, or acceptance into the platform should be directed to their customer service team.
Conclusion
The fact that Trader's Way has been in operation for nineteen years speaks volumes. To put it simply, no Forex broker is able to remain in business for that long if they are not treating their clients well. We personally have accounts with TW and have had them for quite some time. There are no problems to report on our end and we suspect that your experience with this brokerage will be either the same or similar to ours, provided of course that there are no changes in ownership or in the way the business is operated.