Fing Markets is relatively new on the scene, operating an MT4 compatible CFD trading broker since the year 2017 and registered in ST Vincent and the Grenadines. The website itself is not particularly modern, but nevertheless is easy to navigate and live chat availability should ensure any queries are resolved at first point of contact. One thing to note, is that this broker is keen to entice it's clients with a deposit bonus, by advertising heavily this on the homepage itself. All deposit bonus brokers should be considered with caution before registering hastily. 
Account Types
This broker offers 3 account types to choose from, tailored to your level of trading expertise; Beginner, Fing Trader or VIP. It might be worth pointing out here that not all beginner traders would be willing to accept the fact that with this beginner account, the minimum deposit requirement is $1000. For the Fing trader account, one must deposit a total of $5,000 minimum, and the VIP account requires a minimum of $30,000. There are slight variations between the trading conditions offered on each account in the way of spreads, leverage and stop out levels, which we will go into further detail on shortly.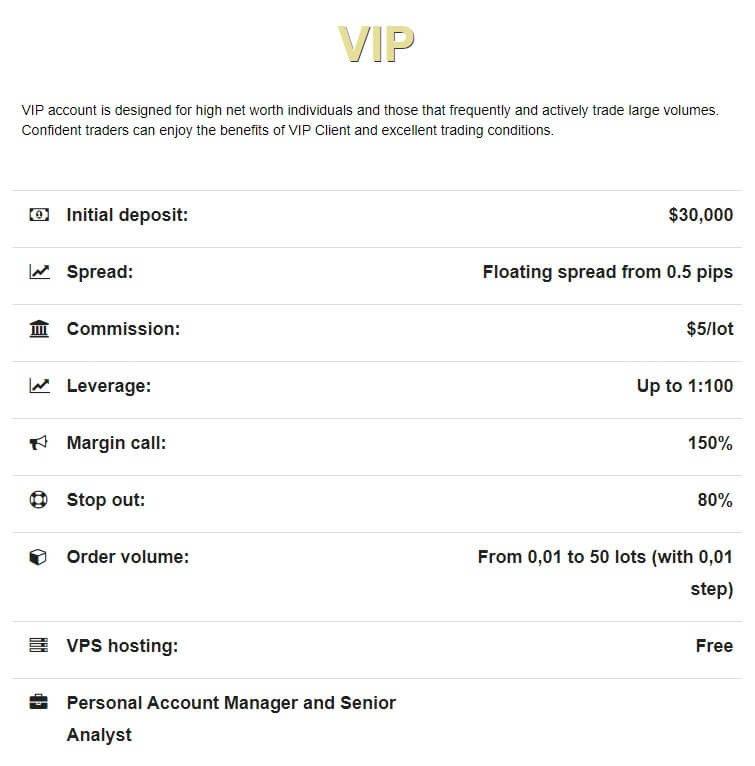 Platforms
You may trade with Fing Markets via MT4 desktop or WebTrader version. You may also trade on the go, be that on your iOS or Android device. 
Leverage
It is perhaps a little unjust that the Beginner account is allowed the highest leverage being maximum 1:500, while the Fing Trader and VIP accounts, which you must deposit larger for, have access to a maximum leverage of 1:100. 
Trade Sizes
All accounts bear the same fair conditions in regards to trade sizes allowed: 0.01- 50 lots.
Trading Costs
Fing Markets do not apply commission fees to either the Beginner or Fing Trader accounts. Only the VIP account is charged commissions, which are $5 per lot, per trade. This could work out to be rather expensive for the VIP account traders, but for the Beginner and Fing Trader account holders, 0 commissions is definitely a benefit to keep overall trading costs down. 
Assets
Fing Markets offer a fair variety of tradable instruments, those being, Forex, Commodities and Shares. While there is a large number in total, it is a shame that this broker does not offer more, such as cryptocurrency pairs, which is odd seeing that they offer BTC as a method of funding and withdrawing to and from the trading account. It is useful though, that all instruments available are displayed on the website, with a handy search feature to pinpoint particulars that may be of interest.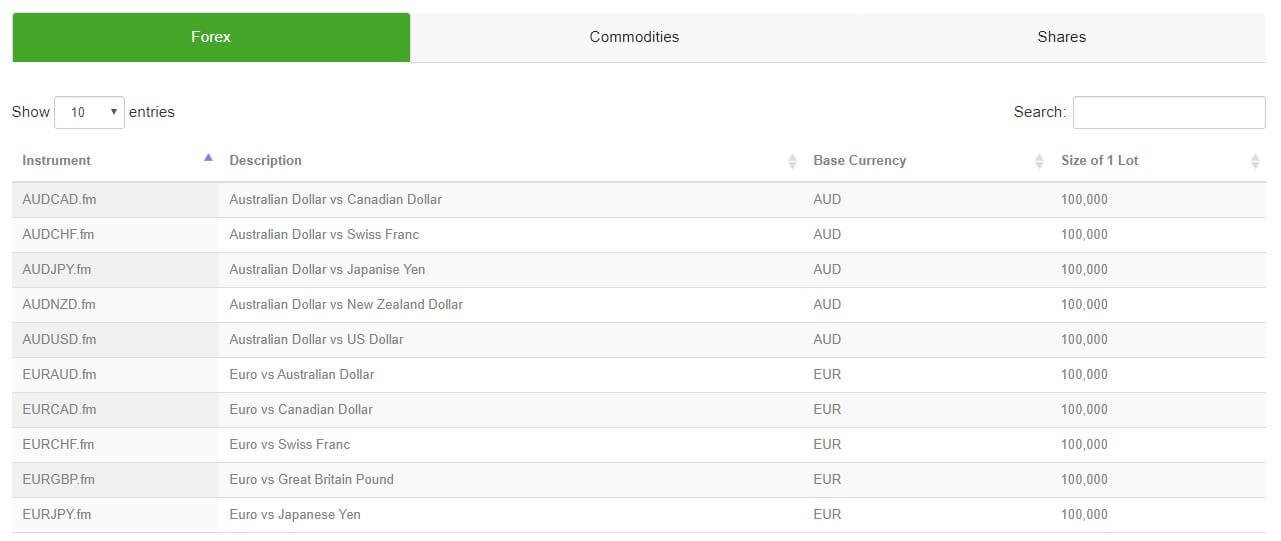 Spreads
Fing Markets offer floating spreads on all accounts. The Beginner account has the least favourable spreads, starting at 3 pips, while the Fing Trader account spreads start at 2 pips and lastly, the VIP account spreads begin at 0.5 pips. Bear in mind, the larger you deposit, the smaller the spreads you will be granted access to. 
Minimum Deposit
Each account offered has different minimum deposit requirements, as seen below:
Beginner: min deposit $1,000
Fing Trader: min deposit $5,000
VIP: min deposit $30,000
For many, these minimum requirements are considered dear, and do deviate from the norm of what the majority of brokers ask for, whose requirements are considerably lower and more affordable for the every day trader. 
Deposit Methods & Costs
To discover which funding methods are available, you may check these out on the website. Visa card, wire transfer, Neteller, Skrill, 2CO and Bitcoin transfers are all accepted. There is no mention of costs for either the deposit and withdrawal fees but bear in mind that each method may carry some fees, which you can check with the provider, prior to making the transfer.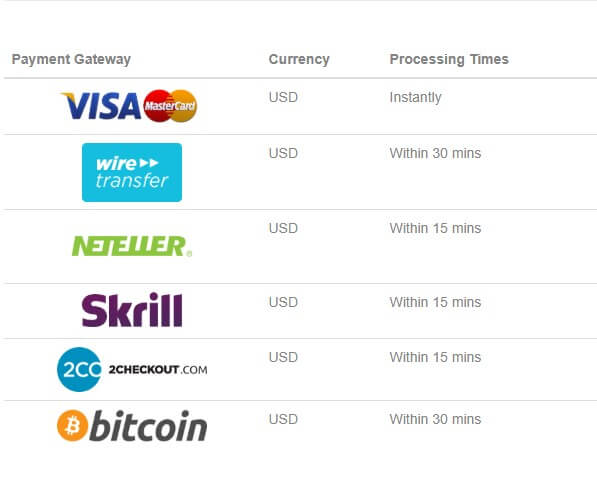 Withdrawal Methods & Costs
Withdrawal methods are as follows: Visa card, wire transfer, Neteller, Skrill, Baokim and Bitcoin. This is a fair variety to offer clients, and the fact that Bitcoin is offered as one of the fastest methods, definitely projects a forward thinking approach this broker is aiming for.
Withdrawal Processing & Wait Time
Fing Markets are rather transparent on the whole; processing timescales for each method of withdrawal are shown on their website. All methods are advertised to be processed within 24 working hours, but of course, each method may vary in timescale to actually reach you.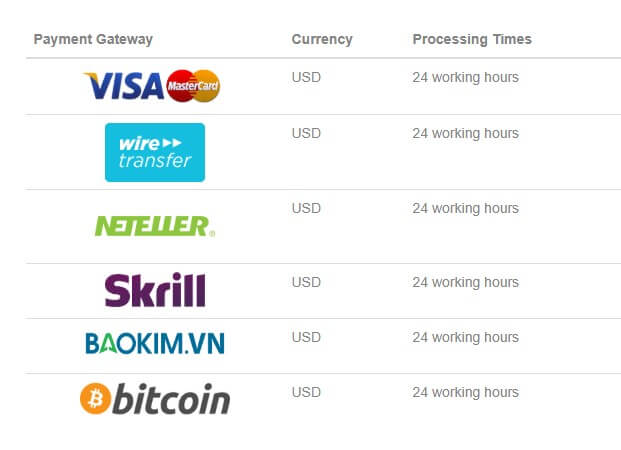 Bonuses & Promotions
The first thing you see when you visit the website is the 30% deposit bonus which only clients from Vietnam are entitled to, according to their live chat team. The reason for this is unclear.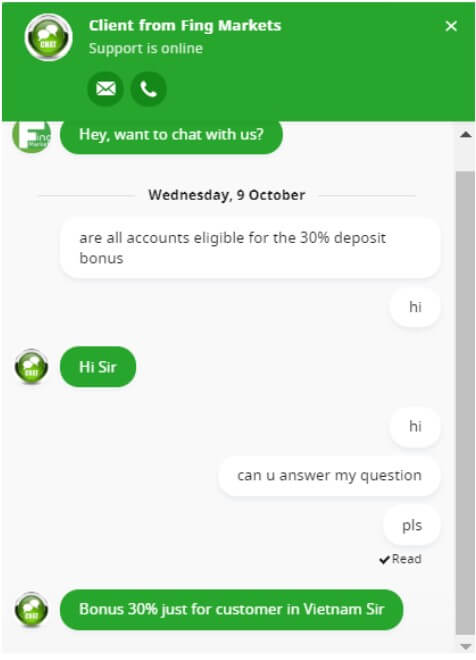 Educational & Trading Tools
Fing Markets do not advertise any trading education material online, nor do they appear to sell additional products/services. However, this broker being compatible with MT4 would mean you are free to integrate your own products such as EAs, providing they are MetaTrader4 compatible. 
Customer Service
Should you wish to contact this broker, you may speak with a representative on a 24/5 basis via Live Chat, email or by calling in. Note that the customer service team operate only during Monday to Friday These three options allow each client to choose their own preferred means of communication dependent upon the complexity of their query.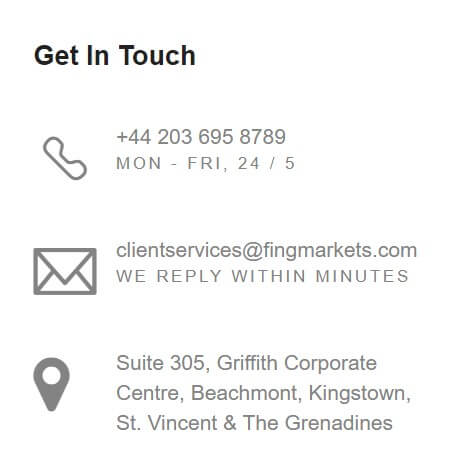 Demo Account
Nowhere on the website does it offer a demo account for clients to run some testing and practice before opening a live account. This is not very useful for clients who may be dubious about whether these trade conditions are suitable for their trading style. Also, the absence of a Demo account could be detrimental to a novice trader.
Countries Accepted
Fing Markets do not make it clear which countries are restricted from trading with their broker, but once you begin the registration process, you will be asked for proof of residency. It is at this stage you will be notified if your account can be approved or not. 
Conclusion
Fing Markets do provide a reasonable and fair variety of assets to trade as well as deposit/withdrawal methods. They are also very generous with their leverage options, in comparison to other brokers. However, the fact that a demo account cannot be provided raises concerns, as this encourages vulnerable potential clients to sign up right away, perhaps without full knowledge of what trading conditions they will be subject to.