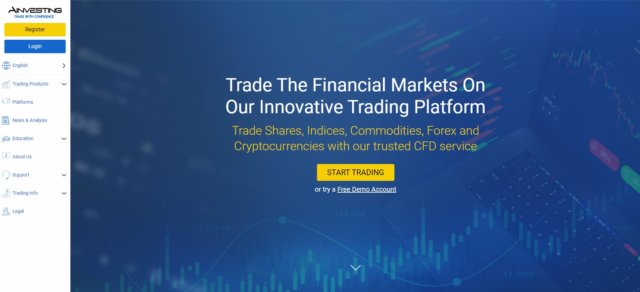 Ainvesting is a Bulgarian Forex and CFD broker. This broker offers a wide variety of assets for traders to trade on their proprietary web-based platform. Their accounts have fixed spreads and leverage in line with EU and EEA standards. The biggest advantage of Ainvesting is that it is a properly regulated broker. Ainvesting is the trademark owned by Uptrend LTD, a company that is authorized and regulated by the Bulgarian Financial Supervisory Commission (FSC). The broker's website is available in 2 languages, English and French.
Account Types
Ainvesting has available for its customers 4 types of account, denominated, Standard Account, Premium Account, Platinum Account, and VIP Account.
The initial minimum deposits for each of the accounts is as follows:
Standard Account: 200 USD
Premium Account: 1,000 USD
Platinum Account: 5,000 USD
VIP Account: 25,000 USD

The spreads are different in each of the accounts but we will detail the same in the Spreads section.
Platforms
Ainvesting does not provide the popular MT4 platform but offers its own web platform. We tested the Ainvesting platform with a demo account. In summary, we highlight the ease of use and it is quite well designed. One important thing is that this commercial platform has quite advanced graphics, and with a wide variety of technical analysis indicators. The Ainvesting platform is also available in a mobile app, which is available for both Android and iOS.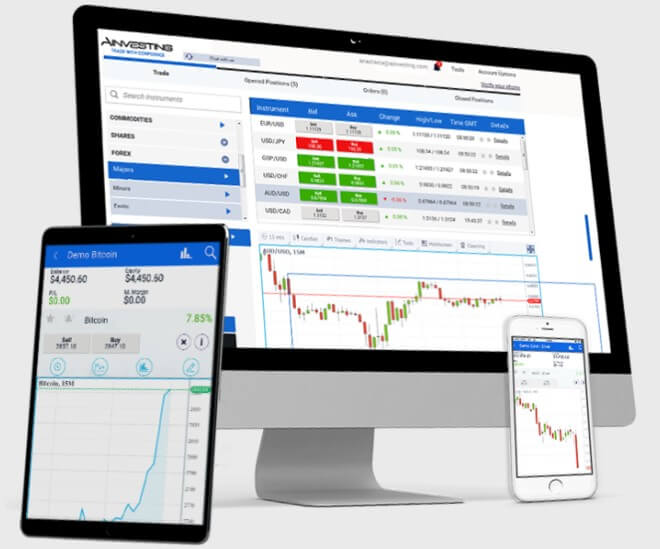 Although the Ainvesting platform is quite good, it lacks many of the advantages offered by the famous Metatrader 4 platform. MT4 has a greater potential for advanced graphics and more technical indicators that can be tested and purchased on the MQL market. Also in MT4 we find the famous automated trading systems (expert advisors).
Leverage
The leverage available in Forex is a maximum of 1:30. Leverage allows a trader to start a large trading position with a small margin deposit. When ESMA's measures entered into force, this is no longer the case. For example, 30:1, this means that positions worth $30,000 can be made with a margin deposit of $1,000. Leverage allows the use of credit offered by the broker to trade larger amounts than his account balance. Remember, the higher the leverage, the greater the risk of losing your capital. Leverage can be a very powerful tool both in your favor and against you.
Trade Sizes
With Ainvesting you can trade lots as small as 0.01 lots (micro lots).
Trading Costs
Ainvesting does not charge commissions for trading with its assets, as this expense is included in the spread. The spread is the difference between the purchase price and the selling price. Ainvesting will charge your trading account a commission of $15 USD per month if your account is inactive. The broker considers that an account is inactive when there have been no trades in a period of 3 months. The broker will also apply an inactive account maintenance fee of USD $150 per month to accounts that remain inactive for one year or more. An inactive account shall be considered if there has been no activity in it for a period of one year.
Assets
Ainvesting customers have at their disposal a wide range of financial instruments with which they can trade. Its asset index includes many currency pairs, various CFDs, and also ETF and bonds. With this broker, you can also trade with cryptocurrencies, and we like the choices that the broker has on offer. The available cryptocurrencies are Bitcoin, Ethereum, Dash, Ripple, Bitcoin Cash, Ethereum Classic, NEO, Monero, Lisk, Iota, Golem, Steem, Omisego, Civic, Bitcoin Gold and Zcash.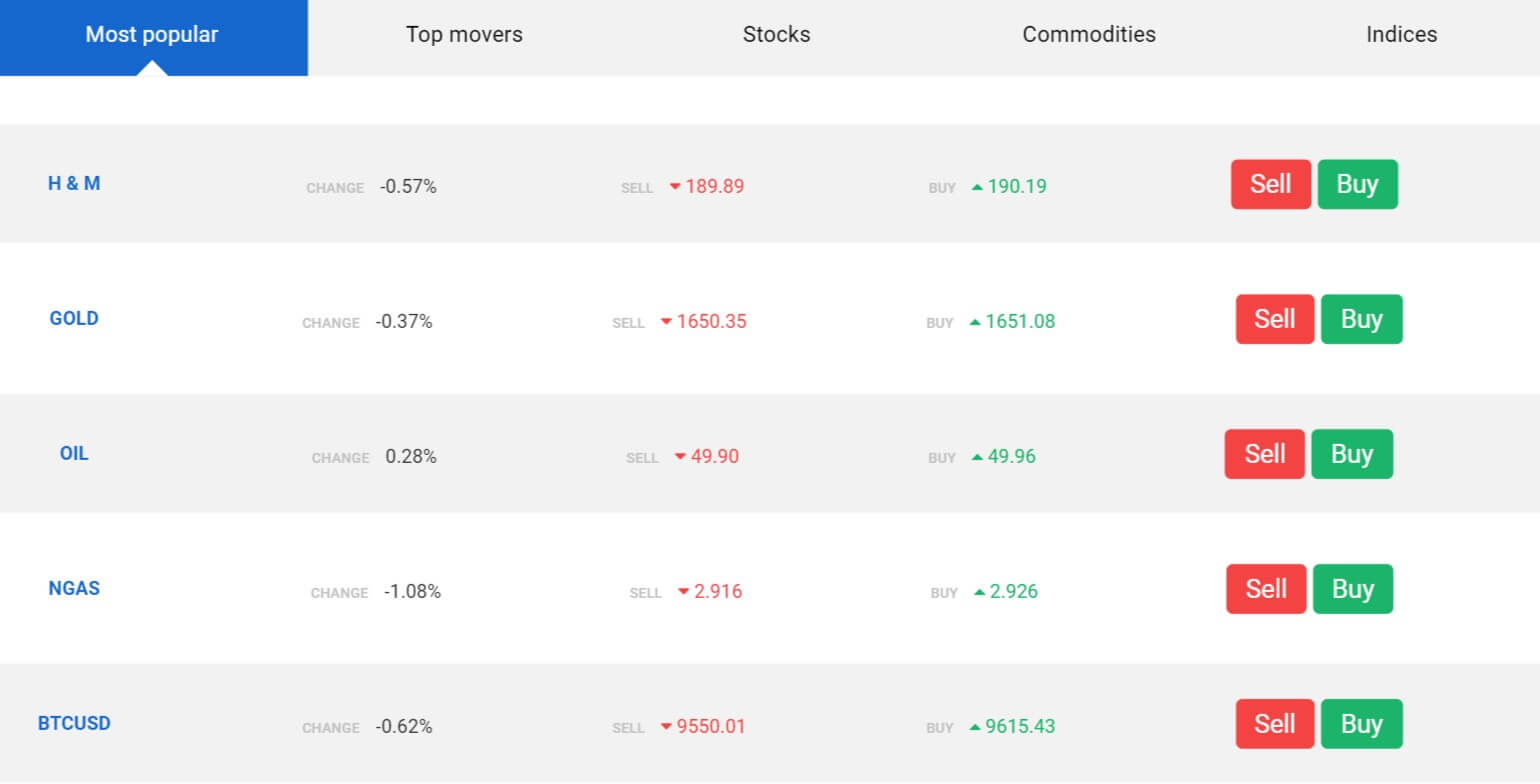 Spreads
In our view, the biggest disadvantage of Ainvesting is high spreads, but on some level, these are to be expected when there is no commission charge. The reference spreads in EUR/USD are set on the broker's platform at 5 pips. Most brokers using fixed spread offer their customers 2 pip spreads, on average, with some offering spreads even lower than this.
Minimum Deposit
The minimum deposit amount is $200 USD. Ainvesting, however, might occasionally offer a special promotion for lower deposit levels. Check back regularly to see if this type of promotion is on offer.
Deposit Methods & Costs
The primary deposit methods accepted by Ainvesting are credit/debit cards and bank wire transfers. However, they offer a huge list of alternative and e-payment methods. Ainvesting does not charge any additional or hidden commissions on deposits or withdrawals. Banks or intermediaries may charge additional commissions, such as wire transfer fees. Below is just a partial list of the accepted funding methods.
Withdrawal Methods & Costs
Withdrawals are processed using the same method as with the deposit of funds. If you have deposited your funds with a credit card, the withdrawal amount will also be refunded to the same credit card. If you have chosen to make a bank transfer, the withdrawal amount will be transferred back to your bank account. Ainvesting does not charge additional or hidden commissions in deposits or withdrawals. As with deposits, banks or intermediaries may charge additional commissions, such as transfer fees.
Withdrawal Processing & Wait Time
Ainvesting reports on their website that withdrawals can take about 5 business days to process after the request. In these 5 days, there may be events that affect the processing speed and that are out of control of the Ainvesting team. Banks, credit card companies, intermediaries, can delay processing because of internal problems, and examples have been given that it can sometimes take up to three weeks to complete the withdrawal request.
Bonuses & Promotions
We are not aware that any bonuses or promotions are currently available. The broker does offer an IB system (Introducing Broker). In fact, on the website, there is access for a program where clients can access their private IB area using a username and password. The IB is partners who attract clients for the broker in exchange for a commission for their operations. Obviously, the particular conditions have to be dealt with the bróker directly. For affiliate information, email the IB team at affiliates@ainvesting.eu
Educational & Trading Tools
Ainvesting has a very large educational area, which we liked very much. In the Educatión Center, there are several video tutorials.
Examples include:
Introduction to Forex trading
The global economy and how it affects markets
What is Social Trading?
What the MetaTrader Platform is and how to use it
Learn how to use the mobile application
Trading strategies
What are CFDs, Stocks, and Indices?
Aspects of trading cryptocurrencies
Trading tools
Forex trading concepts

They also have several Ebooks, as follows:
Cryptocurrencies eBook.
The trading market
Familiarization with the basics of Forex
Beginners strategies
Glossary eBook
Global trading eBook
Trading psychology
Capital management
Fundamental analysis
Technical analysis
Chart types and Dow's theory
Most common price patterns
Trends types, support and resistance
Advanced Technical Analysis
Advanced Strategies
It also has a news section, an economic calendar with the most important events of the day, videos for Daily Analysis, etc.
Customer Service
To contact Ainvesting customer service, we have 3 ways of contact, telephone, fax, and email. We are missing a live chat to complete the contact methods.
Phone +359(2)4928497
Fax +359 281 55666
General: info@ainvesting.eu
Support: support@ainvesting.eu
Financial and Billing: documents@ainvesting.eu
Marketing: marketing@ainvesting.eu
Affiliates: affiliates@ainvesting.eu
Compliance: compliance@ainvesting.eu
Business Hours are Sunday 22:00 GMT (21:00 DST), Closing Friday 22:00 GMT (21:00 DST)

Demo Account
Demo accounts are only available for 7 days. After those 7 days have passed, the account must be financed. We dislike this restriction on the part of Ainvesting, as the desirable thing would be to have a demo account operating indefinitely so that the trader can make use of it for a longer time if needed.
Countries Accepted
According to the CFTC (Commodity Futures Trading Commission) in the United States, the OSC (Ontario Securities Commission) and the BCSC (British Columbia Securities Commission) in Canadian law, Ainvesting cannot allow residents of the United States and Canada to open trading accounts on its platform.

Conclusion
Bulgaria is not the most famous destination for European forex brokers, which makes this broker interesting. The financial package for brokers is similar to that of Cyprus, which is excellent. The FSC maintains its own set of rules for trading companies. Rule examples include capital adequacy, segregation of client accounts, the existence of a clearing fund, requirements for members and managers of management and supervisory bodies, ALD procedures, and more.
The capital required to acquire a license from the Financial Supervisory Commission is BGN 250.000 (approximately EUR 125,000). If you want a full license, which allows traders to trade on their own account (as market makers), the capital requirement will be BGN 1.500.000 (approximately EUR 750,000). As Bulgaria is part of the European Union, the brokers authorized by the FSC can carry out their operations throughout the EU, thanks to Mifid's rules.
Advantages:
A regulated broker operating legally in Europe
Wide variety of assets to trade
Proprietary platform with good graphics
Offers CFDs on cryptocurrencies
Disadvantages: