Wenchuan International is a forex and CFD broker based out of St. Vincent & the Grenadines, with other offices located in Hong Kong and the UK. Since their website is somewhat vague and there aren't many reviews out there, we spent a lot of time speaking with their support team, so that we could paint a clearer picture for our readers. The support team certainly provided us with an interesting experience and helped to explain some of the details that really matter. If you'd like to know whether this broker is offering anything worth your attention, we urge you to keep reading.
Account Types
Wenchuan International offers one basic account type. This provides for a more simplistic experience, without the need to compare several different sets of information for several different account options. Still, we enjoy having the ability to choose an account that is more specialized for the needs of specific types of traders. If you decide to open an account with this broker, you'll only be required to make a small deposit, with the ability to trade with average spreads on a leverage that goes up to 1:200 on most assets. 
Platform
One of our favorite qualities about Wenchuan International is the fact that they support the award-winning MetaTrader 4 platform. The fact that the platform is the most commonly offered and favorite trading platform among forex brokers makes it special, but what exactly is so great about MT4? For one, within the MT4 platform, clients of Wenchuan can create and hold multiple positions and orders for the same trading product.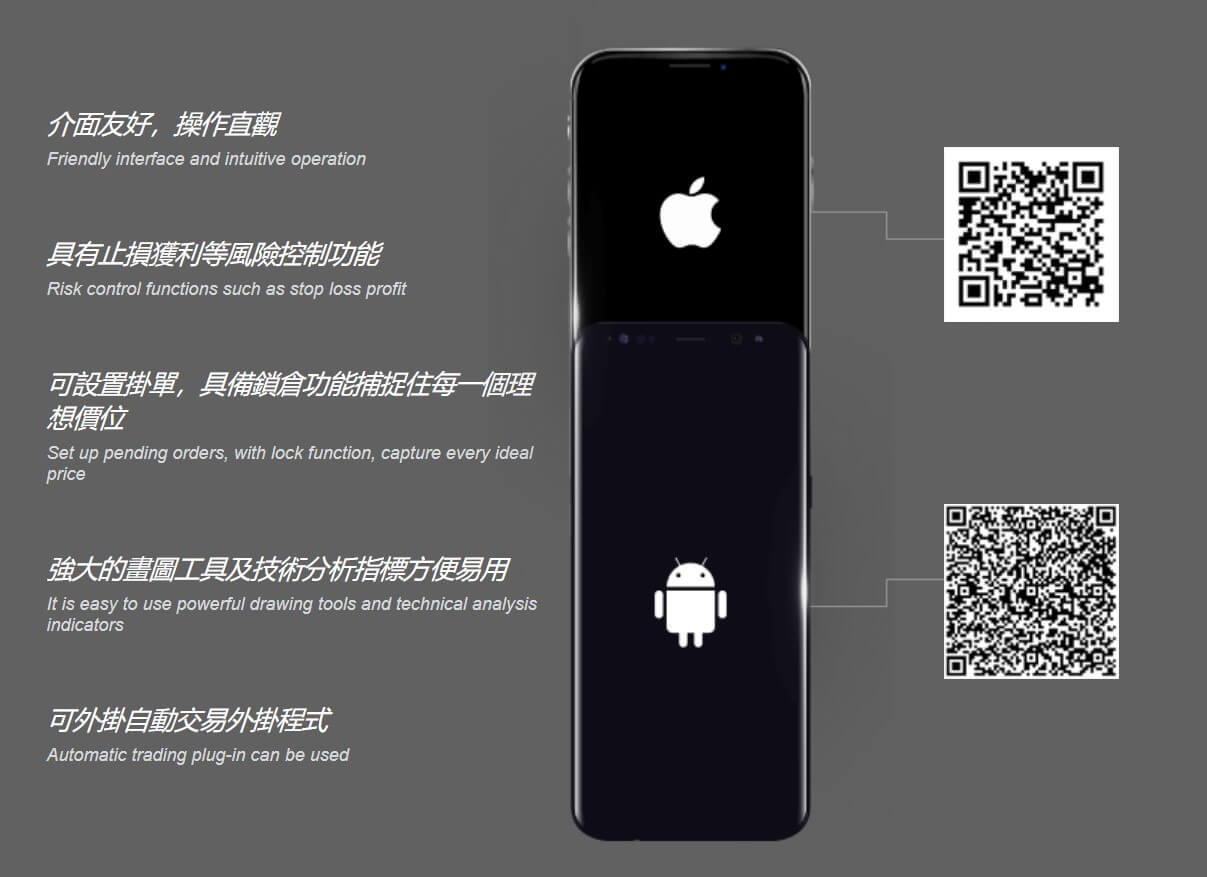 MT4 also offers a powerful combination of analytical technologies and leading trading tools, which allows traders the ability to implement complex trading strategies. The user-friendly and easy to navigate qualities of the platform is thought of highly by many traders. MT4 comes with a variety of time-frames, charting tools, technical indicators, and more. The fact that this broker offers the world's favorite trading platform definitely adds to their potential, although featuring MT4 is not enough of a reason alone to choose them on its own.
Leverage
The maximum leverage goes up to 1:200 on the majority of Wenchuan's tradable assets. This limit is satisfactory, since it offers a limit that is above the industry average. Many other brokers only offer leverage that goes up to 1:100, although some do offer leverages that go much higher than this broker's offer. Still, Wenchuan is offering a leverage that is higher than average and that should be enough for the majority of traders; therefore, we feel that they did well in this category. Metals, which includes gold and silver, do not offer the 1:200 leverage option. Note that all brokers lower the leverage cap on these types of assets, since trading them is so risky. 

Trade Sizes
The minimum trade size is listed at 0.01 lots, or one micro lot. You won't always find the ability to trade micro lots; therefore this is another of Wenchuan's strong suits. Meanwhile, their maximum trade size is 20 lots maximum. The minimum margin requirement is about 1%; with the initial margin of standard gold being $800 and the initial margin of standard silver being $800. Closing is performed according to the following rules: all open positions will be automatically closed when the customer's account maintains a position below the maintenance margin of 30%.
Trading Costs
Wenchuan profits from spreads, commission fees, and swap-fees. Swaps are the difference between the bid and ask price on a position and are applicable with any forex broker you choose. We explain in more detail later, but for the purpose of this section, you should know that the spreads with this broker are about average. Commission fees also may be applicable based on the specific product, but support is not as forthcoming about those fees. The best way to check commission fees seems to be opening an account and checking within MT4. The broker would also profit from swap-fees, which are fees charged on positions held overnight. When the customer holds a position, crossing the 5:00 a.m. (summer time) or 6:00 a.m. (winter time) of Beijing time, the customer's position will be charged or paid rollover interest. The rollover interest of various products will vary within the interest gap.
Assets
Wenchuan International offers a wide asset portfolio, including foreign exchange, index, energy, bulk commodities, offshore RMB, and other CFDs. You'll find a variety of forex majors and minors, as well as exotics, metals, oil, including gold and silver, and indexes. Finding the page that lists all available assets on their website is difficult, so you may need to contact the support team to request this information.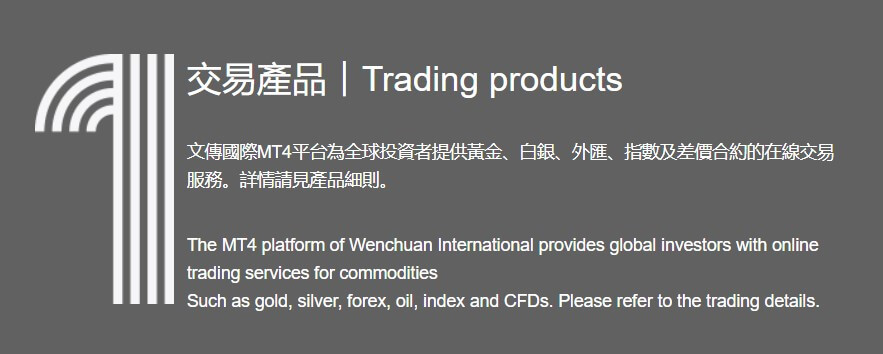 Spreads
Since there is only one account type with this broker, there is no need to compare several different spreads for various account types. This makes it much easier to understand what type of spreads you can expect to see, although the spreads listed on their website are only the minimum, meaning that the actual spreads may be lower or higher than the company's examples.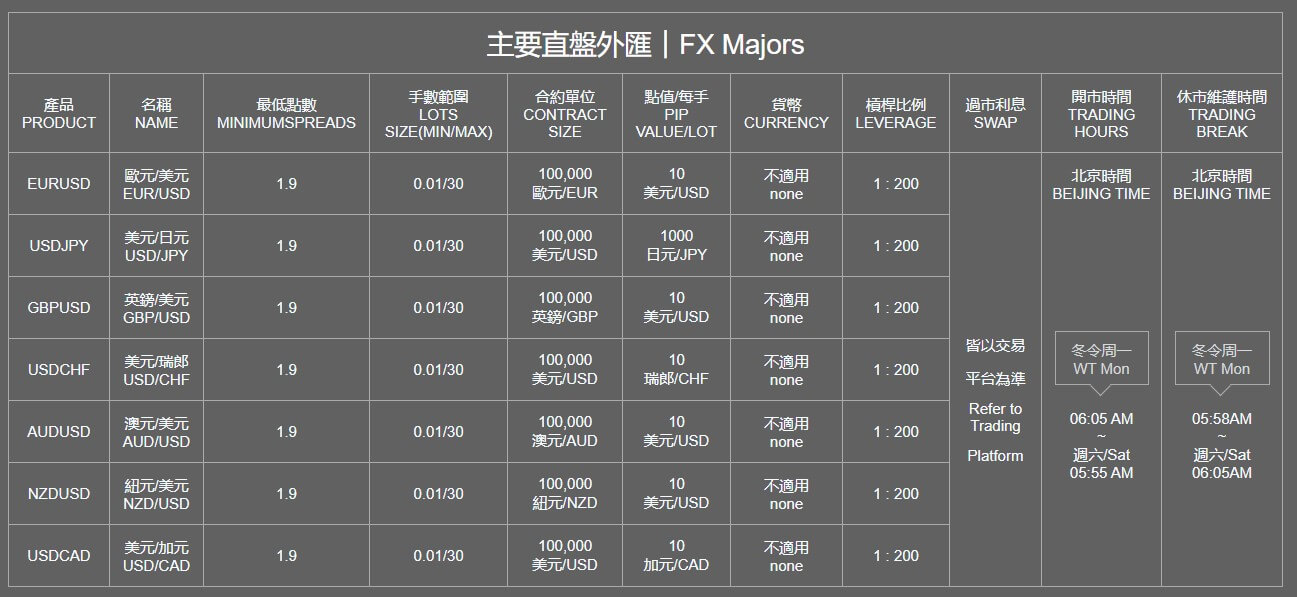 To give some examples, it seems that minors gravitate around a spread of 1.9 pips, while majors tend to show higher spreads around 2.7 pips. Exotics, metals, oil, and indexes also tend to have higher spreads. Overall, it seems that the spreads with this broker are average, considering that many others advertise the best possible starting spreads. Wenchuan offers more of a transparent picture of what one can really expect to see, which is usually around what you'll realistically see with other brokers. If you're interested in viewing the specific spread for a certain product, you can view them on the website's product list page.
Minimum Deposit
The initial deposit minimum must be at least $50, regardless of which account type you're trading from. We're happy to see such a realistic amount from this broker, since many others often require deposits into the hundreds and occasional thousands of dollars. This amount shouldn't be high enough to scare away beginner traders and it won't exclude those without many starting funds from being able to trade through this broker. It also offers the trader a bit of breathing room since it not an insignificant amount. However , since the only deposit option is bank transfer, we would recommend making deposits of larger amounts if you have the means to do so.
Deposit Methods & Costs
Bank transfer is the only payment method accepted by Wenchuan International. While bank transfer is certainly a safe and reliable means of sending funds, it does often come with costs. The costs would typically depend on your bank, so it's best to check with them before deciding whether to send funds. The fact that deposits are limited to one option would definitely be a downside to choosing this broker, since others often offer Visa/MasterCard and other popular methods. If you're one that would choose bank transfer regardless, then of course the limited funding opportunity wouldn't bother you. However, if you prefer more instant funding methods, you will definitely feel that this broker is lacking in this category. 

Withdrawal Methods & Costs
Predictably, one would be limited to withdrawal via bank wire, since it is the only method available for depositing. As we mentioned earlier, this is certainly a safe method, but it comes with drawbacks. You should expect to pay fees when making a withdrawal through bank transfer, with fees typically being between $25 USD to $50 USD. Hopefully, your bank is one that charges on the lower end of the spectrum. If not, paying $50 to make a simple withdrawal is steep, so we suggest making larger withdrawals with more time in between, rather than making more frequent ones. This would help to avoid paying the withdrawal fee as often, since it could really add up over time.
Withdrawal Processing & Wait Time
The wait time to receive your withdrawal via bank transfer would fall somewhere between 2 and 6 days. Two days isn't an unreasonable time to wait, but we feel that six days is definitely on the longer side of things, especially if you need your funds quickly. We wouldn't be as concerned about the waiting period for bank transfer if other methods were available, since this is the average withdrawal time for this funding method, regardless of which broker you choose. However, since it is the only method available, one will have to be prepared for a wait time up to 6 days when it comes time to make a withdrawal. 

Bonuses & Promotions
At this time, Wenchuan is not offering any bonuses or promotions. While they may decide to add these types of opportunities in the future, it is still disappointing that there is no welcome bonus available to those interested in signing up now. Still, with this being a smaller broker, it is not surprising that these opportunities are not offered.
Educational & Trading Tools
Wenchuan has devoted an entire section of their website to providing educational material for their clients. Good brokers understand the important on educating their investors, so we were happy to see that they did so well in this category. Within their Knowledge Academy, you will find detailed explanations and supporting images that explain some common forex ideas, including information related to practical skills, wave theory, moving averages, chart patterns, and technology lines. You can visit the 'Study Centre' page from the top of Wenchuan's website if you're interested in viewing any of their educational material. When it comes to trading tools, traders will have to stick to the tools available within the MT4 platform.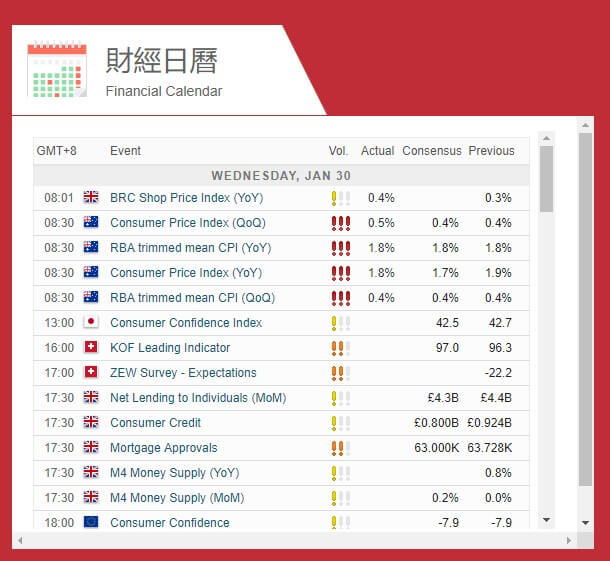 Demo Account
Many brokers have added free demo accounts to their list of services recently because of how helpful these practice accounts can be to inexperienced clients. Opening a demo account alongside a real account is also an excellent way to gain more experience trading, or to test the market in ways that might be too risky for one's real account. Sadly, this broker does not offer demo accounts at this time. While they do offer some educational resources, we felt that the lack of ability to open a demo through them really took away from the overall learning experience they provide. 
Customer Service
If you find yourself needing to ask a simple question, or if you do sign up for an account and run into a problem, you'll be happy to know that support can be reached conveniently through phone, LiveChat, or email. Support staff with big brokers usually tend to be stretched too thin, resulting in longer wait times. Fortunately, this broker's support team is always readily available. When we tested out the website's LiveChat feature, we were not disappointed, as we found that support replied quickly when we attempted to chat late at night. The quick replies we received from support staff assured us that the company is in fact active 24 hours a day, Monday through Friday, as they claim to be. Below, you'll find the listed contact information for this broker.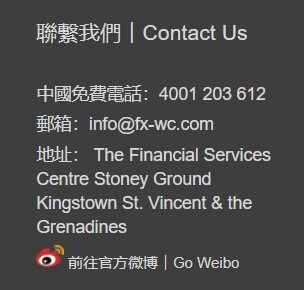 Countries Accepted
Wenchuan International does not provide service to clients located in the US or Hong Kong. This includes both Hong Kong residents and those located in the Hong Kong Special Administrative Region. It's definitely unfortunate to see the United States excluded from the list, although it isn't surprising, since many brokers have chosen to exclude the US from their list of accepted countries lately. 
Conclusion
Wenchuan International offers a more simplistic trading experience based from one account type, supports the world's most favorite trading platform, and offers above average leverage options. The company also offers an impressive asset portfolio, although their spreads could only be considered average. They provide a training academy from their website, which proves that they are invested in their inexperienced clients, just as much as they are in their more serious investors. Customer service is readily available to answer any questions you may have 24 hours a day, 5 days a week. Their readiness to assist at all hours really sets them apart from the crowd.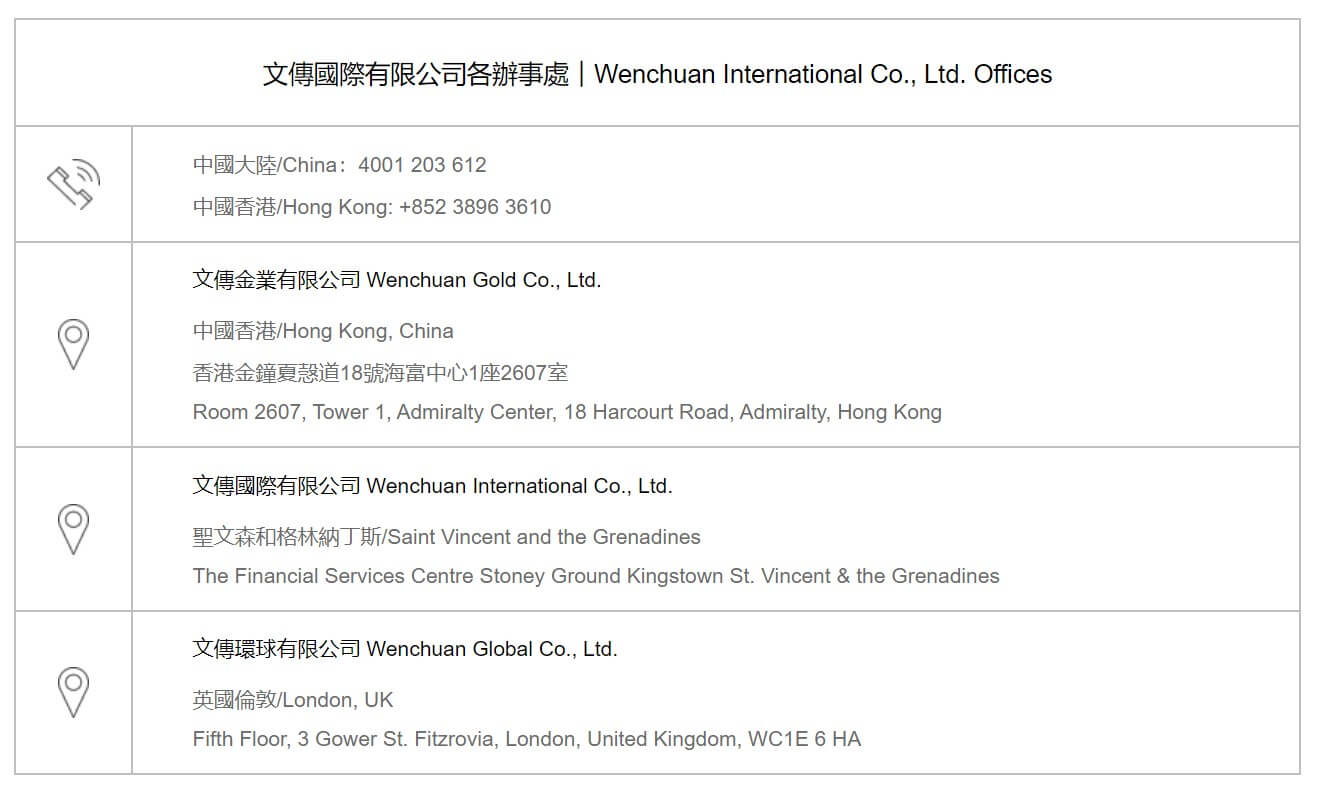 The required deposit minimum is also set at a realistic $50, so this should not discourage anyone from signing up. One of the main downsides to choosing this broker would be the fact that they are missing some of the extra things that you'll find with other, larger brokers. For example, demo accounts and trading tools are not available on their website, there are no ongoing bonus or promotional opportunities, their website can be vague, etc. For some, these extra details won't be missed, but others will really notice the difference. Another drawback is the fact that funding is limited to bank transfer only. While this is a safe way to deposit and withdraw funds, it is a method that comes with fees from the bank's side and it also comes with longer processing times.
When it comes down to making the decision, you'll need to decide if the amazing support team, leverage options, asset portfolio, educational resources, and realistic deposit minimum make up for the average spreads, limited funding methods, and lack of extra options. We think that this broker could be a good choice, so long as you don't mind that it is more watered down that its competitors.