Wolfe Waves Builder is currently located within the indicators section of the MQL5 marketplace. It was created by Mihail Moroz and was first uploaded on the 10th of April 2015. It has had a number of updates, the most recent update was completed on the 18th of February 2020 and is currently at version 3.2.
Overview
Wolfe Waves Builder is an indicator that can be used with the MetaTrader 4 trading platform, it will automatically plot Wolfe Waves onto the charts which will help to show trend reversals.
Some of the main features of the indicator:
It shows trend reversals, as well as the overbought and oversold zones on wave 5.

Automatically plots models and finds the Wolfe waves.

Price movement forecast.

Arrow and alert on wave 5 for novices, which prevents missing entries.

Efficient trading strategy.

Easy to use.

ZigZag is not used.

No redraws, no lags.

At the moment, this is the most perfect indicator of that sort.
There are also a bunch of settings and parameters available to alter, these include things like forex cleanup, enabling alerts, high and low periods, the draw channels, maximum bars to count, pivot points, and more.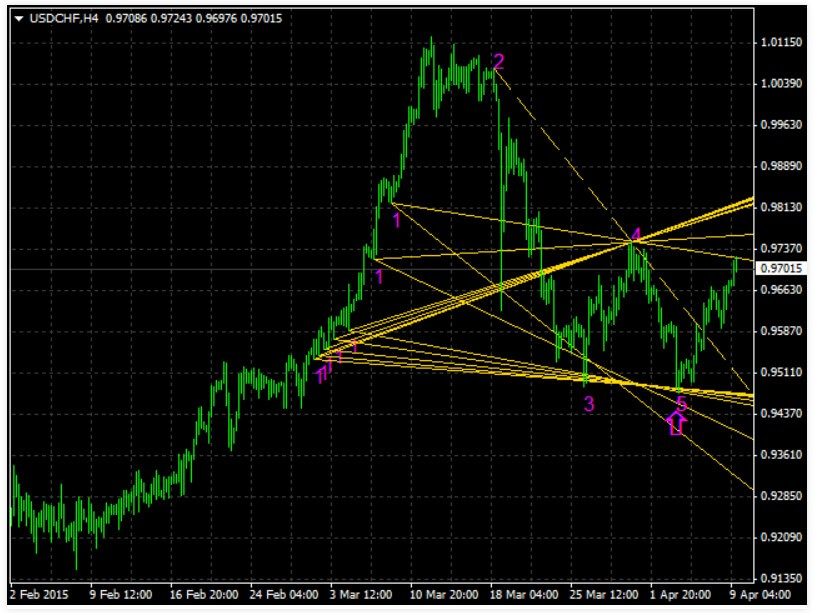 Service Cost
Wolfe Waves Builder can be purchased with a single payment of $30, this will get you 5 software activations and no other limitations, If you would prefer to rent the indicator, this can be done on a monthly basis for $10 per month, or there is a three month period which will cost you $20 for the three months.
There is a free demo version available, the MQL5 site does not indicate what the free version offers, this normally means that it is only usable with the strategy tester but we cannot say that for sure.
Conclusion
The Wolfe Waves Builder currently has five reviews, these reviews have given the indicator an overall rating of 4.5 out of 5.
"An email alert on the formation of the 3rd point on the wave would make it a five-star product" – A 4-star review.

"This is a good indicator, does the job well." – A 5-star review.

"This tool is undervalued!! must have" – A 5-star review.
The reviews are all very positive, which shows that the indicator is functioning the way it is meant to. There are also a number of comments, the developer has been putting their own information as well as replying to comments from people who have purchased or rented the indicator which is a great sign as to the kind of support you would receive should you decide to purchase or rent the indicator.