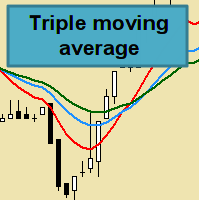 Moving Averages are the elementary indicators with many variations and used almost in every trading system. Adding multiple MAs with different settings and calculations could result in complete trading systems. Triple Moving Average EA MT4 is such an Expert Advisor designed for the MetaTrader 4 platform. It is developed by Jan Flodin from the Czech Republic who has 36 other products published on the MQL5 market, many of them are popular with great ratings.
This EA belongs to the free category some of his other work is also free to download. The initial release of the Triple Moving Average EA MT4 was on the 2nd of April 2020, as a still new on the scene, it has not been updated and does not have any rating. Interestingly, this Moving Average system is very similar and complementary with other indicators made by Jan Flodin, who seems to be specialized in MA application. The Overview page contains enough information about the system and is transparent on how the EA generates the signals.
Overview
Triple Moving Average EA has 3 MA with different sensitivity settings which together make a special range on the chart. Trade entries are made when the distance between them is exact and when all 3 MAs are aligned in the same direction. According to the author, the method is not popular and only some institutional traders use it. The MA periods are set to 10, 20, and 30 and therefore may not be fast enough for lower timeframes. It is recommended to use the system on the H4 timeframe, although H1 and D1 can be used with solid results. Trailing Stop is a measure used for exits and as a safety threshold. Therefore, the EA will not have deep Stop Loss levels causing the EA to have large average negative return trades. If you want the EA to have only 2 MAs, it is easily done by modifying the settings.
Essentially, the trades entries have a tolerance zone using the distance between them to have more reliable entries or to avoid false breakouts. Interestingly, the EA does not seem to have ranging market filter, or at least not in the classical sense it has a dedicated indicator for this purpose. The tolerance zone could be wide enough to account for sideways movement though. Moving Averages are lagging indicators that could have advanced calculations to reduce lag or to adapt, some of these methods or MA types are optional in the settings. Adding MA types is not usually hard to add in the EA code, therefore you can expect addons in the future versions.
Triple Moving Average EA MT4 features are not special but very useful. At its core, the EA is simple but packed with settings. You will be able to filter slippage, the spread and set working time. Moving Averages are also customizable to a certain extent and you can also rely on the EA implemented Money Management and Risk Management settings. As a special feature, the EA can be used as a trend reversal trading. This is done by setting the tolerance zone wide enough so when the price is far away from the Moving Averages it will correct or reverse. Additionally, the signal generated by the MAs can be reversed for this purpose. We are no sure how successful it will be to use such EA for trend reversals, they are in a way more risky strategies than trend following.
In the Setting Panel, you will have a plethora of variables, providing so many optimization options. Starting with the general settings, you can set the EA to only send you a signal instead to automatically open a trade, so you can confirm this is something you want to trade or just urge you to adapt to different things. The Ea can be set to work with 3 MAs or just two, where the crossover will be used as the trade entry signal. The logic can also be customized, once the MAs cross again, the opened trade will be closed and a new opened if Take Profit has not been triggered. If the market volatility is high, traders may want to wait for a candle close before the signal is generated, so you can set to generate signals only by this condition, disregarding price piercing in a volatile market. This is especially useful on higher timeframes.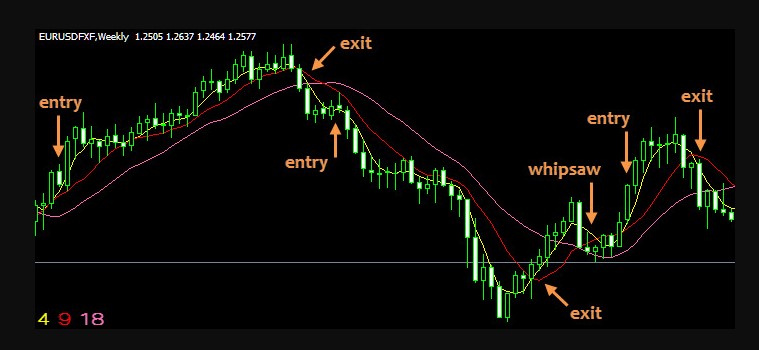 Trend following usually involves some kind of baseline, according to which traders only open Buy or Sell orders. To adapt to this strategy, the EA has the feature to disable Buy or Sell order. The mentioned Money Management is not the usual we see where a percentage of balance is used for each new trade size allocation. This EA uses Stop Loss distance in pips which is relevant to set balance percentage. Each Stop Loss value will equal the set balance percentage, therefore traders define how much they risk for every trade. Fixed lot allocation is also optional. Additional Money Management features are related to the Maximal drawdown. This is very interesting as it accounts for all the trades opened by the EA. If your drawdown is above the customizable percentage, the EA will not open new trades, it can close all or a part of them defined by the Magic Number.
Exit parameters are also extensive. Here, traders will set how the system generates trade exits. There are several options, exit on two MA cross, Fixed Stop Loss, MA1 and MA2 distance parameter, MA1, MA2, and MA3 distance parameters, and other special conditions. Take Profit placement has multiple customizable parameters we do not see that often. Aside from the fixed pip positioning, Take Profit can be defined by a Trailing Stop, and by a Risk/Reward ratio. Also, the breakeven feature is integrated too.
Moving Average settings are the usual, period, timeframe, price type, and a few specials. You can change the MA calculation type, by default, it is Exponential Moving Average. Max distance variable can be used as a news event filter, as the price may suddenly jump above the MA. This distance range will filter any signals if the price is above them. Other alert settings and chart comments plot are offered.
Conclusion
This indicator is free and comes in hand with other tools from this author like Moving Average Crossover Scanner and Trend Dashboard. These are paid but have great ratings and the price is affordable. Triple Moving Average EA MT4 is a great starting system for beginners as it is easy to follow and also can be useful as a subsystem to experts, who usually have a specialized indicator or two to add.
This Forex service can be found at the following web address: https://www.mql5.com/en/market/product/47965