Best Scalper MT4 EA is a robot created in March 2020 by Iranian developer Mahmoudibarmas Mehdi. Mahmoudibarmas Mehdi is a prolific creator of automated trading systems, many of them available on the MQL market.
Best Scalper is an Expert Scalping based Consultant, Using the best and safest EA scalp on the market. A large number of inputs and settings are tested and optimized and embedded in the program so the inputs are limited and very simple. The use of EA does not require any professional information or knowledge of Forex Trading.
AS operates at a low margin and therefore has low risk. Best Scalper can negotiate on all symbols and all time frames, using the special and unique strategy developed by the author.
Using the EA Best Scalper on MT4
The robot is very simple and has no complicated input parameters.
These are the main parameters to be established:
-Type of operation: Long/Short/Both/No coverage
-Stop opening: if true, EA will not open a new position. Only manage already open.
-Maximum Spread to Open Position: Spread to stop trading
-Magic Number: Any constant ID.
-Show panel on chart: Displays the position report on the chart with the option to close them manually.
-Action for loss positions: One step and two steps averaging, Stop loss, Wait for tp
-Stop Loss: Stop loss in Points. Only works if the Stop loss option selected above.
-Klot: Klot is equal to Balance/Position Volume. This option is ignored if Constant selected above.
-Constant volume: Trading volume. This option is ignored if Klot selected above.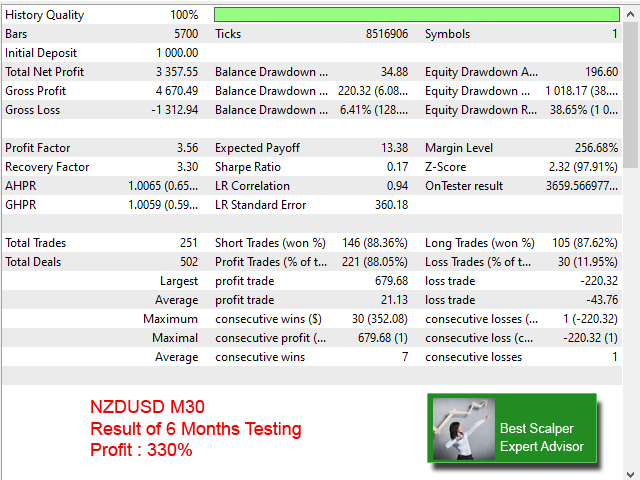 -Loss of Stop Trailing: Enable/Disable Stop Trailing.
-Final start: Final start distance in points.
-Stop Trailing: Distance from Stop Loss Trailing in Points.
-Final Step: Distance to apply Final Stop Loss in Points.
-Break Even: Enable/Disable Break Even.
-Enable Break Even after loss: Distance to apply Break Even in points.
-Entries in news filter: Blocking Trading During Low Impact News.
-All previous points entries by default is for 5-digit accounts. if your account is 4-digit use 0.1x numbers.
Optimization of the EA
Optimize EA for the last 6 months before use, and update optimization every 1-2 months. EA optimization is very quick and easy. The recommendations are for these optimization inputs:
Time frame: Try M5 to D1 time frames based on your strategy.

Action for loss positions: Averaged 1st and 2nd step.

Take advantage: 100 to 1000 steps 100 (10 to 100 steps 10 for 4-digit accounts)

Volume calculation method: Constant

Constant volume: 0.01 per hour

Maximum Spread to Open Position: 100 (10 for 4-digit accounts)

The display panel on the chart: false

Loss of Stop Trailing: false

Breaking the balance: false

Best Scalper Tips
It is recommended to backtest with constant volume to find greater benefit with low withdrawals. Then rerun the optimization on Klot only, to determine the best volume.
-(Klot=1000 to 200000)
-It is recommended to optimize the custom parameter.
-News Filter will not work in tester due to the limitations of MQL.
Recommendations and Conditions for Use
You can run EA in several graphics and symbols. Try using different magic number entries for each chart.
-If EA is attached to multiple cards, increase Klot to reduce risk.
-EA works in hedge accounts.
It is important to have a dedicated virtual server (VPS), in order to be able to shut down the computer and keep the robot running. It is also advisable to have an ECN account at a low latency broker so that orders are executed in the shortest time possible.
In short, we're talking about scalping EA, like so many on the market. Despite the number of parameters that can be configured and customized, this EA promises to be very simple and suitable for all types of traders. To check it out nothing better than to download the demo version and check it for ourselves, see how it works, and the performance it can generate.
As it is a newly created tool, there are no comments from users who have already tried it out and expressed their opinions on it, so we have no external references. This EA is available on the MQL market for a price of 196 USD, and can also be rented at a price of 49 USD for a month of use, and 98 USD for 3 months of use.