MTrendingEAv2 is located within the Experts category of the MQL5 marketplace, it was created by Chu Hai Ha and was uploaded to the marketplace on the 15th of March 2020, it was uploaded to the marketplace as version 2.0.
Overview
MTrendingEAv2 is an expert advisor that was designed to be used with the MetaTrader 4 trading platform, it doesn't actually detail what the EA does or how it functions, the only information is that it will trade along with the trend, but no details about how it will work out the trend or the entry and exit points.
The EA has been designed to only work with the GBPCAD currency pair so you should not attach it to any other currency pair, it will also run using only the H1 or D1 timeframes, using it on another timeframe can cause the settings to not function properly and trades may be opened when the conditions are not optimal. Each trade is opened with a pre-determined stop loss and take profit level set, it also has the option to use trailing stops. The EA uses medium to long term trades and does not scalp or news trade.
The EA also comes with a few settings, there aren't many but altering them can change the way that the EA works. Some of the options included are the amount of risk per trade, the initial account balance, the current broker that you are using, the maximum spread allowed, the maximum lot size to use, and whether to show the account information.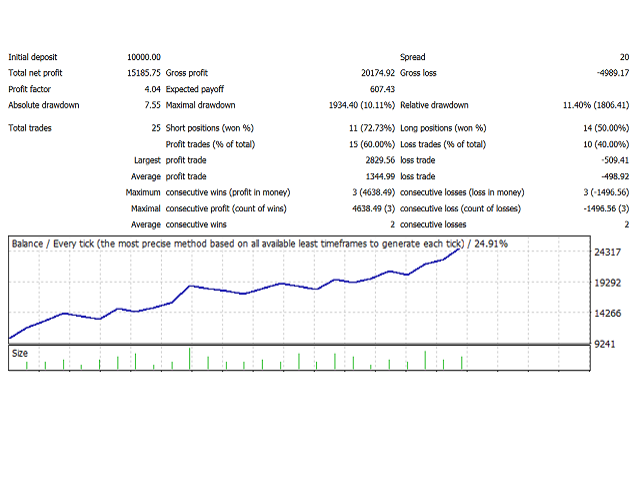 Some noted s from the creator of the EA:
-Please use for Broker with low spread.
-Should be run on a VPS to allow EA 24h/24h finding entry.
-EA opens very little trade (not every day), doesn't occupy much account margin, and with its Low Drawdown, so you can dedicate it to a separate trading account and manage its fund to have the highest return/profit.
-When run tester (if any), turn off "Show Account Information" to have higher test speed.
Service Cost
The developer has set the payment structure for the Ea up to try and persuade people to rent it rather than purchasing it If you wished to purchase it outright, it will cost you $990 to do so which gets you up to 5 activations of the EA. If you prefer to rent the EA, you can do this on a three-month basis which will cost you $45 for that time period, for six months it will cost you $80 and for a one-year rental, it will cost you $150.
A free demo version is available to sue, but this is limited to only being used with the strategy tester within the MT4 trading platform and cannot be tested on a live account.
Conclusion
At the time of writing, there were no user reviews or ratings so it is not known whether people are finding it useful or profitable, there are also no comments so the sort of support being offered cannot be observed. Due to both of this reasons, we would strongly suggest that you try to contact the developer with any questions that you may have so you can be sure that they will be around to offer support and that the EA will function how you need it to before you make a purchase or rental.
This Forex service can be found at the following web address: https://www.mql5.com/en/market/product/47220