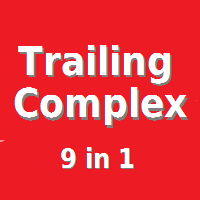 The Trailing Complex EA is not related to independent automated trading but to Trailing Stop Loss management with 9 variants and combinations. The tool is designed for the MetaTrader 4 platform that does not feature such advanced options for trailing. Trailing Stop is one of the most sought out and used elements of trading systems using any strategy. There are many similar tools although this one is very affordable.
Overview
The developer of Trailing Complex is Andrei Fandeev from Moldova, working as a programmer since 1995. He has 11 other products published on the MQL5 market, most of them with a good rating, low price, and specialized. Trailing Complex tool is published in October 2014 and updated recently in 2020, although has not been noticed by the MQL5 community.
It Is hard to think of a trading system that would not benefit from an optimized exit or trailing stop measures. This EA will automate complex conditions and calculations that would take a lot of time to calculate manually, especially if you are trading frequently during a day. Intermediate and advanced traders have at least one such tool, and this one has 9 variants and combination possibility.
The variants are are follows:
Balance percentage-based Stop Loss. Most trend following professional traders will use 2% of the balance or equity as the total loss if the Stop Loss gets triggered.
Moving Stop Loss to breakeven. This method is also known as the profit lock on – when the Stop Loss is moved to the trade opening price level or with additional pips in profit.
Standard Trailing option is probably the least attractive form the variant but it is included if traders want to combine with other types.
PriceChannel trailing. This is an advanced method of identifying tops and bottoms using price movements according to which the Trailing Stop will trail the price.
Fractals based trailing. Similarly, fractals will signal the change in price movements, based on a particular pattern. Trailing Stop will be placed on these levels where fractals were identified.
ATR based Trailing Stop is an advanced method that uses the ATR indicator values to plot a level for the Trailing Stop. Since the ATR indicator is volatility sensitive, most traders like Trailing Stop that adapts to it, making the whole system optimal. Additional settings are offered to multiply the ATR value for extended customization.
MA-based Trailing is possible with this tool. Furthermore, it is optional to use multiple MA types and price calculation methods.
The Parabolic SAR indicator is commonly used for trend assessment. Interestingly, to some traders, it is a great trend continuation indicator and can also its dots can be used for Trailing Stops. Parabolic SAR default settings are included.
A special feature is a Trailing Stop based on user drawn trend line. It only works on a single asset per chart.
Other features include Magic number assignment or all magic numbers, thus giving traders the freedom to apply the Trailing Complex EA with other EAs trades. For testing purposes, the settings panel features adjustable Stop Loss and Take Profit. Other visuals such as font size and colors can be customized.
Service Cost
Trailing Complex is set at $30 to buy with 5 activations. A demo is offered and is downloaded 513 times, showing some interest.
Conclusion
There are two reviews until now, averaging 4.5 stars from the users. One notable positive review is capturing what could make this EA even more attractive for complete trade management: "Nice EA, it can be further developed in particular in SL (default SL, Hline/trendline as TP/SL) and TP management (partial close or open more positions when certain conditions occur). keep on developing!". Since these EA are expanding the abilities of the MT4 and are very useful, other free variants are available online, although they have different options. If $30 is not an issue for you, Trailing Complex will cover your automatic Trailing Stop needs.
This Forex service can be found at the following web address: https://www.mql5.com/en/market/product/6567