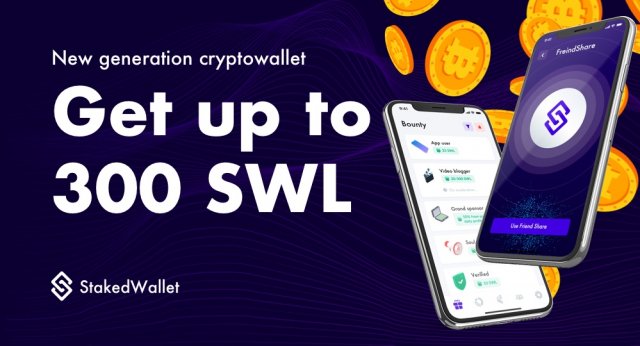 Stakedwallet is a DeFi-focused crypto project that provides you with a platform where you can securely store your digital assets and earn guaranteed interest. It is a highly innovative cryptocurrency wallet that integrates several operational and security features. And they all are aimed at ensuring the wallet is highly secure and easy to use. It works by providing wallet users with an opportunity to stake their cryptocurrencies and earn a fixed daily interest. The interest is deposited to your account daily, and the percentage earning for your staked assets is largely dependent on how long you have kept your funds on the platform.
A debate that questions the legitimacy of Stakedwallet has emerged online, especially on Reddit. Some crypto community members are now advising caution when dealing with the wallet, while others call it out as an outright Ponzi scheme designed to swindle naive crypto-enthusiasts.
In this Stakedwallet review, we will be vetting this passive income-generating platform cum crypto wallet to determine if it indeed is a secure crypto vault or another Ponzi scheme. And to achieve this, we detail all its features, a step-by-step guide on activating and using the wallet, check its ease of use and supported currencies, and compare it to other crypto wallets.
StakedWallet key features:
Cross-platform: Stakedwallet is a cross-platform crypto vault available as both a mobile wallet and a web wallet. Both the web wallet and the website associated with Stakedwallet are, however, inaccessible at the moment.
Inbuilt exchange: Within the StakedWallet user dashboard is the exchange icon that gives you access to the platform's crypto exchange. You can use it to convert one supported crypto to another at a fraction of the cost charged by most other third-party exchanges.
Stake and Earn: You get to earn by engaging in the proof of stake programs offered by most blockchains networks and protocols through Stakedwallet. You can also earn by completing the numerous tasks on the platform, like inviting your friends and acquaintances to join the platform through its referral program. And for every successful referral, you earn SWL Tokens that you can then convert to any of the supported cryptocurrencies on the inbuilt exchange.
Multi-blockchain: Staked wallet is unlike most DeFi-focused crypto wallets that will only support Ethereum based DeFi apps and protocols. It supports a wide range of altcoins drawn from different Blockchains, including Bitcoin.
Portfolio/Income tracker: Stakedwallet integrates the "My Statistics" tool that you can use to monitor your crypto portfolio and earning trends. It is an automated tool that displays your crypto balances in real-time, transaction history to help you understand inflows and outflows, and the earning trend for all your staked coins on a weekly, monthly, or annual basis.
StakedWallet security features:
Password: Like most other crypto storage vaults, Stakedwlalet is secured with a multi-character password that you set when activating the app or web wallet and creating a user account.
Multi-factor authentication: Stakedwallet employs a three-step authentication process that integrates 2FA and multi-signature functionalities for your outbound transfers. Here, every transfer out must be subjected to two-factor authentication and signed by both the app and the company servers.
Enterprise-grade encryption: According to Stakedwallet, both the crypto app and web wallet use a 256-bit enterprise-grade encryption cipher and 25,000 PBKDF2 hash rounds in encrypting your PIN and all other user data in the wallet. They boldly claim that it would take a modern computer a million days to bypass these tools and hack into your account.
Non-custodial: Stakedwallet doesn't collect any of your personal data, especially the PIN code or private keys. These are highly encrypted and stored locally on your computer or mobile device.
Vulnerability monitoring: According to Stakedwallet's development team, both the wallet app and web wallet are being constantly monitored for bugs and vulnerabilities around the clock. It is subjected to regular security audits by some of the leading crypto security firms in the world.
VPN Access: Unlike most other crypto storage wallets that don't support VPN access, Stakedwallet sets no restrictions on logging into your account via a VPN.
How to activate/  setup the StakedWallet
Step 1: Start by downloading the Stakedwallet app compatible with your phone on the Google play store or Apple app store.
Step 2: Launch the app and click on the "Create a New Wallet" on the installation page.
Step 3: Enter your email address and create a unique password for the account.
Step 4: Read and agree to the wallet's terms of use and user privacy
Step 5: Verify that you are not a robot, and you want to proceed with the registration by clicking the verification button and completing the puzzle.
Step 6: Your account is now active and ready for use
Step 7: Click on the three bars on the top-left corner of the wallet app to access the settings section that you can then use to personalize the wallet.
How to add/receive Crypto into Poketto Wallet:
Step 1: Log in to your Stakedwallet app
Step 2:  Click on the three bars on the top left corner of the app's user dashboard to access the app menu.
Step 3: Click on the "Deposit" tab and click on the "Add Money" on the deposit page that pops up.
Step 4: The wallet will now present you with a QR code representing the wallet address
Step 5: wait for the funds to reflect.
How to send crypto from StakedWalletwallet:
Step 1: Log in to the Stakedwallet app
Step 2: On the user dashboard, click on the "Send" button
Step 3: Select the altcoin you want to send and enter the recipient wallet address
Step 4: Decide on the amount you wish to send
Step 5: Confirm that the transaction details are correct and hit send.
StakedWallet ease of use:
Stakedwallet has a clean and intuitive user interface. You will find navigating through the app and interacting with most of its features, like depositing and sending crypto coins in and out of the wallet, quite easy. It also has a rather straightforward wallet activation and user account registration process.
It is quite beginner-friendly, and you don't need help in staking different coins or monitoring your portfolio. The portfolio and earnings tracking processes are rather straightforward.
StakedWallet supported currencies:
Stakedwallet currently supports a significant number of the leading cryptocurrencies and tokens. These include Bitcoin, Litecoin, Bitcoin Cash, Dogecoin, Ethereum, and Dash. Plus the wallet's native token, SWL.
StakedWallet cost and fees:
Downloading the wallet app, creating a user account, and interacting with its features is free. You also get to earn 0.6% – 1.5% of the staked digital assets daily in addition to the bounty program earnings like inviting friends to join the wallet and other microtasks.
However, you will have to part with the blockchain network fees like GAS, charged when you send crypto in and out of your wallet to Stakewalet.
What are the pros and cons of using Stakedwallet?
Pros:
It presents wallet users with multiple streams of earning passive income.
It is a beginner-friendly wallet.
It supports some of the most popular crypto wallets.
It has highly advanced security measures around the website, web wallet, and wallet app.
It is a free wallet
Cons:
There have been a lot of negative reviews about the wallet.
One may consider the number of supported cryptos to be limited.
It has a poor and unresponsive customer support team.
Comparing StakedWallet with other multi-blockchain wallets
StakedWallet vs. DexWallet
Both Stakedwallet and Dexwallet help their users generate passive income from their digital assets. They, however, differ significantly in the income-generating strategy. While Stakedwallet earns you guaranteed interest via the proof of stake protocol, DexWallet integrates different DeFi apps to make you money by either staking or lending to other app users.
Stakedwallet, however, has a soiled reputation due to a lack of transparency on how they handle client funds and the effectiveness of this income-generating strategy.
Verdict: Is StakedWallet safe?
Staked wallet app has considerably effective and advanced security and privacy measures around the app and private keys. Questions are, however, abound concerning its legitimacy. Most reviewers on crypto discussion platforms like Reddit and Quora and user reviews on the app store pages have termed it a scam and a Ponzi scheme.
Twitter has even suspended the Stakedwallet account. And instead of addressing these allegations, the company has taken its website and web wallet offline. We recommend that our readers avoid the wallet until the company satisfactorily addresses all the allegations levels against their wallet.