Pyramids Trend Line is a trading indicator that was launched on the mql5 website in February of 2020 by author David Ayad. It was last updated to version 1.20 in March of 2020 to add a scanner tool.
Overview
The Pyramid Trend Line indicator combines multiple indicators in order to detect the current direction of each timeframe so that traders do not have to search for this manually. The tool also assigns a percentage to the trend to indicate the current strength of the trend. The indicator works with all timeframes and instruments on the MetaTrader 4 platform. It does not repaint, backpaint, or recalculate and informs traders of directional changes via alerts.
Directions for use are straightforward, as a green line indicates an uptrend and a red line indicates a downtrend. If the uptrend is above 60%, traders should go for the "long" buy position, while a downtrend above 60% means that traders should go for a "short" sell position.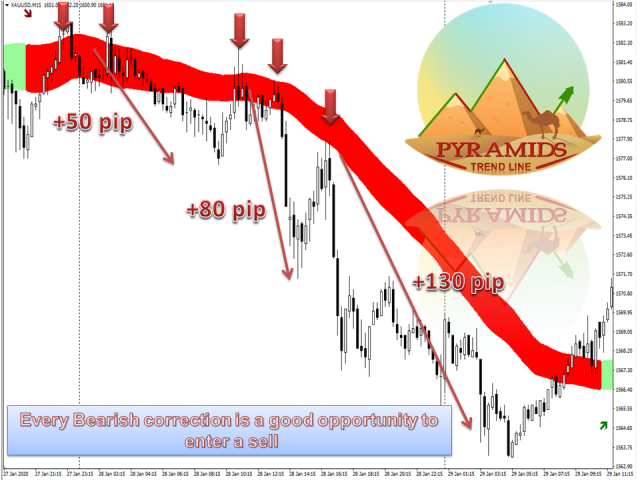 Service Cost
The author offers three separate pricing options:
Rent for $38 USD for one month
Rent for $58 USD for three months
Purchase for $120 USD
It's possible to find indicators for around $30 on the same site, so the $38 monthly rental price is a little high when compared to other options. The indicator comes with 5 standard activations and free demo accounts are also available.
Conclusion
Pyramids Trend Line is a trading/filtering tool with two main uses; finding the current direction of each timeframe, and assigning a percentage to indicate the strength of the trend. Although 30 users have downloaded the demo version, this product remains unrated and all comments were posted by the author. Typically, we'd take a look at the author's other products to get a better idea of his/her capabilities, but this author has only added one other product that also remains unrated.
Overall, the author's lack of popularity, along with the higher price of this indicator are downsides, but things should function accordingly if this indicator is used with a strong strategy and risk management. Perhaps testing a demo account could be a good start.
This Forex service can be found at the following web address: https://www.mql5.com/en/market/product/46682