Prometheus Trade Engine was created by Philip Muga and can be found in the MQL5 marketplace. It was first uploaded on the 19th of September 2016, it received its most recent update on the 7th of February 2019 and is currently at version 1.1.
Overview
Prometheus Trade Engine is an indicator designed for the MetaTrader 4 trading platform. It was created to combine price action, ratio based indicators, and custom indicators to create a multi-timeframe indicator to help give you a high probability trade setup.
There are a lot of features that come with the indicator:
Reversal Zone
Rectangular box on your chart based on a close approximation to 50% & 61.8% Fibonacci retracement levels over the high-low period of 100 bars. When the trend changes it is redrawn automatically depending on your timeframe of choice. When it is breached it gives you an [leading] indication that the current trend is most likely about to change so adjust your trading rational appropriately. When there is no retracement level then there will be no Reversal Zone thus no Price Move, stay out of the market.
Price Action Signal
Arrow displayed on a specific candle; These arrows are not buy/sell arrows; They do not repaint. The bullish arrow on a bullish candle price is most likely going to shoot long; Bearish arrow on a bearish candle price is most likely going to collapse short. The bullish arrow on a bearish candle price will most likely move long momentarily before collapsing short; Bearish arrow on a bullish candle price will most likely move short momentarily before shooting long.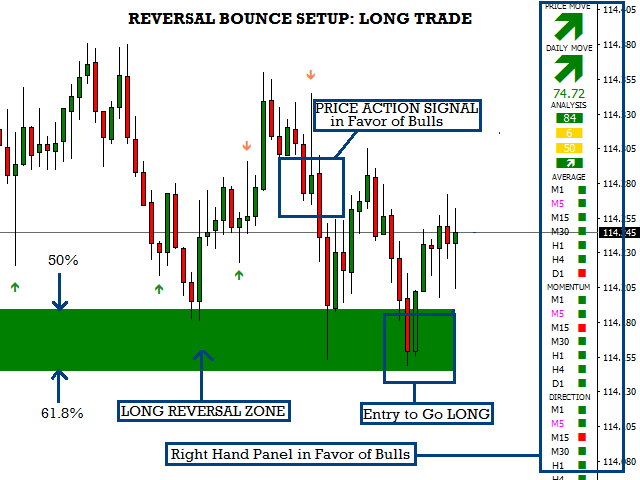 Price Move: Based on where the price is relative to the Reversal Zone.
Daily Move: Based on where the price is relative to the Daily Open.
Daily Index is based on current price relative to the open-high-low-close price of the daily candle; Scale 0 to 100 [0 = daily open & 100 = new high or low]. The higher the value the further the price is to the open.
Analysis
Trend Strength – Displays overall strength of trend; Scale 50 to 100 [50 = weak & 100 = strong]
Asset Strength – Displays strength of asset; Scale 0 to 9 [0 = weak & 9 = strong] Strength Index [RSI] – Displays RSI level
MACD – Displays MACD above or below zero
Average: Displays the multi-timeframe moving average.
Momentum: Displays multi-timeframe momentum.
Direction: Displays multi-timeframe average directional movement index.
Market Sentiment: Displays the trader's choice of market direction call or put.
There are also a number of parameters available, these include things like the average period, momentum period, directional period, strength index period, reversal zone alerts, and plenty of color options for different aspects of the indicator.
Service Cost
The Prometheus Trade Engine indicator can be purchased with a one-time payment of $200, there is not an option to rent it and when purchasing you are able to activate the software up to 5 times, there are no further limitations.
There is a free demo version, the details and limitations of the free version are not stated which is normally an indication that it can only be used with the strategy tester within MetaTrader 4.
Conclusion
There is just one review giving the indicator a rating of 5 out of 5.
"Great indicator and excellent support!" – A 5-star review.
So the only review is positive, there are a few comments, mainly from the developer, but those from customers have been responded to quite quickly. There isn't enough information for us to fully understand whether the indicator is doing what it is meant to do or to see the sort of support that will be given. So we would suggest contacting the developer with your questions, to make sure it will be supported after purchase and that it will in fact do what you need it to do.
This Forex service can be found at the following web address: https://www.mql5.com/en/market/product/18302