ProCapital Trade is an offshore CFD Forex broker, operating since 2013. Since this broker has been in the industry for a few years now, it is understandable that you will encounter a fair amount of chatter about them online, predominantly in a negative manner, however. Their website is basic yet outdated, but simplistically set out for easy navigation. The fact that the website does not provide an FAQ page which immediately makes it incredibly difficult to obtain answers to the initial questions and queries one may have. Coupled together with the fact that they do not have a live chat feature makes you question whether or not you want to trade with a broker that is so vague and directly uncontactable.
Account Types
PCT offer 4 account types, namely: Standard, Classic, Premium and Gold. All account types are compatible on the trusted MT4 platform. The smallest account has a minimum deposit requirement of $250 (although some debates online state it is in fact $500), and the Gold account minimum deposit requirement is $50,000. This is quite some range which could be ideal for various types of traders, new or experienced. However, it is important to note that the lower the deposit requirement, the more restricted you are in terms of which instruments you can trade. You will only be granted access to ALL instruments if you opt for the larger account (Gold) meaning you are expected to deposit a minimum of $50,000.
Platforms
PCT have been smart when it comes to the trading platform by offering the leading trading platform MT4. All clients, no matter which account type you opt for, have access to MT4 desktop and mobile version. 
Leverage
For the Standard, Classic and Premium, the account comparison table on the website states you may trade with 1:200 leverage while with the Gold account, the leverage is 'adjustable'. This is rather confusing and suggests that for the first 3 accounts, you are not able to lower the 1:200 leverage, but with the Gold account you can, however, for this basic expectation from a broker, it is now somewhat considered a luxury, at the cost of depositing a minimum of $50,000.
Trade Sizes
Nowhere on the website does it state the minimum lot size one must trade with other than the mention of the minimum lot size applicable when trading with the bonus that can be granted. This information can be found in the Terms and Conditions section.
Trading Costs
It is unclear if this broker charges trade commissions as this is oddly not included in the account comparison table on the website. This can only suggest that this broker does NOT charge trade commission fees which is of course, a bonus for the trader. 
Assets
As mentioned earlier, it is rather disappointing to know that if you trade with this broker, and opt for one of the 3 lower accounts, you are restricted to trading particular instruments. On the other hand, if you opt for the minimum deposit of $50,000 (Gold account), then you have access to trade ALL instruments. In summary, the Standard account allows you to trade only Base currencies (FX Majors), the Classic account allows you to trade Base currencies, Gold, Silver and Oil, the Premium account allows you to trade All currencies, Indices and Shares and finally, the Gold account gives you access to all instruments mentioned. It is unclear how many instruments in total are available to trade. 
Spreads
ProCapital Trade offer both fixed and floating spreads, but depending on the account type you choose to trade with, you may be limited to one or the other. For example, with the lowest of the four accounts, Standard account, you are subject to trading only with fixed spreads, the typical FX spread being 2.4 pips. For the Classic account you may trade with a mixture of both fixed and variable spreads, btu this ofc course applies to particular pairs. The average spreads are also at 2.4 pips. Moving on to the Premium account, again, you have the pleasure of trading with fixed and floating spreads, average spread typically at 0.6 pips. Lastly, the Gold account allows you more freedom in regards to spreads as they are 'adjustable' so presumably one can choose to have fixed or floating irregardless of the pairs they are trading. The average floating spreads are priced at 0.6 pips also. 
Minimum Deposit
We mentioned earlier that the minimum deposit requirements from the smallest to largest account do have a huge range and not only that, but the smaller the minimum deposit requirement, the larger the sacrifice when it comes to trading conditions. The standard account has a minimum deposit of $250, the Classic account requires $2,500, the Premium account requires $20,000 and the Gold account requires a minimum of $50,000. The range here is not commonly affordable among the every day trader, and it seems unjust to need to fill the requirement of depositing $50,000 just in order to be able to trade a variety of ALL instruments.
Deposit Methods & Costs
The deposit methods are not clearly stated anywhere on the website, and there is not an FAQ page for clients to refer to for this information or even guidance on how to go about funding their account. The same lack of information applies for any charges that may be incurred with any deposit methods. The only snippet of information to be seen is on the footer of the website where it appears that this broker supports payments from Maestro, MasterCard and Visa cards. 
Withdrawal Methods & Costs
As with the lack of information when it comes to depositing with this broker, there is no information set out on the website in regards to which methods can be used for withdrawals, other than that you may use Maestro, MasterCard and Visa cards, but this is not concretely stated. 

Withdrawal Processing & Wait Time
Since the website does not have basic information such as whether or not commissions are charged, or which deposit and withdrawal methods are available, it is no surprise that timescales are not stated anywhere, either. To the majority of serious traders, it is unacceptable to not present such basic information on the website FAQ page, which this broker does not even include in their website.
Bonuses & Promotions
Although there is no specific tab on the website in regards to a deposit bonus, there is some information hidden within the text of the Terms and Conditions. When using a deposit bonus, it is important to understand that this bonus can not be withdrawn unless incredibly challenging trading profit requirements are met so ensure to read through the bonus policy in the Terms and Conditions before agreeing to use any bonus.
Educational & Trading Tools
This broker does not offer any educational tools or anything that would assist you in your every day trading such as an economical calendar. However this is not a real necessity since such tools, free or with subscriptions can be found online, should you wish to partake in such products or services. 
Customer Service
Customer service is not ProCapital Trade's forte; you may only get in contact during the hours of 10AM – 8PM Sunday- Friday (Bahrain Time GMT). In addition to this limitation, you are only able to contact this broker by email or telephone. The absence of a live chat service, or even having 24/7 customer support is very disappointing and demonstrates a lack of care for the clients.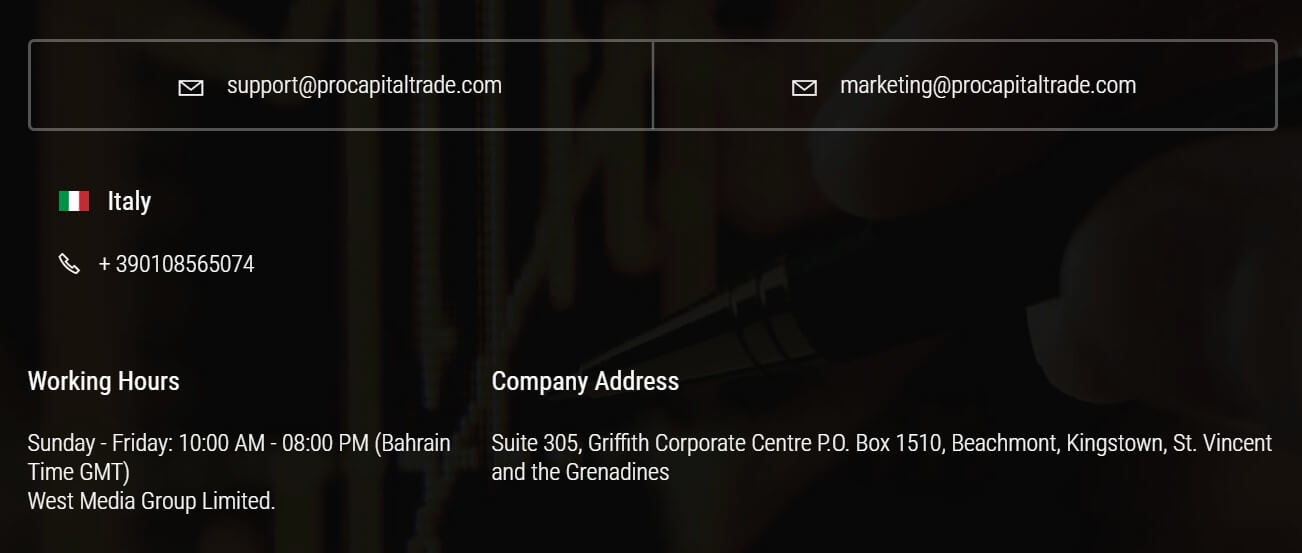 Demo Account
If you have made it this far into the review, it may not come as a surprise to know this broker do not even allow you to test their trading conditions through a demo account before committing to a live account. This is clear evidence that this broker have one priority: for clients to register ASAP and deposit ASAP even if this means trading 'blind' with a lack of knowledge on the broker's services in general. 
Countries Accepted
The absence of an FAQ page made finding which countries are restricted or not from trading with this broker, very difficult. The only applicable information on this subject can be found in the Terms and Conditions section which still does not specifically state which countries are allowed and those that are restricted from trading with this broker. 
Conclusion
This broker does not set out the majority of basic information that every serious trader should know before registering and depositing with a broker. The fact that the Terms and Conditions had to be a FAQ replacement for some questions, says a lot. An absence of a 24/7 and responsive customer support also demonstrates an element of suspicion one should note when considering trading with this broker.

Overall, the trading conditions (the ones that ARE visible on the website) are not totally competitive, or even clear, especially when it comes to spread and leverage options. It would be considered wise for only the more experienced traders to even consider this broker, and email any preliminary questions to the support team before registering.