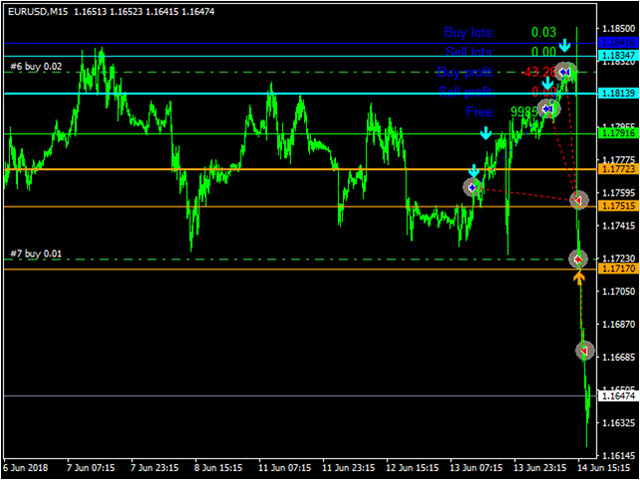 Orion MT4 EA is an automated system created in April 2020 by developer Marta Gonzalez. ORION MT4 EA is a fairly secure automated software for trading Forex, commodities, indices, and stocks as stated by the author.
The architecture we are analyzing is that of a Fully Automatic Autonomous Robot, Expert, and capable of independent market analysis, as well as of making commercial decisions to buy and sell financial assets at the best possible time.
ORION MT4 EA is an advanced trading system. This is a fully automatic Expert Advisor in which the user will not have to do anything. It is a 100% automatic system. The system is self-sufficient, and will therefore do all the work for you.
The creator claims that this tool is a revolution in negotiation customization, and invites users to download the demo version to test their EA. The test result gives a very stable growth curve as a result of intelligent averaging techniques. The creator gives a "safety first" approach to the development of this EA. The consultant has undergone stress tests on historical data from multiple currency pairs.
Recommended broker type: Fast, fast running, low commission, fast, and reliable ECN broker. It is also recommended, as in any EA a virtual server or VPS. In the case of possibly missing out on profit opportunities, you should leave the computer on 24/7. The consultant's algorithm allows us to trade with the trend and against the trend.
Recommended assets include: EURUSD, GBPUSD, USDCAD, USDCHF, USDJPY, EURJPY, GBPJPY, AUDUSD, NZDUSD, EURAUD, EURCAD, EURGBP, AUDNZD, EURCHF, AUDCAD, AUDJPY, GBPCHF, AUDCHF, CHFJPY, CADJPY, CADCHF, GBPCAD, NZDCAD, NZDJPY, NZDCHF, GBPNZD, EURNZD, GBPAUD and XAUUSD.
Some Orion MT4 EA input parameters are:
-Magic Number: A different number for the pair.
-Time Init: Init Trade Zone. You must use your broker's European login time.
-End time: End of the shopping area. You must use the closing time of the American session of your broker.
In short, we are talking about an EA of which the author does not offer any information. As a tool of very recent creation, we also have no comments available from any user who has tested the EA and published its results. Do we have to trust everything the robot's creator tells us? , because it apparently does, because it also does not provide any audited real accounts where we can verify its functioning.
The only alternative we have is to download the demo version and test us the robot to see its performance and results, and it would be advisable to wait a while to see the development of the tool and how it behaves over time, see what opinions the MQL community users give to this EA.
The EA is available on the MQL market for sale for a price of 30 USD, which is a fairly affordable price for an EA. And it is also available for rent for 10 USD in a month, 15 USD for 3 months, and 20 USD for 6 months.