Merit Forex is a Forex broker located in the Republic of Vanuatu, they claim to have some of the best trading environment, unique customer service, competitive spreads, and superior trading technology. In this review, we will take a close look at Merit Forex to see if they live up to their promises.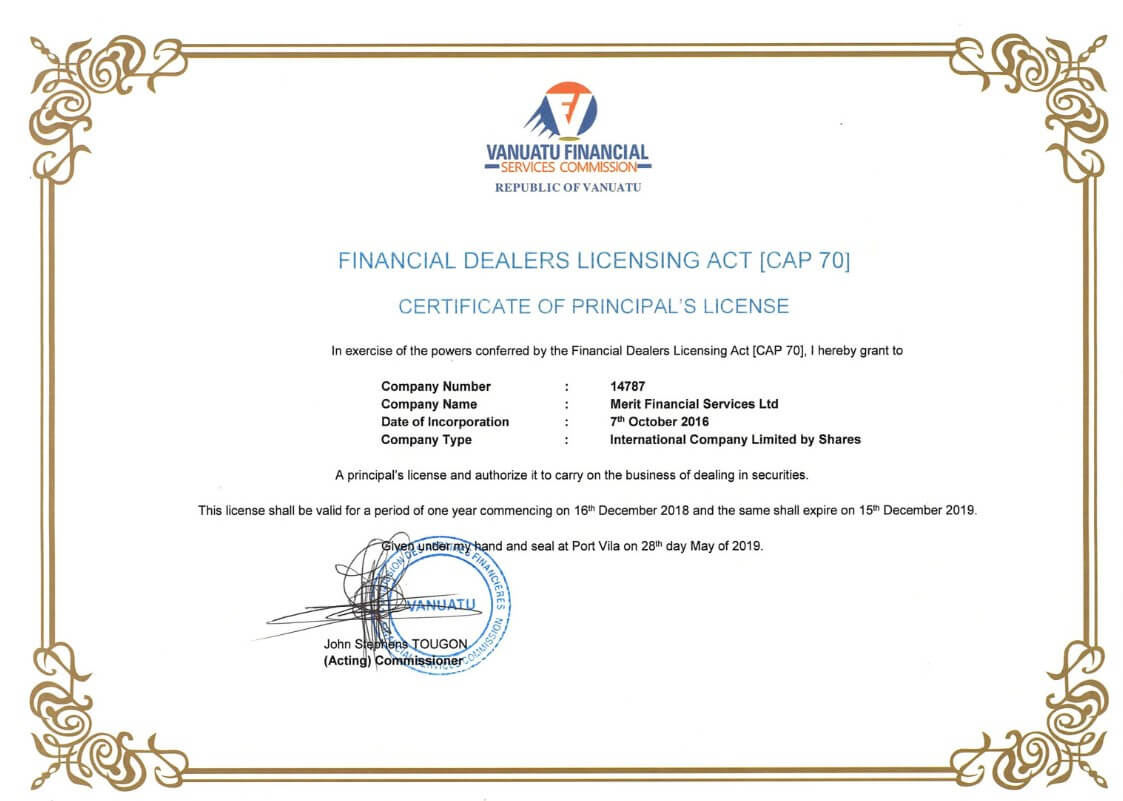 Account Types
There are four account types with Merit Forex, Standard, Gold, VIP and EA Robot, each one with different requirements and features. Let's take a little look at them in some more detail.
Standard Account:
The standard account is the entry-level account from Merit Forex, it has a minimum deposit on $250 and maximum leverage of 1:400. The minimum trade size is 0.01 lots (micro lot), spreads are around 1.5 pips and there is no added commission on this account. You also have access to a personal mentor which could be a nice benefit.
Gold Account:
The gold account has an increased minimum deposit of $1,000 with this higher entry, there are a couple of additional benefits. Firstly the spread has been reduced from 1.5 pips to 1 pip, the leverage, however, has decreased to a maximum of 1:200. The minimum trade volume has also increased up to 0.1 lots. This account also grants you access to Merit Fore's copy trading service.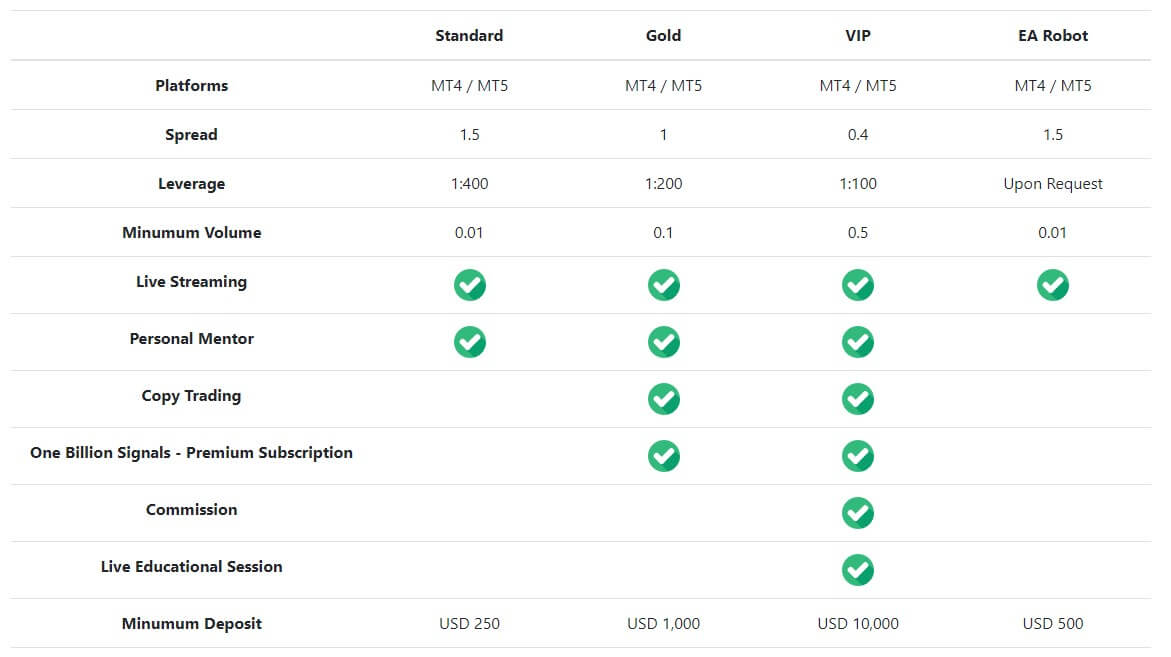 VIP Account:
The VIP account is the top tier account on offer, due to this, the minimum deposit is $10,000, this account comes with some larger changes to the other accounts. It's spread is reduced down to 0.4 pips, however, a commission is now being charged on each trade (how much is unknown). The minimum trade volume has increased once again and is at 0.5 lots, which is rather large and there is a further decrease in leverage which now sits at 1:100. The copy trading service is also available and there is access to some live educational sessions which are not available for the other account types.
EA Robot:
This account is only for people using an EA robot from Merit Forex, it has a $500 minimum deposit and a minimum trade size of 0.01 lots (micro lot), leverage is decided upon request.
There is a nice selection of accounts, however, the increased minimum trade size is a bit of a concern for the larger accounts.
Platforms
There are two platforms on offer, MetaTrader 4 (MT4) and MetaTrader 5(MT5), both from the MetaQuotes company. MetaTrader 4 comes with the desktop download and mobile apps, while MetaTrader 5 comes with the desktop download, mobile apps, and online WebTrader. Apps for both software are available on both iOS and Android devices.

Both platforms and flexible and compatible with hundreds and thousands of expert advisors and indicators, MetaTrader 4 being the most widely used, however, MetaTrader 5 is the newer platform, offering a more streamlined experience. Both options are great choices for any trader so it is hard to not be happy with the options available with Merit Forex.
Leverage
The leverage that you get is dependant on the account which you open, the standard account has a leverage of 1:400, which the gold has a leverage of 1:200 and finally, the VIP account has a leverage of 1:100.
Trade Sizes
The minimum trade size, as with leverage, is dependant on the account that you have. If you have a standard account then the minimum trade size is 0.01 lots (micro lot, a gold account has a minimum trade size of 0.1 lots and the Gold account has a minimum trade size of 0.5 lots. 0.5 lots is a surprising minimum as it is higher than what a lot of retail traders ever get to, it increases risk and does not allow you to trade small percentages of your account at a time.
Trading Costs
Trading costs for standard and gold accounts are based on their spreads with the standard account having spreads at an average of 1.5 pips and the gold account at 1 pip, there are no added commissions on these accounts. The VIP account, however, has a reduced spread at an average of 0.4 pip but it does charge a commission. We were unable to locate on the website what the value of this commission is and if it is worth having the reduced spread in exchange for the commission.
Assets
Merit Forex offers a number of different instruments and assets to trade and these are spread over a number of different categories including Forex, Commodities, Energies, Equity Indices, and Metals.
The Merit Forex website does not specify any of these categories specifically except for metals where it states that you can trade Gold, Silver, and Copper. All other categories may list one or two instruments, but there is no concrete information on all available tradable assets.
Spreads
Spreads are dependant on your account type, with the standard account having average spreads of around 1.5 pips, the gold account has a spread of 1 pip on average and the VIP account has a further reduced spread at 0.4 pips on average.
Minimum Deposit
The minimum deposit for the entry-level account is $250, if you want more features and reduced spreads, you will need to make a minimum deposit of at least $1000.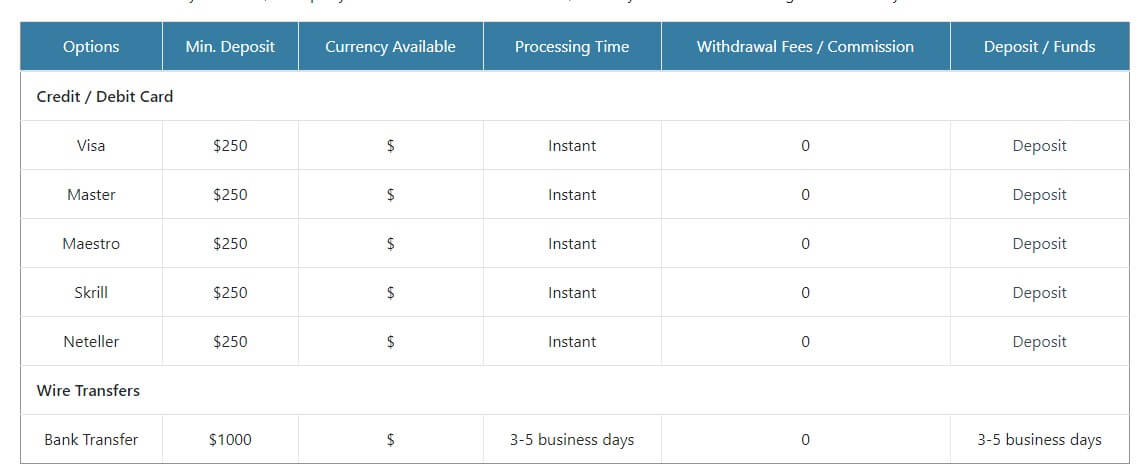 Deposit Methods & Costs
The following deposit methods are currently available with Merit Forex, Visa, Mastercard, Maestro, Skrill Neteller, and Bank Transfer. All deposit methods have a minimum deposit amount of $250 except for bank transfer which has a minimum deposit of $1000. All methods are instant except for bank transfer which can take 3 – 5 business days. There are no fees for any of the deposit methods.

Withdrawal Methods & Costs
The same methods are available for withdrawal as there were for deposits. You can only withdraw using USD and not any other currency. All withdrawal methods take 1 – 5 business days except for bank transfer which is 3 – 5 days. There are also no fees added to withdrawals, similar to deposits.
Withdrawal Processing & Wait Time
Withdrawals are processed between 07:00 and 16:00 GMT+2 and the withdrawal processing times depend on the method used, if you use bank transfer then there is a processing time of between 3 – 5 business days. All other methods including Skrill and card transfers can take between 1 – 5 business days.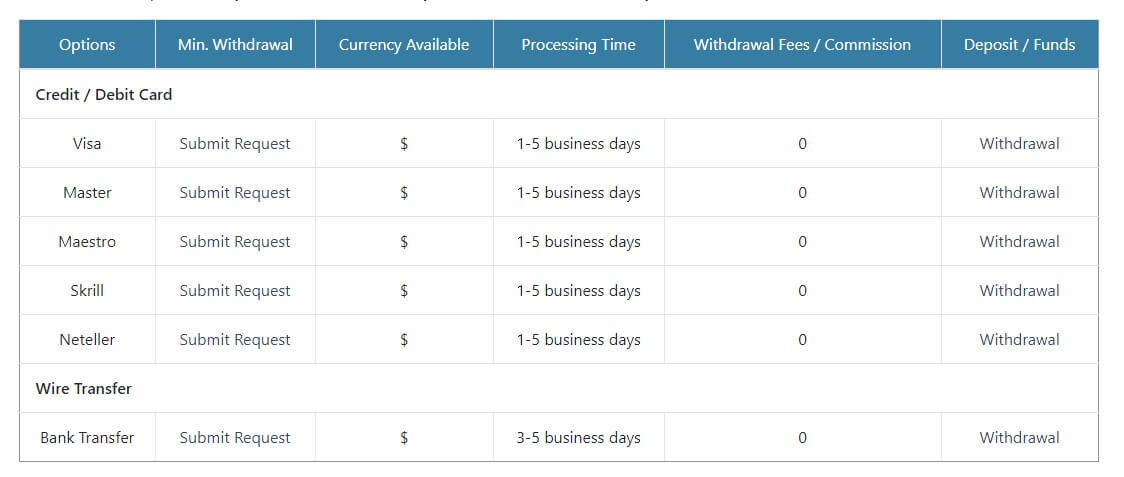 Bonuses & Promotions
From having a little explore around the Merit Forex website, we could not see any mention of bonuses or promotions, so it does not look like there are any at this current time. This does not mean that there won't be in the future, so be sure to regularly check back to see if any new ones have come up.
Educational & Trading Tools
There is some basic education available on the Merit Forex website, it offers information on the basics of trading which is a nice touch as well as a glossary of forex terms. There are also sections of market news and research to help you analyze the markets and confirm your own analysis. This can be helpful, however, the standard is not as high as what can be found at other sites on the internet.
Customer Service
Should you need to get in touch with Merit Forex for any reason, there are a number of different ways that you can do it. There is everyone's favourite contact form to fill out, there is also a raw email address that you can use. There is also a skype available for messaging which we tested out and got a response within 10 minutes which while not the quickest, at least someone replied. The support team is available 24/5 and is closed at the same time as the markets close over the weekend.
Demo Account
There are demo accounts available with Merit Forex, there is a button at the bottom of the main page to apply for one. Simply fill in the details and it will open up for you. These accounts last indefinitely if they are being used if you stop using one, after a period of time they will close and you will be required to open up a new account.

Countries Accepted
Merit Forex allows anyone to sign up as long as you are not located within the United States of America.
Conclusion
Merit Forex offers a nice selection of account types with varying benefits, spreads are decent for the accounts that are not charging a commission. Having both MetaTrader 4 and MetaTrader 5 is excellent as it gives you as much flexibility as any broker probably can. It would have been nice to have a full breakdown of tradable assets though. Our main concern is the withdrawal processing time, the quickest is between 1 – 5 business days which is quite a long time to wait for your funds.

There are plenty of worse brokers out there, but also plenty of better ones. While we would not recommend Merit Forex as our go-to broker, we also feel comfortable enough to not warn you away from them, so ultimately, it is down to your own preferences.
We hope you enjoyed reading the review, make sure to check out some of our other reviews to help find the broker that is right for you.