MACDivergence MTF can be found on the MQL5 marketplace, there may be others with similar names so we have added a link t this one below to help avoid confusion. The indicator was uploaded by its creator Pavel Zamoshnikov on the 24th of August 2015, it was most recently updated on the 29th of March 2017 and is currently at version 1.41.
Overview
MACDivergence MTF is and indicator for the MetaTrader 4 trading platform, it is was created to show you divergences within the moving averages on the markets.
The main features of the indicator:
-It detects and displays classic and reverse divergences (two methods of detecting divergences).
-It uses different colors to highlight an uptrend and a downtrend.
-Two methods of determining a trend: а) MACD crosses the 0 levels (classic signal); б) MACD crosses its own average (early signal).
-This is a multi-timeframe indicator: it can display MACD data from other timeframes.
-Two methods of drawing: classic histogram and line.
-It generates sound and visual signals when the trend is changed and the divergence is formed. It sends emails and push-notifications to mobile devices.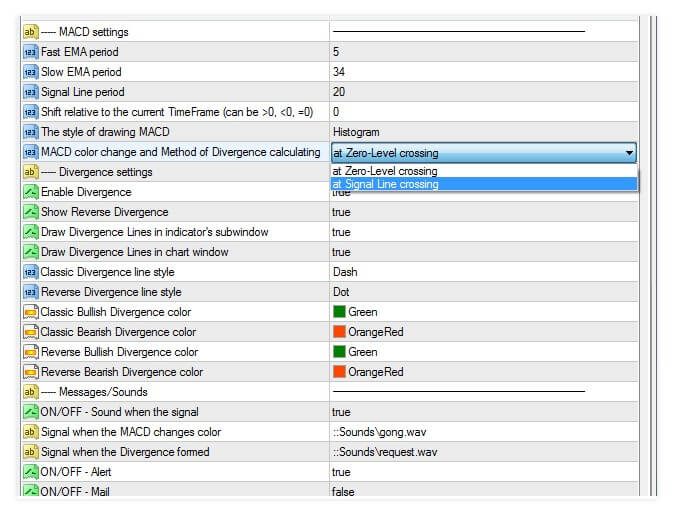 The indicator comes with plenty of options and settings, they include things like the EMA periods, signal line periods, MACD colors, style of drawing MACD, to enable divergence, to show reverse divergence, the color of the divergence on the charts, notifications and more. They all allow you to slightly alter the way that the indicator functions to better suit your needs.
Service Cost
The indicator will currently cost you $15 to purchase it outright, there is not an option to rent the indicator so purchasing it is the only option available at this time. There is a free demo version available, however, this will have some limitations attached to it, these limitations are not stated on the site but it may well be worth downloading to try out anyway.
Conclusion
There are currently 5 reviews available, some positive some negative, they have given the indicator an overall rating of 4 out of 5.
"It's just an excellent indicator, before that I drew divergence and convergence myself, it simplified my work a million times, thanks to the author very much for such an excellent indicator with many functions and pushes in Russian. I think that the price for such an indicator is very low)" – A 5-star review [translated from Russian]
"Very laggy/delayed indicator" – A 1-star review.
"It is A nice indicator for nice strategies" – A 5-star review.
So some positive and negative reviews with the majority being positive which is good to see, there are also over 100 comments within the comment section, the developer has been replying to all comments in a prompt manner which shows that they are still actively supporting the indicator. We would still recommend trying out the free version and sending any question you have to the developer to make sure it works for you and will do what you need it to before you make a purchase.
This Forex Indicator is currently available in the MQL5 marketplace: https://www.mql5.com/en/market/product/11365