Leading Arrow MT4 is located within the MQL5 marketplace, there is a link to the exact indicator that we are looking at below just in case there are others with similar names. The Leading Arrow MT4 indicator was uploaded by Yohana Parmi on the 7th of December 2019, it was most recently updated on the 19th of January 2020 and is currently on version 2.21.
Overview
The Leading Arrow MT4 indicator was designed for use with MetaTrader 4, it is a leading indicator and does not repaint and is not lagging.
The indicator has been made to be as simple as it can be, it will simply display an arrow which points in the direction of the market. It is designed for those that like to use price action and understand its importance in trends. It can be sued ion any timeframe but it works best on theHJ1 timeframe.
How to use the indicator:
Buy: Simply waiting for the arrows to appear as a buy sign in the last candle, or without having to wait in front of a computer is just wait until receiving a notification on a smartphone then check the chart. Opening buy position is the moment when a new candle has just appeared.
Sell: In general, it is the same as buying momentum as written above, which is only by waiting for the arrow notification to come as a sign of selling.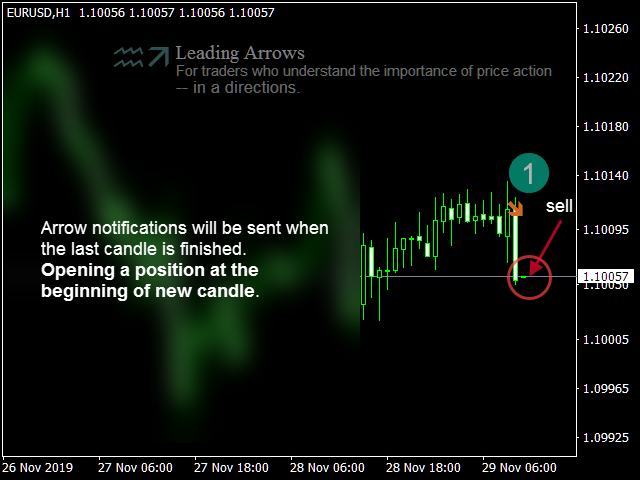 Target, stop-profit, and stop-loss Please use any support and resistance (SR) techniques. The indicator has also provided classic SR (optional) as an additional confirmation for your own SR Strategy.
There are also a number of different parameters, some of them include using candlestick charts, to display titles, arrow sizes, colors, to chow market rejection, the minimum length of tail, bars, and many more.
Service Cost
It will currently cost you $98 to purchase the indicator outright and to have unlimited access to it, there is also the option to rent it on a monthly basis which will cost you $58 per month. There is a free version to try out but it does not have any of its limitations stated on the site so we are not sure what they may be.
Conclusion
Just two reviews are available, they have given the indicator a rating of 5 out of 5.
"This is the 2nd product I bought from this author. A2SR and Leading arrow indicators make a good combo and contribute greatly in my trading. The screenshot of the first trade taken with the indicator is posted in the comment section. Expect more success moving forward…" – A 5-star review.
"Good!" – A 5-star review.
Both reviews are positive, there are also a number of different comments, the developer seems to be actively replying to them which show that they are still supporting the indicator. We would suggest trying out the free version to ensure that the indicator works for you, you could also send any queries or questions that you may have to the developer s you can make sure its the right indicator for your needs.
This Forex service is currently available in the MQL5 marketplace: https://www.mql5.com/en/market/product/44280