IFC Markets have been operating financial technology and trading services for the past 14 years. They are regulated by CySEC (Cyprus Securities and Exchange Commission) as well as complying with the policies of the Financial Services Commission (British Virgin Islands). At first glance, they offer very flexible trading conditions, with a low minimum deposit of $1 and allow scalp and hedge trading. IFC Markets are well known for their wide variety of instruments they offer as well as their multilingual customer support service, which offers support in 18 languages and operates 24 hours a day, 5 days per week. This factor in itself adds to the high global appeal and naturally increases popularity within their client base.
The website itself is very clearly set out and information is to the point and concise, making it easy for clients to navigate. The IFC Markets FAQ page is also incredibly thorough and beneficial as a quick reference guide and can be used to answer the majority of questions or queries you may have prior to being a client as well as for when you are an existing client.

Account Types
IFC Markets offer a rather specific set of account types, which may be a little confusing at first, however, each account has specifications slightly different from each other, meaning the account type you choose can be closest as possible suited to you and your trading preferences. You may also try out a demo of each account available on all trading platforms offered.
IFC Markets offer 2 account types compatible on the NetTrade X trading platform (Fixed & Floating spreads):
Standard: $1,000 minimum deposit
Beginner: $1 minimum deposit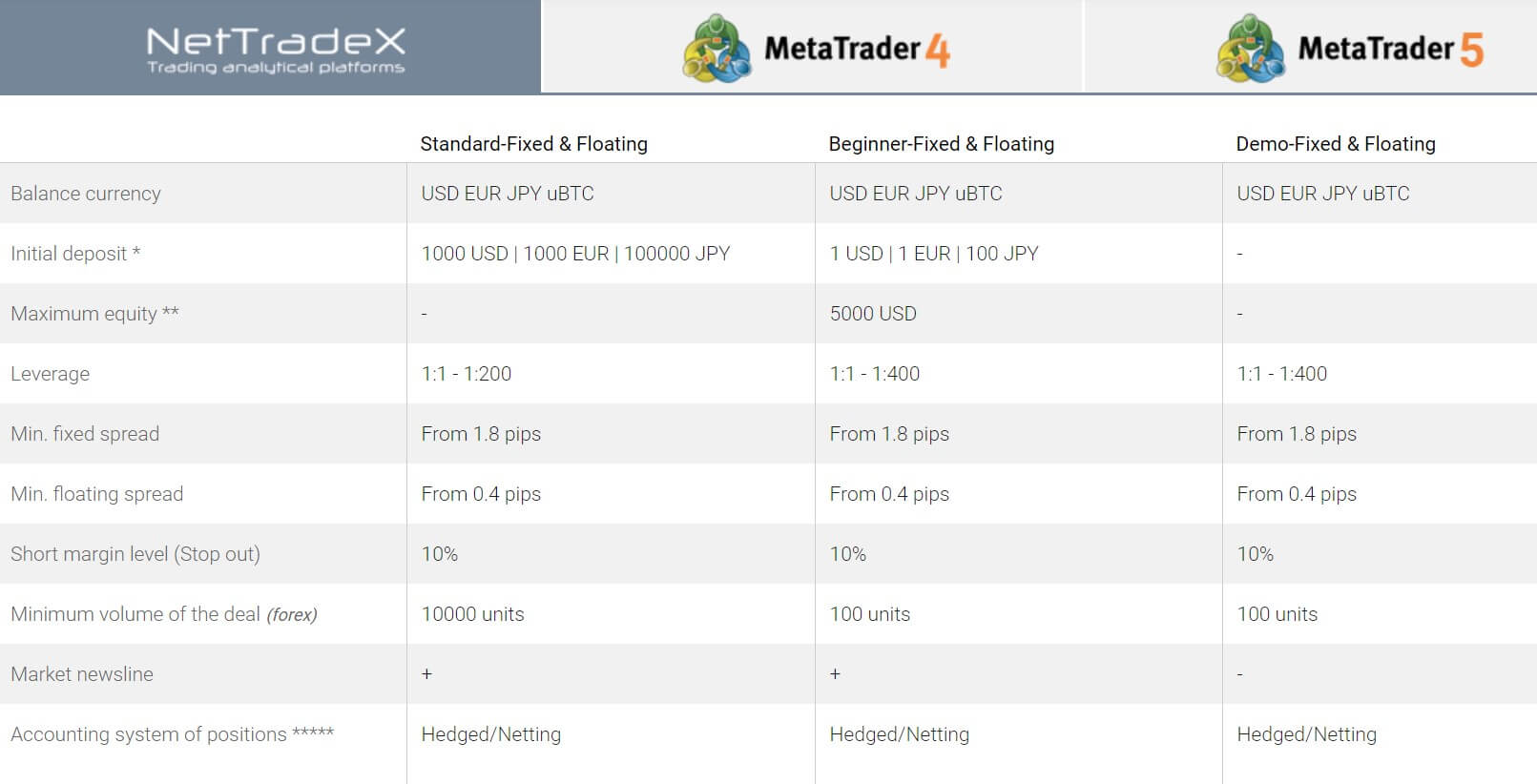 If you prefer to use the MT4 platform, IFC Markets also offer the following, but subject to FIXED spreads only:
Standard-Fixed: $1,000 minimum deposit
Micro-Fixed: $1 minimum deposit
If you wish to trade with IFC Markets on the MT5 platform, you may choose from the following, both of which have FLOATING spreads:
Standard- Floating: $1,000 minimum deposit
Micro- Floating: $1 minimum deposit
Platforms
IFC Markets do not limit their clients to using the widely popular MetaTrader 4 platform; they offer also the latest version (MT5) as well as an alternative way of trading, with NetTradeX, which you may or may not have heard of. If the answer is no, it is no problem s you can try out the demo version of the live account offered via this platform.

IFC Markets have also put a lot of thought into how to appeal to their clients, by offering ALL compatible options of each platform offered, so clients can freely trade at home or when you are on the move. The current options include:
NetTradeX for PC, iOS, Android, Windows Mobile, Advisors, PC, and Web Terminal
MetaTrader 4 for PC, Mac OS, MetaTrader 4 iOS, Android, Multi-Terminal, PC, and          Web Terminal
MetaTrader 5 for PC, Web Terminal, iOS, and Android
Leverage
The advertised maximum leverage offered by IFC Markets is 1:400 but does vary according to account type:
NetTradeX Beginner 1:1-1:400
NetTradeX Standard 1:1 – 1:200
MetaTrader 4 & 5 Micro 1:1 – 1:400
MetaTrader 4,5 Standard 1:1 – 1:200
Although the maximum leverage options are very generous, some tradable pairs are limited to lower leverage caps, so it is important to check out the markets you wish to trade and see if the specific leverage options allowed, suit your trading needs and expectations. For example, For MetaTrader 4 and MetaTrader 5 accounts, the leverage for trading Stock CFDs is always 1:20, which may or may not be suitable for you personally, depending also on what account type you choose, and what your deposit amount is.
Trade Sizes
IFC Markets vary the minimum and maximum trade sizes allowed according to account type and platform you opt for. for MT4/5 minimum is 0.01 lot and the maximum is 1 lot for Micro accounts. For Standard accounts, it is 0.1 lot – 10,000 lots per single position. For NetTradeX, the minimum volume is lower; it starts from 100 base currency units- 0.001 lot and the maximum is also 10,000 lots.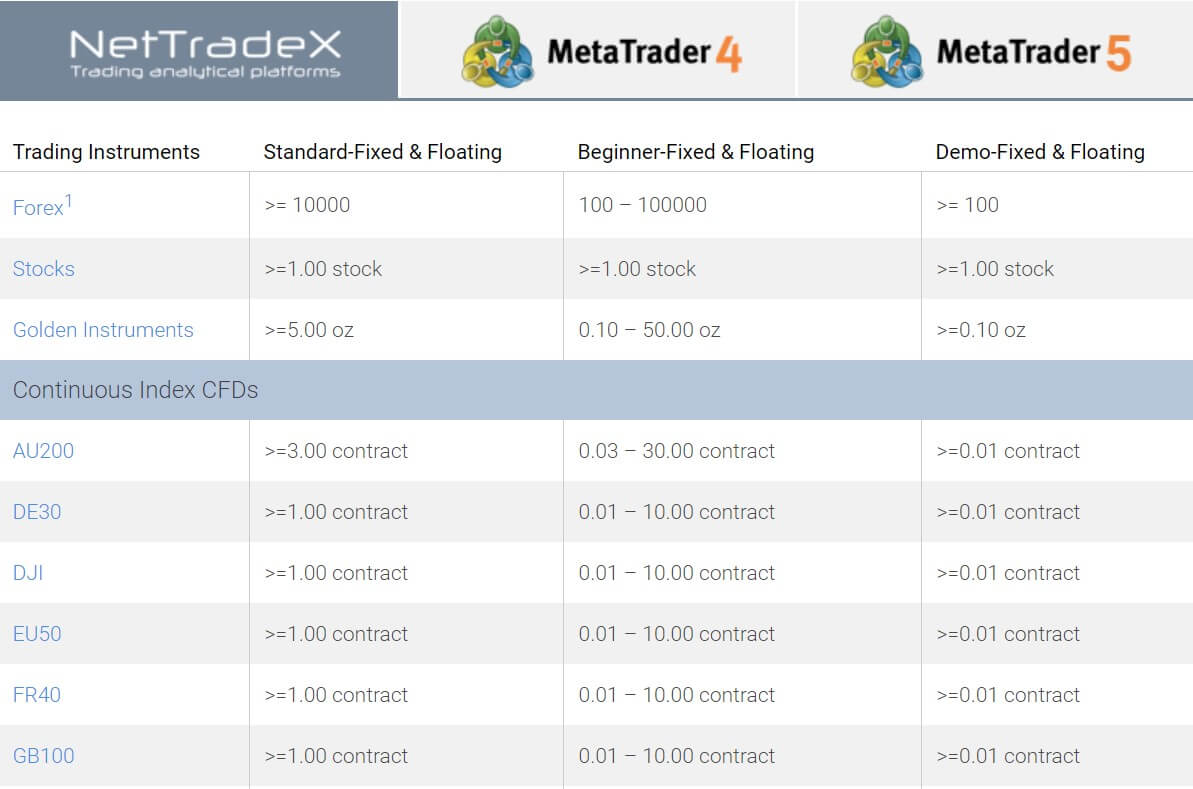 Trading Costs
IFC Markets do not charge trade commission fees on any trading of any instruments except for Stocks. All accounts allow the trading of stocks so bear in mind this is the only asset you will incur commission fees. The commission fees for each stock can be found on the website also. It should be noted that the commission fees are also relatively low across the board in comparison to other brokers offering the same Stocks to trade.

Assets
IFC Markets pride themselves on being a leading broker with a strong selection of tradable assets totaling to over 600 trading instruments which include FX Currency pairs, Precious metals, Index CFDs, Stock CFDs, Commodity CFDs, CFDs on Commodity Futures, ETFs, Crypto Futures and Gold instruments.


Spreads
As mentioned earlier with the account types, IFC Markets offer a variety of fixed and floating spreads, depending on which account type you choose, as well as your trading platform of choice. For example, if you prefer to use the MT4 platform, you will be subject to trading with FIXED spreads while the MT5 platform allows IFC Market client to trade only with FIXED spreads. If you wish to trade with BOTH fixed and floating spreads, the only option here is the Standard or Beginner account compatible on the NetTrade X trading platform.
You may check the spreads on the website, fixed/floating and applicable to each account type. It is clear that IFC Markets have marked up (very heavily) their spreads across the board, in comparison to its competitor brokers. This is a result of charging 0 trading commissions, but having to bump up client costs in other areas. In this case, the spreads are not so competitive, and for some particular Forex pairs, they are marked up very high.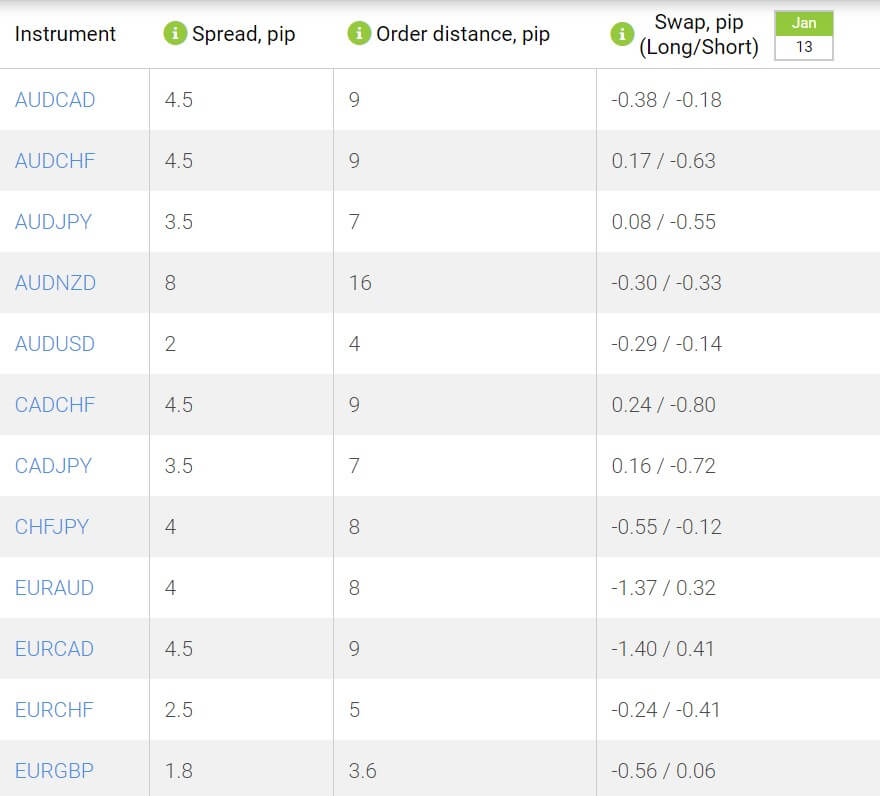 Minimum Deposit
As mentioned previously, the minimum deposit requirements vary between the two variations of each account via the 3 different trading platforms offered. For the 'beginner' version, the minimum is just $1 which leaves the choice flexible to clients as to how much they wish to deposit, and the choice of platform and account specifications they opt for. On the other hand, if you are a more experienced trader and wish to have access to slightly better spreads, the minimum deposit amount is $1,000, on all 'Standard' versions of the 3 accounts available, as below:
NetTrade X Standard: $1,000 minimum deposit
NetTrade X Beginner: $1minimum deposit
MT4 Standard- Fixed: $1,000 minimum deposit
MT4 Micro- Fixed: $1minimum deposit
MT5 Standard- Floating: $1,000 minimum deposit
MT5 Micro- Floating: $1minimum deposit
Deposit Methods & Costs
The website clearly sets out all the following methods which are available to fund an IFC Markets account:
Wire Transfer: None, but likely your bank will charge a fee
Bank Cards: None
Pasargad Novin: None
TopChange: 0.5% (maximum $50)
Bitwallet: None
Skrill: None
WebMoney: 0.8% (maximum $50)
Neteller: None
CashU: None
Bitcoin: Blockchain fee (usually very low amount)
Western Union: None
Unistream: None
Where there it is stated that a fee of nothing will be charged for depositing, this is merely stating that IFC Markets do not charge a fee, however, please do bear in mind that some methods will incur a fee to the client, such as the Wire Transfer, where it is more than likely your banking provider will charge a fee for you to make a deposit. IN any case, it is always good to check with your provider prior to making a deposit request.
Withdrawal Methods & Costs
The withdrawal methods as well as the fees that come with them can be easily found on the website, and can be seen below:
Wire Transfer: Bank commission from $25
Bank Cards: 2% + $7,5
TopChange: none
Bitwallet: ¥100 per transaction and ¥980 for withdrawal to a local bank account
Skrill: 1%
WebMoney: 0.8% (maximum $50)
Neteller: 2% min. $1
CashU: none
Bitcoin: 500 BTC (0.0005 BTC)
Western Union: commission of Western Union (10 – 101$) + commission of Exchanger (2-3%)

Withdrawal Processing & Wait Time
IFC Markets do display their timescales on processing times for withdrawals on the website. Bitwallet, Skrill, and Neteller are of course the fastest options, usually resulting in clients having their funds within a few minutes to a few hours, but most likely the same day. On the other hand, bank cards and wire transfers can take up to 5 business days to process, and then you may be waiting a few weeks to receive your funds. In the case of withdrawals, it is usually recommended to use the Bitcoin/Neteller/Skrill options to avoid any unwanted delays or long wait times.
Bonuses & Promotions
IFC Markets do not offer any deposit bonuses to their clients. No doubt this is due to the CySEC regulatory policy which prohibits the provision of such schemes.
Educational & Trading Tools
Although IFC Markets do not provide their own signal service, should you opt for the MT4 or MT5 account options, you are reminded that you use trading signals within the overall service of Metaquotes that are compatible.

Customer Service
Although IFC offers the standard customer support contact channels (Telephone, Email, and Live Chat) you may also contact them via alternative methods, 24 hours a day, 5 days a week. If you prefer you may speak to a support agent via Skype, Facebook Messenger, Telegram or Whatsapp, which makes communication more user-friendly for clients, especially if you are out and about.
Demo Account
IFC Markets offers a demo version of all account they offer on live versions (NetTradeX, MetaTrader 4 and MetaTrader 5 trading platforms). The demo accounts are also not limited to a 30-day free trial; you may have the account for as long as you wish, and even choose to keep it open and running alongside the live account, for extra practice if you feel you need it.
Countries Accepted
If you are wishing to sign up and submit your ID and residency documentation to this broker, firstly note that IFC Markets does not provide their trading services to those residents of the United States, Japan, and Russia.
Conclusion
Overall IFC Markets offers a good all-round trading experience to their clients, and it seems there is something for everyone, ranging from low experienced to well-experienced traders.IFC Markets provides amicable trading conditions in regards to Spreads, which clients can choose to trade with floating or fixed. Clients also have a choice of platform to trade on whether that be MT4, or the latest MT5, or NetTradeX. It should be noted that this broker offers a wide selection of funding and withdrawal methods and a top-ranking customer support team. This broker is certainly a top-ranking choice to go for, providing you are satisfied with your trading knowledge to go forward and trade live.