Britannia Global Investments is one of the new rebrands and integration with Destek Markets, a former experienced Turkish broker. Britannia Global Investments is an FCA regulated broker, although the website name – britanniacapitalmarkets.com registered in the license is not the current domain – www.britannia.com/gi. We have further investigated this issue and the results are in the Conclusion section of this Britannia Global Investments Review.
The website itself is very limited in terms of content, information, and features. There are a few dead links and the trading conditions are not presented transparently. The broker is relatively new under this name, since October 2018, under the name of Britannia Capital Markets. The company has not yet established full effective business potential as it is evident by the website alone.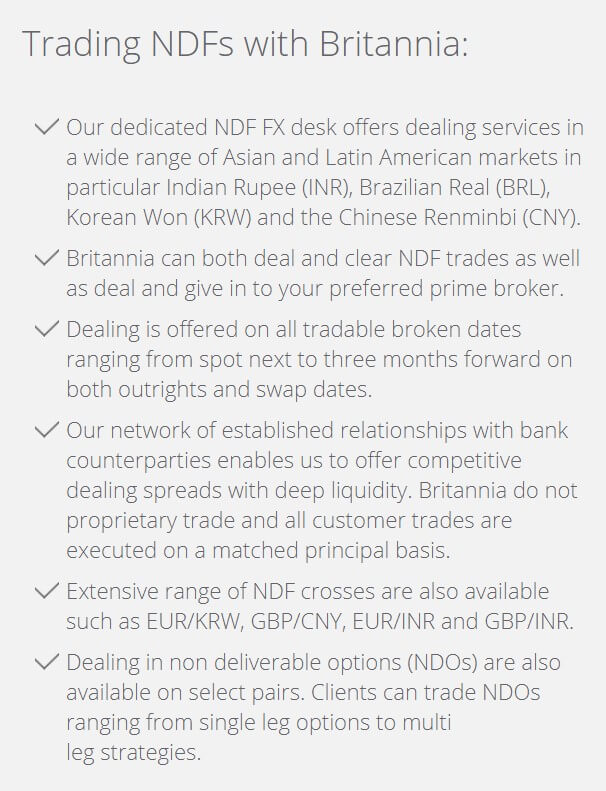 There are no special features about this broker, the biggest selling point is the FCA regulation and the Financial Services Compensation Scheme of up to £50,000 (£85,000 is stated elsewhere on the website). As stated, the broker is also under the MiFID directive. Financial Ombudsman Scheme that is provided can offer some security in certain cases but bureaucratic difficulties may arise if the company is constantly rebranding.
There are no specific figures, videos, tools, tables, feedback or names that could give some substance to the broker presentation except classic, eloquent financial marketing content. We will evaluate Britannia Global Investments services and give traders insight into what is behind the words.
Account Types
Britannia Global Investments does not have a set of account types. The registration is done manually via the email to the broker (cs@britanniagi.com). The registration link is also not promoted, as usual, the link exists only in the footer of their website. Trading features are stated in the Trading section, traders can use up to 1:100 leverage, have "extensive trading tools and research offering" and "Easy account management". Except for the leverage, nothing else is clear in this offer. There is no trading conditions page. Trading assets are limited to Commodities, Forex and Index CFDs according to the website. More on this in the Assets and Platforms section.
Platforms
Britannia Global Investments offers only one platform, MetaTrader 4. MT4 is usually available for mobile devices as a web-accessible, and desktop computers. In Britannia Global Investments case, the links to these are not working. The only link that works on the broker site is initiating the standard Windows 32bit MT4 client. This MT4 version is the default by MetaQuotes, without any modifications and updated to the latest version. There are two servers to choose from, Demo and Live with around 55ms ping. 4 default charts are displayed with the major currency pairs and One-click trading buttons visible.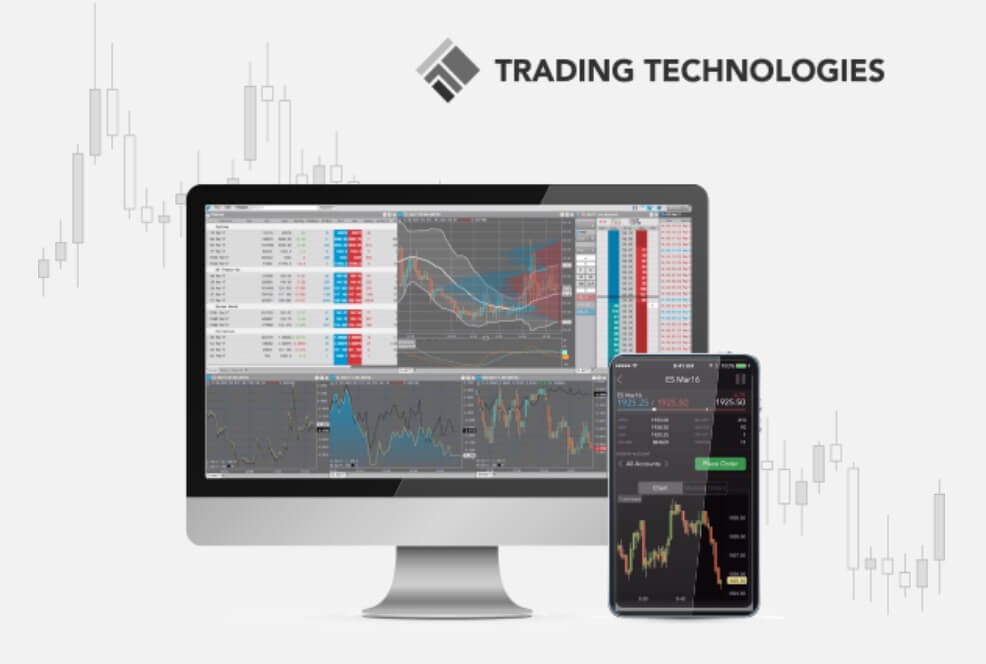 The About window will show the former website address – britanniacapitalmarkets.com and also the former registered business address. There are no additional templates or indicators packed in the MT4 installation. Trading instruments symbols are focused around Forex, there are 8 Forex groups and 2 reserved for Indexes and Commodities.
Interestingly, Turkish Lyra has a special group, showing signs of Turkish broker origin. The instrument specification shows enough information about the trading conditions. Trade Terminal is properly showing trading costs, swaps and commissions. The execution times have a range from 115ms to 190ms with an average of 160ms. The deviation is present but all executions were under 200ms in normal market conditions. This time average for a Dealing Desk broker as Britannia Global Investments states.
Leverage
We had some suspicion of the 1:100 leverage that is presented on the Britannia Global Investments' website but this leverage is real. It is still not clear how this leverage can be in effect for a broker that adheres to MiFID or FCA for clients in the EU region. All Forex pairs have this leverage, including the exotics. XAU/USD is the same, with 1:100 leverage, also XAG/USD. Commodities do not deviate, 1:100 is applied to both Oil types.
Trade Sizes
Britannia Global Investments is a micro-lot broker meaning all trading instruments have a minimum trade volume of 0.01 lots, except for Indexes that have 0.1 lots minimum. For Forex, the maximum volume per trade is 20 lots, also for precious metals while Indexes have 200 lots maximum. Stops level exists and should not be a problem for fast traders as it is set to 10 points for Forex currency pairs, Commodities, and Indexes. Stops level of 10 points or 1 pip means no Stop Loss or Take Profit orders can be placed in the 1pip range of the current asset price. Step volume is also standardized to all assets to 0.01 lots and 0.1 lots for Indexes.
Trading Costs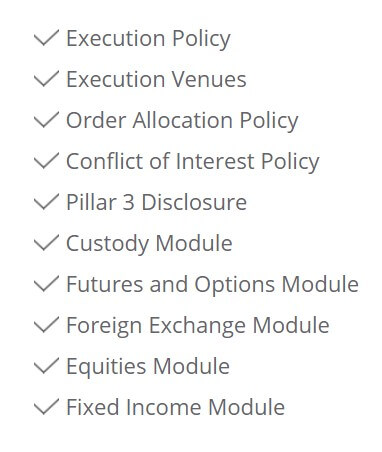 Britannia Global Investments does not state any cost figures regarding the commission on the website, legal documents or the MT4 platform. The only trading costs are negative swaps. What we have observed in the MT4 platform the swaps are under normal levels, calculated in points and mostly tripled on Wednesdays. EUR/USD has a -13.22 points long position overnight charge and 6.01 points for short. Other majors are under similar levels, for example, USD/JPY 4.97 points long and -12.32 short, GBP/USD -7 long and -0.5 short, or AUD/USD -1.4 long and -3.3 points short swap.
As seen, positive swaps are not that common, and usually include just the USD currency pairs. Swaps under the minors group are all single-digit for both position sides except the USD/SGD with -6.7 points for long and -10.4 for short position. More exotic pairs like the USD/TRY have -139 long position and 91 points positive swap for short but tripled on Thursdays. USD/CNH does not have a high swap considering it is considered exotic, -79 points for long and -26 for short position. Other exotics are also lower than average, so USD/HKD has -13.2 long swap and -53.1 short position swap, USD/ZAR -300 for long and 150 points positive swap for short, USD/PLN -24.2 long and -20.9 short and the highest swap is reserved for the USD/MXN with -550 points for long and 300 points positive swap for a short position.
XAU/USD has a single-digit, -9.5 points for long and 1.5 for short. Both Oil types have swaps tripled on Fridays, US Crude Oil has -0.25 points long and -0.82 points short position swap.
Assets
Britannia Global Investments has only 4 trading instrument categories offered by our count. These are Forex, Precious metals, Commodities, and Indexes.
Forex range is good enough for the most forex traders. We have counted 42 currency pairs total listed in the MT4 platform. All the major and crosses are present and forex traders will like the symbol groupings to Minor, Exotic, Major, FX Scandinavia and FX Australasia. The exotic range is solid and includes currencies like CNH, HKD, MXN, PLN, and ZAR, all quoted under the USD. There is an issue with the USD/CNH, AUD/NZD and USD/HKD instruments as trading are in full access although the MT4 platform was not able to execute orders and gave us the Off Quotes warning. This means that these exotics at the current state are not liquid enough to be tradeable and, Britannia Global Investments will have to find more liquidity providers. Taking this into account, this forex range is mediocre compared to other brokers in the industry.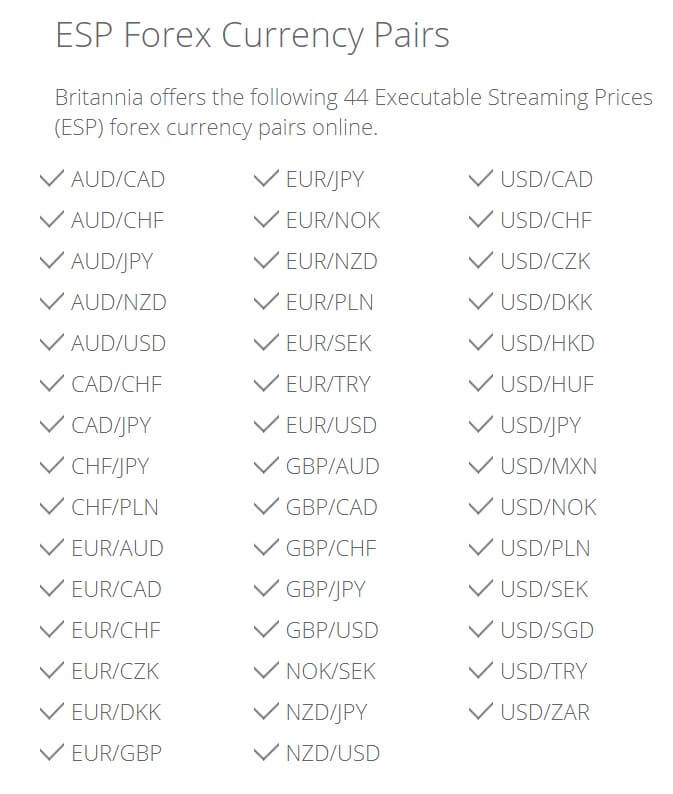 Precious metals are limited to spot Gold and Silver, although they have very good trading conditions.
Indexes range is also limited as there are only 6 total listed in MT4. These are Germany30, UK100, US30, US500, and NASDAQ 100 as named in the platform. These also have a 1.5-hour break around day end trading hours.
Finally, Commodities are just energy assets and limited to just two major Oil types, Crude Oil and Brent.
Spreads
Britannia Global Investments has floating type spreads for all assets. Based on our reading form the MT4 the spreads are competitive and do not deviate much for more exotic instruments. Forex currency pairs with the tightest spread are the EUR/USD with 5 points spread, USD/JPY with 6 points, GBP/USD with 5 points and AUD/USD with 9 points spread. NZD/USD, EUR/JPY, EUR/CHF, and USD/CAD are the second with spreads just above 10 points.
Other minors do not go over 20 points spread and the exotics have much higher spreads as expected. USD/TRY has 613 points spread, while EUR/TRY has a tighter one at 318 points. USD/PLN has 115 points, USD/MXN 227 points, and the off quotes USD/HKD has the last recorded spread at 445 points.
One of the good traits of this broker is the spread for the spot Gold – 14 pips, one of the best in the industry. For Silver, it is 20 points. Brent and Crude Oil have similar spreads around 50 points.
Minimum Deposit
Britannia Global Investments does not have a statement about the minimum deposit. What is known that the previous brand, Britannia Capital Markets, has a minimum of 100 USD/GBP/EUR. Subsequent deposits also had a minimum of 20 EUR/USD/GBP.
Deposit Methods & Costs
Bank transfer to Britannia Global Investments' Barclays Bank account is the only mentioned deposit method. Currencies supported are GBP, EUR, and USD. The broker will not charge a fee but fees for the bank transfer will not be covered. It may take up to 5 business days for the funds to reflect in the trading account.
it is possible to transfer funds from a different broker to Britannia Global Investments trading account. As stated, only FCA regulated UK brokers are eligible for this transfer. The minimum requirement is 5000 EUR, USD, GBP per transfer.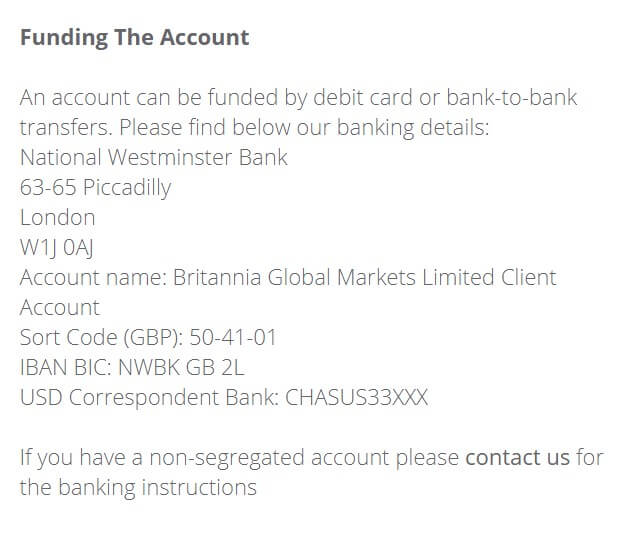 Withdrawal Methods & Costs
For withdrawals, no information is disclosed. If a trader wants to withdraw, he will need to contact Britannia Global Investments via email.
Withdrawal Processing & Wait Time
If only bank transfers are possible, processing may take up to 7 days for international transfers.
Bonuses & Promotions
There are no Bonuses or Promotions disclosed.
Educational & Trading Tools
Actual educational material available online does not exist, as well as any tools or the Economic Calendar. Although Britannia Global Investments states that they will provide "a wide range of educational and research tools".
Customer Service
The broker states they are available 24/5, offer multilingual support via phone, email, chat or live in their offices. We have not found a chat service and the broker location does not point to offices in London.
Demo Account
A demo account is easy to open from the MT4 platform with a few personal information fields. Here you can select your leverage (up to 1:100) and the number of virtual funds. You can open multiple demo accounts. No email confirmation is required. It is unknown how long the demo lasts.
Countries Accepted
The broker mentions the United States, Belgium, and Canada, or any country or jurisdiction where their services would be contrary to local law or regulation.
Conclusion
While reviewing Britannia Global Investments services and structure, we have found a few interesting facts. 79.06% of traders lose money when trading with this broker, which is a bit below average in the industry. What is more interesting and confusing is the leverage provided which is above the regulatory limits of 1:30 for retail traders. As Britannia Global Investments does not offer separate conditions for professional clients, or at least not stated on the website, which is obligatory, it is not clear how the FCA and MiFID regulation does not apply even though the FCA register contains this license. The license does not contain the www.britannia.com/gi domain, only britanniacapitalmarkets.com.
Additionally, the broker is not registered under the Money Laundering Regulations of FCA.
The broker does not have any ratings under the current brand or domain, nor in the previous. This could mean that no marketing is pursued or simply not good enough to attract investors. For now, Britannia Global Investments is under the radar.
From the company history, we have also found uncommon activities like 6 official business address changes within one year, a few official company name changes or rebranding, many official managers and directors switches, and very low employee number for such a company (on some occasions just 5). Additionally, the website may be still in construction, but important documents like Terms and Conditions have a dead link from some pages.
The website's certificate expired on 12/12/2019, so every time you visit Britannia Global Investments' website, a warning will pop out about an insecure connection. Transparency issues are also present, both in the legal documents and on the website. The broker, on the other hand, provides solid Forex and metals trading conditions and will probably finish the incomplete business venture.