Goldwell Capital is a forex and CFD broker that is regulated by the Securities of Exchange Commission of Cambodia (SECC) and located in Cambodia. The fact that this is a regulated broker that is also accepting of US clients makes them worth consideration, but there's a lot more to take into consideration if you're interested in opening an account with this broker. Since Goldwell Capital has only been in operation since 2018, there just isn't a lot of information out there about them. Stay with us to find out whether this broker could be the right option.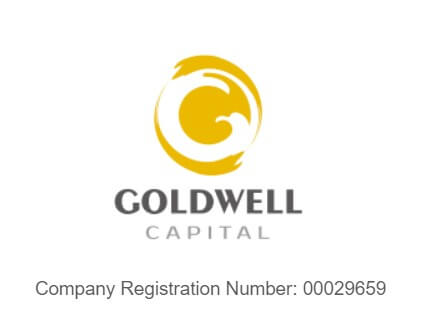 Account Types
This broker only offers a more basic Standard account type. This can save some of the hassles of comparing several different account types, but it also means that there is less room for specialized options as well. The Standard account offers the trading of forex and CFD products on the MetaTrader 4 platform and provides higher than average leverage options, should one want to use them, but the minimum deposit requirement for trading may seem steep. Below, you can take a quick look at some of the specifics about this account type.
Minimum Deposit: $200 ($1,500 required to make a trade)
Leverage: 1:200 and up
Spreads: from around 1.8 pips
Commission: Not specified
Platform
This broker supports the world's favorite MT4 platform, which is accessible via download for PC, on mobile, or through the browser-based version, Webtrader. MT4 provides a simple user-interface, instant execution, supports an AI trading system, includes nine timeframes, includes multiple trading tools, supports Expert Advisors, and more. There really is a reason that this is the platform offered most commonly by forex brokers today. In our opinion, this broker really couldn't offer a better, more established platform.
Leverage
Our original customer support agent informed us that the default leverage when opening an account with this broker is set at 1:200, but that there are options to go higher. After our chat cut out, our new support agent would not give out any information, so we can't say just how high these options can go. Based on what we know, we can say that leverage options are higher than average, especially if there are options higher than the default leverage. This should be enough to satisfy the majority of traders, although we wish support would have given us a clearer idea of exactly how high the leverage options go. Note that if you're a beginner, you may want to stick with lower leverage than the maximum offer, since using higher leverage goes hand in hand with taking higher risks.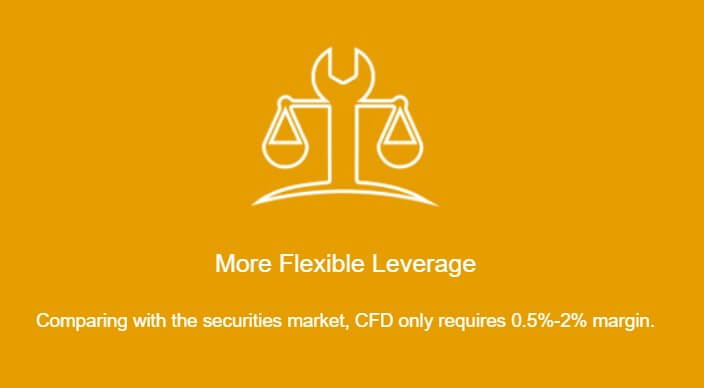 Trade Sizes
The minimum trade size allowed is 0.01, or one micro lot. Maximum trade sizes differ based on whether one is trading forex and CFDs, or precious metals. The maximum trade size is listed at 10 lots on forex and CFDs and is set at a higher 20 lots for precious metals. Trading forex and CFDs also requires a margin level of 0.5%-2%.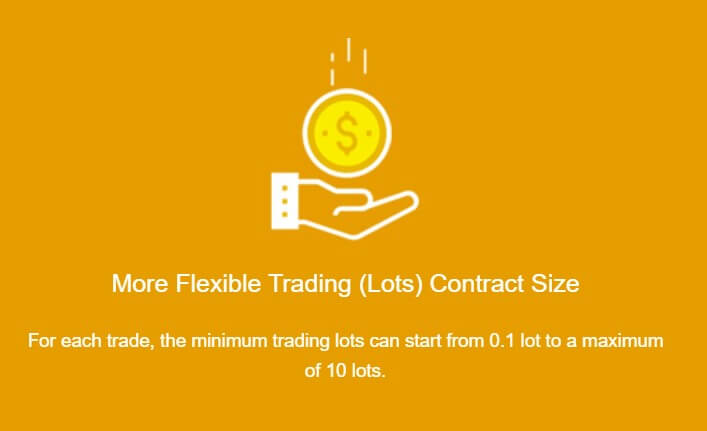 Trading Costs
Traders should expect to pay out trading costs through spreads, commission fees, and overnight interest, or swap fees. Sadly, the website does not offer any information about applicable commission fees, and customer support did not help to explain when we reached out to them. The lack of cooperation on their side does make it seem as though these fees could be less than attractive. Spreads seem to be a bit higher than average and traders should note that overnight interest will be charged on positions that are left open past a certain time. If you sign-up for an account, customer support should be willing to explain these fees in more detail. Just note that you'll have to go ahead and fill in banking details and other information before support will likely give out any further information.
Assets
Clients can choose from more than ten kinds of major trading products in the United States, Europe, and the Asia-Pacific region, as well as US crude oil futures, allowing for a more diversified investment portfolio. Goldwell claims to offer top-tier liquidity providers, which would provide tighter spreads and competitive trading executions. Overall, there are some sturdy options here, but some may be missing the ability to trade crypto options. If you would like to have access to a wider asset portfolio, consider opening an account with a secondary broker as well.
Spreads
This broker's website does not explain exactly how low one should expect their spreads to be, but the site does briefly mention that spreads on EURUSD can be as low as 1.8 pips. Typically, spreads on this pair are some of the lowest options, so we would imagine that spreads with this broker would start from around 1.8 pips, based on that fact. This is a little higher than average, but it is still lower than some of the offers we've seen with other brokers. Spreads on gold can be as low as $0.5 and just $0.04 on silver.
Minimum Deposit
Goldwell Capital only requires a minimum deposit amount of $200, but you'll need at least $1,500 to make a trade or to qualify for the welcome bonus. If it didn't require so much to make the trade, we would feel that the minimum deposit was reasonable enough. However, there wouldn't be much of a point depositing less than the amount required for trading, especially since the only deposit option is bank wire. In order to avoid paying extra fees, you'll want to make a larger deposit with this broker.
Deposit Methods & Costs
The only available deposit method with this broker is bank transfer. While the broker does not charge any fees from their side, you should expect to be charged on your bank's side. We've seen these fees range from $25 to $50, so check with your bank to be sure. Many would rather do without the costs and wait times that come with bank transfers, but there is no way around it with this broker. In order to deposit, you must visit your personal bank and fill out an overseas remittance application. You would then need to send your deposit receipt, name, and account number to cs@goldwell.com. Failing to send in this information can cause a delay in having your funds credited.
Withdrawal Methods & Costs
The only option for withdrawals would be via bank transfer. As we mentioned earlier, it is a little disappointing that this broker doesn't offer any other methods for deposits and withdrawals. This is in most part due to the fact that there are usually inescapable fees charged by banks that come with withdrawing funds in this manner. Since these fees are dependent on your personal bank, you'll want to check with them to see how much the fees will cost you. When you're ready to withdraw funds, you can apply for withdrawals through the online customer service center.
Withdrawal Processing & Wait Time
If a withdrawal is applied for before noon on a working day, then the withdrawal will be processed on that same working day. Withdrawal requests made afternoon will be processed the following working day. These processing times are quick, considering that others can take two to three working days to process withdrawals on average. Hopefully, the quick processing times will help to cut down on the wait time for bank transfer.

Bonuses & Promotions
At this time, the broker is offering a welcome bonus to new traders and advertises exclusive rewards for VIPs. There isn't much time left for either opportunity, since both expire on the 31st of December, 2019. If you're considering this broker, you may want to sign-up and make your first deposit before time runs out on the bonus. The Welcome Bonus offers a $50 reward to any new accounts with a minimum trading volume of 1 lot and that has made a deposit of at least $1,500 USD. If you make a withdrawal, the company will remove any bonus funds that were gifted.
'To earn the VIP bonus, you must fulfill a requirement based on lots traded and free margin. Reward points are calculated each month and applied to the account. If you've opened more than one account, each account will have its points calculated separately. You can view the requirement table and calculation example on the promotion's section of the website. It's possible that the broker may replace these offers with something new once time runs out, so be sure to check for the current ongoing offers if you sign-up past the deadline.
Educational & Trading Tools
The only educational offer from this broker would be the ability to create and trade on a free demo account. While this is certainly a great way for beginners to practice, one would still need to acquire more knowledge before risking real funds on a real account. It's always nice to see educational resources offered to clients directly since it saves time and hassle. However, this is not something offered by many brokers and you'll have to search the web for more information about trading if you choose this broker. When it comes to useful tools, you'll be able to find an economic calendar and updated market news on the website.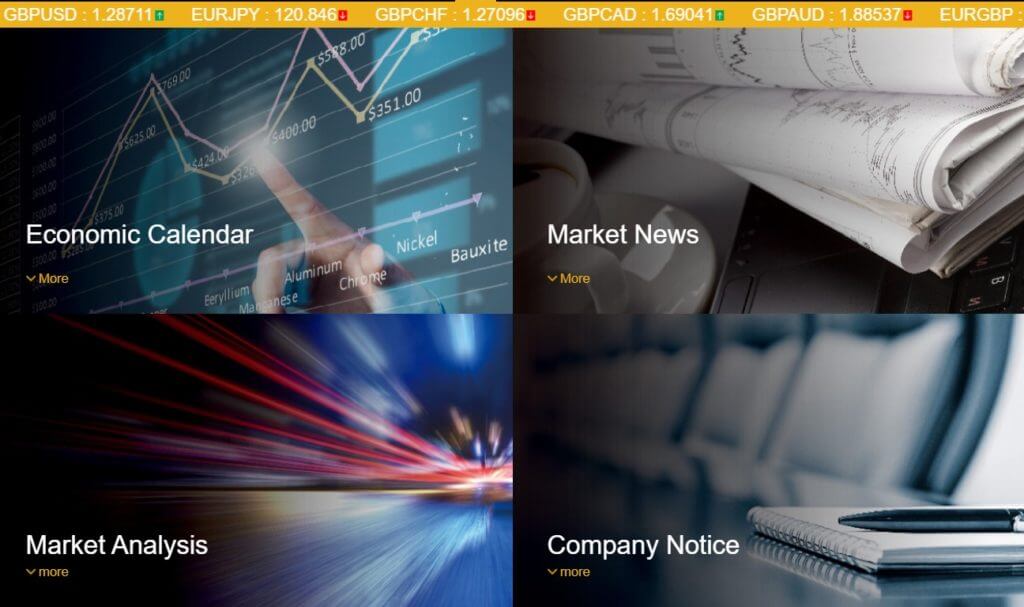 Demo Account
Goldwell Capital offers free demo accounts as an opportunity for their clients to practice trading, become more experienced with the MT4 platform, etc. Using a demo account is a great way to test the market without risking real funds and can benefit many traders. In order to open a demo account, one would simply need to fill in a few personal details including their name, phone number, email address, and gender. You'll also need to input a verification code that is sent to your email.
Customer Service
Support is available 24 hours a day and can be contacted via LiveChat, phone, or email. LiveChat support is primarily available in Chinese, but we did manage to speak to a support member in English late at night. If there are no English support members online, we recommend using Google Translate, so that you can still take advantage of this instant contact option. Otherwise, phone or email are also convenient contact methods. Below, you can view the available contact information for the broker.
Phone: +855 23 888 778
Email: enquiry@goldwellcap.com
Address: No.158, Street 215, Sangkat Vealvong, Khan 7Makara, Phnom Penh, Kingdom of Cambodia

Countries Accepted
On their website, this broker states that they do not accept clients from Hong Kong or the United States, however, you will find both options are selectable on their sign-up page. It's possible that the customer service team simply makes these statements because of their regulation because we were able to successfully sign-up from our US-based offices. Note that the countries are not entirely listed in alphabetical order on the sign-up page, so it can be easy to skim over your country accidentally. If you're having trouble locating your country, be sure that you are reading the entire list from top to bottom.
Conclusion
Goldwell Capital is a regulated broker that offers trading on forex, CFDs, and precious metals. The company offers high leverage options and supports the MT4 trading platform, but not everything about this broker could be considered ideal. Our experience with their vague website and LiveChat support member was frustrating and made it hard to find out some important details, including exact commission fees and just how high leverage options go.
What we can say about trading costs would be that spreads are just above average, Deposits and withdrawals are available via bank wire only, which means fees are inescapable, however, we were surprised to see quick processing times for withdrawals. One can open an account with a $200 deposit, but it wouldn't make sense to deposit less than the $1,500 requirement to make a trade. On the bright side, this broker does accept US clients and offers a couple of limited-time bonuses. Overall, Goldwell Capital is offering a few advantages to their clients, but you'll need to decide whether the positive opportunities outweigh the bad.