FTM Global Markets is a forex broker based in Singapore, FTM Global Markets state that they are a professional and welcoming entry point into Forex trading, we are going to have a little look at their site and service to see what they truly offer.
Account Types
You are spoilt for choice when it comes to accounts as FTM Global Markets currently offer five different types of accounts.
Micro:
The micro account, as the name suggests, is the smallest and entry level account on the FTM Global Markets platform. It has a minimum deposit of $100 making it accessible to newer traders, it has a maximum deposit of $2,000.  1:500 maximum leverage which is as high as many brokers go these days. Minimum lot sizes are 0.01 (micro lots) and there is a spread of around 2.1 pips.
Premium:
The premium account starts with deposits of $,000 with a maximum deposit of $10,000, this account allows for a maximum leverage of 1:200. As with the micro account, the minimum lot size is 0.01 lot (micro lot) and there is a slightly reduces spread of 1.7 pips.
VIP:
The VIP account increases the deposit requirements further having a minimum deposit of $10,000 and a maximum deposit of $50,000. The VIP account keeps the 1:200 maximum leverage as well as the 0.01 lot minimum trade size and the 1.7 spread.
VVIP:
This is FTM Global Markets top tier account, requiring a massive $50,000 minimum deposit with no upper limit. It has a maximum leverage of 1:100 and the spread on the account is further reduced to 1.4 pips per lot traded.
STP:
There is also an STP account, which has a minimum deposit of $500 and a maximum of $2,000. This has a 1:200 maximum leverage and 1.7 pip spread.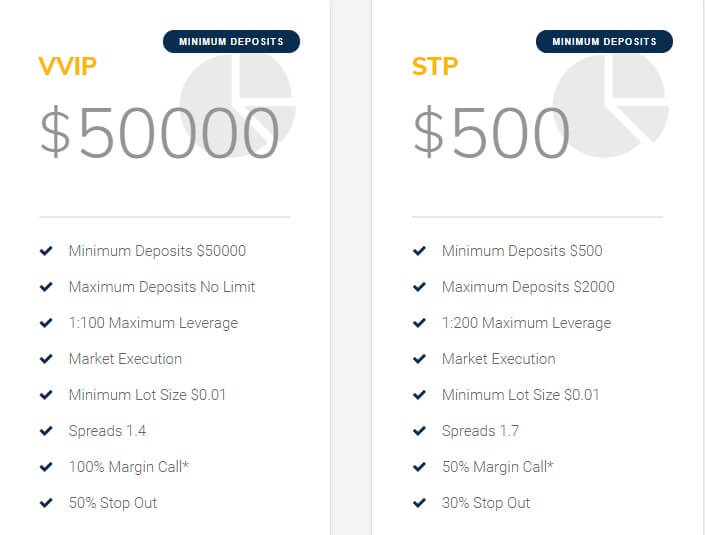 There is a lot to choose from however the choice is taken away from the trader as the account you get is based on how much you deposit, There are also Islamic accounts available for those that are not able to receive or pay swap charges.
Platforms
There is only one platform to use when it comes to FTM Global Markets and that is MetaTrader 5 (MT5). It is nice for the broker to really focus on one platform to ensure it performs at it's best, and MT5 is a popular and still growing platform, it would be nice for there to be choice for it's clients. Of course a benefit of the MetaQuotes software is that it is available on multiple platforms from PC, Mac, iOS devices and Android devices.
Of course MetaTrader 5 is a solid choice and platform which offers high amounts of customisation and support for hundreds of expert advisors and indicators alike.
Leverage
Leverage is dependent upon the account that you have, the mini account has a maximum leverage of 1:500, while the premium, VIP and STP accounts have a maximum leverage of 1:200 and finally the VVIP account having a lower maximum leverage of 1:100.
Trade Sizes
The minimum trade size for all of the accounts on with FTM Global Markets is 0.01 lots (micro lots). While the website states the minimum lot size in multiple places, there isn't any mention of the maximum. The majority of brokers have their maximum set between 100 lots and 1,000 lots so we can assume that FTM Global Markets have a similar maximum however we are unable to pinpoint exactly what the maximum is.
Trading Costs
FTM Global Markets charge a commission on every trade that you make, for each lot traded there is a commission of $12. We feel that this figure is pretty high, in fact it seems to be double what the average commission is.  On top of the commission there are also additional spreads. The amount of spread is dependent on the account you have and ranges from 2.1 as the highest and 1.4 as the lowest in the VVIP account.
Swap charges are also paid (or received) based on the exchange rate for trades help overnight. This combination causes this broker to become a very expensive broker to trade with.
Assets
There are a number of different assets that can be traded with FTM Global MArkets, as expected there are Forex markets, over 50 of them to choose from. There are also commodities, however the website only lists 5 different commodities to trade, there are also stocks and indices, however there is no information regarding how many or which ones, and finally there are metals, mainly Gold, Silver, Platinum and Palladium.
Spreads
As detailed in the accounts types and trading costs of this review, the spreads are based on your account type. They start from as high as 2.1 for the entry level account and fall to 1.4 on the VVIP accounts. These spread values are not fixed and as with any market, there will be fluctuations in the values as trading and events occur.
Minimum Deposit
The minimum deposit to start trading with FTM Global Markets is $100, this will allow you to open up one the the micro accounts which is the entry level account from this broker. To have a more favorable trading environment however, you will need to deposit more in order to get one of the more advanced accounts.
Deposit Methods & Costs
There are a number of different deposit methods available, the standard bank wire transfer (min $100 deposit) is present along with Visa and MasterCard deposits (min $5 deposit), Payeer (min $5 deposit), Neteller (min $5 deposit) and Skrill (min $5 deposit). 
As you can see, each deposit has its own individual minimum deposit and all deposit methods allow you to deposit in the following currencies: USD, EUR, GBP, JPY, CHF. AUD, CAD.
Withdrawal Methods & Costs
The same methods as depositing are also available to withdraw, there is again no fee when it comes to withdrawing. The information on the withdrawal page is slightly misleading as it is still indicating deposit times and minimum amounts, so we are unsure of what the minimum deposits are, but we would assume that they are the same as the deposit minimums.
Withdrawal Processing & Wait Time
There isn't a lot of information regarding the processing times, the Visa (Qiwi Wallet) states that it will be instant, Bank Wire will take 2 – 4 days, and all the other methods simply state "Coming Soon" so we are not sure how long those are expected to take to process. On the front of their website however it does indicate that withdrawals happen within 30 minutes.

Bonuses & Promotions
There are no mentions of bonuses or promotions on the website, so we are assuming that there are none currently available, this doesn't mean that there won't be in the future so be sure to keep an eye out if you are planning on joining this broker.
Educational & Trading Tools
There are a number of different education resources available on the brokers website, there is a small course of reading to help you understand some of the basics of trading. There is also a glossary of terms, to help you understand what certain words and phrases mean. There are also a number of videos to help you better understand things such as technical and fundamental analysis. Finally in terms of reading and learning there are e-books available which teach you various topics such as risk management.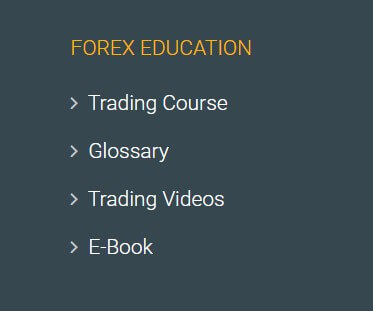 In terms of tools, there are a few available, there is a VPS service to allow you to keep your trading going when your own computer is off, however information on how to get this is scarce. There are also trading robots that you can purchase to auto-trade for you, however the success of auto trading robots is a bit of a gamble these days.
Overall, a good selection of resources and tools to help their clients become better traders.
Customer Service
FTM Global Markets offer a number of different ways to get in contact with them, their support is quoted as being available 24/5, so they are not available when the Forex markets close for the weekend.
There is a phone number available to call as well as a physical address and map, more importantly though, there are a  number of email addresses available to help you get in contact directly with the department that you need, this is a nice touch as you can be sure that the department that you need help or information from is the one that receives your query. We were able to get through on the phone within about 5 minutes during our test and the representative on the other end of the phone was both helpful and courteous.
Demo Account
Demo accounts are available by simply clicking the demo button on the website. There is a quick sign up process, once done you will have your demo account ready to trade. These accounts last for as long as you need and only expire if they are unused for an extended period of time.
Countries Accepted
The services of FTM Global Markets is open to everyone except for people residing in the United States of America or Japan. All other countries are currently welcome to open a new trading account.
Conclusion
There are a lot of promising aspects when it comes to FTM Global Markets, their customer service was a big plus and was quick and efficient. The number of trading resources and help available is a plus in terms of brokers, who normally just give the trading platform and nothing else.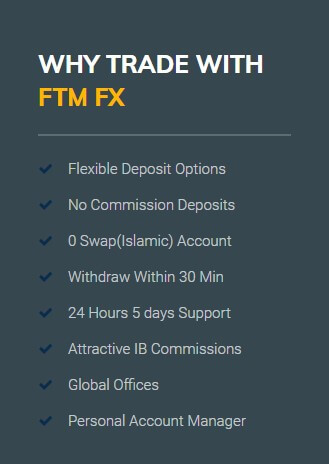 It is a shame that you are herded into certain accounts based on your deposit levels rather than having an actual choice and the fees being charged, with both spreads and a $12 commission makes this broker incredibly expensive to trade with. Due to the costs, it is hard for us to recommend using this broker as there are many brokers out there which offer much lower trading costs and still have excellent service.
We hope you liked this FTM Global Markets review. Be sure to check out some of our other reviews to help find the broker that is perfect for you.