Esplanade Market Solutions features four different live accounts: FIX, Standard, ECN, and VIP. The FIX account offers instant execution, while the other accounts are under market execution. The FIX account is also designed to offer fixed spreads that start from 3 pips, while the Standard account offers floating spreads that start from a slightly below average 1.2 pips. Both of those accounts are commission-free.
Account Types
The ECN and VIP accounts offer different pricing, with lower starting spreads from 0 pips in exchange for commission costs, which are $ 3 lower (round turn) for VIP members. Surprisingly, the broker offers their first three accounts for the same entry-level $250 deposit. All of the live accounts share the same trade sizes, with differences in the margin call and stop out levels (the Standard account shares levels with the FIX account, while the ECN account shares conditions with the VIP account).
Accounts also offer a personal account manager for deposits of $10K or more. Traders will find the most flexible leverage options on the FIX, Standard, and ECN accounts. VIP account holders are excluded from participating in promotional offers, although there were none available at the time this review was written. We've provided an overview of each account type below for convenience.
FIX Account
Minimum Deposit: $250 USD
Leverage: Up to 1:1000
Spread: Fixed from 3 pips
Commission: None
Standard Account
Minimum Deposit: $250 USD
Leverage: Up to 1:1000
Spread: Floating from 1.2 pips
Commission: None
ECN Account
Minimum Deposit: $250 USD
Leverage: Up to 1:500
Spread: Floating from 0 pips
Commission: $4 per side
VIP Account
Minimum Deposit: $20,000 USD
Leverage: Up to 1:100
Spread: Floating from 0 pips
Commission: $2.50 per side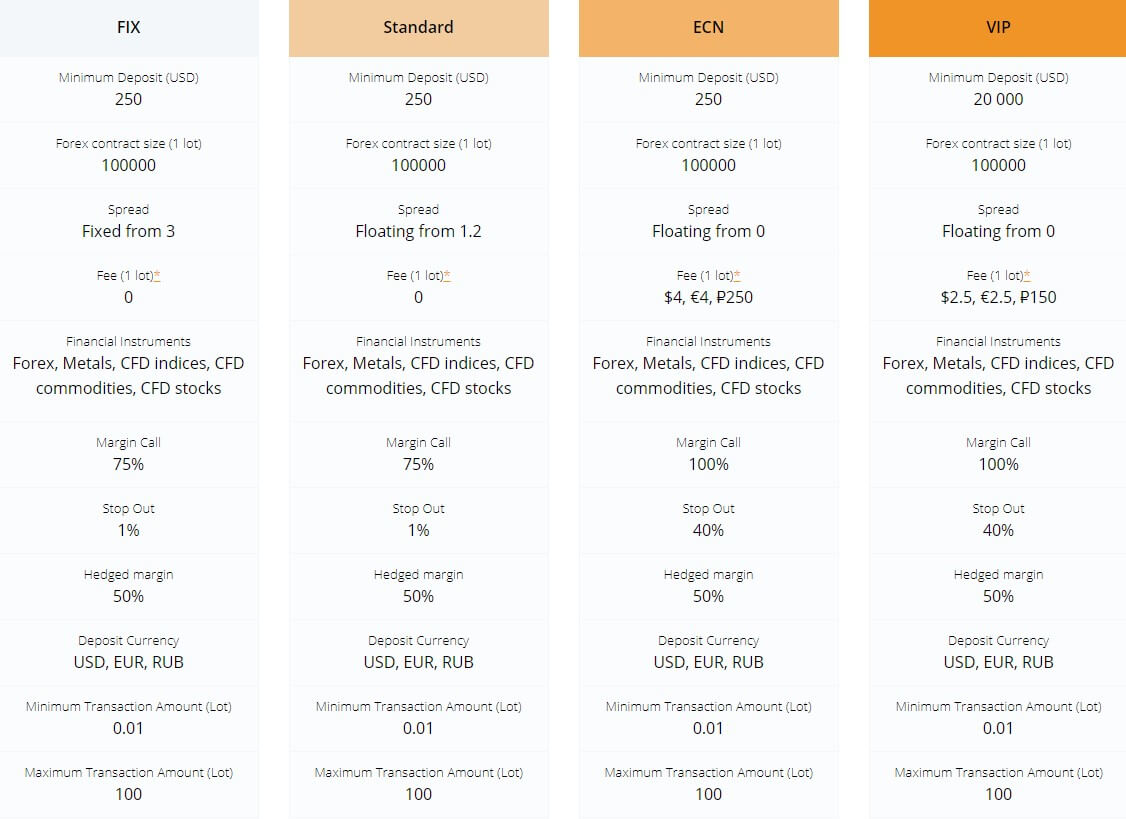 Platform
EMS exclusively features the award-winning MetaTrader 4 platform, which is available for direct download on PC/MAC, through mobile trading on iPhone/iPad/Android devices, or through the web-browser version. MT4 is one of the most popular trading platforms on the market, due in part to its ease of use, high performance, reliability, and rich functionality. The platform also provides an opportunity to develop and use Expert Advisors and provides financial news and technical analysis data. All of these features combined with customization options and extreme reliability make MetaTrader 4 the best option that a forex broker could have available.
Leverage
Leverage caps range from an average of 1:100 on the VIP account to significant offers of 1:500 on the ECN account and 1:1000 on the FIX and Standard accounts. While the VIP account's leverage is more limited based on the size of the account's initial deposit, the broker's remaining accounts offer options that are much higher than many competitor's offers. However, upon opening an account, traders should note that the default leverage will be set to 1:100. In order to change the leverage to a higher option, one would need to contact a manager by phone or email (support@esplanade-ms.com) to request the change. The website doesn't state that there would be any conditions, but it is possible that the broker may implement policies of rejecting the desired leverage amount if they do not believe the trader is of a high enough skill level.
Trade Sizes
All accounts share a 0.01 (one micro lot) minimum trade size and a 100-lot maximum trade size. Accounts also support an unlimited number of maximum orders. The FIX account shares the same margin call and stop out level with the Standard account, while the ECN account shares the same limits with the VIP account. Note that reaching the margin call level would restrict one from placing any new trades and that would be an ideal time to deposit more funds or consider closing certain positions. Reaching the stop out level would result in the system automatically closing out unprofitable trades. Those levels have been listed below.
Margin Call/Stop Out
FIX/Standard Account: 75%/1%
ECN/VIP Account: 100%/40%
Trading Costs
EMS collects profits from spreads, commissions, and overnight interest charges. The broker features two price models, the first of which being where traders trade under higher spread conditions without paying any commission charges, which is applicable on the Standard & FIX accounts. The ECN and VIP accounts fall under the second category, where traders see low staring spreads from 0 pips in exchange for paying commission charges. The ECN account charges commissions at a rate of $4 per side, or $8 round turn, while the VIP account offers lowered commissions of $2.50 per side/$5 round turn, making it $3 cheaper to place a trade from the broker's best account.
Overnight interest charges, otherwise known as swaps, are also applicable unless one is trading from an Islamic account. Swap charges are credited or debited to the account based on current rates when positions are held past the daily market closing time. On Wednesdays, the swap rates are tripled. Traders can view the current rates within the MT4 platform and more information about the broker's swap policy can be found under their terms & conditions.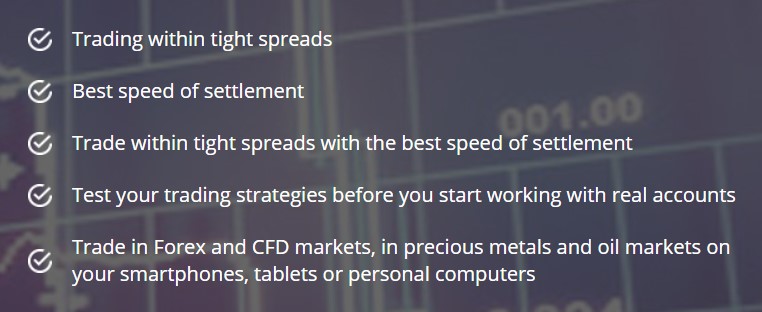 Assets
EMS features an asset portfolio that is made up of FX pairs, metals, 22 index CFDs, oil, share CFDs, and Russian shares. Traders will have access to 35 currency pairs, including majors & minors, plus exotic options like the Swedish Krona and the Mexican Peso. A few familiar exotics are missing, which takes away from the overall number of FX pairs. Available metals include the most common options Gold, Silver, plus one additional option, Platinum. Oil options consist of Crude Oil, Natural Gas, and US Oil.
There are more than 60 shares available in popular American companies like Google, Apple, Ford, and many other options. The addition of 35 Russian shares brings the total number of investible shares to nearly 100 options. We're missing the option to trade additional commodities, cryptocurrencies, and a few other options, but EMS does manage to bring traders a rather diverse range of instruments to choose from.
Spreads
EMS allows traders to choose from fixed, variable, or ECN type spreads. The fixed spread is typically maintained at a certain level, although high market volatility may cause those spreads to fluctuate. Options start from a rate of 3 pips on the FIX account on the benchmark EURUSD pair. The website doesn't offer us further details, so it isn't clear just how much higher those spreads are set on minors and exotics. Variable spreads can fluctuate more widely, but they do come with a lower minimum level. Variable spreads are offered from 0 pips on the ECN and VIP accounts, or from 1.2 pips (0.3 pips below average) on the Standard account. Judging by the advertised amounts, it seems as though the company is offering competitive spreads on all three of the variable-based account types.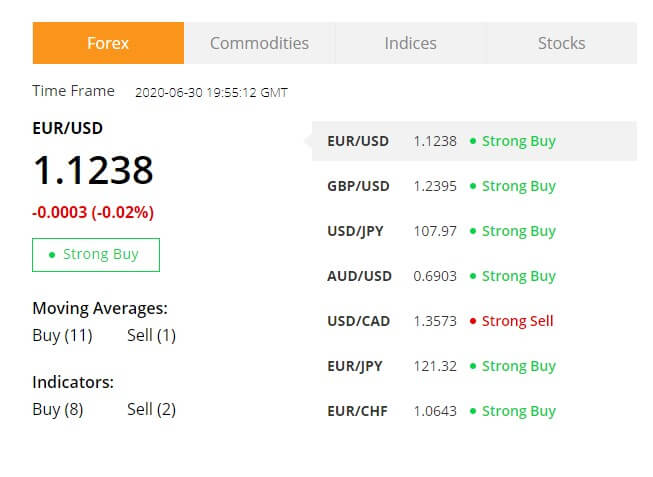 Minimum Deposit
The broker sets its entry-level deposit at a rather expensive $250 USD. This amount was once considered an average investment amount, but many brokers offer at least one account type for $100 or less, and some have done away with deposit requirements altogether. On the plus side, this amount grants access to the FIX, Standard, and ECN account types. As long as one can afford the deposit, then they would have the ability to choose from three different accounts that offer different pricing models. Elsewhere, this amount likely wouldn't be enough for an ECN account.
Note that EMS also offers a VIP account, which asks for a $20,000 USD deposit. This account was designed for more professional high-volume traders and comes with commission costs that are $1.50 lower per side or $3 lower round turn. Traders that make a deposit of $10K or more will have access to a personal account manager. This perk is guaranteed to VIP account holders.
Deposit Methods & Costs
Available funding methods include Visa/MasterCard/Maestro, MNP, IKS Megafon, MTC, QIWI, Fasapay, iPay, Skrill, Neteller, AdvCash, Perfect Money, and Beeline. Note that some restrictions apply that would prevent residents of certain countries from using specific funding methods, with Russian clients primarily being among those that would have fewer options. Several deposit options also limit the maximum transaction to around $1,000 USD or less. Others, like Beeline, limit the maximum transaction amount to $70.
Commissions are charged on most of the deposit methods, although the exact percentage of the charge sometimes depends on more technical aspects of the payment provider. Traders would be able to view the restricted countries for each method, deposit minimum/maximum, and exact fee charges on the "Deposits/Withdrawals" page of the website. We've provided an overview of the commission charges below.
FasaPay: 0%
iPay: 2% + $0.50 USD
AdvCash: 3%
PerfectMoney: 3%
Skrill: 3.9% + $0.37 USD
Visa/MasterCard: 4% – 6.5%
Neteller: 4.9% + $0.29 USD
Maestro: 6.5%
MNP: 4% – 6.5%
Megafon: 7.5%
Beeline: 7.5%
MTC: 7.5%
QIWI: 8 – 8.5%

Withdrawal Methods & Costs
All of the available deposit methods can be used for withdrawals, under the condition that withdrawals would be processed back to the original payment source. The commission charges on withdrawals are typically lower than those on deposits, but the charges still manage to be extremely expensive. For example, making a deposit and withdrawal through Neteller would result in a total commission charge of nearly 10% of the funded amount, while doing so through Skrill would claim an outrageous 14% of the trader's total funded amount. Choosing one of the higher methods could significantly reduce profits or even eliminate them altogether, so it is important to consider which payment provider to use carefully. Withdrawal fees have been listed below in order from the least to most expensive.
FasaPay: 0%
Perfect Money: 1%
Beeline: 2%
Megafon: 2%
MTC: 2%
iPay: 2% + 0.50 USD
QIWI: 2.5%
AdvCash: 3%
MasterCard/Visa: 3% + 7.50 USD or 3% or 4.5% + 2.60 USD or 3% + 1.25 USD
MNP: 3% or 3% + 7.50 USD or 4.5% + 1.25 USD or 3% + 1.25 USD
Neteller: 4.5% + 0.29 USD
Maestro: 3% + 1 USD – 4.5% + 2.60 USD
Skrill: 10%
Withdrawal Processing & Wait Time
It takes 3-5 days for funds to be received after the broker has finished processing the withdrawal request. The website doesn't list the actual processing times, so traders should add at least one or two business days onto the anticipated wait time. The financial department is likely in the office on weekdays, but we don't have any information about their exact working hours. If a request is sent after those hours, then another business day would be added to the wait time.
Bonuses & Promotions
EMS doesn't currently offer any bonuses, contests, rebates, or other promotional opportunities for retail clients. The company does have a "Multilevel" partnership program, which would reward partners with different levels of partnership rewards when referred clients place trades under different spread conditions. It would be nice to see some additional offers added, especially considering how helpful deposit bonuses can be for beginners or those that don't have a lot of funds to start with. Hopefully, the broker will consider adding retail offers in the near future. Traders should note that VIP account holders would not be able to participate in any type of bonus opportunity if one becomes available.
Educational & Trading Tools
The EMS website does have a few tools available in the form of company and market news, an economic calendar, a profit calculator, and a technical summary. Unfortunately, we can't say the same for educational resources. Aside from demo accounts, the broker just doesn't offer anything of educational value to their potential or existing clients. It's always possible to find resources elsewhere on the web, but there is an added convenience in having educational videos, e-books, articles, and other mediums available directly through one's broker. This can also promote learning and help traders to become more educated before making a deposit and potentially losing money because of a lack of knowledge.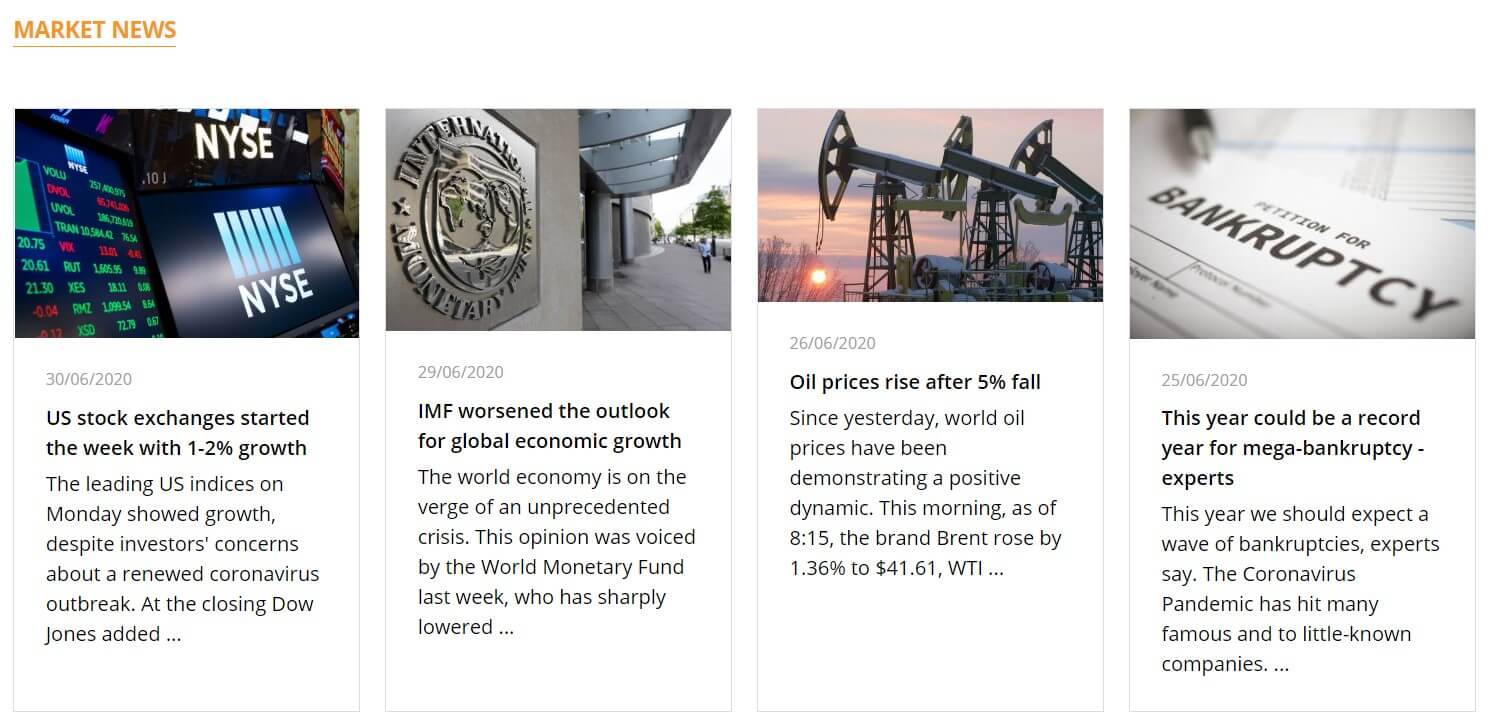 Demo Account
Along with the majority of other forex brokers, EMS recognizes the benefits of trading from a practice account and therefore offers the ability to open a risk-free demo account to any trader that would like to do so. Demo accounts allow traders to accumulate practical trading skills and to get acquainted with all specific features of the software without risking real money.
When registering an account, traders will be able to select an initial deposit amount in virtual currency. The amount can be based on one's ideal real account deposit amount for a more realistic experience, or one could request an extremely large amount of virtual funds to play with. If one isn't yet familiar with the broker's supported trading platform, MetaTrader 4, then it would also be possible to open a demo account in order to efficiently practice using the platform.
Customer Service
Support can be contacted via LiveChat, email, or phone. It is possible to reach an agent through the direct phone line with any questions during weekday hours from 9:00 – 18:00. As for LiveChat, we would have assumed that agents would be active during those hours as well, but support was offline when we attempted to start a chat. It's possible to leave a message for email through the chat window, but traders will find that the primary chat language is in Russian, so this may be a potential downside.
Hopefully, our readers won't find themselves stuck with the "out operations are currently busy" message like we did if they find the need to contact an agent quickly. Of course, the phone is usually a quick back up method, but traders in today's world primarily prefer the ultimate time-saving convenience of LiveChat. This is why it's so disappointing when we see brokers promoting this feature while failing to provide enough agents to manage it. All contact details have been listed below.
Phone: +357 25 654-100
Email: support@esplanade-ms.com
Countries Accepted
Esplanade is not very clear with regards to countries that are barred from using their platform. Instead, they take a more generic stance, stating that those who reside in countries where Forex is not allowed should not register for an account. Their website states the following, "This site is not intended for distribution, or use by, any person in any country where such distribution or use would be contrary to local law or regulation. None of the services or investments referred to in this website are available to persons residing in any country where the provision of such services or investments would be contrary to local law or regulation. It is the responsibility of visitors to this website to ascertain the terms of and comply with any local law or regulation to which they are subject."
Conclusion
Esplanade Market Solutions, or EMS, offers leveraged trading as high as 1:1000 on 35 FX pairs, plus metals, index CFDs, oil, Share CFDs, and Russian Shares from the MetaTrader 4 platform. Accounts offer two different pricing models; zero commissions on the FIX and Standard account with fixed spreads at 3 pips or variable spreads from 1.2 pips, or low starting spreads from 0 pips on the ECN and VIP account with applicable commission costs that are $3 lower on the more expensive VIP account. The remaining accounts allow for an initial deposit of $250, which is somewhat expensive, but the amount does make it possible for traders to choose the account they'd prefer with a realistic entry amount.
Although some of the conditions are advantageous, the broker's funding fees would likely eat into profits significantly. Commissions are charged on almost every deposit method at rates that climb up to 8% on some methods and there are fees charged on deposits as well. For example, funding through Skrill would claim an insane 14% of the client's total funded amount by the time one received their withdrawal. Support is available through LiveChat, phone, or email. Phone service is offered from 9:00 to 18:00, but LiveChat support is not always available during those hours. Currently, the only promotional offer is limited to referrals by partners.
The website does host some trading tools like news and calculators, but demo accounts are the only offer education-wise. If you're interested in opening an account, you'll find several advantages through EMS. Our best advice would be to carefully consider which payment method to use, otherwise, there wouldn't be any significant reasons to stop one from choosing this broker.