EGM Futures DMCC is a brokerage company registered in the United Arab Emirates as a broker and clearing member of Dubai Gold and Commodities Exchange ( DGCX ), licensed by the Dubai Multi Commodities Centre ( DMCC ) with the license numbered 31573 and regulated by the Securities & Commodities Authority ( SCA ) with the license number 607136.
Equiti Group Limited Jordan is another trademark registered in Jordan, its registration number is 50248. Equiti Group Limited Jordan is licensed and duly regulated by the Jordanian Securities Commission. The registered office is Second Floor, Jouba Complex, Suleiman Al Nabulsi St 32, Al-Abdali Boulevard Amman.
Regulation: All companies in the Equiti Group Limited Jordan group include a financial adviser and a broker of various assets authorized and legally regulated by the Jordanian Securities Commission ( JSC ). EGM Futures DMCC is licensed and regulated by the Emirates Security and Commodities Authority and the Financial Control Authority ( FCA ) with companies such as Divisa US, Bloom Capital, and Divisa AM as subsidiaries. EGM Securities Limited is regulated by the Capital Markets Authority ( CMA ) in Kenya.
EGM Futures is based in the UK. It also has offices in other countries such as Jordan, United Arab Emirates, Armenia, USA, Kenya, and New Zealand. The broker has an Equiti server,  this server is located in London, UK. EGM Broker is an STP/DMA/NDD brokerage company. This means that they do not hold their clients' positions, but they are automatically sent to their liquidity provider.
ACCOUNT TYPES
EGM Futures offers two types of accounts for its clients, called Premiere Account and Executive Account. Both accounts are differentiated by the required minimum deposit, spread, and commissions.
Premier Account: Minimum deposit required, 500 USD. Spread EUR/USD = 1.6 pips. No commissions.
Executive Account: Minimum deposit required, 20,000 USD. Spread EUR/USD = 0.2 pips. Commission, 7 USD per lot traded.
PLATFORMS
EGM Futures uses the most advanced and modern platform available to traders today. The MT5 platform has new features compared to the other platforms, which makes it particularly attractive. First of all, all the tools available and the look of your screen are very easy to use. Secondly, the execution of orders is more accurate and faster. And thirdly, it has the ability to add many more technical indicators and to compare several temporary chart spaces on the platform. Last but not least, it is possible to download the platform on both the computer and mobile phone.
LEVERAGE
1:500 for Forex and precious metals, and 1:100 for CFD. The Spread is the same for both types of accounts, premier, and executive.
TRADE SIZES
The minimum trade size is 0.01 lot, a micro-lot, which is equivalent to 1,000 units of the base currency.
TRADING COSTS
Depending on the type of account, the expenses will be different. In the Premier account, you will only pay the spread (the difference between supply and demand prices). In the Executive account, the spread is more economical but you will pay a commission of 7 USD per lot traded.
However, like any broker, traders will pay a swap for transactions that remain open overnight. Swaps are interests based on the economic conditions and policies of the central bank of the country of origin of the currency.
ASSETS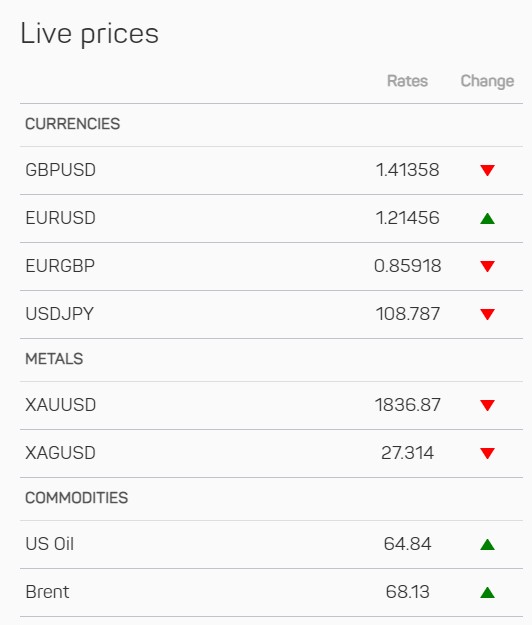 EGM Futures gives you access to more than 60 currency pairs. It is also possible to trade with 11 stock indices and 6 commodities.
Forex: EURUSD, AUDUSD, USDCHF, USDJPY, NZDUSD, EURCHF, EURGBP,  EURJPY, USDCAD, GBPUSD, GBPJPY, GBPCHF, HKDJPY, CADJPY, AUDJPY, EURAUD, EURCAD, NZDJPY, AUDCAD, AUDCHF, AUDNZD, CADCHF, CHFJPY, EURNZD, GBPCAD, GBPAUD, GBPNZD, GBPSGD, AUDSGD, CADSGD, CHFSGD, EURDKK, EURMXN, EURNOK, EURPLN, EURSEK, EURSGD, EURTRY, GBPHKD, GBPNOK, GBPSEK, MXNJPY, NOKJPY, NOKSEK, NZDCAD, NZDCHF, NZDSGD, SEKJPY, SGDJPY, USDCNH, USDDKK, USDHKD, USDNOK, USDMXN, USDPLN, USDRUB, USDSEK, USDSGD, USDTRY, USDZAR, and EURHKD.
Stock indexes: Nikkei 225, Euro Stoxx 50, CAC 40, DAX 30, Hang Seng, FTSE 100, S&P 500, Nasdaq 100, Dow Jones Industrial Average, IBEX 35, and S&P/ASX 200.
Commodities: Silver, Gold, WTI Crude Oil, Brent Crude Oil, and Platinum.
SPREADS
Spreads are different, depending on whether you have the premier or the executive account. Some examples of spreads are below.
Premier Account – Executive Account
EURUSD

0.2

–

1.6

AUDUSD

0.2

–

2.1

USDCHF

0.2

–

2.5

USDJPY

0.2

–

2.1

NZDUSD

0.7

–

2.2

EURCHF

0.2

–

2.2

EURGBP

0.9

–

2.3

EURJPY

0.4

–

2.5

USDCAD

0.6

–

2.5

GBPUSD

0.2

–

2.3

GBPJPY

1.5

–

3.1
MINIMUM DEPOSIT
Two types of minimum deposits are distinguished, depending on the type of account the customer has. Thus, the minimum deposit for Executive Accounts is USD 500, while for Premiere Accounts, the minimum deposit is USD 20,000. We consider this last requirement very demanding for customers who want a Premier account.
DEPOSIT METHODS & COSTS
EGM Broker offers a good variety of methods for its customers to make deposits. The Broker wishes to satisfy the needs of the clients giving them all the facilities in this regard.
The accepted deposit methods are:
Bank transfer

Neteller

Skrill

Debit or credit card

Cash deposit (cash deposit with banks located in Jordan only)
WITHDRAWAL METHODS 
Faithfully abiding by AML's policies, the balance in customers' accounts must be withdrawn by the same system with which it was deposited. To this end, EGM Broker offers the same withdrawal systems as for all its deposits.
We recall that they are as follows:
Bank Transfer

Skrill

Neteller

CardPay (Credit and debit cards)
Clients who used the deposit at banks located in Jordan must provide a bank account number for withdrawal, and proof of ownership of the account.
WITHDRAWAL PROCESSING, COSTS & WAIT TIME
This is the EGM Futures Broker withdrawal policy:
Wire Transfer:
Supported Currencies USD, EUR, GBP, AED, SAR, JOD, and JPY.

Withdrawal Arrival Time, 3 to 5 working days. 

Minimum Withdrawal 25 JOD 100 AED / SAR 50 USD / EUR / GBP. 

Withdrawal fees, 100 AED / SAR, 30 USD / EUR / GBP, No Fees charged on Domestic Payments within Jordan.
Debit/Credit Cards:
Supported Currencies, USD, EUR, GBP, AED, SAR, JOD.

Withdrawal Arrival Time, 5 to 14 working days (depending on your card issuer).

Minimum Withdrawal, 30 USD / EUR / GBP / JOD, 100 AED / SAR.

Withdrawal fees. No Fees Charged by Equiti.
NETELLER:
Supported Currencies, USD, EUR, GBP, AED.

Withdrawal Arrival Time, 1 working day.

Minimum Withdrawal, 30 USD / EUR / GBP / JOD, 100 AED / SAR.

Withdrawal fees, 1% to USD 30.00 Maximum Fees per transaction.
Skrill:
Supported Currencies, USD, EUR, GBP.

Withdrawal Arrival Time, 1 working day. 

Minimum Withdrawal, 30 USD / EUR / GBP / JOD, 100 AED / SAR.

Withdrawal fees, 1% to USD 30.00 Maximum Fees per transaction.
The Broker advises on its page that the waiting times are approximate and may vary.
BONUSES & PROMOTIONS
Currently, there are no bonuses or promotions. Introducing Broker (IB) and affiliate programs exist. Those interested will have to contact EGM Futures Broker. The contact details are in the customer service section
EDUCATIONAL & TRADING TOOLS
EGM Futures Broker, not available educational tools. Nor does it have tools of interest to the trader. We consider that elementary tools such as a news section or a calendar of economic events should be accessible from any broker.
CUSTOMER SERVICE
EGM Futures customers have several ways to contact the broker to resolve their doubts, questions, and issues.
The Broker has an online chat on its website. This service provided it works correctly, is of special use to users. They also have a contact form, a contact form is the communication system, next to the email, ideal for issues not so urgent.
Their main contact numbers are:
+962 6 550 8305

+44 203 519 2657

Email: Support@equiti.com
For sales, they have a specific telephone number:
+962 6 550 8394

Email: salessupport@equiti.com
Its offices, as mentioned in the introduction, are located in Jordan and its address is:
Second Floor, Jouba Complex, Suleiman Al Nabulsi St 32, Al-Abdali Boulevard, Amman.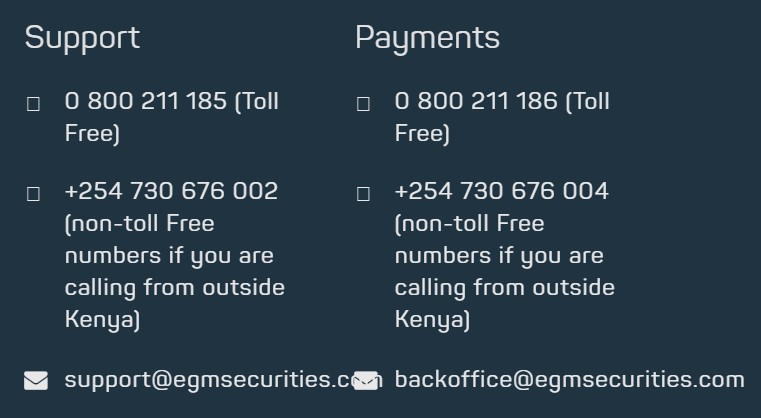 DEMO ACCOUNT
As we have already commented in the Platforms section, the broker provides us with a free demo account. Using a Demo account can test strategies in a risk-free environment. This is because Demo accounts allow you to practice trading with virtual funds.
We think it is very important that the Brokers offer Demo accounts, especially for use by the most novice merchants, who need to get used to the platform and acquire minimal initial experience.
COUNTRIES ACCEPTED
Citizens resident in the following countries may not trade with EGM Futures, in compliance with current legislation: United States, Belgium, Canada, and Singapore.
CONCLUSION
This broker meets all the requirements to be taken into account by any trader. It has a demo account, is regulated, has 2 accounts for 2 different investor profiles, has a modern trading platform like the MT5. Leverage, Trade sizes, and Trading costs are well informed on their website. Good range of assets. High minimum deposit to access the executive account. Various ways to make deposits and withdrawals. Waiting times are reasonable for withdrawals. The inclusion of an educational area, even if basic, would be desirable for this broker, at least a news section and an economic calendar. In addition, all retail customer deposits are held in separate accounts in EGM Futures bank accounts.