Hua Ren Financial Limited is a CySEC broker, providing CFD trading services for a number of years. Although their website is rather outdated, it provides all the necessary information in a clear and easy fashion. A handy FAQ page guide is also available.
Account Types
Hua Ren offers 3 account types: Mini ($200 minimum deposit requirement), Classic ($500 minimum deposit requirement) and VIP ($5,000 minimum deposit requirement). The Mini account is tailored more for the newer traders with a minimum lot size allowance of 0.01. The Classic and VIP accounts allow minimum lot sizes of 0.1. The Mini account has spreads from 1 pip while the Classic and VIP account spreads start from 3.

The VIP account is the only one that has commission fees applied, at $50 per lot, per trade, which is incredibly expensive compared to what other brokers charge. All accounts come in USD/EUR currency, and all have maximum leverage up to 1:30. Again, this leverage cap is rather restricting for many traders, especially given the fact that spreads are also quite large in comparison to other brokers.
Platforms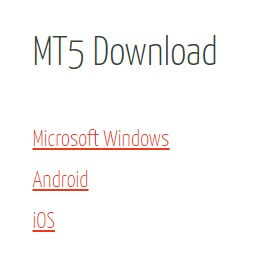 This broker has been quite forward-thinking when it comes to which platform they offer, that being Meta Trader. However, this broker has restricted their clients from having a choice between MT4 and MT5; they only offer the latter. This is a potential negative for those that are not yet familiar with MT5 and prefer to use what they are used to (MT4). On a positive note, however, you may trade with this broker via MT5, compatible with Windows, Android, and iOS.
Leverage
This broker has low leverage as a result of ESMA restrictions. For forex, the maximum leverage allowed is 1:30, for Metals, up to 1:20, and lastly, for Oils the maximum leverage allowed is 1:10.
Trade Sizes
If you opt for either the Classic or VIP account, the minimum trade size is 0.1, while the Mini account is 0.01 lots. This is pretty standard in comparison to competitors.
Trading Costs
Only the VIP account is applicable for trade commissions of $50 per lot, which is high compared to what other brokers charge. However, if you wish to avoid commission charges, you may opt for the Mini or Classic account, which is not charged commission fees.
Assets
Hua Ren offers a small variety of tradable assets (FX, Metals, and Oils), a list of which can be found online. Most brokers who have been in the industry a fair amount of years would offer more than 3 assets so Hua Ren is a bit limited for those traders that wish to dip in and out of a variety of markets.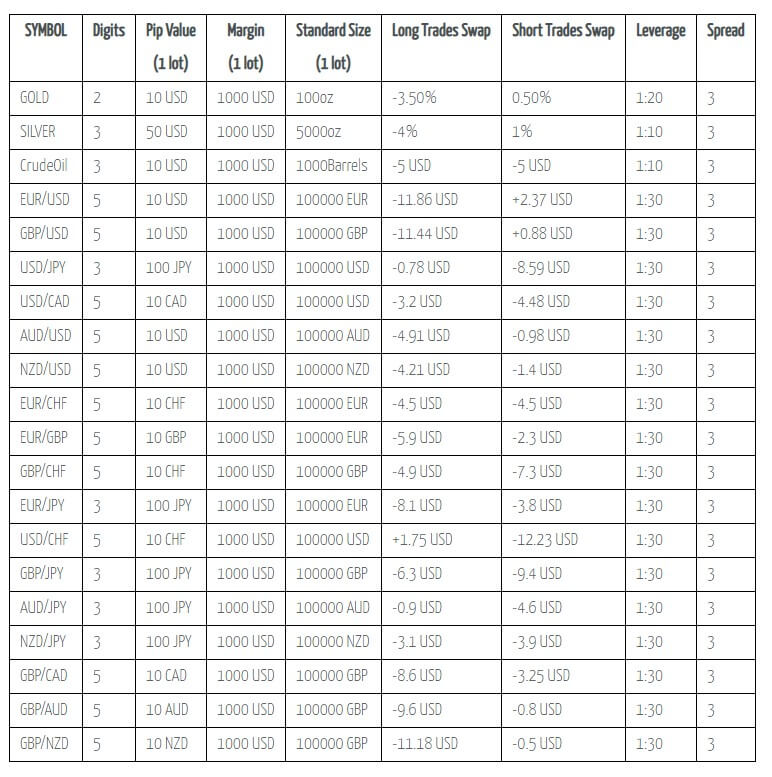 Spreads
It appears that Hua Ren provides not floating, but fixed spreads, according to the website. The Mini account spreads are 1 pip while the Spreads offered on the Classic and VIP accounts are priced at 3 pips. It is important to bear in mind that for the latter two accounts, these spreads can accumulate to be quite an expensive trading experience, especially if you opt for the VIP account where commissions are charged at $50 per lot.
Minimum Deposit
As mentioned previously, there is a variation in minimum deposit requirements for each of the 3 account types offered. The Mini account requires a minimum of $200 while the Classic account has a minimum requirement of $500. The largest account, the VIP, has the highest minimum deposit set at $5,000. All in all, these minimum deposit requirements are high in comparison to alternative brokers but Hua Ren does not fall within the highest category of expensive brokers in regards to deposit requirement.
Deposit Methods & Costs
The only option offered currently by Hua Ren is via Wire Transfer. The fact this broker offers one method of funding client accounts is not ideal, and would only appeal to a select number of traders. No fees are charged by the broker but bear in mind that your bank may apply fees when if you are to deposit into a broker account, so make sure to check prior to processing such transfers.
Withdrawal Methods & Costs
Although Hua Ren mentions they will be adding 3 more withdrawal methods, at present, they offer just the one method of withdrawal (and deposit) which is by Wire Transfer. As with the Wire Transfer deposits mentioned above, no fees are charged by the broker but ensure you check with your banking provider for any fees that may be charged to your account, before you go ahead and process the withdrawal.
Withdrawal Processing & Wait Time
According to the website, Hua Ren process Wire withdrawals within 24 working hours, but depending on your bank, transaction processing completion time may vary, so again, ensure you contact your bank to check timescales to avoid any assumed delays or issues.
Bonuses & Promotions
Hua Ren does not provide any bonus schemes or promotions of such sorts. This is a positive element since this allows traders to make solely informed trading decisions without any added pressure to fill any profit-making requirements in order to withdraw the initial deposit.
Educational & Trading Tools
You will not find any trading education or tools through this broker, but this leaves you free to conduct your own search to find any trading training/trading tools you feel is appropriate for your skill level.
Customer Service
Frustratingly for the clients, it is not stated which hours of operation the customer service team are available, however, the website does include a telephone number and email address. Some traders appreciate direct contact via live chat, but you will be disappointed if you are looking for that with this broker.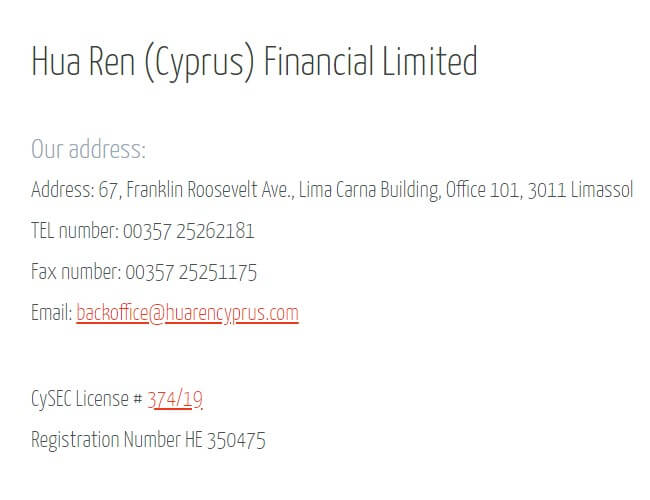 Demo Account
Hua Ren does offer a demo account for those who wish to test their trading conditions prior to opening a live account and trading their services in a live environment.
Countries Accepted
Although the FAQ page and website itself do not make it clear which residents are eligible to trade with this broker, you will, of course, be screened via KYC verification of documents and notified if your residency is accepted or not.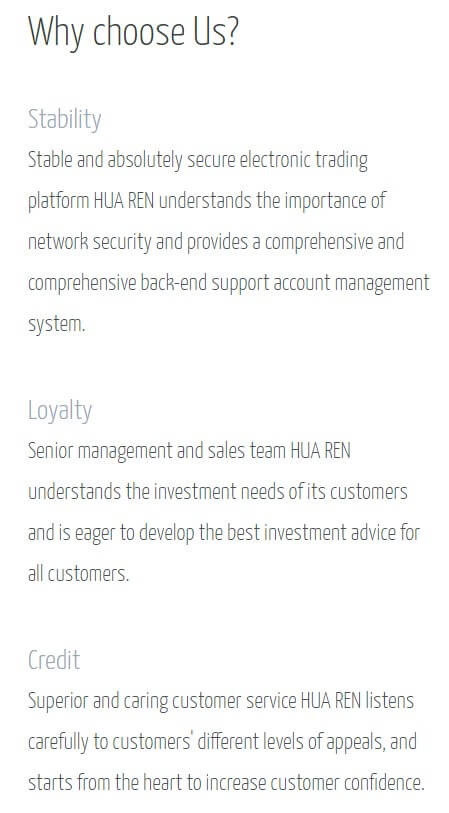 Conclusion
This broker is not fully diverse in the sense that it does not have a lot of freedom for the client when it comes to trading conditions such as leverage or even a variety of instruments to trade. The customer service does not appear to be operational and the withdrawal option is limited to just the one: wire transfer, which is notorious for having lengthy delays. On a positive note, however, this broker offers a demo account for practice, and the choice of 3 account types caters for more than one type of trader, be that novice or experienced.