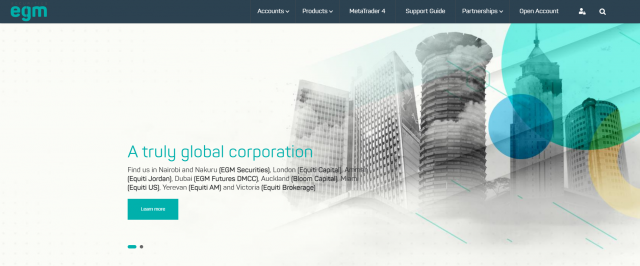 In 2018 a licensed broker in Kenya, Execution Point Limited, rebranded to EGM Securities Limited to become one of the branches of the Equiti group of companies also operating in the United States, United Kingdom, Armenia, Jordan, UAE, and New Zealand. EMG Securities is regulated by Capital Markets Authority Kenya and promoted as the first brokerage to obtain one. CMA regulation is not as strict as the FCA but has the features of funds segregation, capital adequacy, and security measures.
The brand is relatively new and does not have attention on the internet but applies the popular NDD/ECN model most traders prefer because of the better conflict of interest policy, costs, and executions. Other brokers belonging to the group receive average to good ratings. EGM Securities website is very well designed with eloquent expressions, good transparency on both the company and the trading conditions.
Additional value to traders is given by offering a very good information digest on the markets, company, and events. Additionally, the Academy section is full of useful content adequate for beginners and established traders. Some parts of the website are still undeveloped or empty as the menu is still not filled out yet. The broker is working hard to set the initial business cycle and it can be seen in several aspects by providing a good mix of marketing, transparency, and quality. This EGM Securities review will test the key areas so traders can decide if this broker is the right choice for them. 
Account Types
EGM Securities currently has two account types to offer, Premiere and Executive. The accounts do not differ much, only in two aspects, the minimum deposits and the choice of having lower spreads with the commission or just higher spreads. Both accounts are designed for the MetaTrader 4 platform, the MT5 still just mentioned and in the introduction. The affordable Executive Account has a reasonably low minimum deposit requirement, higher spreads, and no commissions compared to the Executive. The Premier Account minimum deposit is a more serious amount traders will probably avoid since the broker still has to prove the quality and reliability of service.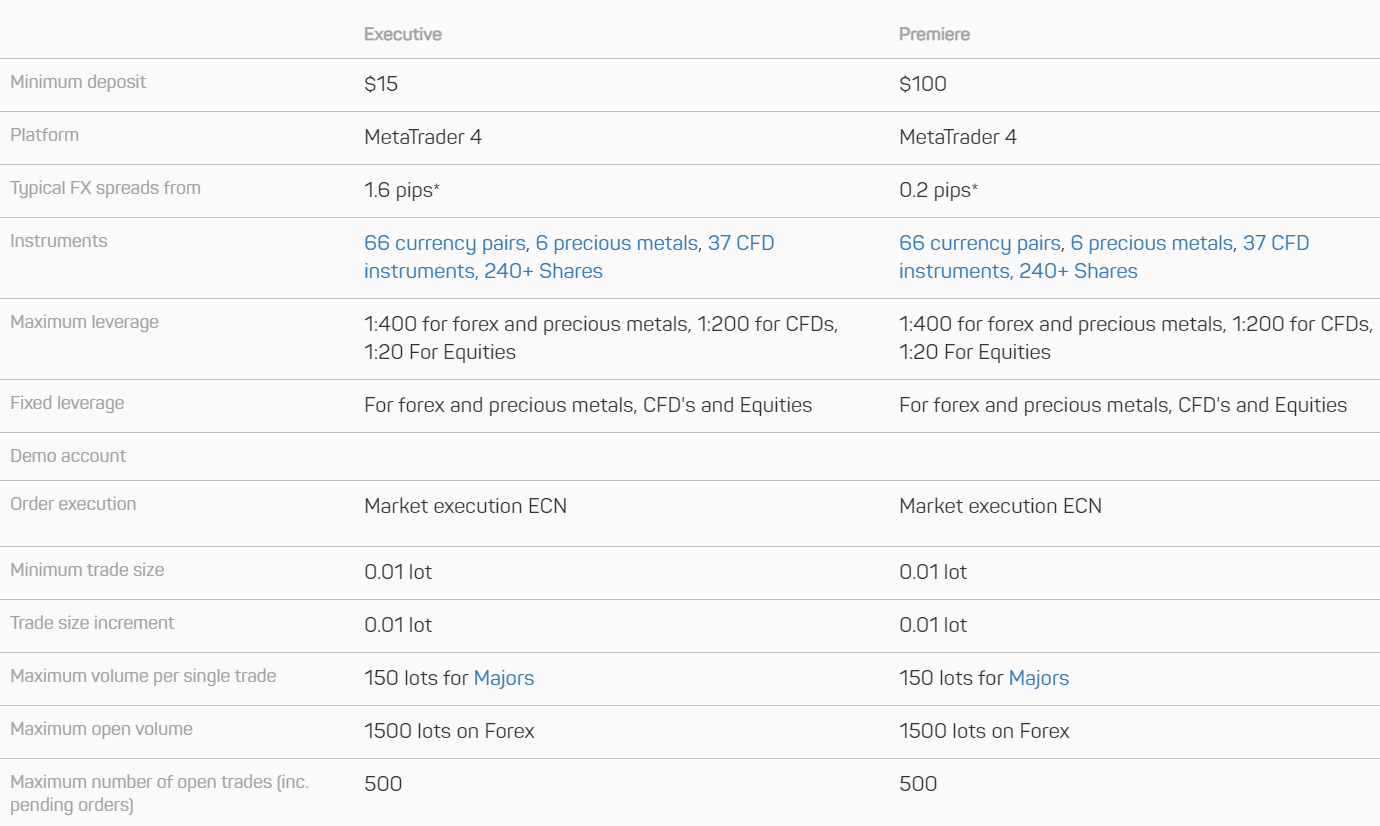 There are no differences in the assets range, leverage, trade sizes, execution method, or Stop Out levels. Both accounts are available only in the USD currency according to the webpage but during the registration, we have also found GBP, EUR, and AED as optional. As we are informed by the support staff, hedging, scalping, and EAs are allowed and Swap-free accounts are available. Stop out is set to 30% but the Margin Call is not disclosed. 
Platforms
EGM Securities' servers are all located in London, UK (LD4). LD4 means the broker is utilizing Equinix data centers in London, they are proven to be one of the market leaders in the industry. EGM Securities offers only the MetaTrader 4 platform with the MT5 in the introduction. The MT4 is offered in a downloadable installer package for Windows but we are unable to find the link to the web-accessible or Android versions. Once installed, the platform presented us with two EGM Securities servers, live and demo with a very good ping rate of 30 and 35ms. MT4 client is updated to the latest version and registered to the appropriate EGM Securities broker and address. The default template contains 4 major currency pairs set on the H1 timeframe without any special indicators to showcase. One-click trading buttons are not visible but can be enabled.

The indicator list contains only the default list that comes with the MT4 installer and there are no additional templates. The Symbols list is organized into several groups where the same asset category is divided into smaller groups. Grouping logic seems to be according to the instrument's liquidity levels although in our opinion there are too many of them. The instrument specification window is filled with enough information for each asset. The trading Terminal is showing all the information about the trading costs, commissions, and swaps. The execution time is one of the best in the industry with an average below 100ms with small deviations of up to 10ms. This environment is very good for fast trading EAs, especially in combination with unrestrictive trading conditions described in the following sections. 
Leverage
EGM Securities feature 1:400 maximum leverage for all accounts. Therefore there are no ESMA limitations for clients in the EU. Note that this may be a subject of change in the CMA since this is the first broker with a license. Not all instruments have 1:400 leverage, in the Forex category currency pairs such as EUR/TRY and USD/TRY have 1:5 maximum according to the published list but we have found 1:20 leverage for these pairs in the MT4 platform. Interestingly, exotics like the USD/RUB or USD/MXN have the promoted 1:400 leverage which is very rare and favorable for exotic pair traders with smaller accounts.

Spot Gold against the USD has the default leverage of 1:400, Platinum against the USD also has 1:400 leverage – high levels comparing it with the competition where the usual leverage is 1:100 or lower. Indexes leverage is 1:100 while non-energy Commodities have 1:33. Oil type assets, including the futures, have 1:100 leverage and Natural Gas has a maximum of 1:400. Shares have leverage from 1:5 to 1:20 maximum depending on the company. 
Trade Sizes
EGM Securities sticks to the default micro-lot minimum trade volume sizing for most instruments offered. For the Forex currency pairs, the minimum is therefore 0.01 lots with the additional steps also 0.01 lots. The maximum per trade is 150 lots for majors, 100 for minors. For some exotics, the maximum is reduced to 50 lots but the minimum remained at 0.01. Stops level is zero for the complete assets range, therefore there are no restrictions where traders can put their pending orders. Precious metals also have the 0.01 lots minimum trade sizing. Indexes have a 0.1 lot minimum except for the Nikkei 225 for which the minimum is set to 1 lot and 300 lots maximum.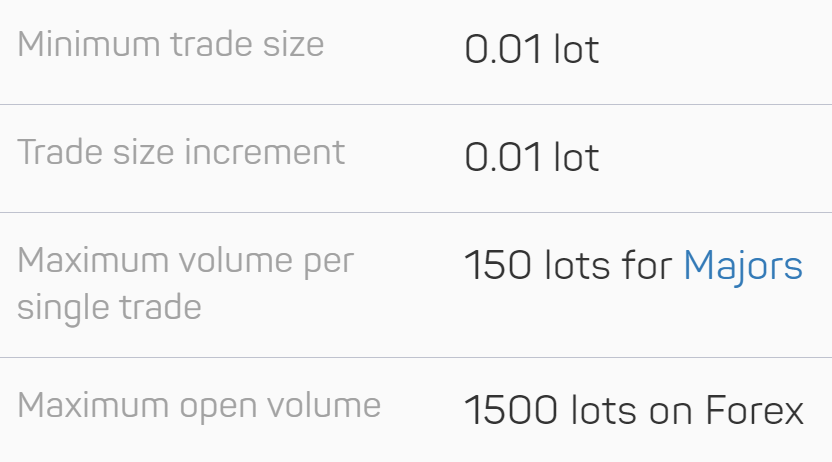 Trading Costs
The Executive account does not have a commission while the Premiere Account has a commission of $7 per lot traded. For Stocks, the commission is 0.02% per lot and there are also financial expenses per year, -0.25% for short positions and -4.25% for long. Swaps are the only trading costs remaining if traders are not applying for swap-free accounts. They are calculated in points and tripled on Wednesdays. EGM Securities have positive swaps but not as much as one would expect, especially for the exotic currency pairs.
Major pairs have low positive swaps and higher negatives, for example, EUR/USD has -9.87 points on the long positions and 3.98 on short, USD/JPY 2.82 points on long and -8.93 points short, GBP/USD -6.8 points on the long and 0.613 on short, AUD/USD -3.43 long and -0.9 on short, EUR/GBP -5.22 long and -0.30 short position swap. As we go to minors, all negative swaps are more frequent, so for AUD/NZD, the swap is -7.21 points on the long side and -5.21 on short, CHF/JPY has -5.21 long and -1.59 points short, CAD/CHF 0.8 on long and -9.466 points short swap or GBP/NZD with -9.64 long and -2.22 short side all negative swaps.
Exotics do not have many positive swaps although they are not extreme. USD/RUB has -254.9 points on the long and -60.47 points on short, USD/MXN -453 on long and 90.99 on short, MXN/JPY 40.19 points on the long and -197.5 on short or EUR/TRY with -285.5 points on the long side and 65.84 on the short. 
Precious metals swaps are under normal levels. Spot Gold has -10.27 points on the long and 3.14 on the short, Platinum -15 on long and -1.92 on short and Silver has -2.11 long and -0.215 points on the short side. There are no fees for inactive accounts and no account maintenance fees.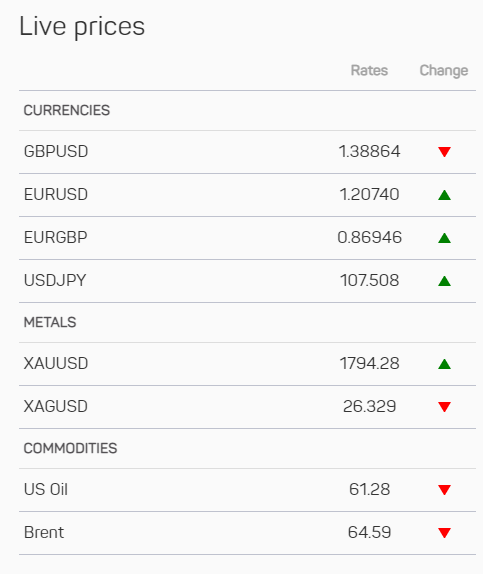 Assets
EGM Securities has Precious metals, Forex, Stocks, Commodities, and Index categories in their retail CFD offer range. The most developed is the Forex with a total of 68 currency pairs although 7 of them are not opened for trading. Traders will be happy to find many interesting pairs and new opportunities EGM Securities has to offer and plans to include. Notable, rare to find pairs are CAD/SGD, CHF/SGD, EUR/HKD, EUR/MXN, EUR/TRY, GBP/HKD, HKD/JPY, MXN/JPY, SEK/JPY, USD/CNH, USD/RUB, and USD/PLN. 
Precious metals range is extended although more by the EUR quote offer for the Gold and Silver than with the actual metals. Aside from Gold and Silver against the USD and EUR, EGM Securities offers Platinum against the USD. The metal range also has futures CFD for High-Grade Copper, Gold, and Silver. 
Out of Commodities, we have found both Oil types, Brent and WTI with the futures CFD instrument too. Out of the energy assets, traders will also find Natural Gas futures CFD. Non-energy commodities are limited to Cotton, Coffee, and Cocoa. 
Indexes range is interesting with 15 total unique indexes. The range is interesting because there are many futures CFD optional instruments extending the range to well over 20 total. The most interesting Indexes are Spain 35, US Dollar Index futures, Hong Kong 50, Germany 30, and France 40. 

Spreads
EGM Securities have published a list with average spreads so visitors can compare the two account types. Executive Account has floating spreads that are not the best in the industry but there are no commissions. According to the list, the typical spread for the EUR/USD is 1.6 pips for the Executive Account, 2.1 pips for AUD/USD, 2.5 pips for USD/CHF, USD/JPY – 2.1 pips, NZD/USD – 2.2 pips, and GBP/USD – 2.3 pips. We have checked for the validity of these levels in the MT4 and we have measured lower values by around 2 points. Among the minors, the highest spreads are for the EUR/NZD with 38 points, GBP/AUD – 46 points, GBP/NZD with 57 points, NZD/CHF with 42,  and GBP/CAD with 47 points.
The widest spreads are for the exotics, 1057 points for the USD/ZAR, 381 for USD/TRY, 336 for USD/RUB, 987 for USD/MXN, and 1080 points for GBP/NOK. As seen, some of these exotic pairs have very competitive spreads. Gold against the USD has 28 pips spread according to the MT4, 149 pips for the XPT/USD, and 20 pips for XAG/USD. Against the EUR, Gold has 37 pips spread. As for the Oil assets, both types have around 20 points spread on spot. 
Premiere Account spreads are usually more than 100% lower compared to the Executive Account. For example, according to the published comparison, EUR/USD has 4 points spread, AUD/USD – 4 points, USD/CHF and USD/JPY also 4 points, NZD/USD – 9 points, and GBP/USD – 4 points. The widest average spreads are for the USD/ZAR with 41.2 pips, 20.2 pips for USD/RUB, 33.2 pips for USD/MXN, and 40.4 pips for GBP/SEK. 
Minimum Deposit
The most affordable Executive Account requires a $200 minimum deposit. Premiere Account steps up to $5000. 
Deposit Methods & Costs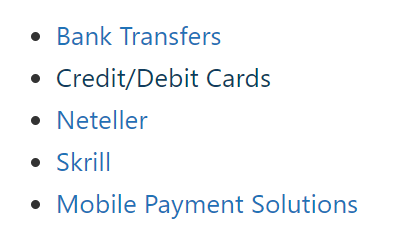 EGM Securities supports Credit Cards, Wire Transfers, and Mobile Payments. USD, KES, UGX, and TZS currencies are supported, accommodated to the in-area clients. Bank Transfers should be completed in 1 to 3 days, for cards is 1 business day and within 24 hours for mobile payments. There are no costs charged by the broker. There are several methods for Mobile Payments, some of which are available only in African countries. These are Mpesa, Lipa na Bonga, EazzyPay, Airtel money, eLipa, Visa Mastercard, Vadacom, and MTNMoney (UGX). Note that Netteler and IPAY are also mentioned in the FAQ. 
Withdrawal Methods & Costs
Withdrawal methods used for withdrawals must be the same as with the deposit. All withdrawals are free except for the international Wire Transfers which have a $16.5 fee. According to the broker, the withdrawal fee is subject to daily currency exchange rates which may vary from time to time. The Mobile Payments methods available for withdrawals are the same as with deposits. Note that international clients will need to use the Wire Transfer for withdrawals. 
Withdrawal Processing & Wait Time
The withdrawal process is initiated through the My EGM Area after registration. The withdrawal process for Wire Transfers will take 3 to 5 days to complete and 24 hours for Mobile Payments. 
Bonuses & Promotions
We have noticed that the Live Account registration form contains a promo code but we are not sure if any bonuses are available. The website does not mention any bonuses.
Educational & Trading Tools
EGM Securities has several educational and informational sections. A Blog, News Room, Technical Views, and Academy section. The Blog seems to contain many interesting headlines but as we have opened them we found very little information or value to traders. Even though they are written by the Equiti staff, they leave the impression to be there just to fill the menu.  The latest article is from October 2019 and goes back to 2017. 
On the other hand, the Latest News section is updated daily with good coverage of what is going on in the world market. Again, similar to the Blog, the content is extremely short but it seems to catch the gist only like it is meant to summarize the news to the elementals. Some traders will appreciate this approach. 
The Technical Views section follows the same idea of minimal and elemental information in the reports. Technical analysis is very short with the big chart with included MACD and RSI indicators. In our opinion, technical analysis should have more information.
The Market Wrap Up section has very good content and analysis by Ben Robson. Unfortunately, this section is not updated with new articles since September 2019.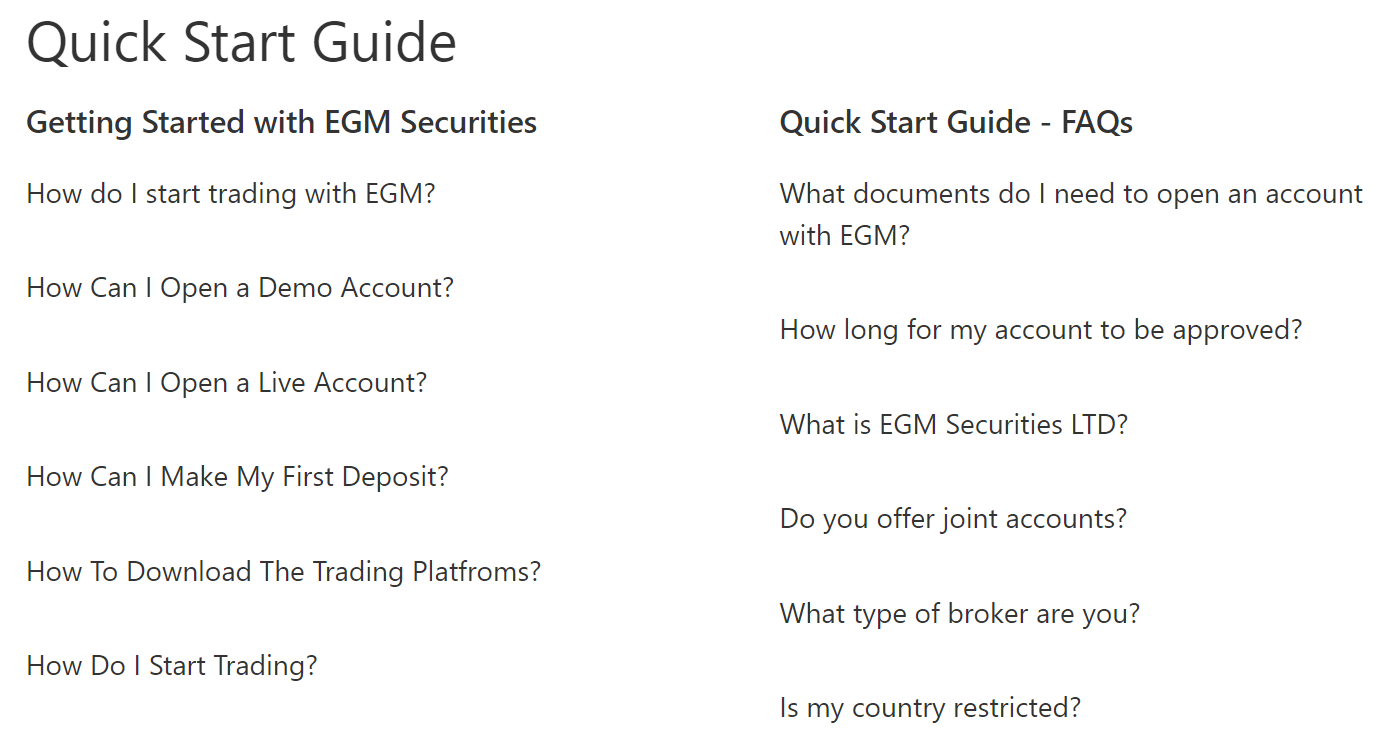 EGM Securities has developed a few calculators with examples and embedded codes. There are Pip value Calculator, Profit/Loss Calculator, and Margin Calculator. They are nicely designed with good and professional explanations on how to use them. Very good for beginners. 
The Economic Calendar is on the menu but it is not developed. 
The Academy section has a menu that may lead to empty or bogus pages. It is evident that EGM Securities has not yet filled this section with content but leaves a good impression of what is coming up. The Academy section contains Videos, Guides, Glossary, Infographics, Seminars, Webinars, and Market research. There are a few elementary guides about the forex, some really nice infographics but we could not find anything more in the Academy section.
Customer Service
EGM Securities has invested in the 24/5 customer service that is available through phone, chat, and email. We have contacted the broker through the Zendesk chat app service to confirm it is 24/5 and also very responsive. We have not waited for longer than a minute to reach a representative. It is evident that the staff is new and lacks experience but there is a great effort to be kind and assistive.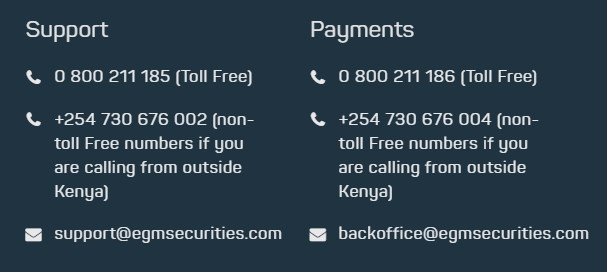 Demo Account
The demo account is available and promoted throughout the website. Premier Account conditions are not available to try in the demo for now even though it is in the drop list. The demo is reflecting the actual trading conditions and can also be opened through the MT4 platform directly, with more than 10,000 virtual funds. You will be able to change the leverage and the virtual currency amount. Your demo account will expire if it is not active after 90 days of opening it.
Countries Accepted
EGM Securities support provided us with the full list of their blacklisted countries. They are Afghanistan, Belarus, Belgium, Bosnia and Herzegovina, Canada, Central African Republic, Democratic Republic of Congo, Ethiopia, Eritrea, Iran, Iraq, Japan, Lao PDR, Libya, Myanmar, New Zealand, Poland, Singapore, Somalia, South Sudan, Sudan, Syria, Ukraine, USA, Vanuatu, Western Sahara, and Yemen. 
Conclusion
To conclude this EGM Securities review, we will share some more information and opinion on this broker. To compare, 73.07% of retail investor accounts lose money when trading CFDs with this provider, which is about the average in the industry. Note that the broker still may have a small traders pool but is financed and owned wholly by the large Equiti Group with significant experience. EGM Securities is primarily focused on the Africa region as there are many interested citizens in Forex and trading. At this moment the broker has good trading conditions and a very good forex range. Funds safety should not be a concern although traders should know that CMA is very new and EGM Securities is their first regulated broker. FXPesa is another brand recently opened in West Africa belonging to the Equiti group but is fully developed. Lack of ratings should pose a red flag, there is a very low risk that the broker will pose any problems with the withdrawals, trading, or conduct any kind of manipulation. As the broker continues to expand, there are enough arguments for positive reviews.