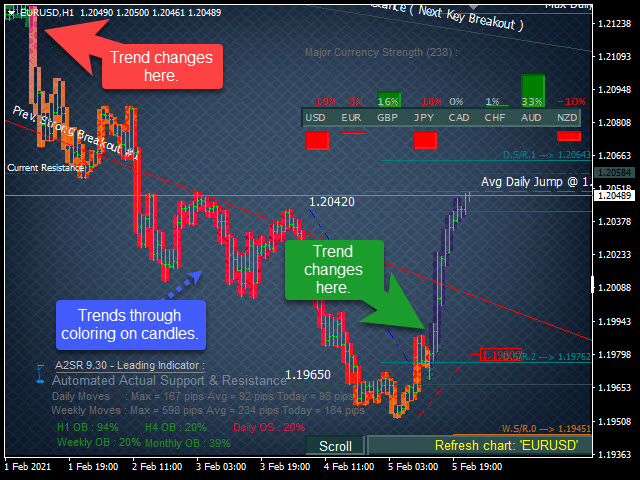 Automated Actual Support Resistance A2SR can be found on the marketplace of the MQL5 website under the indicators section. The indicator was uploaded by its creator Yohana Parmi on the 21st of July 2014, it has had a large number of updates, the most recent was on the 21st of March 2020 and this brought it up to version 9.14. 
Overview
The Automated Actual Support Resistance A2SR is an indicator for the MetaTrader 4 trading platform, the indicator was designed to read A2SR levels which are a form of support and resistance levels.
The main features of the indicator:
Actual Support and Resistance.

Market Sentiment for news event and central bank speech.

Current Trend today, including a suggestion for placing positions.

Auto level trend lines for SR, Breakout, and Breakdown. You'll find it easier to analyze charts.

Daily price jump and fall in average and maximum range (news events).

Average and maximum price jump/fall at time frame H4 (news events).

Overbought and Oversold, displayed at the same time for scale H1, H4, Daily, Weekly, and Monthly.
There are also plenty of parameters available to change, some of them include the currency suffix, SR style, whether to use bar charts, colors, to display the actual SR, to display arrows, to display currency index and many more options are available too.
Service Cost
The Automated Actual Support Resistance A2SR indicator can be purchased for $250, this will give you access without any limitations. Should you prefer, you are also able to rent the indicator, it will cost you $95 to rent it on a monthly basis. There is also a free version available, this will have some limitations, they are not actually known to us as they are not stated on the site, but it is always worth downloading and checking out the free version.
Conclusion
The Automated Actual Support Resistance A2SR indicator currently has 40 different user reviews, they are giving it an overall rating of 5 out of 5.
"This indicator is very helpful for beginners like me, I may find Support Resistance easily. Surprisingly for me, this SR may predict future movement as described by the author (Yohana) in the comment section. To fully understand how this indi works may cause stress for a beginner, But yohana is a very helpful person in guiding me. I appreciate your effort so much for your effort. Highly recommended indi" – A 5-star review.

"Author is very friendly and very accommodating to help one to learn the system, and be able to profit from it. The system seems low risk, and high return trading around support and resistance levels. Need to drop old habits, and learn to create a trading plan and follow the system to trade more consistently." – A 5-star review.

"One of the best indicators you can buy on the mql5 market. And Yohana keeps improving it more and more. highly recommended." – A 5-star review.
So the reviews are very positive which is a really good sign, there are also over 300 comments, the developer of the indicator is doing a great job replying to most of them which show that they are keen to keep the support going once it has been purchased, another great sign. Even though everything is looking good, we would highly recommend that you download the free version and also contact the developer with any questions that you may have before you make a purchase.