The cryptocurrency market has been trying to recover and find a point of consolidation for some time now. While most cryptocurrencies ended up in green yesterday, that is not the case today. Bitcoin fell down 2.05%, while Ethereum lost 3.05% of its value. XRP held on a bit better and lost only 1.47%.  Bitcoin SV did the best out the top10 cryptocurrencies, being the only one in the green. It managed to gain 6.11% in the past 24 hours.
Bitcoin's dominance hasn't changed all that much from yesterday, but it did fall a few fractions of a percent. Its dominance now sits at 66.2%.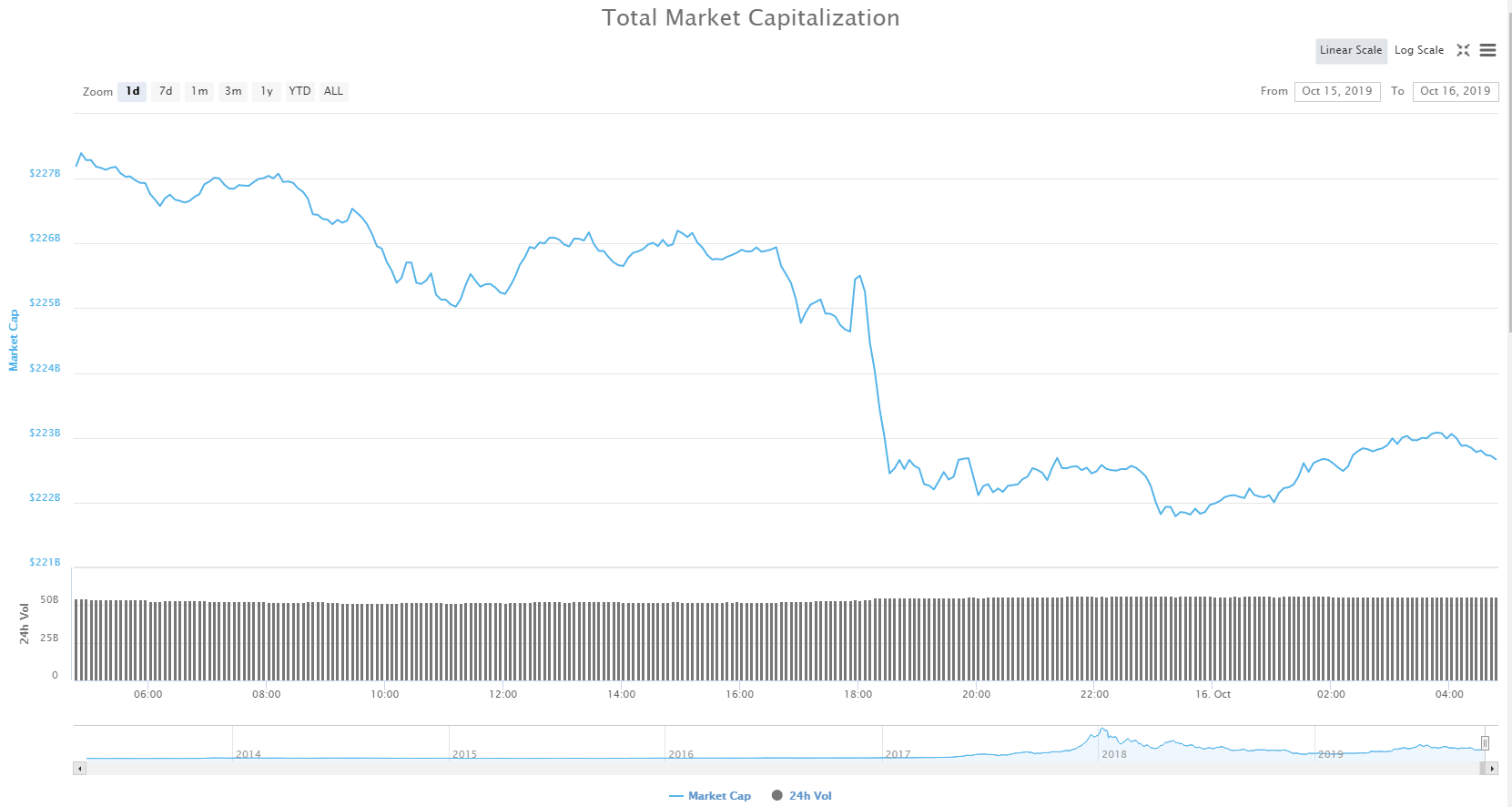 Most cryptocurrencies lost a few percents of their value, which reflected on the market cap of the cryptocurrency industry as a whole. The industry now has a market capitalization of $222.99 billion, which represents close to a $5 billion drop from yesterday.
What happened in the past 24 hours
A steady increase in volume and a green day for most cryptocurrencies indicated bulls rallying. Today, however, prices fell even with the volume keeping its level. The volume seems to have been coming from the bears instead of bulls today. Most cryptocurrencies tested their immediate support lines and broke them downwards, trying to reach a point of consolidation. While some cryptocurrencies only lost a fraction of a percentage, many lost a couple of percent of their valuation.
Technical analysis
Bitcoin
After a green day yesterday, Bitcoin seemed strong as it tried to establish a support line at $8,300 and even contest new highs. The bulls could not pass through $8,395, which is when bears seem to have taken over. With volume remaining at the same levels, Bitcoin started dropping down slowly until one big red candle, which brought its price from $8,326 all the way down to $8,078. This price got rejected quickly, and Bitcoin found its new short-term support at the $8,130 level.
Bitcoin's RSI is currently not in overbought or oversold territory, but the current position does not look good. If the price goes under the support level, Bitcoin might have to look for new support at a level below $8,000.
Ethereum
Ethereum suffered from the same faith as Bitcoin today. After having a great day, the bulls lost momentum, and bears took over. Unlike Bitcoin, Ethereum had low volume levels throughout the week. After failing to break the $188 price point, Ethereum went down to $176. As with Bitcoin, this price got rejected, and Ethereum found support at the 0% Fib retracement line, which sits at $177.85.
Ethereum seems to have low volume levels apart from the sudden spikes in volume, which correct its price upwards or downwards. This fact might implicate that Ethereum has a high probability of mirroring Bitcoin's movements in the short-term.
XRP
XRP lost the least out of the top-three cryptocurrencies today. This fact can mainly be attributed to its superb gains from the day before. With its volume looking good, yesterday's move had to retrace a little in order for it to be a healthy move.
With XRP not having enough strength to pass $0.3, bears decided to take things into their own hands. The price dropped to $0.283 but quickly sprung up to $0.286, which now represents its immediate support. It is still uncertain whether XRP will try to push higher, consolidate or try its luck at a lower price point.