The cryptocurrency market has had an astonishing weekend, which brought many cryptocurrencies great gains. Yesterday was a continuation of the buying move that started over the weekend. Many cryptocurrencies gained over 5%. In order to make the moves healthy, the cryptocurrency market required a consolidation, which it is getting now. As for the past 24 hours, Bitcoin went down 2.59%, and it is now trading at $9,403. Ethereum gained 0.41%, while XRP lost 1.34%.
Bitcoin's dominance increased over the weekend even as cryptocurrencies rose in price, but fell back down a bit in the past 2 hours. Its dominance now sits at 67.7%, which represents a 0.5% decrease when compared to its dominance value 24 hours ago.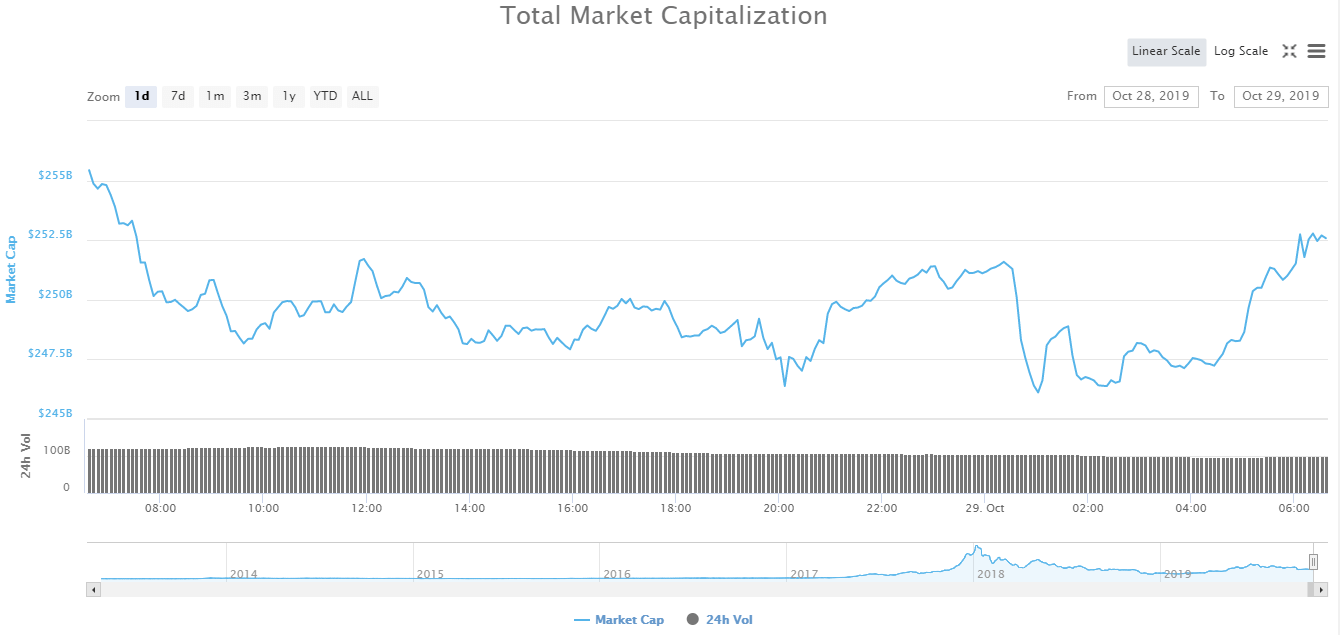 Cryptocurrencies ended up being divided between being in the green or red in the past 24 hours. The industry now has a market capitalization of $250.9 billion.
What happened in the past 24 hours
There was no major news in the cryptocurrency industry in the past 24 hours. The elevated volume and continuous buying pressure seemingly come from China after their president told his citizens to seize the opportunity that is blockchain and crypto industry.
As reported by many news outlets, the Chinese took the words of their president very literally and started investing in cryptocurrency almost immediately.
---
Technical analysis
---
Bitcoin
There were no significant changes in Bitcoin's price when compared to the state, it was 24 hours ago. After bouncing from the $7,410 support line, Bitcoin surged up to $10,430. To keep the gains and to consider this move healthy, Bitcoin needed to retrace. That is exactly what it is doing at the moment. The price is currently hovering around the $9,450 mark.
Bitcoin is currently trading right below the RSI overbought territory, with its volume elevated, but descending.
---
Ethereum
Ethereum is doing pretty much the same thing Bitcoin does. After the big price surge, a consolidation needed to happen to make this move healthy. Ethereum is currently trading at $186.5. After leaving its falling wedge pattern, Ethereum's outlook is much more positive. However, its other indicators show a possible downward-facing move in the near future.
Ethereum's RSI is also right below the RSI overbought territory with trading volume elevated, but descending.
---

XRP
XRP is performing its consolidation a bit differently from Bitcoin and Ethereum. Even though it is trading within a range just like the other two cryptocurrencies, XRP does not experience significant volume drops. On top of that, its RSI is dropping from the overbought levels into regular trading levels.


When it comes to the position of XRP's price, XRP is hovering just below the upward-facing trend line, which it does not intend to cross. Just following the line below, it would indicate major strength to the upside for XRP.
It has become a regular occurrence that Bitcoin and Ethereum almost mirror each other while XRP makes its own moves in the industry.